Living
Miranda Kerr on What's Good for the Soul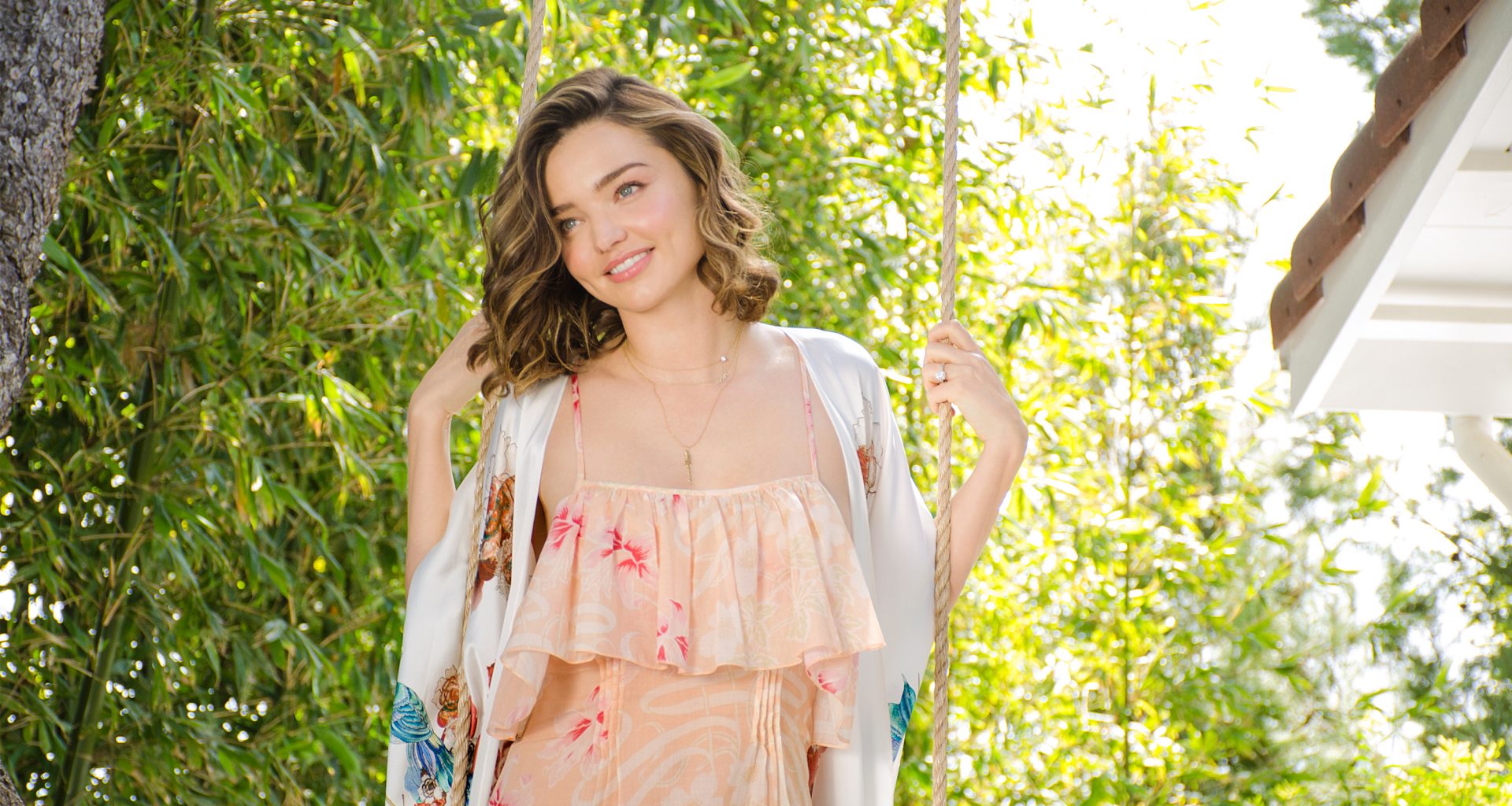 Miranda Kerr is on a mission to use her star power for good with KORA Organics, the skincare line that's designed to enrich not only your skin, but your soul and spirit, too.

We recently caught up with Miranda and she shared her perspective on leadership, motherhood, and how rose quartz can help you love yourself just a little bit more. All told, our conversation with Miranda was an afternoon full of inspiration and education.
Rip & Tan: What is your daily beauty routine? Any makeup essentials you can't live without? 

Miranda Kerr: In the morning, I like to use the KORA Organics Foaming Cleanser, it's a soap-free cleanser containing noni extract, green tea and aloe vera to gently cleanse without drying or stripping the skin of its natural oils. After cleansing, I use the Energizing Citrus Mist, then apply the Noni Radiant Eye Oil—this is my new obsession. It contains kahai oil which is a natural retinol that helps to improve elasticity and smooth fine lines, coffee seed oil to revitalize and reduce puffiness, tomato fruit extract to brighten the eye area and my favorite part of the eye oil—the special rose quartz applicator, it's super soothing and uplifting. Then I add a few drops of Noni Glow Face Oil to a few pumps of the Hydrating Moisturizer and apply over my face, neck and décolletage.

 In the evenings, I double cleanse using the Cream Cleanser. It's very nourishing and soothing on the skin as it contains aloe vera, avocado and macadamia nut oil. I swap out the Energizing Mist for the Calming Lavender Mist (I also spritz this on my pillow before going to sleep), then follow with the remainder of my routine (eye oil, face oil and hydrating cream).

I use the Age Defying AHA Exfoliator 2-3 times a week and also apply the Hydrating and/or Purifying Mask twice weekly depending on what my skin needs…sometimes I apply the purifying mask on the T-zone and the hydrating mask on the cheeks, neck and décolletage. Before I shower in the morning, I dry brush all over my body. It's a great way to get the circulation going and remove dead skin cells. Two products I can't live without at the moment are the Noni Glow Body Balm and Noni Glow Body Oil, I've applied them twice daily throughout my pregnancy to help minimize stretch marks—so far, so good!

Rip & Tan: Do you have any at-home DIY beauty tricks? 

Miranda Kerr: I love to do cool compresses on my face of a morning to help stimulate circulation and de-puff. I take a cup of ice cubes from the freezer, add to a basin of cold water and then wet my face cloth, squeeze out excess water and hold against the face for 10 seconds and I repeat that 4 or 5 times. You can also add a few drops of an energizing essential oil to the water for additional benefits—I love adding a few drops of Lemon Myrtle, it has a fresh scent with uplifting and soothing benefits.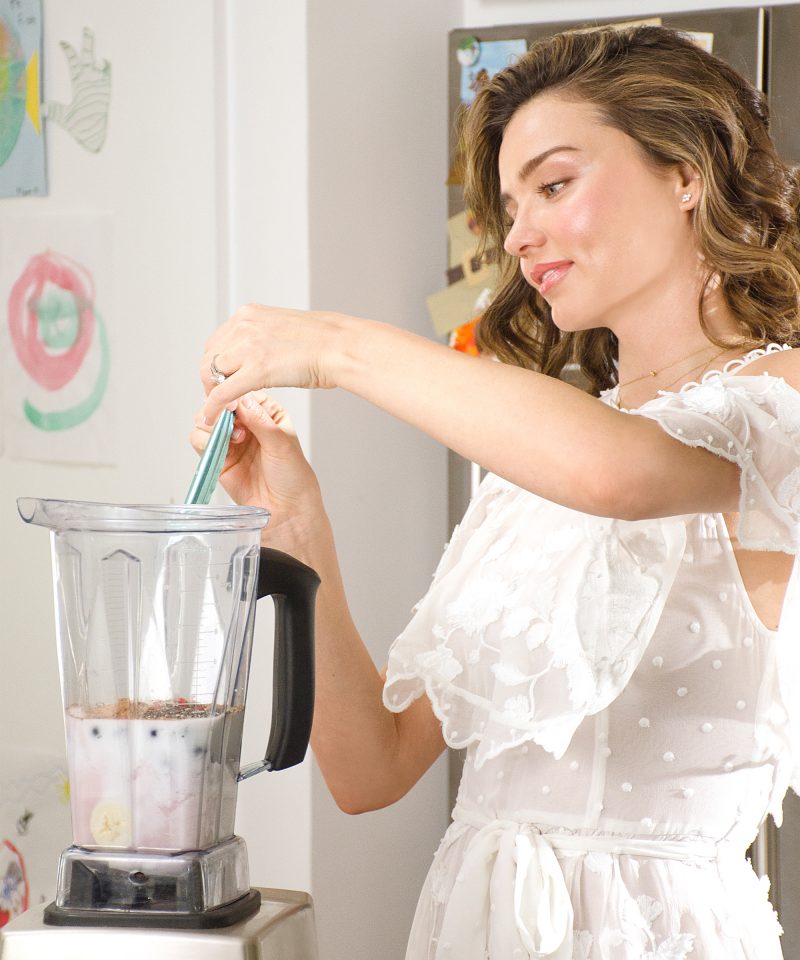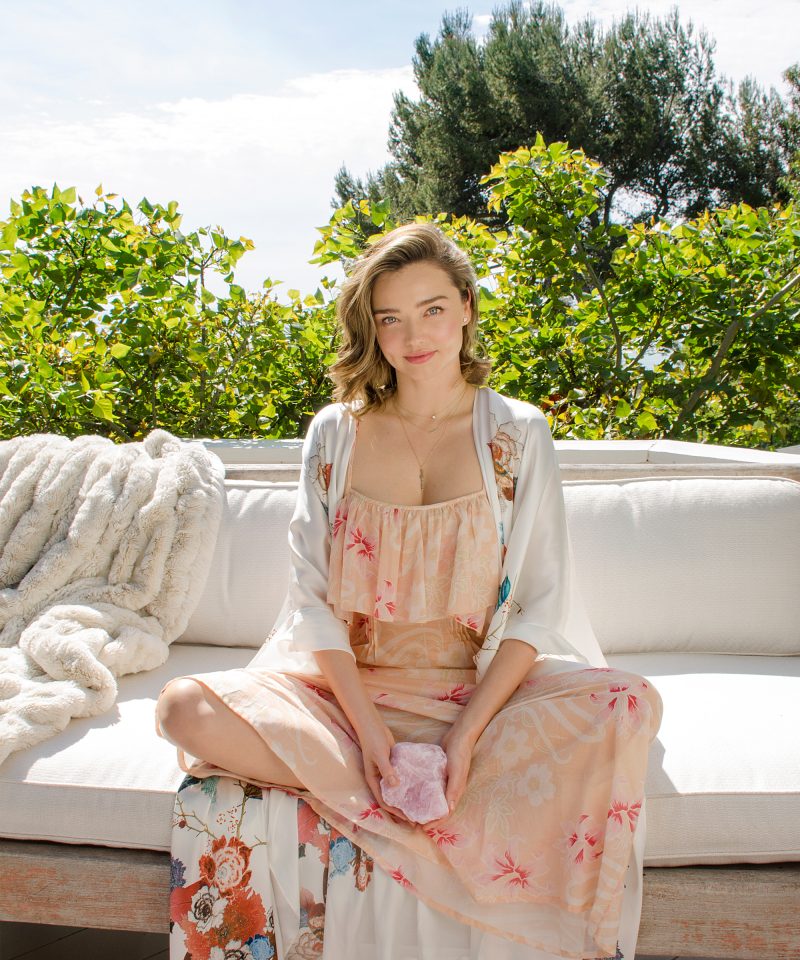 Rip & Tan:  Does being a mother influence your decisions as a consumer? 

Miranda Kerr: Being a mother and a wife is my absolute priority. Nothing comes before the health, safety and wellbeing of my family. When I'm shopping, I'll look for the best quality natural ingredients that I can find and I always buy certified natural and organic when and where possible, from my fruit, vegetables and groceries to household cleaners and hygiene products.

Rip & Tan: Have your past experiences in the modeling and fashion industries shaped your career today? 

Miranda Kerr: Of course, I've been very fortunate to work with many key figures including CEOs, marketing executives, and incredible creatives throughout my career, and I was exposed to them from a relatively young age due to my modelling work. This experience has given me a strong sense of direction from a creative view and also made me very detail orientated in terms of what I want—from our products' efficacy and their result to how the brand is presented, via packaging and marketing. It also taught me to pursue what I love, what I'm passionate about, and to always put in 100%.

Rip & Tan: KORA Organics features rose quartz-infused water in every product. Can you explain the benefits of crystal vibrations?

Miranda Kerr: KORA Organics is more than skincare. It's about a holistic way to nurture your mind, body, and spirit, so for me it was important for my products to not only deliver results but also carry a positive energy. Rose quartz is one of my favorite crystals because it carries a beautiful soothing energy to encourage love, self-esteem, acceptance and forgiveness of ourselves and others—that's why I chose to include it as a key ingredient. Our products are filtered and energized through rose quartz during the manufacturing process, so the vibration of self-love flows through the crystals, into the products and onto our customers. It's also been reported that Cleopatra and Egyptians used rose quartz for clearing the complexion and preventing wrinkles!
Rip & Tan: The list of ingredients KORA Organics ingredients list features a lot of familiar botanicals (aloe vera, lavender, rose oil) but some might not be so familiar—what is one, and what was the process of developing these natural ingredients into your skincare products? 

Miranda Kerr: The one I'm asked most about is noni. My grandmother introduced me to the benefits of noni juice when I was 12 or 13, and I've been drinking it every day since. Noni is revered for its healing and rejuvenating properties, that's why it features as a hero ingredient in all my products. It has powerful antioxidant qualities that combine over one hundred vitamins and minerals, including high amounts of vitamins A and C. These are incredibly beneficial for your skin to protect it from environmental damage caused by free radicals, which are constantly stressing our skin and can lead to the signs of premature aging. In addition to anti-aging, it also has antibacterial, antiviral, anti-fungal and anti-inflammatory properties! 

Rip & Tan: What is on the horizon for KORA Organics? What are you most excited about? 

Miranda Kerr: We just launched the Noni Radiant Eye Oil, I worked on this product for a long time and I am thrilled with the results – all of the feedback has been incredible and it's so heartwarming to hear that other people love it as much as I do. In May, we are launching a Rose Quartz Heart Facial Sculptor—this is designed to enhance your natural beauty by stimulating circulation and lymphatic drainage. It also helps to de-puff and ease tension and stress. The next one I am really excited about is a 2:1 mask that is launching very soon. This product is a game changer, and I worked on the formulation for a long time to get it exactly how I wanted it. The results are immediate and phenomenal…I can't wait for people to try it.

One of the other things I'm most excited about is our global expansion. Outside of the U.S. and Australia, our business has been predominantly online, but we've had such overwhelming response from customers all over the globe that by the end of 2018 we'll be in over 2,500 brick and mortar stores, across 25 countries. I'm really proud of this, but more so humbled by the fact that customers are appreciating our products and understanding the benefits and the necessity of using certified organic and natural products.

Rip & Tan: Do you enjoy cooking? What are some of your favorite recipes or meals to enjoy with your family? 

Miranda Kerr: I love cooking! The kitchen is a hive of activity at home and it's where we all come together.

It depends on the seasons—in summer we love to BBQ fresh, wild salmon with lemon and herbs such as dill and parsley. In the cooler months, my slow-cooked organic chicken with turmeric is a favorite, I actually cooked this for Evan on our wedding day. I love to serve them both with organic greens or a leafy salad, whatever is in season at the farmers' markets. The boys love when I make apple pie. I use my grandmother's recipe, and it's a hit every time! 

Rip & Tan: How do you incorporate exercise into your busy schedule? 

Miranda Kerr: At the moment I'm just listening to my body and not doing anything too strenuous—I try and go for a gentle walk once a day and every other day I'll do yoga, Pilates or go for a swim if I feel up to it. But the honest truth is I'm finding it difficult to fit it in at the moment. By the time I drop Flynn to school, go to work and have all my business meetings, it's time to collect Flynn and then we're on to the dinner, bath, reading and bed routine. I said to Evan the other day that I remembered I worked out a lot more when I was pregnant with Flynn and it's very different this time because I'm running my company and I have a 7-year-old. There just aren't enough hours in the day… 
Rip & Tan: Have you had any mentors that influenced your personal or professional life? Who have you looked up to or learned from that shaped who you are today? 

Miranda Kerr: Not so much mentors, but my grandparents and parents played a significant role in my life and have help shaped who I am today—they're both passionate about health and wellness, so I was raised with an appreciation for organic living from a young age. My husband is also an endless source of inspiration, he's incredibly supportive and see's things from a different perspective which is great from a business point of view.

Rip & Tan: How do you manage stress? 

Miranda Kerr: Through regular meditation, deep belly breathing (which is proving a little difficult being so pregnant), and exercise.

I try not to internalize stress, so if something is starting to cause me to stress or if I feel anxious, I try and communicate to resolve the issue. If it's out of my hands, I try to switch off for five minutes and walk out into the fresh air and put my feet in the grass. If I can't get outside, I listen to a short guided meditation, or make a cup of tea and listen to some uplifting music.

One of the other things I believe in is to do at least three things a day that bring you joy and happiness, that way your less inclined to sweat or stress about the small things.

Rip & Tan: What are some of your travel essentials? 

Miranda Kerr: Definitely the KORA Organics Body Balm and Face Balm, I created these two products specifically for travel – so they're super convenient, don't spill and are easy to apply on the go. They're formulated with nourishing certified organic ingredients such as coconut oil, rosehip oil, noni extract, calendula extract and cupuacu butter for deep hydration. They're also multipurpose, the Face Balm doubles as a lip balm, and any reside from on my hands I apply to the ends of my hair or use to smooth down flyaways. It's also great to apply over make up for a dewy glow. I apply a small amount with my fingertips to my brow and cheekbones to accentuate them. I use the Body Balm all over and regularly on my hands, especially after washing my them. 

I also travel with the KORA Organics Calming Lavender Mist and Energizing Citrus Mists—I use the Lavender Mist to help relax during the flight or at night when my body clock is out due to jet lag. It has amazing relaxing and soothing aromatherapy benefits. I use the Citrus Mist on landing or whenever I need to awaken and brighten my complexion. They are both hydrating and contain ingredients to fight free radicals.  

It's important to also look after your skin from the inside out, so I pack the Skinfood Supplement – It's a water-soluble superfood powder packaged into single serve sachets, making it perfect for travelling! It contains all my essential vitamins and minerals from noni, acai, blueberry, mangosteen, pomegranate, matcha green tea, rosehip, chlorella and elderberry flower.  I love this product because it provides me with an extra boost of energy whenever I need it.

Rip & Tan: What do you love about living in California? How is it similar or different from your hometown in Australia? 

Miranda Kerr: I enjoy the climate and people of California, it's a lot like home in Australia. I also enjoy the fresh produce and living by the coast. Being by the ocean, having access to wide open spaces and being close to nature makes me happy, and I find it calming and cleansing. It's good for my soul.