Style
Meet the Talented Women Behind the New L.A. Store, Midland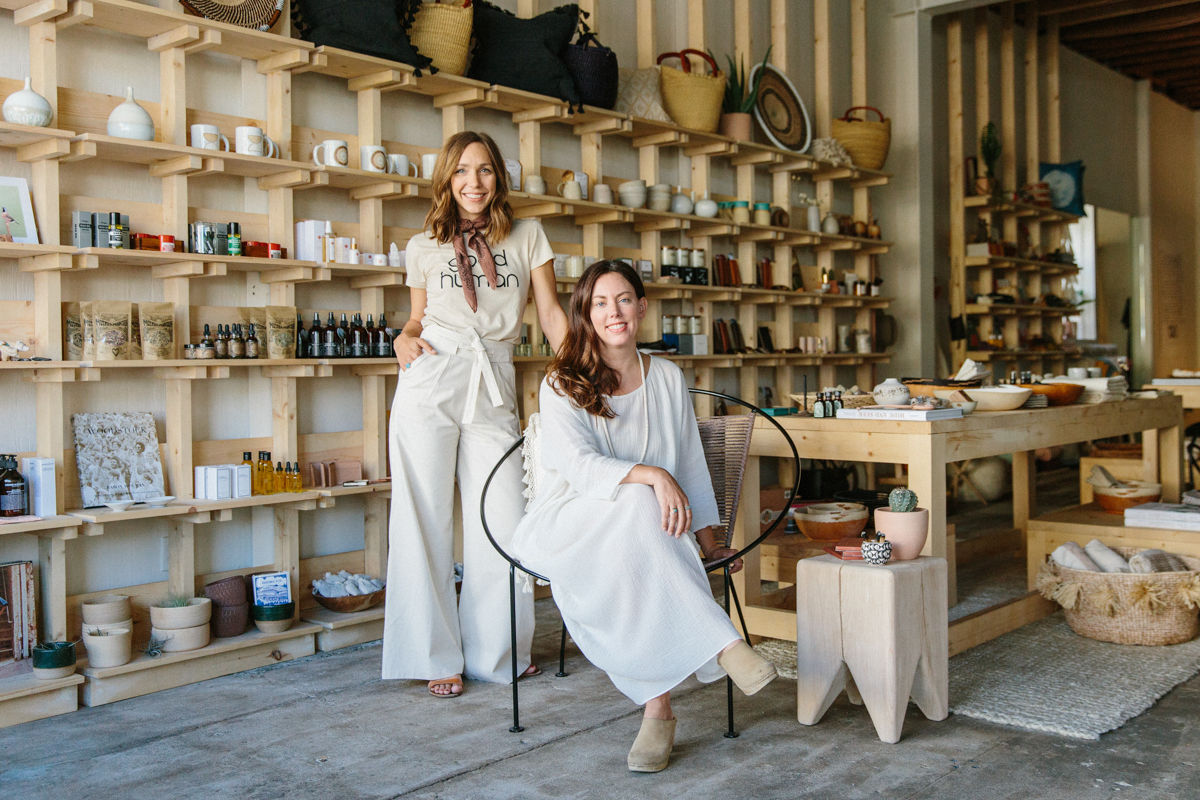 My friends Paige Appel and Kelly Harris helped me put together the décor for our recent pre-Thanksgiving gathering and cooking class, which felt like the perfect excuse to talk to them about hosting holiday parties. Between their events company, Bash Please, and their just-opened, treasure-filled store in Los Angeles, called Midland, I knew they'd have all kinds of helpful tips and advice on how to be a gracious hostess and guest during this time of year. I was right! Read our interview with Paige and Kelly and shop their favorite holiday hostess gifts, below. XXJKE
Rip & Tan: How did you first meet? At what point did you decide to form a business together? 
Paige and Kelly: We met for coffee after seeing each other's work online. We hit it off immediately and felt like we had known each other forever. We started a business together 3 months later.  
Rip & Tan: Tell us about Bash Please! What types of parties and events do you specialize in and what feel do you tend to create for your clients? 
PK: We throw all kinds of parties, predominantly social events like weddings, mitzvahs, and birthday parties. We are not over-producers. We like to keep things on the simple, organic, and tasteful side. We do have elaborate and whimsical events once in a while and they are very fun. For the most part, we consider our designs more honed in on interesting details and unexpected sophistication. 
Rip & Tan: What inspired you to open Midland? 
PK: We have been talking about having a shop for years. We travel so much, we design for so many types of people, we are entrepreneurs at heart. Lots of paths led us to open the shop. It's not directly related to the event company, it's more an expression of who we are in our personal journeys and what we think is quality products for everyone's life. 
Rip & Tan: What is the mission statement or guiding principles you use to curate the space? 
PK: We buy what we like! Everything in the shop is a reflection of our personal style and values. Ethically made, small artists, slow fashion, simple designs, quality goods. Our hashtag is #wellchosengoods
Rip & Tan: What can people expect to find at Midland? 
PK: Ceramics from Ojai, dresses from California, cookbooks from around the globe, organic handmade baby blankets, perfume from Brooklyn, textiles from Mexico, vintage records handpicked by us, the best olive oil from Karen Mordechai of SundaySuppers, and so much more.  
Rip & Tan: What are some tips you've learned from running your events business that can be applied to holiday dinner parties? What little things make a big difference? 
PK: Choose a few great ideas and make them your own. Set the table with pretty details and make a few dishes homemade. Don't feel like you have to do everything or decorate every room in the house. Put on a great playlist, cook something that smells great, and light a ton of candles on the table. It's more relaxing for everyone if you, the host, is comfortable and available during the party. Do what works for you. Festive music, the smell of a good recipe, and warm lighting make all the difference.  
Rip & Tan: What hosting mistakes do you think people make with dinner parties? How can they be avoided? 
PK: I think people don't entertain as much anymore because they feel they need to invite too many people or they don't have the time to plan. Keep your guest count to a manageable amount and then narrow your ideas down to what you can accomplish. And use help! Get a few dishes catered, and cook a few yourself. Call a florist for fresh blooms and then pick up some new pretty napkins. Ask everyone to dress in a certain color or type of attire. Have your guests send you their favorite holiday song to create the playlist. Again, don't feel like taking it all on yourself. Getting people together to celebrate is the best idea of the season.   
Rip & Tan: What makes a good hostess gift? Anything you shouldn't give? 
PK: A good hostess gift is always something personal to the host as well as high quality. A fine whiskey if they love cocktails, gourmet cooking provisions if the host/hostess is a cook, a beautiful vase if they love decorative objects, an interesting board game if they like to play games, and so forth. The most important thing is to make it personal. Don't ever give a cheap bottle of wine. They will know it!