Entertaining
How to Make it a Veggie (ish) Thanksgiving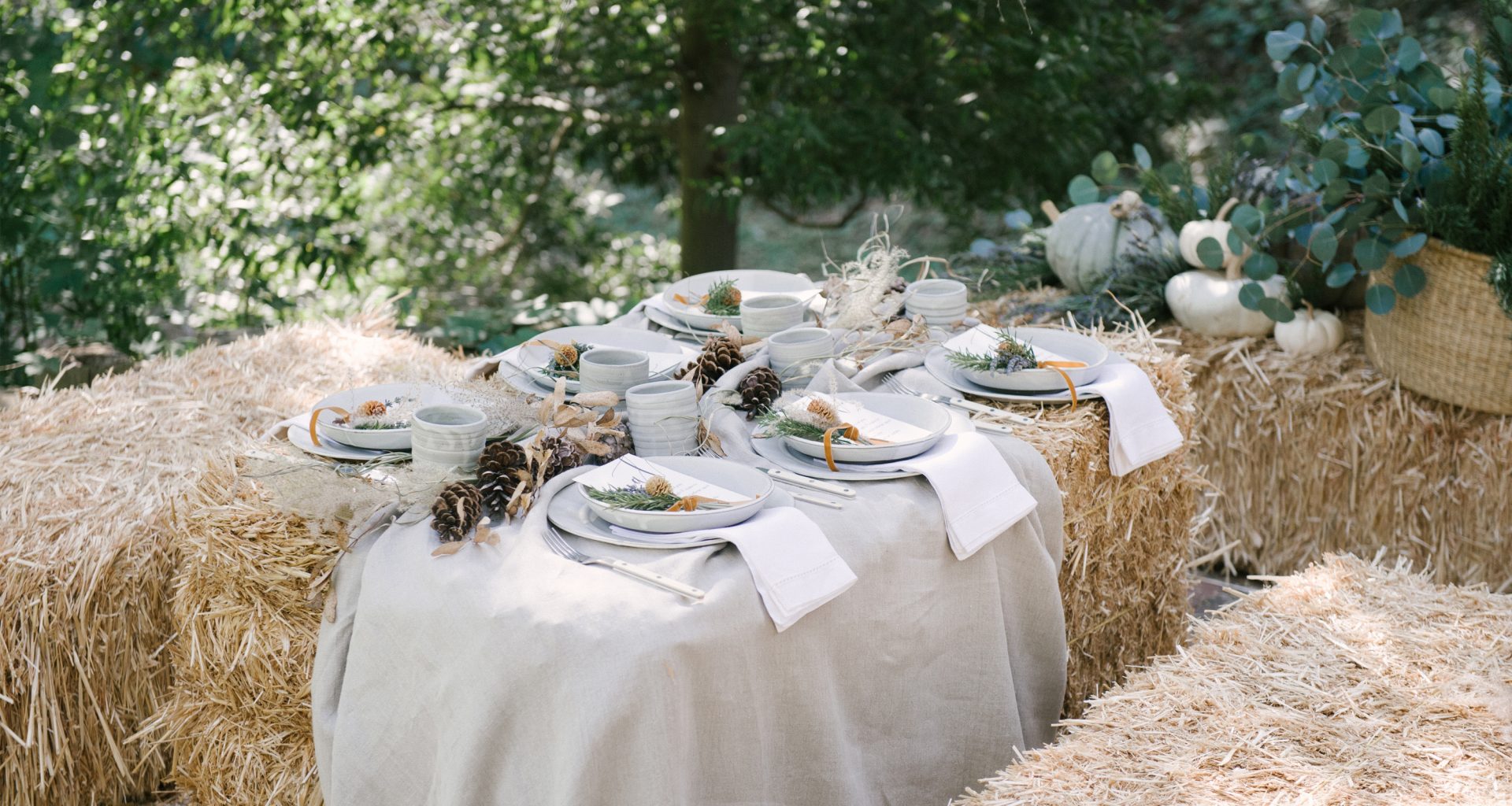 We love the spirit of Thanksgiving: the friends and family, the cozy atmosphere, and of course, the food. There's no better holiday than this one to bring people together, and this dinner was a true community effort. Holistic chef Pamela Salzman is a master of marrying tradition with taste and making it all healthful, wholesome, and flavorful. Ren MacDonald-Balasia did the gorgeous florals, Amy Blessing styled the décor, and Jenni, as usual, brought everyone together. Look no further for the finishings to your Thanksgiving dinner, and read on for the perfect recipes that might just become prized family traditions.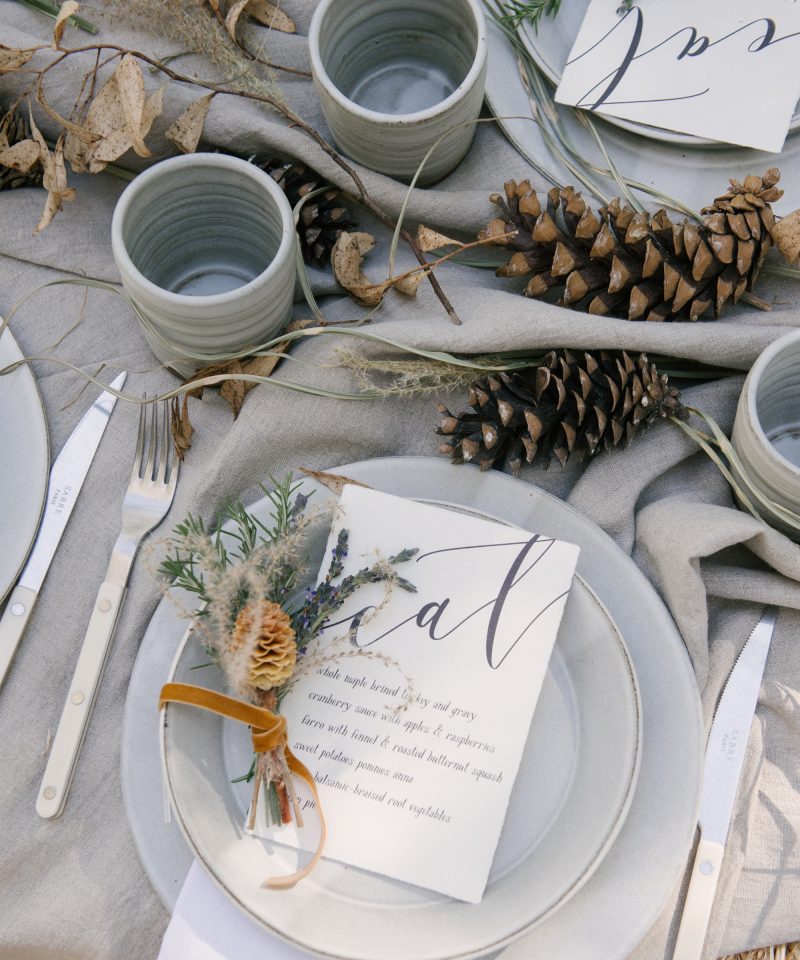 The Décor

We went for tables made of hay bales covered in our linen tablecloth. This is a great way to seat larger and more intimate parties alike and keeps things feeling harvest-like and seasonally appropriate. Places were set with greenery and a piece of velvet ribbon— which added depth to the muted texture of dried grasses and flowers. White and pale grey pumpkins added just the right touch of color and scale to the spread.

The Flowers

The inimitable Ren MacDonald-Balasia used her ingenuity to put together these dried herbs and deconstructed garland down the hay bale table. Ren mixed pinecones and foliage for a sprawling look that perfectly reflected the bountiful spirit of the holiday. Try it yourself with eucalyptus and dried flowers.

The Dinner

Even though there were ample vegetarians on the guest list, Thanksgiving is all about inclusion and bringing people together. Plus, turkey is a tradition as old as time. The turkey was presented on a bed of eucalyptus and lavender to match back to the table. Side dishes were both traditional and with a modern twist, provided by the health-conscious chef, Pamela Salzman. And don't forget the cranberry sauce takeaways!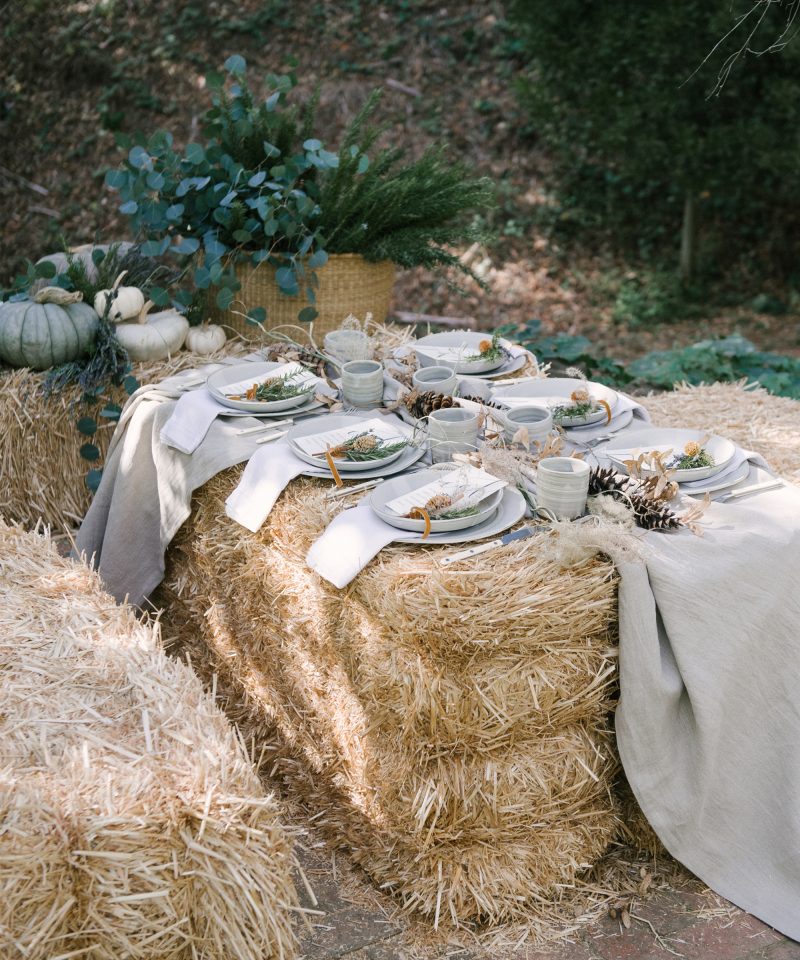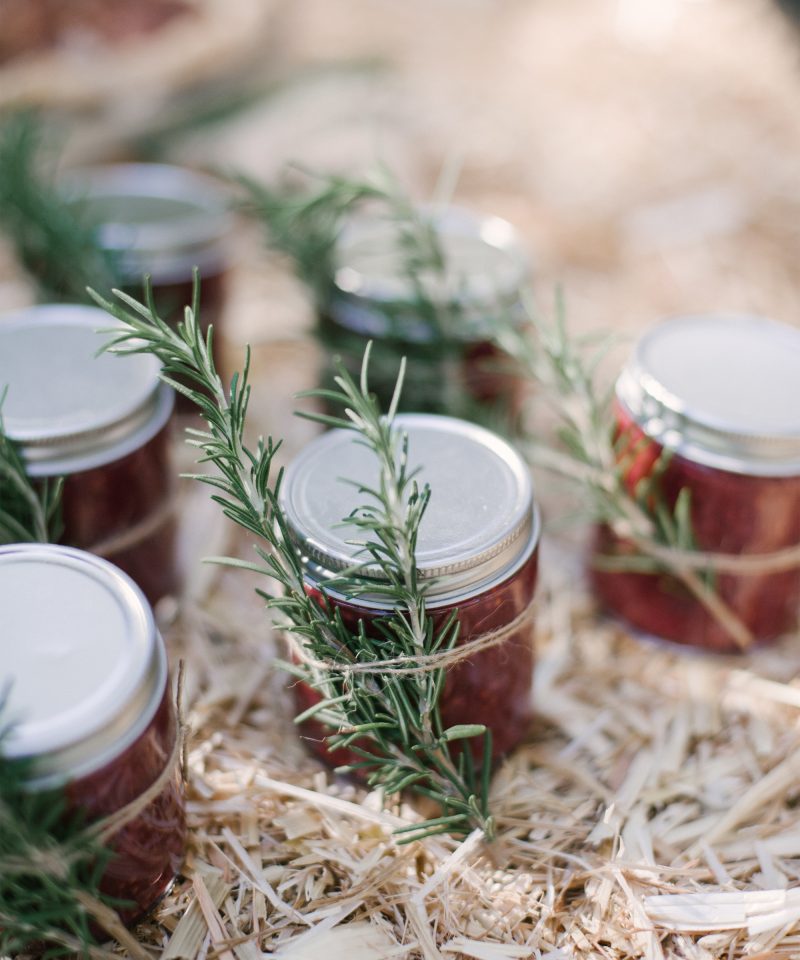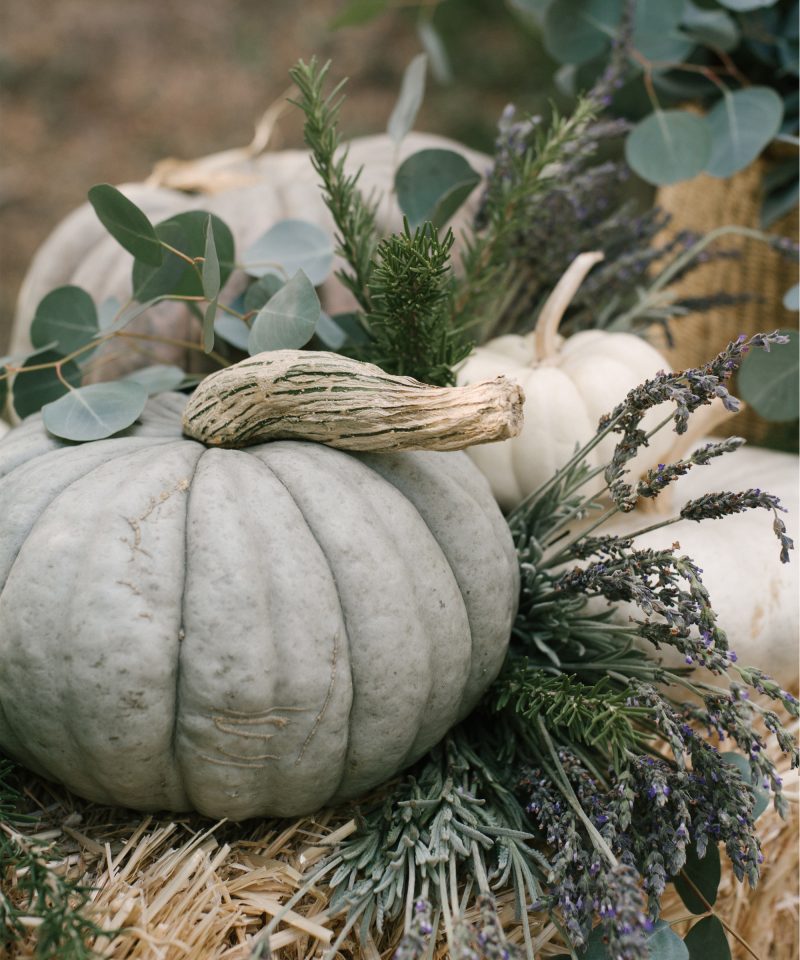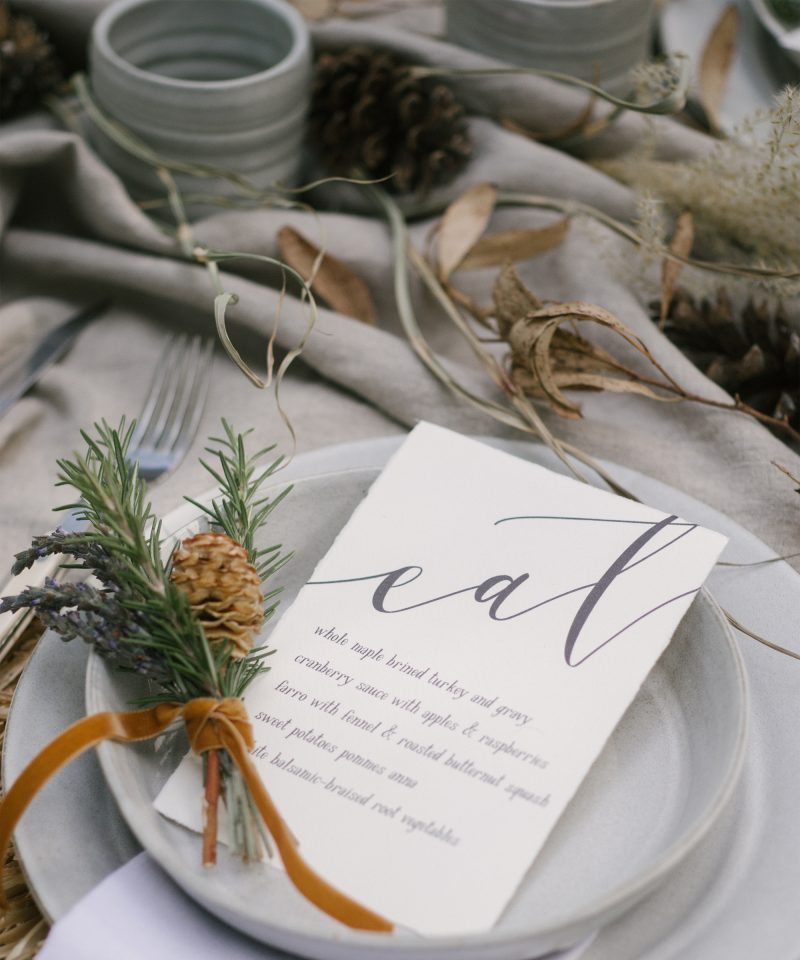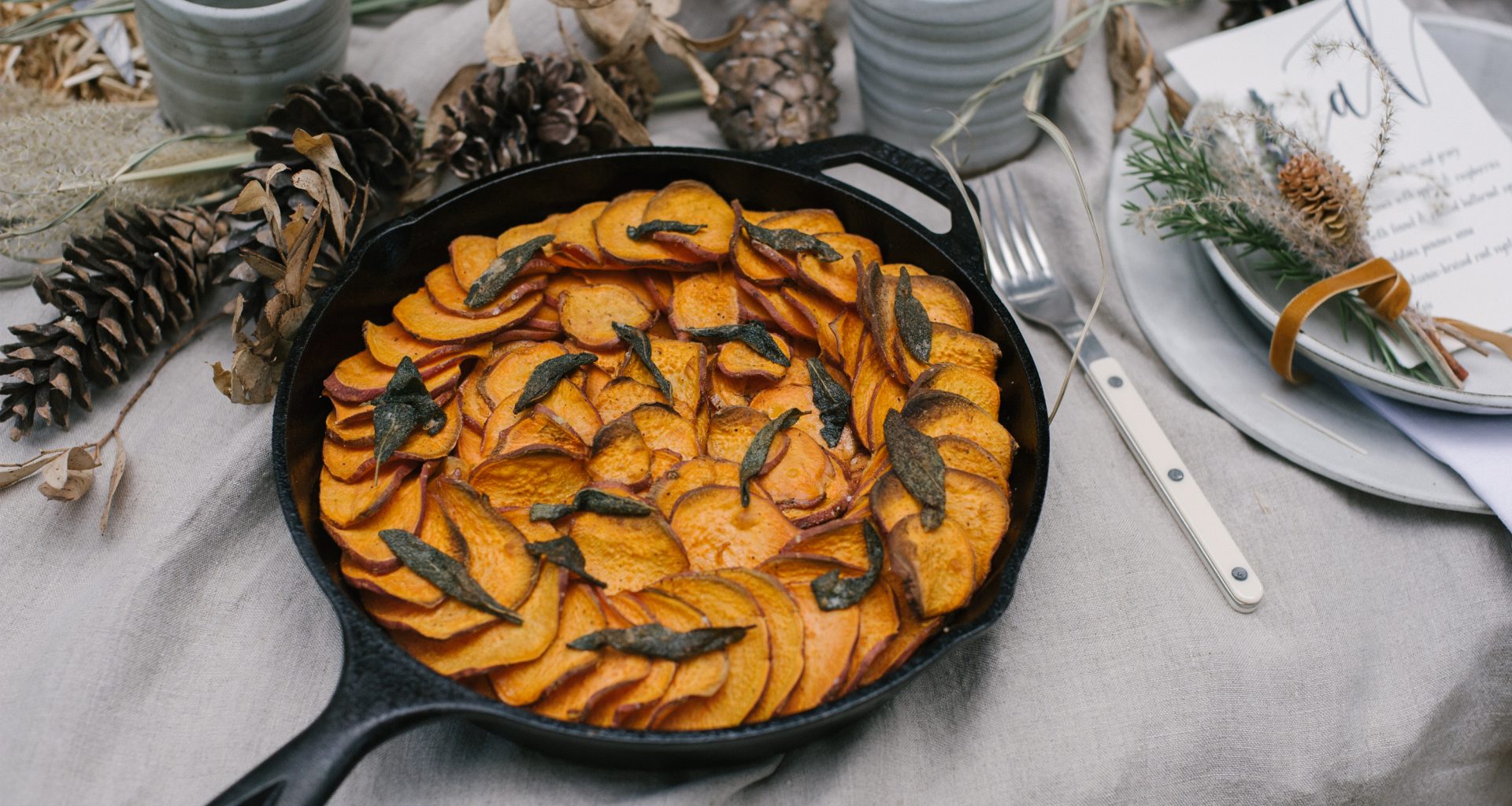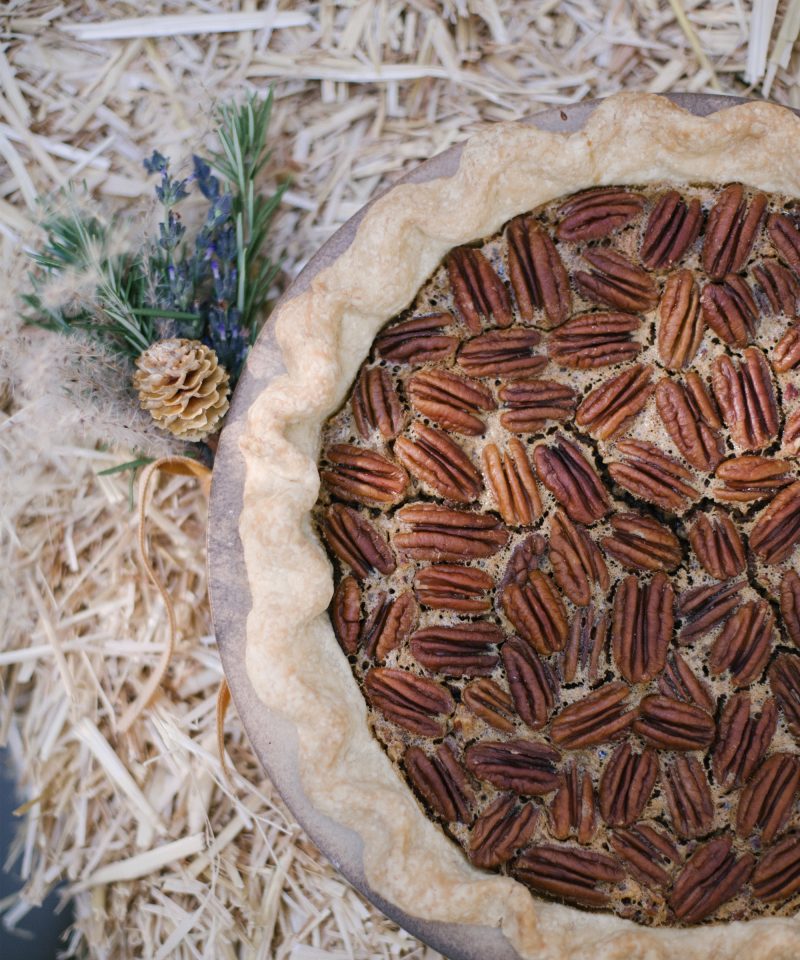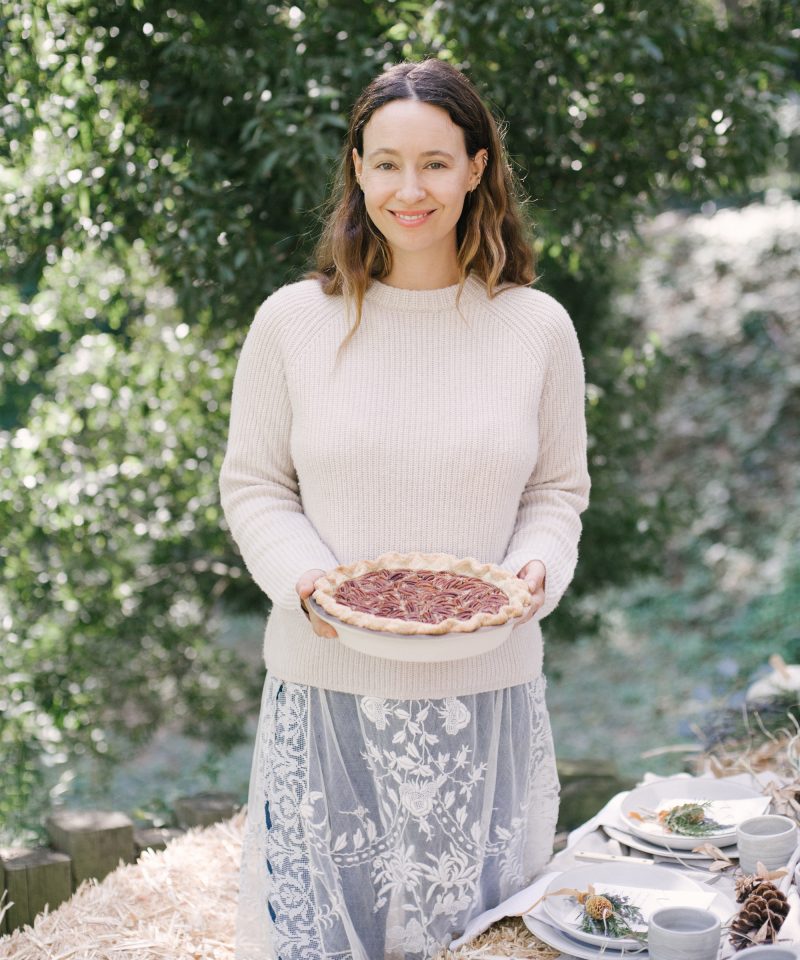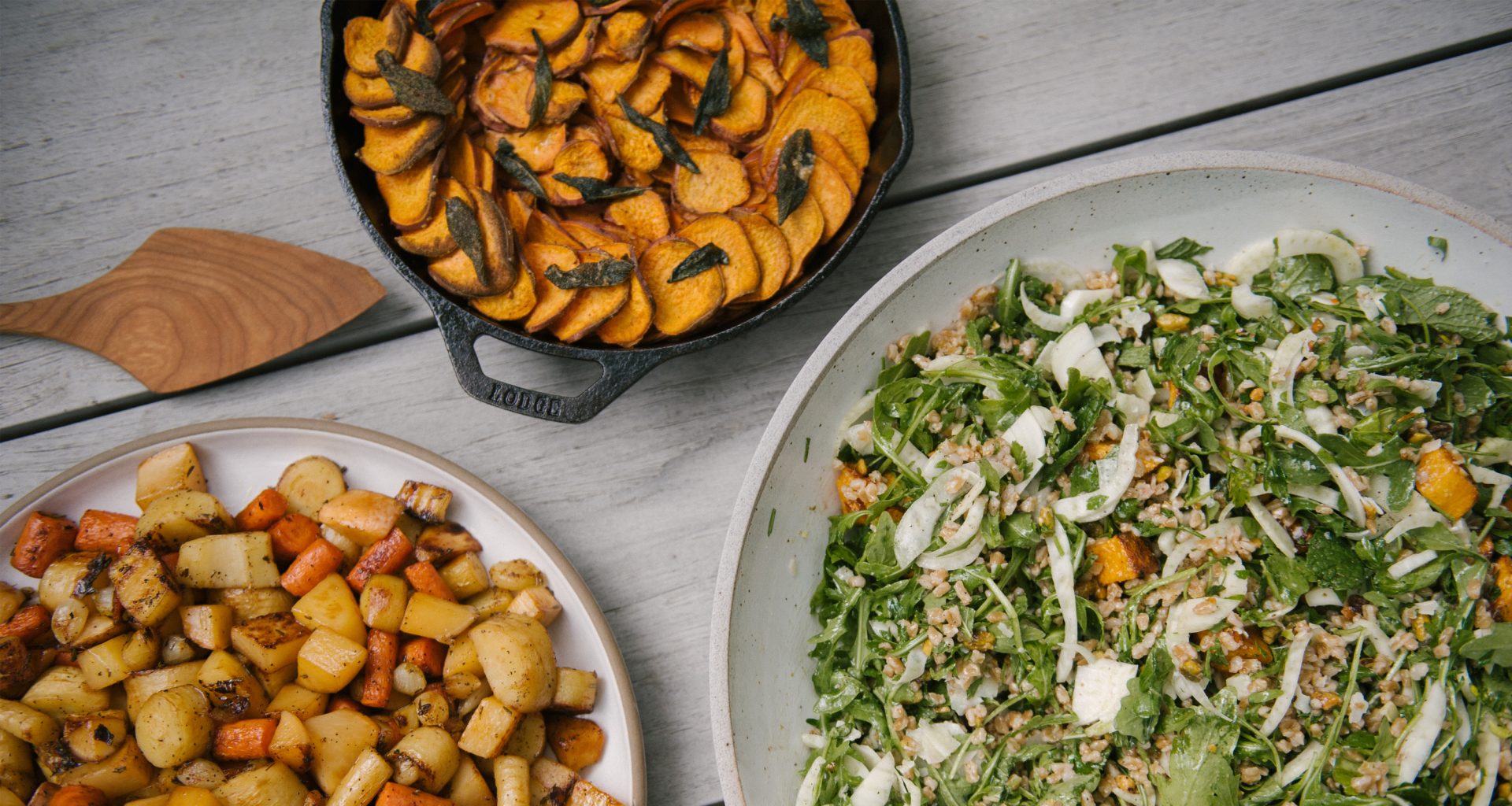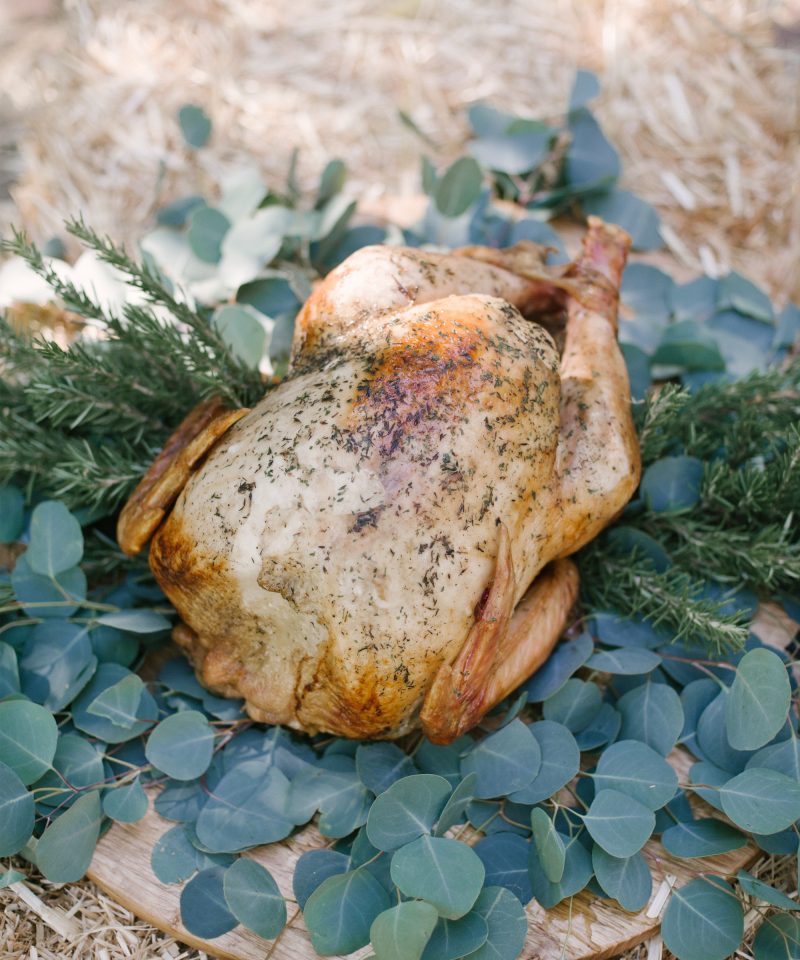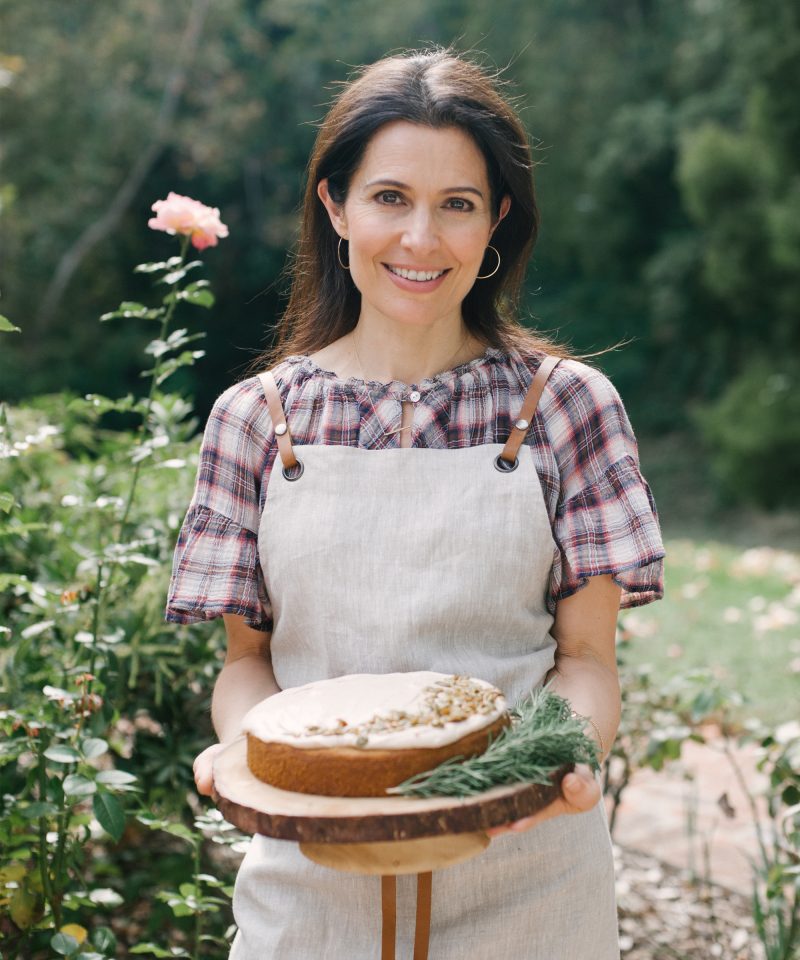 Farro Salad with Fennel and Roasted Butternut Squash
Spatchocked Herb Roasted Turkey
Sweet Potatoes Pommes Anna
Recipe
Farro Salad with Fennel and Roasted Butternut Squash
Ingredients
1 cup

237 ml

uncooked farro

3/4 cup

177 ml

apple juice or apple cider

1/4 cup

59 ml

apple cider vinegar
1 tsp sea salt plus additional
2 bay leaves

2 cup

473 ml

cubed butternut squash or parsnips or carrots
7 Tbsp unrefined, cold-pressed extra virgin olive oil divided
4 Tbsp fresh lemon juice

1/2 cup

118 ml

shaved (done with a vegetable peeler) Parmesan or Manchengo cheese optional

2 cup

473 ml

arugula leaves or baby spinach leaves

1 cup

237 ml

fresh flat-leaf parsley leaves left whole or roughly chopped

1 cup

237 ml

fresh mint leaves torn by hand or roughly chopped
1 small bulb fresh fennel halved and thinly sliced

1/2 cup

118 ml

chopped toasted and salted pistachios or pumpkin seeds (whole)
Flaky salt and freshly ground black pepper to taste
-Preheat oven to 400.
-In a medium saucepan, bring farro, apple cider, vinegar, 1 teaspoon salt, bay leaves and 2 cups water to a boil over high heat. Low heat to a simmer, cover, and cook until farro is tender and liquid has evaporated, about 30 minutes. Remove from heat and allow to cool. Discard bay leaves.
-Place butternut squash on a rimmed baking sheet lined with unbleached parchment paper. Drizzle with 1 Tablespoon of olive oil (or avocado oil or melted coconut oil), sprinkle with salt and pepper. Roast in one layer until caramelized and tender, about 30 minutes. Set aside. Can be made 1 day ahead.
-In a mixing bowl (or serving bowl), whisk together 6 Tbsp olive oil and 4 Tbsp lemon juice, plus a pinch of salt and a few grinds of pepper. Add cooked farro and cheese, if using. This can be done one day ahead.
-Bring salad to room temp and fold in arugula, herbs, fennel, butternut squash, and nuts or seeds. Taste for seasoning and add flaky salt and black pepper as needed.