Style
How to Bring Jenni's California-Inspired Style to Your Space
From LA to Lake Tahoe, Jenni's homes are a true testament to a signature design style that's nothing short of enviable. Comfortable, simple, and incredibly inviting, each space she creates is one we instantly covet (and are endlessly inspired by). With home and furniture collections and full-on redesign projects under our belts, we decided to launch our very own interior design services—so you can recreate the look and feel of Jenni Kayne in your very own space. We chatted with our Director of Brand Creative, Meaghan Murphy, for some added insight on how she takes cues from Jenni to make any space feel like home.
Rip & Tan: Regardless of the room, style, or vibe of the home, what unifies your design approach across projects?

Meaghan Murphy: My design approach is very much rooted in Jenni's taste. I followed Jenni years before working for the brand and have always been drawn to her warm, natural aesthetic. And after experiencing the way she lives in her homes, both in Los Angeles and in Lake Tahoe, I really understood how her 'aesthetic' translates to a way of living that feels simple yet makes every moment feel special. Jenni has inspired me on the daily to live better with less and to consider the little things you are interacting with each day: the sheets on your bed, the mug you use every morning, the baskets used for storage, and the ceramic vessel holding your toothbrush. I've learned that decluttering and sticking to essential pieces that make you happy (both for their functionality and design) can make a huge difference in your lifestyle, because it is the little things you're interacting with every single day that make up how you're experiencing your life.

This approach to living informs our design. Regardless of the room or the vibe of the home, our approach ensures that we are equally prioritizing form and function. And as for keeping the look and feel consistent across projects, it really comes down to keeping things light, bright, and natural. 

Rip & Tan: What would you say are the 3-5 core components of the JK interior aesthetic?

Meaghan Murphy: The three core components are a natural foundation, soft textiles, and ceramics. The foundation you begin with before you start decorating is the most important—lots of natural light, white walls, light oak wood floors, and investment furniture that grounds the space. Once you have that foundation, we always layer soft textiles like rugs, alpaca knit blankets, sheepskins, and linen pillows. Then we add ceramics throughout the home—ceramic plates and mugs stacked on open shelving in the kitchen, ceramic bells hanging from wooden pegs in the entryway, vases with fresh flowers and branches.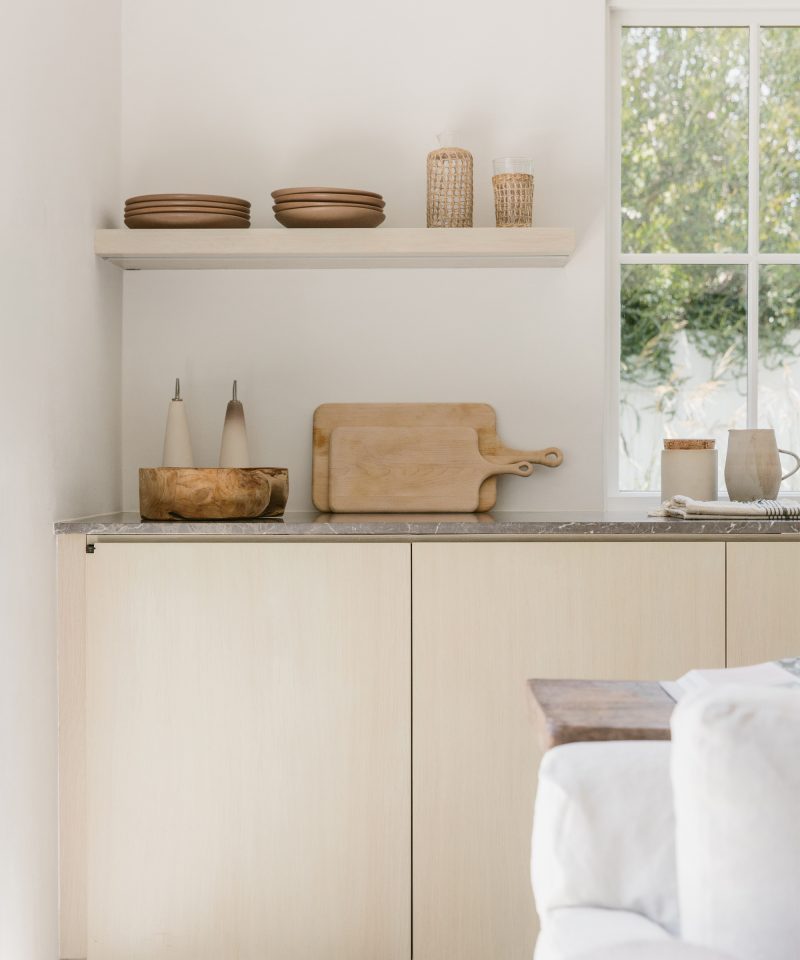 Rip & Tan: What's the best way to refresh your space if you're on a budget? Or if you're renting and can't do major updates?

Meaghan Murphy: If you're on a budget, you can easily change the look and feel of a space by painting it white and replacing hardware (just make sure you ask your landlord first if you're renting!). These are two relatively cheap, easy fixes that instantly transform how your space looks. Rugs and furniture also make a huge difference, so even if you aren't able to paint, you can make your space feel lighter and brighter by using light-colored fabrics and ceramics across the space—a great white or natural colored sofa, light-washed wood pieces like a dining table and night stands, off-white ceramic vessels, and white colored soft linens with neutral pillows and blankets. As for décor, we love using decorative wall hangings and MQuan bells instead of art which can often be quite pricey. The key to building a beautiful space is taking it slow. Invest in anchoring pieces first, like a sofa and bed, and take your time to layer the rest.

Rip & Tan: How do you balance functionality and beauty throughout a space? (ie: white couches with kids and pets).

Meaghan Murphy: This is probably the question we get asked most! We always just say that you just can't be too precious about anything and don't get too upset if something happens. Slipcover sofas are amazing so that you can clean them when they get a spot, and we love using painters drop cloths (from Amazon) to drape over the couch if you're worried about a mess. Jenni even made some custom drop cloth sleeves to put on her dining room chairs for the kids.
RIp & Tan: What's your favorite part of an interior design project?

Meaghan Murphy: My favorite parts are usually the very beginning and the very end. I love when we're handed a project in a new location and we get to think about how our aesthetic lends itself to that location and that space. A good vision board is my best friend. And the very end is so incredibly fun and rewarding. I love the final day of styling when we're all at the house adding final touches, making floral arrangements, and seeing it come together!

RIp & Tan: What makes a space feel like home?

Meaghan Murphy: The people you experience the space with are really what make it home. But in terms of how you decorate a space, invest in what you love slowly. Then your space will really start to feel like home.
Photos by Nicki Sebastian
More Stories