Living
Interior Designer Leanne Ford Gives Us a Tour of Her Renovated Farmhouse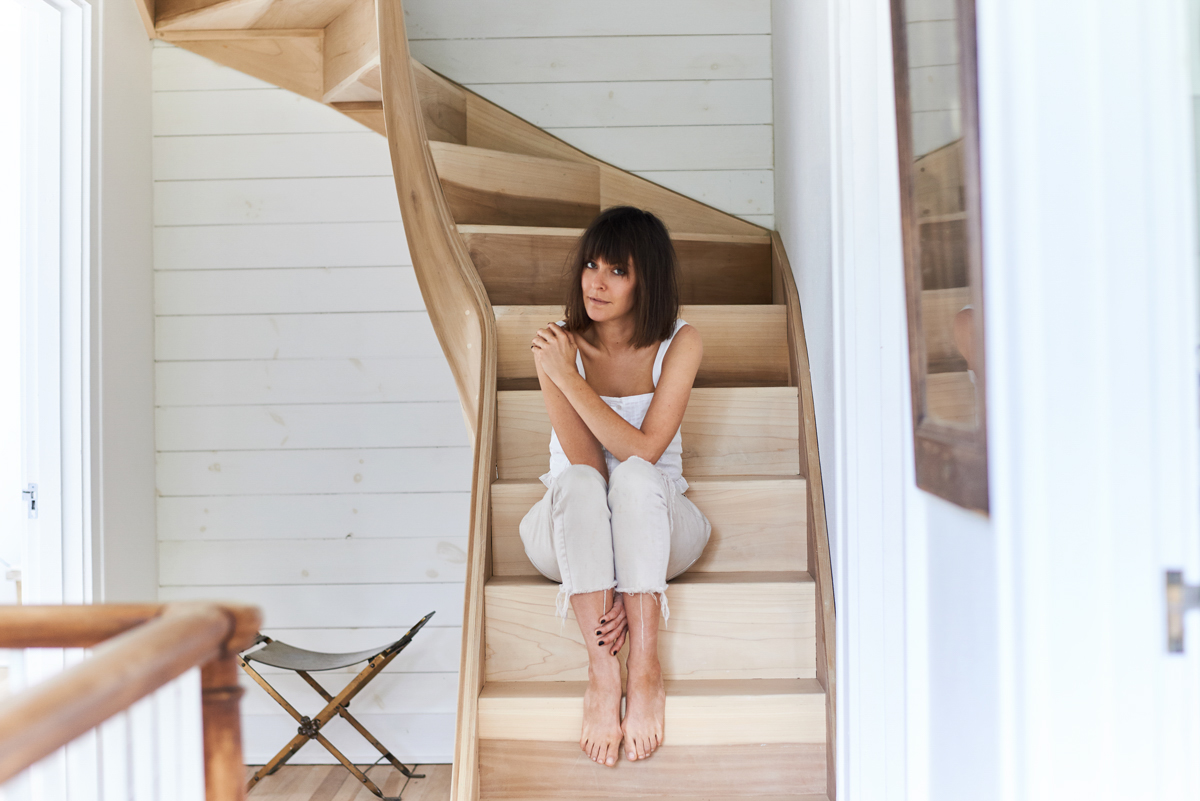 Leanne Ford is an incredible interior designer who I recently started following. She uses a lot of white, black, and earthy textures in her homes, which I naturally love. Her spaces are also known for having lots of great vintage, rock 'n' roll details and big, masculine furniture while still being really pared down and modern. And there's always a somewhat hidden place to rest or relax in all of her projects, which is fun. I love when designers use the architecture of a house to create private or cozy spaces. 
Leanne lives here in Los Angeles most of the time but is currently stationed in her home-away-from-home, Pittsburgh. She has a new house there and is working on an interior design show with her brother as well. We were lucky enough to get a tour of the new space and sit down with Leanne to talk about the renovation process and more. Check it out below! XXJKE
Rip & Tan: Tell us about your connection to Pittsburgh and how you split your time (and business) between there and Los Angeles?
Leanne Ford: I grew up in Pittsburgh and my family is all still here. I split my time between Pittsburgh and Los Angeles, about fifty-fifty. It totally depends on what I am working on and where, it's always pretty random. Right now I'm in Pittsburgh for six months, we are filming a series for HGTV.  It's called "Restored by the Fords." A show about my big brother, a contractor, and me, the designer, working on interior house projects around Pittsburgh. It's been so fun to be here for the summer. The weather is incredible and there's always amazing music playing in this city. 
Rip & Tan: What drew you to this particular home and/or neighborhood?
LF: I have the real estate curse, the one where you are constantly looking at what's for sale in neighborhoods all over the country…whether not you are actually in the market. Well, I was sitting in LA and of course looking up real estate in my hometown and this beat up old white house shows up and I fell in love with it. The pictures of the house were BAD but I knew what house it was immediately. I drove past this same very beat up old beautiful house as a child all the time imagining what I would do to fix it up. So I flew there and bought it that weekend. Real estate is fun in Pennsylvania, since the prices are so good you can really get a lot for your money. Especially since I have LA as my real estate standard—everything seems like a bargain.  
Rip & Tan: Tell us about the process of renovating the house. Who did you work with and what were the main projects?
LF: The entire house was a major overhaul. Walls down, walls up, new electrical, plumbing, repointed the entire brick structure, and that's all before making it LOOK pretty. I hate spending money on the stuff that doesn't show, but it's what you have to do to get to the good part. Especially when you are talking about old homes. I give myself fun challenges when I am doing a new projects. For example, this place has NO silver or chrome in the entire house. Not because I don't love silver and chrome, but I wanted to make it a case study in warm metals. Which, by the way, was actually pretty tough. 
The master bathroom doors were old Craigslist finds that I had been holding on to for years, we literally designed and built the bathroom and walls around those $200 doors. I also tried to see how many textures of white I could use in the house, and how many wood elements. I wanted the floor to feel unfinished, but that's not the smartest move in a city with four seasons, so we had to find creative ways to do that. We found a new product that we tried out that keeps the wood in its most natural state. I love how it turned out. I love doing my own houses, because I can try new things out, and if they don't work then oops, oh well, scratch that, moving on. 
Rip & Tan: Is the house "done" in your mind? What plans do you have for it from here?
LF: Every project I do will forever be in progress and I love it that way. My thing, for better or for worse, is that as soon as I feel a project is finished I move on to another house. It's a very expensive habit.  
Rip & Tan: What is your favorite room or corner in the house and why?
LF: I love the staircase to the attic. My brother and his friend Ed Zeiler custom made it for me. I turned the attic from a room with a pull-down ladder for storage into this beautiful loft space for my office. Since there was no actual room for a stairwell we had to get creative. I explained to Ed and Steve what I wanted to make the stairwell look and feel like, and this is what they came up with! It's a total work of art. I feel lucky to have those guys in Pittsburgh to help me on all of these creative ideas.  
Rip & Tan: What decorating or architectural lessons did you learn from renovating this house?
LF: Don't buy old houses? Just teasing. This house is almost 100 years old so the entire process was a major lesson, mainly in patience. 
Rip & Tan: What interior design concepts or motifs are really inspired by right now? What are you over?
LF: I am never over anything that I truly love. And I am never into anything I am not naturally drawn to. I just have to say that trends are in reality irrelevant. As soon as you see it, it's "over" so don't worry about it in the first place. Do what you love. Period. Whether it's in or out. I always think of my mom's living room that I grew up in, it's still the same rice wallpaper and Asia inspired decor as it was when I was a kid, and I swear that room has been "behind" and then "ahead" on the trend about six times since they decorated. Creativity and visuals move so fast you will never keep up. So just relax and make your home special to YOU. 
Also, let the house do the talking. This was a white brick farmhouse from the '40s. I played up the brick and the white and the vintage touches while adding modern life to it. If you kind of look and listen, then the house will tell you exactly what it should look like.  
Rip & Tan: When did you know that you wanted to be an interior designer?
LF: I am a creative soul, so I have been through a few creative careers already in my 30-something years here, including 15 years in fashion. But I would say in 8th grade when I came home from a birthday party and told my parents that we needed to paint our wooden cabinets and avocado colored refrigerator white, that was the start. They did it, too! 
I always decorated my rentals to the nines in collage and beyond, using whatever I had – spray paint, random fabric, curbside treasures, and when I finally had a house I owned, I of course did it up. That house ended up being featured in *Country Living Magazine*, and that article started my career. People started calling me to design their houses and offices and restaurants. I called my very successful Interior Design friend, Dan Mazzarini, up from grade school and said "What do I need to know to be an interior designer?" I think I got about four years of education in about 45 minutes. 
Rip & Tan: What types of formal (and informal) training did you get before launching your own company?
LF: I call it the School of Hard Knocks. Sometimes you just have to dive in and figure it out as you go. That's what I did. I have been in fashion for so long and it's the same kind of thing: if you have the eye, you have it. I love playing with how things look and work together. The juxtaposition of high and low, the casual with the elegant. That works in a room the same way it works on a runway. 
Rip & Tan: How has the business grown from day one until now? Tell us about some of the transitions.
LF: Oh wow. Well for starters I have more people helping me, thank goodness! But I still try to keep it pretty tight and grass roots. I want to be the one placing the furniture on install day for all of my clients. I need to be there to touch and move things and play with them. But I have been beyond blessed with amazing clients who have inspired every step of the project, and those projects have received some incredible press and attention. We have had our work in Architectural Digest, Domino, Living, GQ, New York Times. It never gets old. I feel excited and LUCKY every time anyone appreciates anything I have created in any way. 
Rip & Tan: What are your goals for the company in the future?
LF: Keep on keepin' on! I am realizing as I get older, that I feel best and happiest when I am creating something, and this is my ART. So I just want to keep creating and making art in all forms. That's my only goal. And to have the ability to do that for a living? That's rare and I appreciate it everyday. 
Rip & Tan: How do you balance your personal life with your career?
LF: Personal life comes first. Always. Luckily I love what I do so it's very intertwined. But I believe we work to live, we don't live to work. My babe once told me I was "the most driven laid-back person" he had ever met. Yes, I am very driven and inspired and busy, BUT I take a bath every night and get eight hours of sleep. And if anyone wants to go out for dinner and drinks, I'm in.
Rip & Tan: How would you describe your personal style? What do you tend to live in?
LF: Pretty easy, casual, modern, but lived in. I love beautiful clothes, and I have my share of them hanging in the closet. Yet somehow I tend to always find myself in a men's T-shirt. 
Rip & Tan: What do you wear when you need or want to dress up a bit?
LF: Heels! I don't wear much make up really, so heels are my red lipstick. No matter what I am wearing or how dirty my hair is, if I put heels on I am feeling gooood.  
Rip & Tan: What are some of your beauty staples?
LF: Mario Badescu for my face and YSL mascara.
Rip & Tan: What wellness rituals do you cherish?
LF: I walk in the woods every day with my dog, Tom Ford. (God-given name) Being outside in fresh air is my A number one. I wish I could rattle off more and say how Zen I am, but that's about all.  
Rip & Tan: What are reading/watching/listening to right now?
LF: I just finished reading "Born to Run" by Bruce Springsteen and I couldn't put it down. I'm pretty sure I underlined half the book. He is magic. I want to start from the top again!
Listening to all things Josh Ritter. All day, every day. He is a genius. 
Speaking of! We are watching "Genius" on NatGeo right now. I always loved Einstein's writings, and I have no idea what he is talking about most of the time, but he and his story is incredible, and the show is really well done.