Style
Inside Ceramic Artist Beth Katz's Studio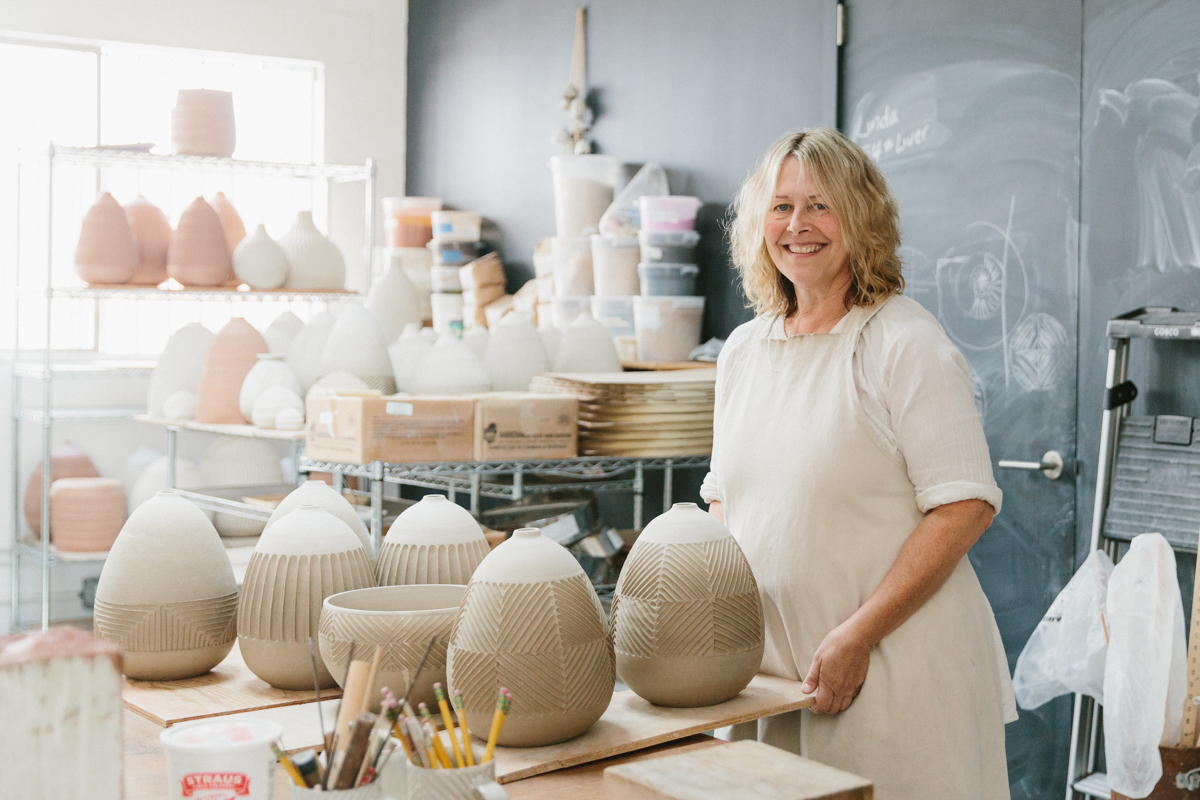 Beth Katz has been working with clay since she was just a girl, but it didn't become her career until much more recently. The Topanga Canyon native was a successful makeup artist and a creative director for a magazine before eventually turning her hobby of pottery into a full-time endeavor. Beth's beautiful, organic line of vessels, tableware, lighting, and decorative objects, called Mt. Washington Pottery, is now carried all over the U.S. and Japan, including at Jenni Kayne. We visited the artist in her studio to get a closer look at her process. Read our Q&A below and be sure to check out our home tour with Beth from yesterday if you missed it. Her renovated '20s-era cottage is equally dreamy and a must-see for anyone who loves a good canyon home! XXJKE 
Rip & Tan: What was your first experience making pottery? Why did you connect to the medium?
Beth Katz: I was introduced to clay when I was eight but really started making pottery in high school. It was immediately natural for me to sit at the potter's wheel and work, and once I started I never wanted to stop. The experience took me someplace else and I loved the freedom I felt while working with clay, and I still do. 
Rip & Tan: You've had several exciting creative careers. Can you tell us about your path and how it led you to eventually take up pottery full-time?
BK: My father was in the fashion industry and had a company that manufactured a lower priced line of women's dresses. My Dad would take me shopping with him, I had a good eye and could always choose the best pieces. In the summers I'd help him buy all the buttons, zippers and trimmings and I really enjoyed doing it. I thought I'd go to school for fashion design but got side tracked and wound up working as a freelance makeup artist for fashion and beauty advertising campaigns and editorial shoots. 
For about fifteen years I traveled a lot and, feeling a desire to stay in Los Angeles a little more, I began freelancing for a local women's magazine producing and art directing photo shoots. I eventually accepted a full time position and worked as a Creative Director until they relocated the office to New York. Not wanting to leave California, or knowing what I wanted to do next, I enrolled in the graduate program for Spiritual Psychology at The University of Santa Monica thinking it might help me figure it out. I think I'd only been in school just a couple of months when someone suggested I turn my hobby into a business. I thought it was a ridiculous idea but after some gentle coaching I started to consider the possibility and wound up incorporating ceramics into my graduate degree project. By graduation I had started the beginnings of Mt. Washington Pottery.
Rip & Tan: How did you first get Mt. Washington off the ground?
BK: It happened very organically, mostly through word of mouth. I had friends who were also starting creative businesses at the same time and looking back (I see) something was starting to happen creatively in Los Angeles that I was lucky to be a part of.      
Rip & Tan: How would you describe your aesthetic in pottery? What are your influences?
BK: I appreciate function as well as form and beauty. I like things pretty simple and am always trying to find a balance in color texture and shape in my work. Fashion has always had an influence on my life as well as in my work. I love traveling and find other places and cultures exciting and inspiring. Mexican pottery and folk art, Scandinavian pottery and design, the simple pottery I found while traveling in India. And Japan – I love Japanese pottery and I am obsessed with the history and tradition of pottery in Japan.  
Rip & Tan: What don't most people realize about the art of making ceramics? What would surprise us about your process? 
BK: Most people don't understand how much time goes into making handmade ceramics.
Rip & Tan: Tell us about your idea of the perfect work day. What is your schedule like and what is the atmosphere in the studio?
BK: My perfect work day is when I'm alone in the studio. Just the natural light streaming in the windows, no lights or music on. This is when I can get lost in the process and be most creative.
Rip & Tan: What spots around the studio do you frequent, whether for coffee, food, drinks, or shopping?
BK: On special occasions I love to get lunch from Dune, Viet and Momed restaurants in nearby Atwater Village. My favorite shop is Individual Medley, they carry the best incense; Incense of the West which I burn in the studio. And our friends Frogtown Brewery, right next door make wonderful beer.  
Rip & Tan: What are your top five workspace musts?
BK: Natural light, a clay sink, my kiln, good ventilation and a positive attitude.
Rip & Tan: What is your professional mantra? What overarching belief guides your work? 
BK: Everything is positive and happens for a good reason.