Living
Getaway: Ojai Travel Guide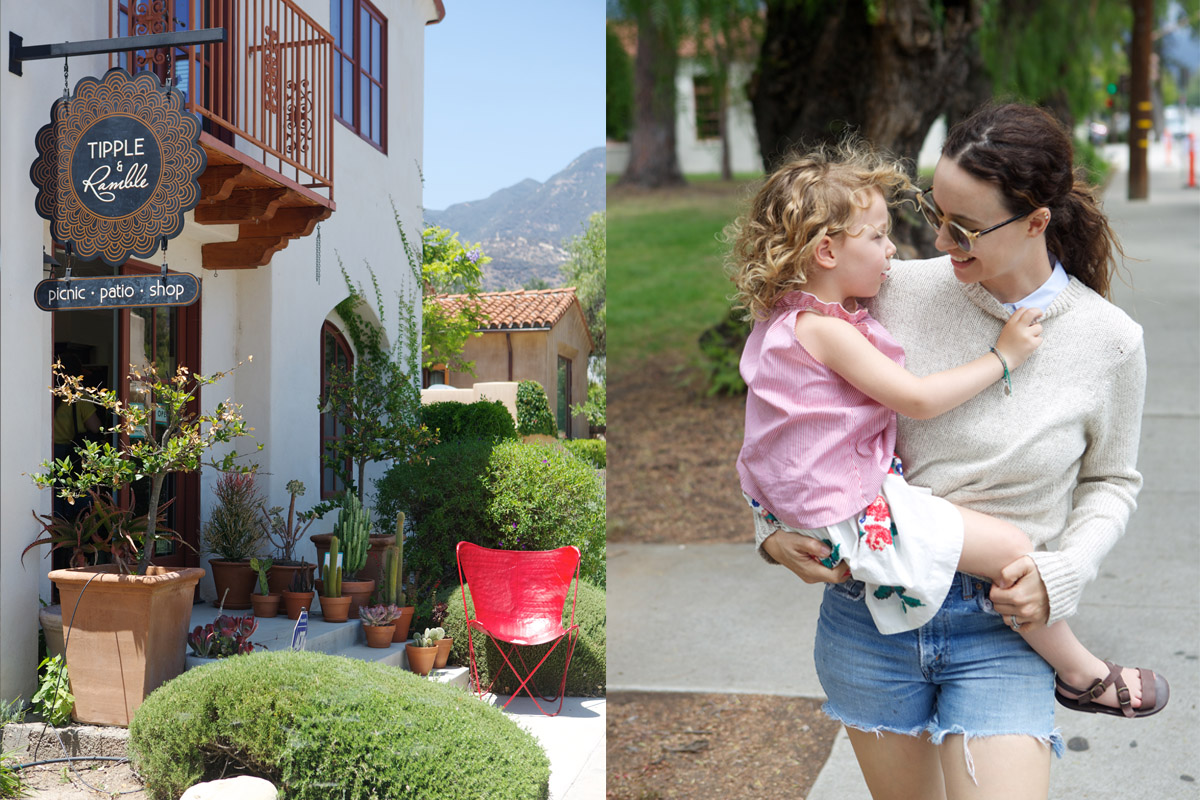 A getaway is always a good idea – even if just for a long weekend – and one of my favorite places to take a break from it all is Ojai. A place unlike any other – with a vibe to match – this decidedly laid-back and bohemian destination is filled with natural beauty, and an abundance of things to do. On our most recent visit, we got to see a bit of everything, and had the most wonderful, relaxing time (for our getaway, I wore some casual favorites, including my Cotton Lawn Sleeveless Shirt and String Crewneck Sweater). Below, I've put together my picks for shopping, dining, doing and staying, with a little help from my friends and Ojai residents Yifat Oren, Bianca Roe and Susie Crippen. I hope you enjoy. XXJKE
SHOP
Tipple and Ramble – A charming home store with an array of beautiful merchandise including wooden bowls and spoons, woven place mats, cheese knives and enamelware. A bonus: the side patio on which you can order wine/cocktails and small nibbles. A new addition to my list of must-visits when I am in town.
In the Field – A thoughtfully curated assortment of home furnishings, decor, apothecary, apparel and accessories housed in a space as remarkable as its goods, from husband and wife duo Channon and Bianca Roe.
Rainbow Bridge – Incredible heath food store with a vast array of products. A destination I could easily spend hours in if given the opportunity.
FiG Curated Living – A beautiful space featuring a selection of unique gifts for home and garden, with a focus on local, handmade, and fair trade goods.
Bart's Books – An Ojai mainstay, this indoor/outdoor bookstore – step inside and you realize it has no roof – features a large selection of books, many of which are housed in the shelves that line the exterior of the store. In addition, Bart's carries a small selection of pieces from Ojai-native ceramists – I picked up a lovely white vase on my last visit.
Modern Folk Living – Nestled at the end of a driveway, this eco-boutique features a carefully selected assortment of clothing, apothecary, books, and products for home.
deKor&Co. – A gorgeous, well-curated home and lifestyle boutique housed inside a large, open space with high ceilings. Featuring a mix of new and vintage pieces including a great selection of rugs, lighting and chairs, deKor&Co. had me at hello. An unexpected treat: the tea bar inside that features a selection of over thirty organic options from Art of Tea.
Rains of Ojai – An Ojai institution, this small department store carries a unique selection of items, many of which are locally made, including apparel, apothecary and goods for home and garden.
Serendipity Toys – This tiny family-owned toy store is filled with a comprehensive selection of toys, many of which cannot be found at large chain retailers.
DINE
Farmer and The Cook – Off the beaten path in Ojai, this farm-to-table organic vegetarian market and restaurant serves up Mexican-inspired dishes in a friendly and relaxed environment. On the weekend, the menu features seasonal specials and pizzas, and live music on the patio each Sunday.
Marche Gourmet: This European-style deli (and great lunch spot) features classic deli sandwiches, panini, fresh salads, homemade desserts, and gelato and espresso. Not to be missed: the Southwest Salad with Black Bean Patty.
NoSo Vita – This newly-opened cafe features indoor and outdoor dining in a coffeehouse/bistro environment, and a menu intended to awaken the senses (complete with a craft draft coffee selection).
The Summit – A classic burger joint located in Upper Ojai, this relaxed eatery's shakes come highly recommended by the locals who have been enjoying them for years.
Knead Baking Company: A family-run artisan bakery featuring seasonal desserts, hearth breads and savory baked goods that highlight local ingredients. My favorites: their out-of-this-world specialty breads.
The Ranch House – This wonderfully romantic restaurant features upscale California fare, including homemade breads and site-grown herbs, as well as an award-winning wine list.
Le Picnic – A boutique catering company focused on the deliciously playful and untraditional, Le Picnic also partners with local restaurants, musicians, fruit growers and farmers for unique pop-up events.
Hip Vegan – This cozy counter-serve cafe and juice bar serves up delicious vegan and organic sandwiches, salads and smoothies in a minimalist environment, and features both indoor and patio seating.
Ojai Ice Cream Shop – Located in Downtown Ojai, this cute and classic little ice cream shop features homemade ice cream and other sweet treats.
STAY
Ojai Valley Inn and Spa – This highly acclaimed (and absolutely beautiful) resort features a white facade set against a backdrop of mountains and giant oak trees. A tranquil and luxurious retreat, the inn offers an array of amenities and activities to enjoy during your stay, including golfing, hiking, bike rentals, and an award winning spa.
Ojai Rancho Inn – This hip and rustic boutique inn was converted from an old motel, features decor from local artists, and offers a great alternative to the pricier Ojai Valley Inn.
Ojai Retreat – Set on five acres of grounds, this hilltop extended-stay Bed & Breakfast features panoramic views of the Ojai Valley in a tranquil and relaxed environment.
DO & SEE
Ojai Hot Springs: Situated on a major fault line, these healing hot springs are naturally warm and rich in minerals such as sulfur.
Bamboo Creek Spa – Located in Downtown Ojai, this spa offers reflexology, hot stone therapy, and Oriental oil massage, with therapists who have all been trained in China for a minimum of three years.
Ojai Pottery & Clay School – Formed to teach and support the creation and promotion of ceramic arts, this school features a studio in the back where classes are held and work is fired, and a gallery in front where the items are displayed and sold.
Behler Chelonian Center Turtle Conservancy – Tucked in the foothills of Ventura County, this center is run by avid conservationist and New York hotelier Eric Goode, and is dedicated to protecting the most endangered turtles and tortoises and their habitats.
Sacred Space Studio – A beautiful and unique studio featuring a range of yoga classes as well as those in aerial dance, meditation and ballet.
Photos: Graham Unterberger