Food & Drink
Entertaining 101: A California Tea Party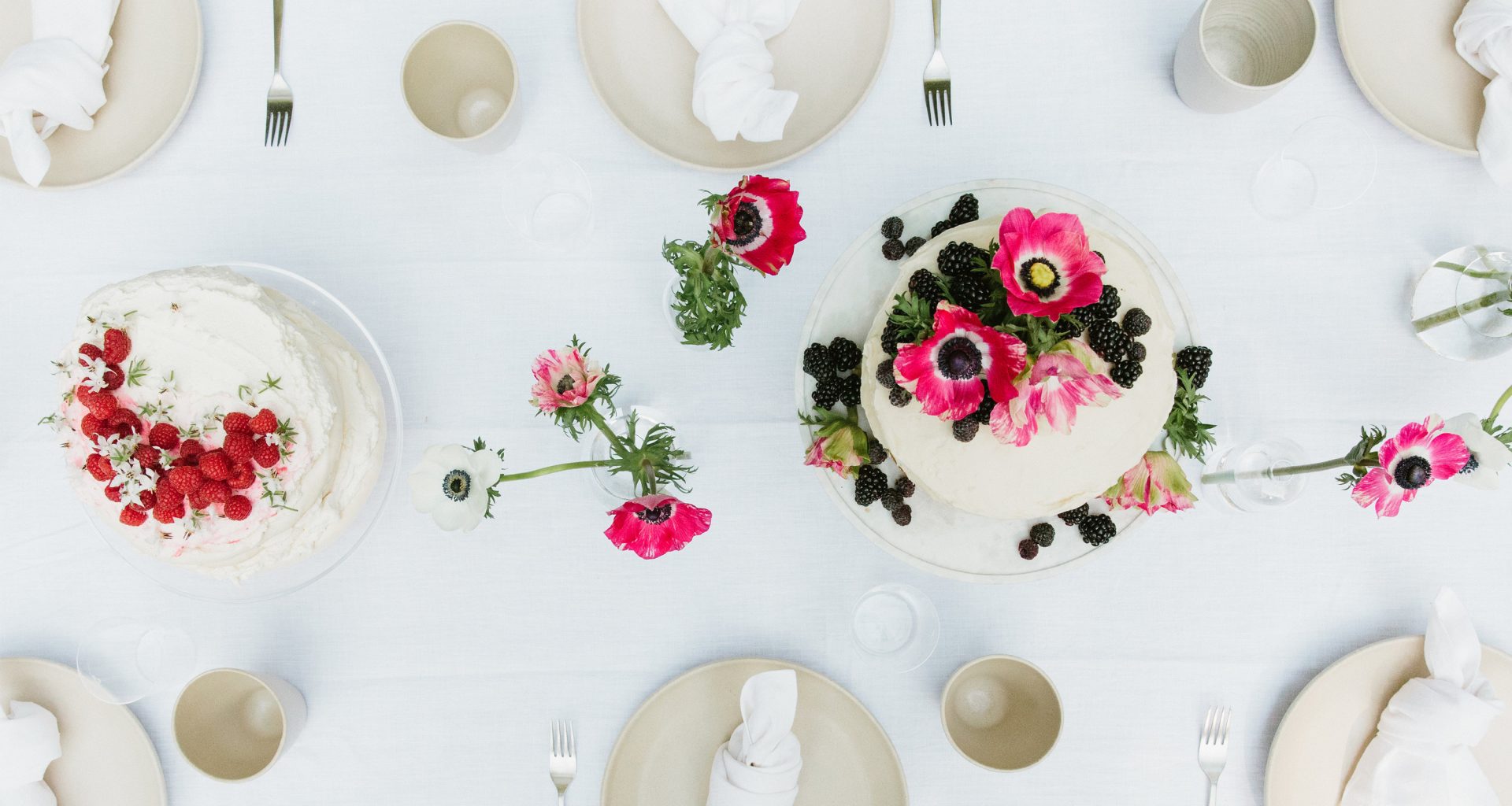 Longer days and sunnier skies are made for taking entertaining outside. With the help of our friend Annie Campbell, we hosted an afternoon tea with delicate touches and the leisurely air of a California garden. Ever the creative host, Annie set a sprightly table to serve a spread of teatime treats.
Looking to nature as a cue for décor, bud vases held spindly pink and white anemones, a sweet and delicate flower that blooms in early spring. Place settings were simple and modern, a relaxing departure from the frilly serveware of traditional teas, favoring
earthy ceramics
over porcelain or china and natural linen instead of a delicate lace.
Annie planned a perfect menu of non-traditional (and super easy to make) sweets, and we can't deny that we love a party where the dessert is the main course. The table was a shining example of how to pull off a simple gathering that you too can enjoy as much as your guests. An eye-catching cake acts as both dish and centerpiece, relieving the pressure of pulling out every stop by following our favorite rule of thumb: simple is always best.
Rustic hunks of chocolate bark are not only easy to make, but they're easy to pack for guests to take home. And for a reimagining of tea party finger foods, simply set out a bowl of strawberries for your guests to enjoy. You can try your hand at this toppling cake by following Annie's recipe below or simply pick up a few desserts from your local baker—all you need to recreate the tea party vibe is a few close friends and a crowd-pleasing tea.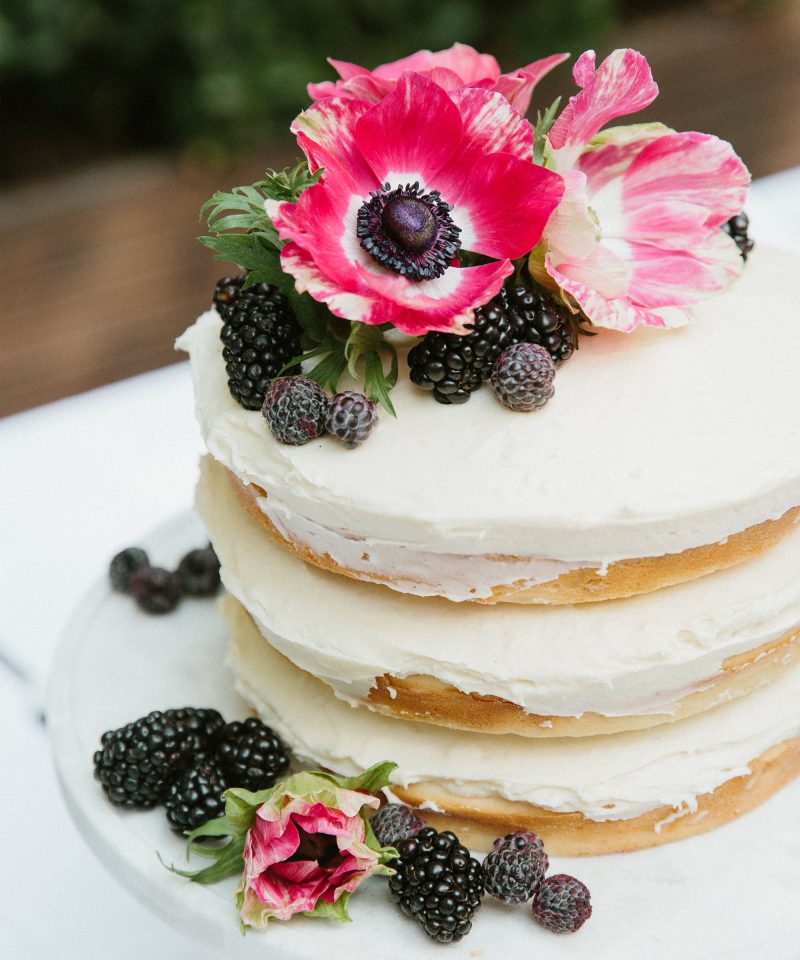 The naked cake (named for its lack of frosting on the outside) resembles a tiered serving stand with its towering stack of buttery vanilla layers and creamy frosting between each piece, finished with dots of ripe and juicy blackberries. (tip: if you're making this cake a day ahead, leave the berries out until the last minute, or they'll leak around the edges and bleed into the cake.)
Naked Layer Cake By Annie Campbell
Recipe
Naked Layer Cake By Annie Campbell
Servings: 1 4-layer 9" cake
Units:

Course: Desserts
Ingredients for the Cake
2 1/4 cup

532 ml

butter unsalted, room temperature, plus more for pans

6 cup

1420 ml

cake flour sifted, not self-rising, plus more for pans
1 1/2 tsp baking powder
1 1/2 tsp baking soda
3/4 tsp salt

3 cup

710 ml

sugar superfine
12 egg yolk large, lightly beaten

2 cup

473 ml

sour cream
3 tsp vanilla extract pure
Ingredients for the Frosting
3 oz

85 g

cream cheese room temperature
3 butter sticks, room temperature

4 1/2 cup

1065 ml

powdered sugar plus more for dusting
3 tsp almond extract
fruit and flowers, to decorate, e.g. figs, berries, greenery
cake pans 4-9"
Baking
Heat the oven to 350 degrees. Arrange two racks in the center of the oven. Line the bottom of four 9-by-2-inch buttered round cake pans with parchment paper. Dust the bottom and the sides of the cake pans with flour, and tap out any excess. Sift together flour, baking powder, baking soda, and salt, and set the bowl aside.
In the bowl of an electric mixer fitted with the paddle attachment, cream butter on medium-low speed until fluffy, 1 to 2 minutes. Gradually add sugar, and keep beating until the mixture is fluffy and light in color, about 3 minutes. Gradually drizzle in egg yolks, beating on medium-low speed between each addition until the batter is no longer slick. Beat until the mixture is fluffy again, about another 3 minutes.
Alternate adding flour mixture and sour cream to the batter, a little of each at a time, starting and ending with the flour mixture. Beat in vanilla. Divide the batter between the prepared cake pans. Bake until a cake tester inserted into the center of each cake comes out clean, 30 to 40 minutes, rotating the pans in the oven, if needed, for even browning. Transfer cake pans to wire racks to cool, about 15 minutes. Remove cakes from pans, and let cool completely on racks, tops up.
To assemble, remove parchment paper from the bottoms of cakes. Generously spread a layer of frosting between each cake layer. Transfer cake to the refrigerator to firm for 1 hour. Garnish the cake with fruit & flowers and lightly sifted powdered sugar.
Photos by Nicki Sebastian