Living
How Art Saved Emilie Halpern's Life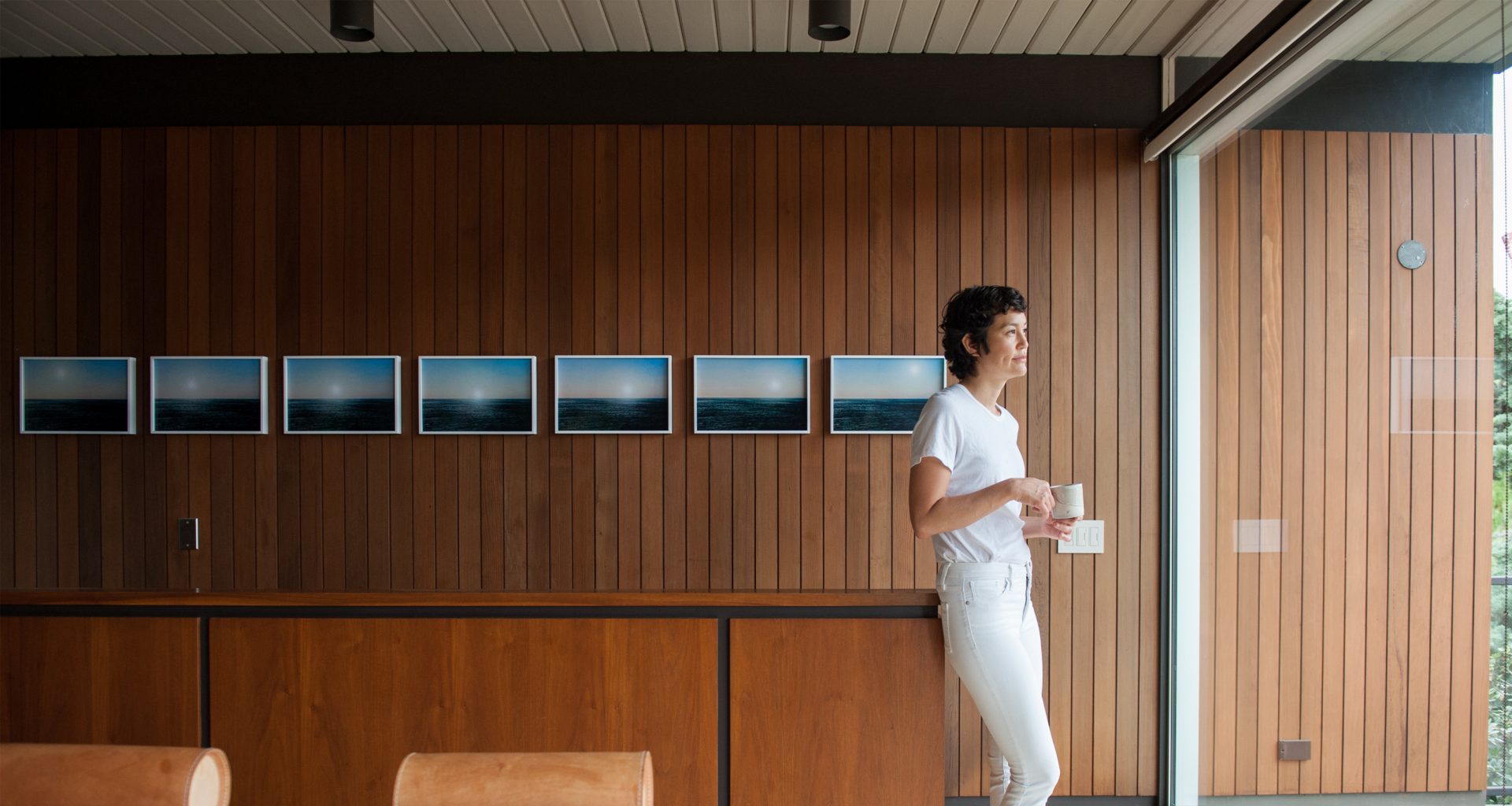 Emilie Halpern is not afraid of change. After a traumatic year of loss, this luminous LA-based artist has survived and thrived. Polaris is her first public work since her husband's suicide and her subsequent breast cancer diagnosis. Named after the light that led her through the darkness, Emilie's work is an ode to her resilience and the polarity of life itself.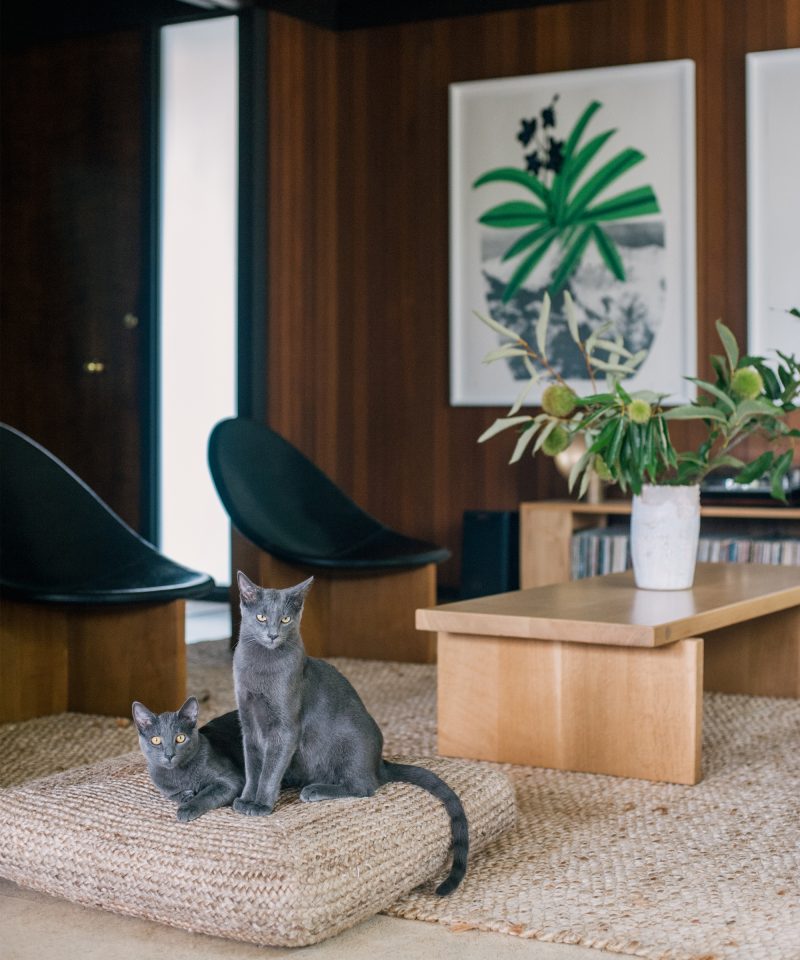 Rip & Tan: Tell us a bit about your background and upbringing and how it's informed your style, aesthetic, and mindset today:

Emilie Halpern: I was born In Paris. My father is French and my mother Japanese, but she was raised in Paris. Her father, Takanori Oguiss, was an early Western-style oil painter. He first came to Paris in the 1920s. He had a love affair with the streets of Paris. He painted them all his life. Spending my early childhood around his atelier in Montmartre, I knew that I was going to grow up to be like him, to be an artist.

When I was 5 years old, we left Paris and moved to Northern California to a Sea Ranch-style home. The combination of Californian & Japanese architecture has always appealed to me. My mother filled our home with Japanese objects: Shoji screens, Tansu dressers, paper pendant lights, and beautiful indigo dyed fabrics. My home and furniture aesthetic are very much inspired by Japan, along with my art & ceramics.

Rip & Tan: How would you characterize the women in your life, or those you look up to, and the ones you're inspired by? 

Emilie Halpern: Last year was a big year for me. My husband died, and then a month later I was diagnosed with breast cancer. At the time my son was 4 years old. The person I was expected to lean on was gone. But what I came to realize was I had more than that. I had a group of women by my side. They were friends I had made throughout my life, some I hadn't spoken to in years. I never felt more loved. When the sh*t hits the fan, you never know who's going to show up. The person that you would expect might not be there, but it works the other way around too.

I was gifted the same book twice at my husband's memorial, Pema Chodron's "When Things Fall Apart". After I read it, I understood why. She writes about how the hardest moments are teachers:

"The most precious opportunity presents itself when we come to the place where we think we can't handle whatever is happening. It's too much. It's gone too far. We feel bad about ourselves. Basically, life has just nailed us. Most of us do not take these situations as teachings. We automatically hate them. We run like crazy. We use all kinds of ways to escape. We meet our edge and we just can't stand it."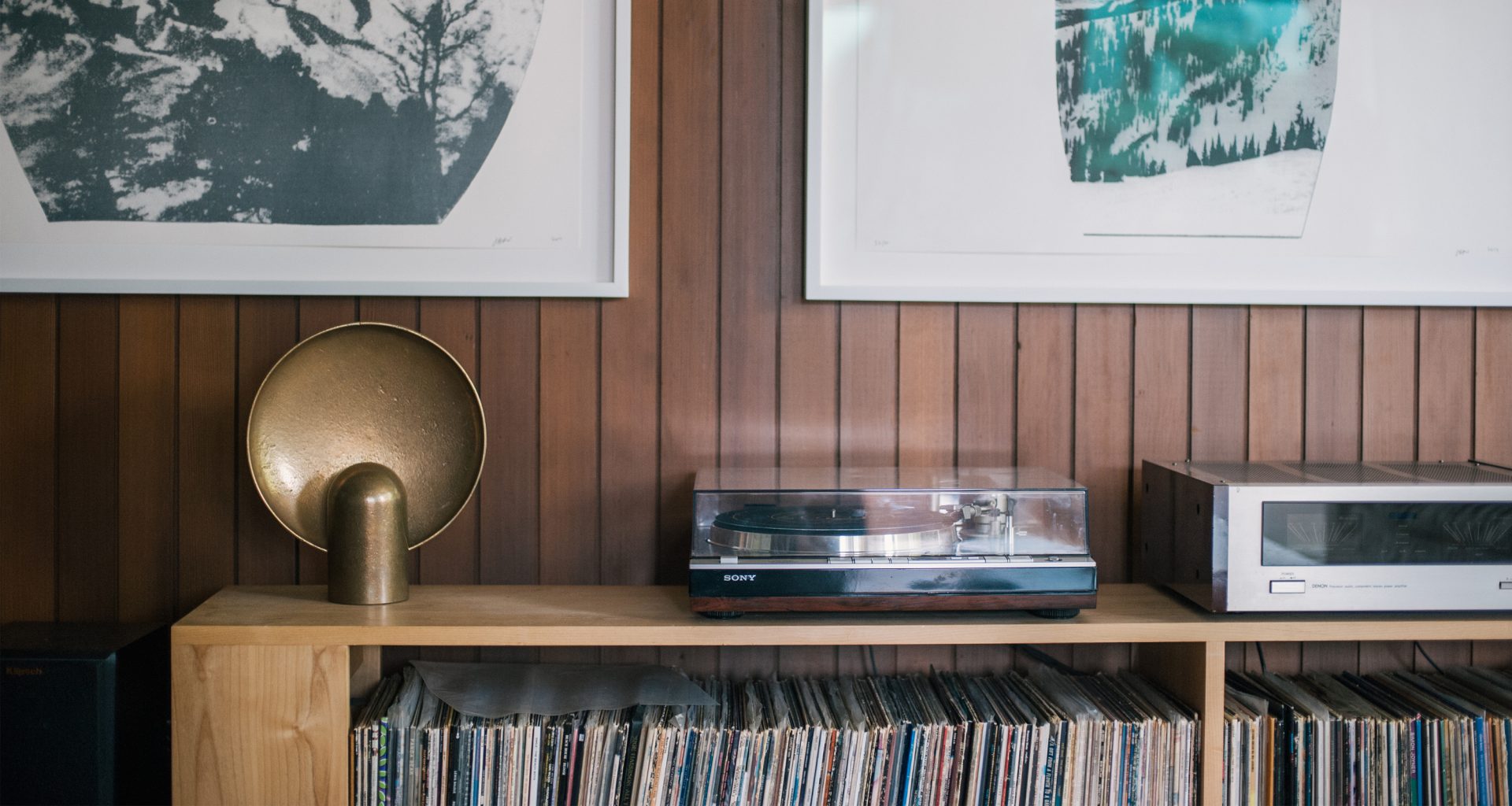 Rip & Tan: You currently have an exhibition on view at Jonathan Hopson Gallery in Houston, Texas. It's a debut of sorts, a result of a transformation. What was working on this project like while it was still in progress? Has its reception or completion been a kind of catharsis?

Emilie Halpern: Over the course of a few months my life, as well as my work, immeasurably changed. This is the first body of work I'm making since Travis' suicide and my breast cancer diagnosis.

Everything is finite. In fact, if it's fleeting and elusive, it becomes more precious and valued. Flowers are symbols of beauty because of their transience. Desire is predicated on absence. Death & immortality are themes that have frequently appeared in my work in the past. "Immortal" is a photograph of a jellyfish that never dies. "June 29, 2055" is an installation with stars as they will appear on the night of my death based on the average lifespan of women in the US. "Drown" is a puddle on the floor of sea water that represents the amount that would fill the average human lung. This one is perhaps the darkest artwork I made relating to death, the one that comes closest. But all of them were about the idea of death, how it relates to loss in romanticism. The sadness was the sadness that comes when you pin down a butterfly and you feel something else slip away. In capturing the elusive, you destroy everything you admired about it. 

This work is different. This is about not wanting to die. This is about wishing I could've saved someone from killing themself. This is about grieving. The exhibition at Jonathan Hopson is titled Polaris. When everything else was falling apart in my life, was on fire, art was there, it was my Polaris. Art saved my life. 

One of the sculptures in the exhibition is titled "Mate for life". It's a Scarlet Macaw tail feather sticking out of the wall. I made this artwork soon after getting engaged to Travis. At the time it symbolized a new view on love. Up until then, my work & my personal life had been invested in unrequited love and romantic concepts of longing and suffering. Scarlet Macaws mate for life. In the wild, they fill the sky in perfect pairs. When their mate dies, they become suicidal. Like humans leaping from skyscrapers, widowed Macaws plummet from the highest bough in the rainforest. Almost a decade after making this artwork, it has come to represent something else. The foreboding of what was to come is uncanny. Like a falling macaw, Travis ended up killing himself.

A new sculpture is Philospher's Stone. It's made up of a locally sourced Blue Granite boulder dusted with photochromic pigment. When exposed to sunlight, the achromatic powder transforms to a vibrant red. The pigment continues to shift back and forth from white to red as sunlight comes and go. Eventually it becomes sunburnt and remains permanently red. The philospher's stone is a legendary alchemical substance capable of bestowing immortality. If a small part is consumed, it can heal all illnesses. Famous for it's powers of transformation, it can turn base metals to precious ones. Lead becomes silver, mercury becomes gold. Though mysterious in appearance, it was thought to be white or red. Urn I & Urn II are black ceramic vessels based on ancient Mayan and Anglo Saxon cinerary urns. The larger vessel contains 6 pounds of ash, the average weight of a cremated man, and the other contains 4 pounds, the average weight of a cremated woman.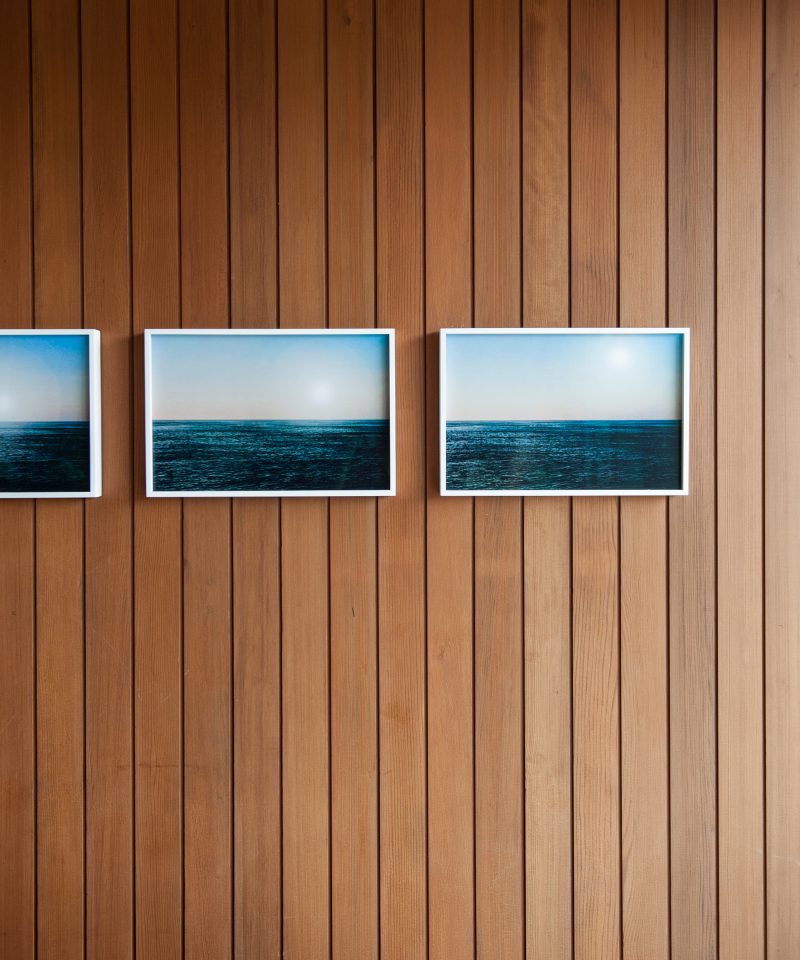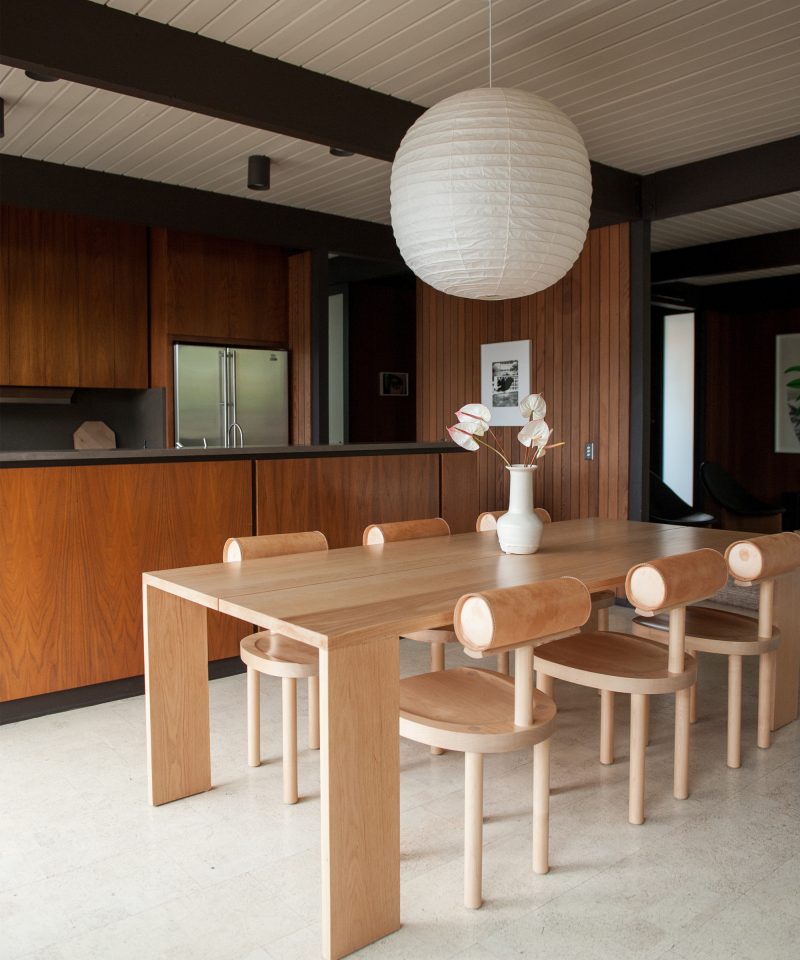 Rip & Tan: You've been open about some of the darkest moments in your life—how have these events become a part of your story, without defining you entirely?

Emilie Halpern: I lost my breasts to surgery and my hair to chemotherapy.  I lost the body that I once knew. It was hard to feel like I couldn't control that physical change. But there was something I could control. I never understood the power of clothing and makeup until now. Looking in the mirror, I didn't want to see a sick person, a dying person, I wanted to see a beautiful woman, a survivor. That's how I fought back. I bought wigs. My favorite was a long one with bangs, hair longer than I've ever grown. And then there was lingerie. Beautiful black satin lingerie. Cancer forced me to focus on my body. And what I discovered there beyond the illness, was my femininity, my sexuality. Something that I had forgotten about or maybe never completely uncovered. I was ready to be an adult woman and part of that was owning my sexuality, and feeling empowered.

Rip & Tan: Your home is remarkably serene, perfectly couched between notes of midcentury and contemporary aesthetics. What influenced you during the design process, and what does being at home mean to you?

Emilie Halpern: My home is post and beam built in 1962. It embodies how Japanese architecture influenced west coast architect. From Greene & Greene, then to Frank Lloyd Wright, then to Schindler, there's a significant architectural lineage of East meets West in Los Angeles. My friends Jessie Young and Emiliana Gonzales of Estudio Persona did the interior design and custom furniture. Their point of view is so fresh. Their visual references are so different from mine. I have never been to Uruguay. I was seduced by their South American point of view. They were showing me images of contemporary Brazilian architect, Marcio Kogan, that also uses lots of walnut planks, but the furniture and interiors were so airy and minimal and elegant, but also natural. And I remember exclaiming I want to go to "Punta del Este!", a place that minutes before I had never heard of. 

The first pieces I bought were their 2 black leather Nido lounge chairs with a bleached walnut base for my living room. Then I looked around and thought "oh crap, I need to get rid of everything else." Every piece of furniture left my house. I had an IKEA graveyard in my driveway at one point. Looking back I can't believe I lived with so much crappy crap. I love beautiful things, and to be surrounded by beauty in every small detail is so important to me. Jessie and Emi came in and everything was custom. They looked at the house and responded to what each room needed. They started from the architecture and each piece was born from there. That made sense to me, that's the way I think about an exhibition space. I make site specific installations and it all begins from observing the space. Even a white cube has lighting or windows that the sun shines through. I made an artwork where I put gold leaf wherever the direct sunlight hit the interior of the gallery space at one specific moment in time. My work is minimal. Once I saw their process, it clicked for me. I remember them teasing me because I would barely want to put anything in each room. Rooms which previously had been cluttered with nonsense, now I saw they could be serene like a traditional Japanese tea room, with just a scroll and an Ikebana flower arrangement.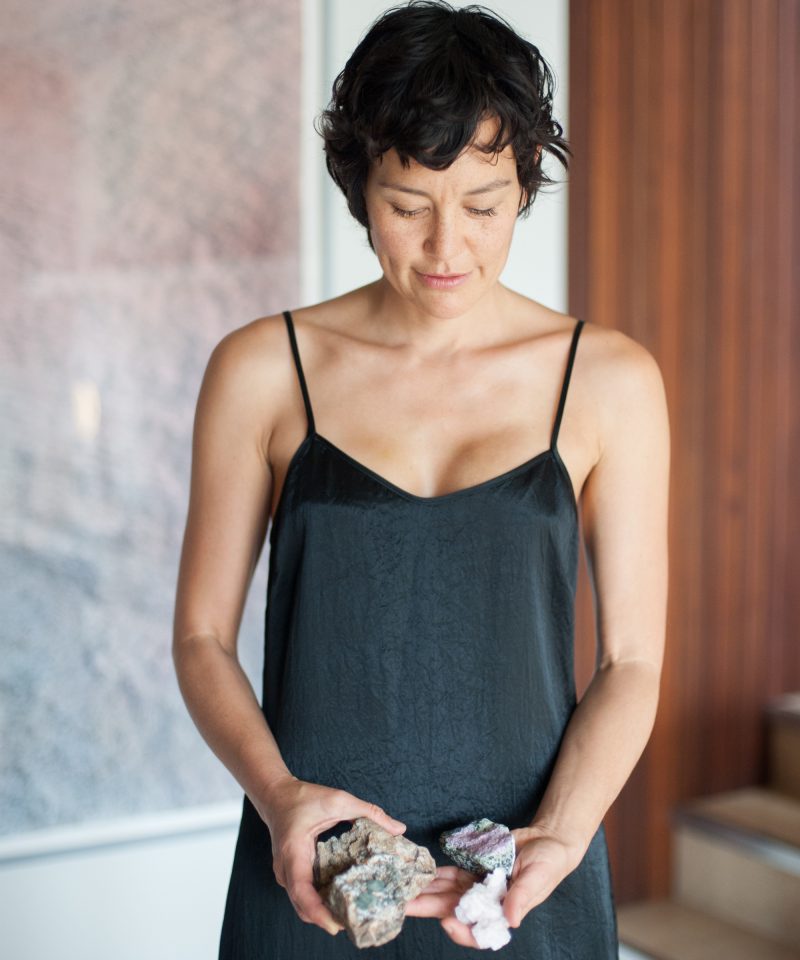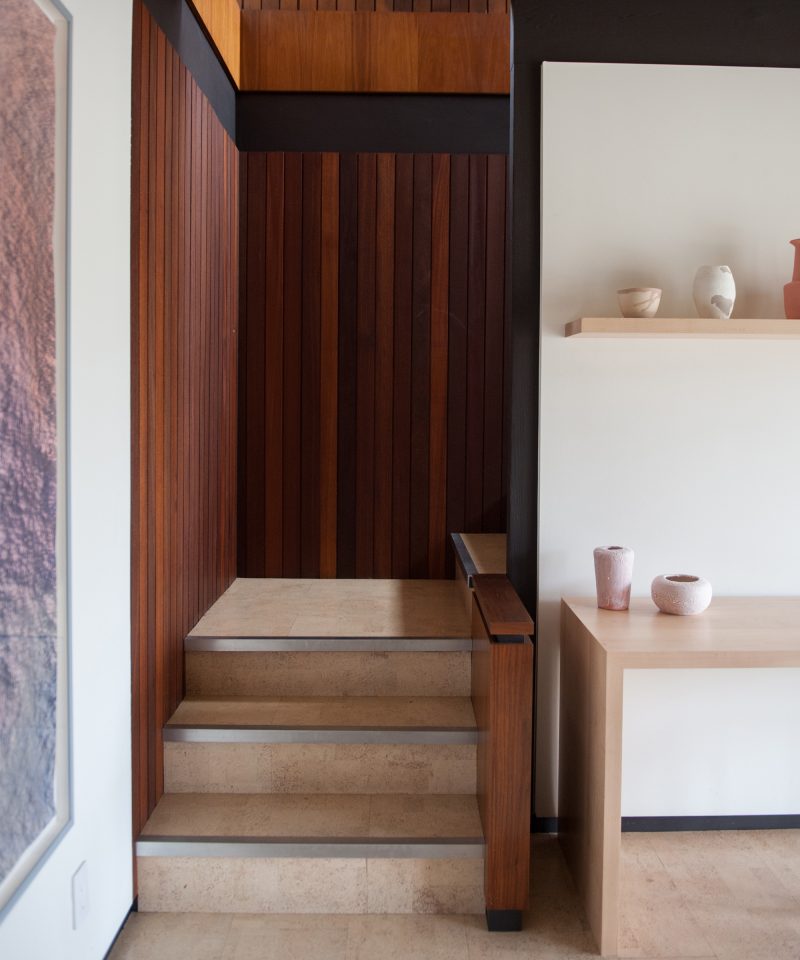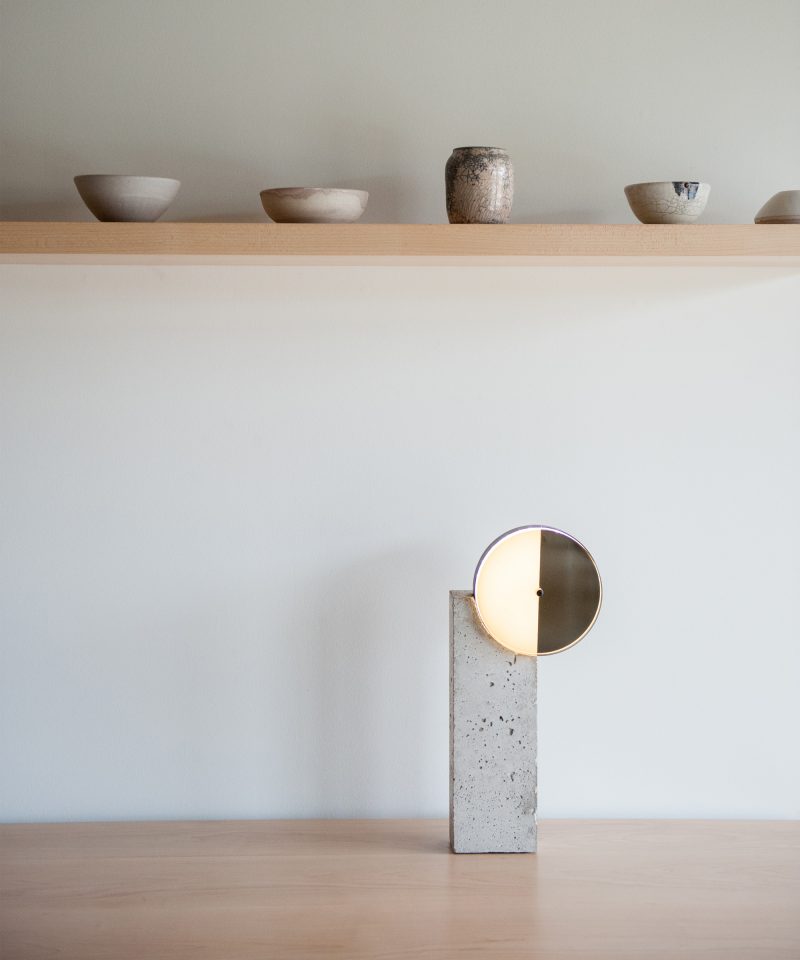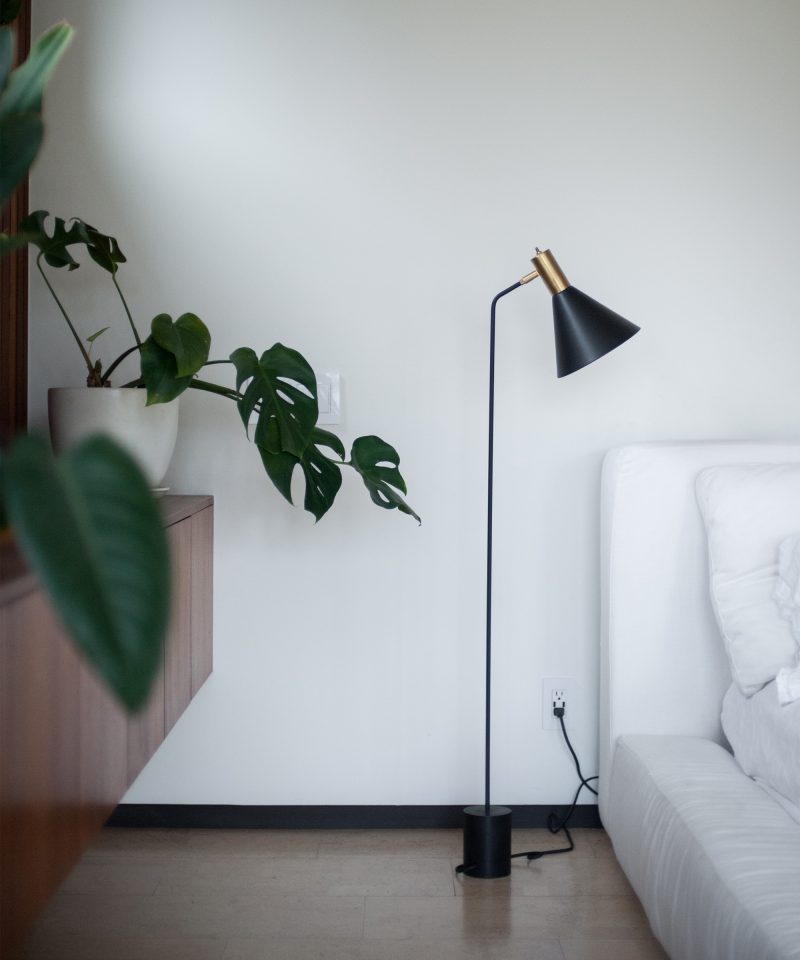 Rip & Tan: How do you begin to conceptualize a new project? How would you define the common thread that ties your body of work?

Emilie Halpern: It starts with just an idea. I love that part because it's so generative. I spend most of my time distilling it, playing with it, turning it over in my head at any point in my day. I take notes and write things down. 

I get most of my inspiration when I travel. Whether it's art or nature, I see everything for the first time. There's an expression called Jamais Vu. I titled one of my exhibitions after it. It means the opposite of Dejà Vu. It's the phenomenon of experiencing something familiar as if it were for the first time.

Rip & Tan: How does the duality of femininity and masculinity, light and dark, play into your life and your self-presentation?

Emilie Halpern: Taoism describes masculine energy as decisive, always doing, logical, risk taking. Feminine energy is feeling, compassionate, nurturing, calm. Integrating both is resilience.

I'm interested in how seemingly opposite things in nature are actually dependent on each other and interconnected. Light precipitates shadow. Day cannot exist without night. Yin and yang. The line that separates day and night on the Earth is called the grey line. It's a fuzzy line because the atmosphere bends the sunlight. 

Rip & Tan: How much time do you spend resolving your past versus looking towards your future? What values do these perspectives hold?

Emilie Halpern: I lost my husband, and I'm afraid to lose again. But I'm starting to accept that I came into this world alone. I was here yesterday, and I was doing well. I already know how to be without a partner, and I know how to be alone again. 

Lao-Tzu, the founder of Taoism, wrote in the 5th century BC: "If you're depressed you're living in the past. If you're anxious you're living in the future. If you're at peace you're living in the present."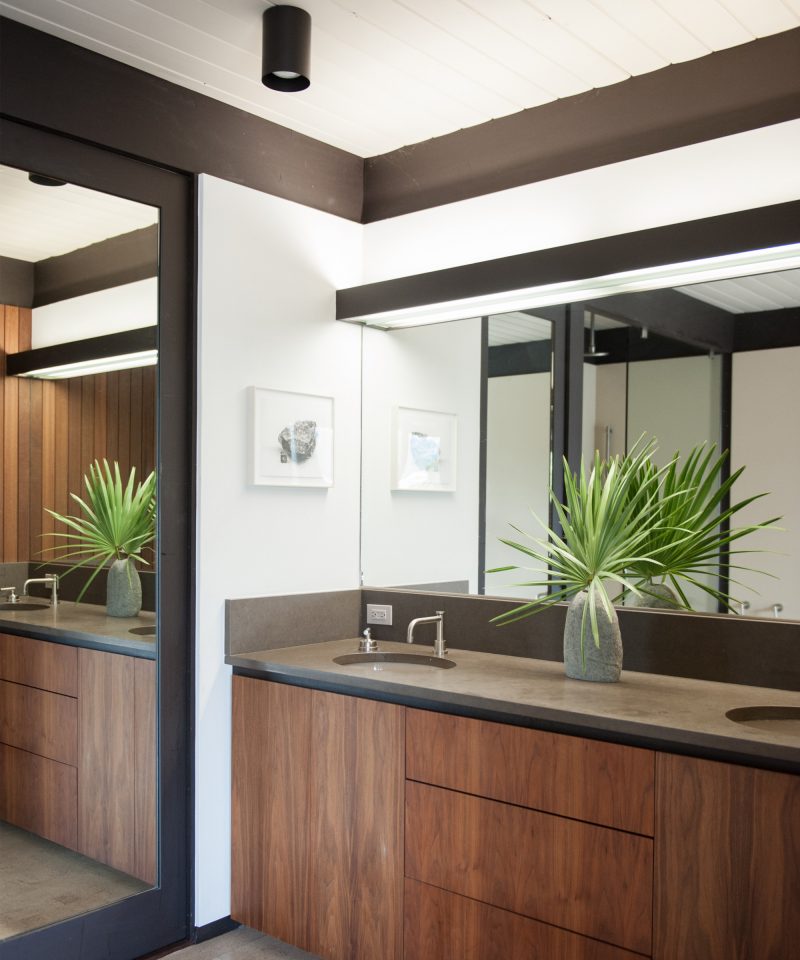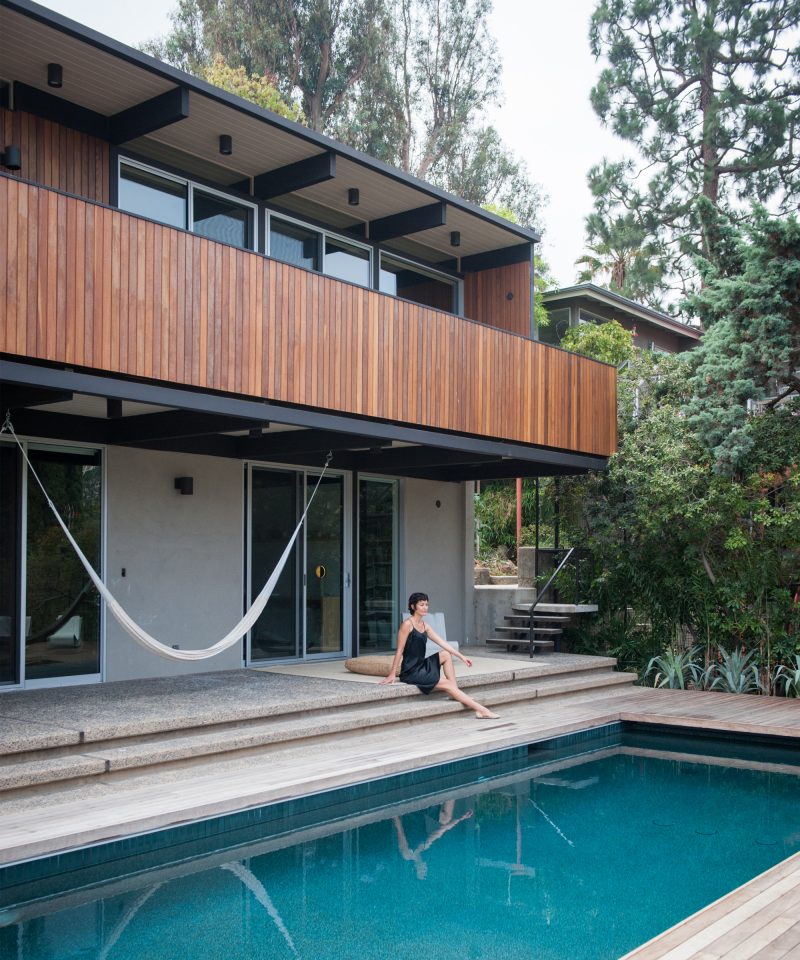 Rip & Tan: In what ways are you consciously (or perhaps unconsciously) raising your 6-year-old son to avoid the pitfalls of a toxic type of masculinity? What traits do you hope to pass along to him?

Emilie Halpern: Something I'm working on right now is listening to my gut. Asking myself what do I want, as opposed to doing what other people want me to do. As a girl I was rewarded (like many of us were) for pleasing and accommodating others and I learned not advocate for myself. Looking back there were so many times I wanted to say no and I didn't. I know my worth now, and I won't allow anybody to treat me that way anymore. No one gets to make me feel small.

I want my son to feel seen and heard. I'm modeling empathy as best as I can. I want him to listen to his gut. To have the language to communicate and accept his emotions. Just as he feels seen and heard, I want him to be able to extend that empathy to the world around him. And to be able to hold both. To hold both what he feels and the other person feels, they don't have to be the same. The most important thing he can learn  is emotional intelligence.

My husband and I were raised the same way. Don't cry, you're not allowed to have your feelings, only happy feelings. It was a culture of denial and repression. Nothing goes away. It's just sitting there waiting for you. Your anger, your sadness, your hurt, your trauma, your grief, your shame it's all right there in your shadow.

My friend Lauren Spencer King turned me on to Robert A. Johnson's book, "Owning Your Own Shadow":

"We are presently dealing with the accumulation of a whole society that has worshiped its light side and refused the dark, and this residue appears as war, economic chaos, strikes, racial intolerance. The front page of any newspaper hurls the collective shadow at us."