Wellness
Discover the Cannabis-Infused Skincare Line Herb Essentials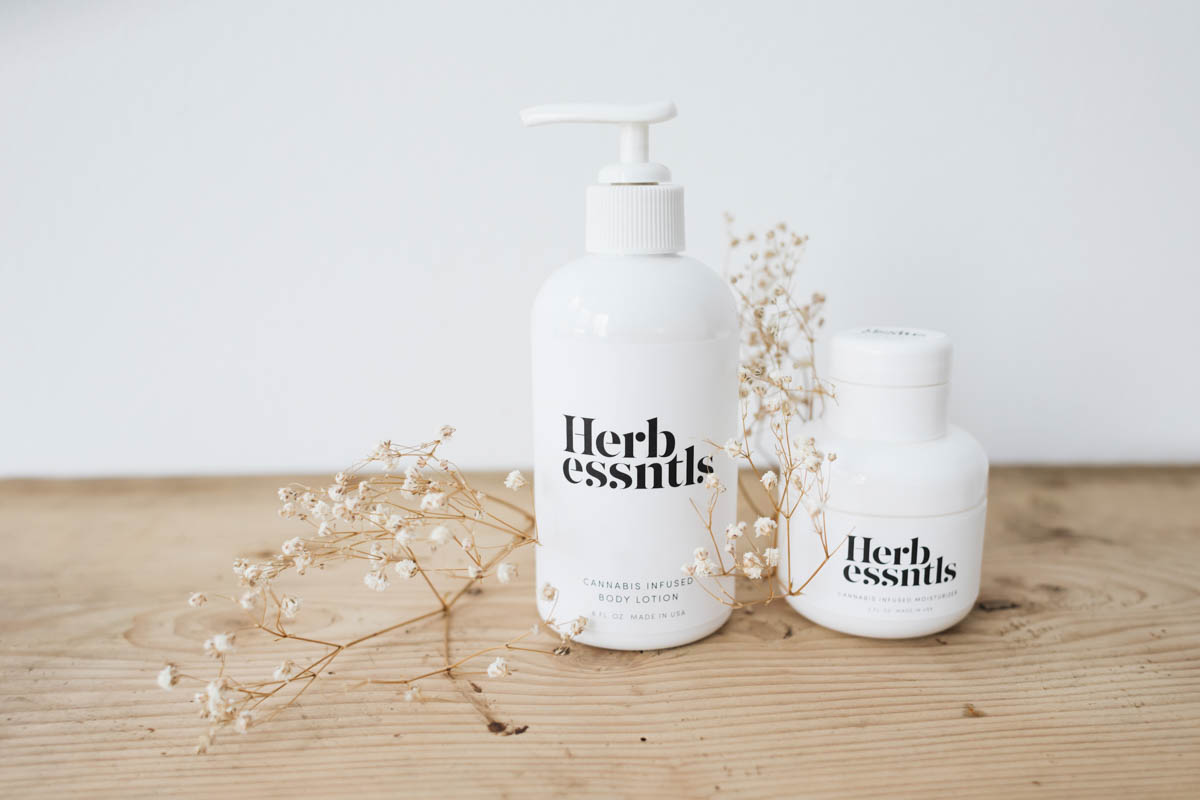 As the legislation and stigmas surrounding Cannabis have evolved over the last few years, more wellness and beauty experts are tapping into the plant's benefits as a skincare ingredient. Organic skincare line Herb Essentials is one such example. Launched in 2015 by Robert Lund and Ulrika Karlberg, a Swedish couple based in New York City, Herb Essentials uses Cannabis Sativa seed oil (a.k.a. hempseed oil) as its main ingredient. According to Lund and Karlberg, the oil helps the skin restore its natural balance, doesn't clog pores, and is rich in antioxidants that help slow the aging process. The line consists of a lip balm, body lotion, facial moisturizer, and candle all priced under $70 and made here in LA. Learn more about Herb Essentials and the benefits of Cannabis on the skin through our interview with the lovely Ulrika, below. XXJKE
Rip & Tan: Tell us about your personal and professional backgrounds. How did these experiences play into forming the idea for Herb Essentials?
Ulrika Karlberg: The company was founded by Robert and I in 2015. We are business partners and life partners living in New York City. We're both from Sweden and have a branding and marketing background working with brands in all kinds of industries for almost two decades combined. We've always wanted to create something of our own, so when this idea came about we decided to do it.
We started talking about the idea of Herb Essentials during a weekend in LA and couldn't stop until we had explored it thoroughly. When we realized the potency of Cannabis as a skincare ingredient, we decided we owed it to the idea to realize it.
Rip & Tan: When did you launch the brand and how did you get it off the ground?
UK: We effectively launched the brand in January 2017 and have been trying to grow the brand in a focused and organic way with selected retail partners and our own e-commerce site. We have deliberately tried to keep a low profile and let our products and branding speak for themselves. Herb Essentials is also an independent brand that we've founded with our own money, so we have focused our efforts on the products, packaging and building relationships with consumers, shops and journalists instead of marketing.
The reception has been pretty incredible actually. The products are engineered to be highly functional for all skin types and we've gotten a lot of great feedback both from consumers, journalists, and professionals.
The most recurring consumer feedback is that their skin is more stable and balanced after using Herb Essentials for a couple of weeks, which is due to the built in benefit in Cannabis Sativa seed oil–it makes the skin less reactive to both external and internal changes and helps the skin reset to its ideal balance whenever it's thrown off.
Rip & Tan: You live in NYC but produce and package all of your products in LA. Why is that?
UK: The state of California has the strictest laws when it comes to restricting harmful preservatives and chemicals from skincare and packaging, so by producing our products there, we are automatically compliant with the rules of prop. 65. LA and California as a whole are also in many ways on the forefront of Cannabis culture, which is a movement we want to be a part of. Since New York isn't as far along with legalization yet, having a strong connection to a state that is progressive in its Cannabis laws felt important.
Rip & Tan: The branding feels both modern and a bit '70s. What was the inspiration/motivation behind this look?
UK: Our branding is influenced by New York designer Herb Lubalin's iconic work in typography that in part signifies the era when the Cannabis plant broke through in mainstream America (when it became a natural part of pop culture in the form of marijuana for recreational use). However, even though Cannabis has been a big topic since then, social stigma has kept it contained in a category of its own.
The marijuana movement broke through with a clear message of love and tolerance and had a very inclusive mindset. As a brand, we wanted to honor the foundation of our existence and at the same time invite an audience outside the traditional Cannabis culture. Our visual appearance reflects that. We feel that it's an expression of the two worlds in harmony.
Rip & Tan: Why is cannabis good for the skin? Why hasn't it been utilized more often in beauty products?
UK: We use Cannabis sativa seed oil as the main ingredient in all 0f our current products. In fact, each product is engineered around Cannabis sativa seed oil and then combined with different organic ingredients to maximize the effects of a specific product, be it a lotion for your body or a facial moisturizer.
Instead of emulating or adding a layer of protection or hydration, it triggers your skin to take care of itself. Because of the fact that it's biologically compatible with the oils found in your skin naturally, it can help your skin reset when it's thrown off balance due to the circumstances of your life (working hard, going out, stress, etc). Just like your mind, your skin needs the right stimulation to stay active and strong.
Cannabis Sativa seed oil is also known for its ability to keep skin clear. It's one of the rare oils that scores a 0 on the comedogenic scale which basically means that it doesn't clog pores.
It's also rich in antioxidants, especially Vitamin E, which can help keep skin from aging and has well-documented anti-inflammatory and soothing properties.
Because of the cultural stigma associated with this plant, the beauty industry has been reluctant to mention Cannabis by name, although it's not completely new to the skincare world. If used, it's usually only mentioned at the very back of ingredient lists or not mentioned at all. In the Cannabis community, the plant has been used as a beauty agent for a long time. It's just never been packaged in a way that appeals to a larger target group until now.
Rip & Tan: Do the products have a strong fragrance?
UK: Not at all. Our skincare products all have a very subtle hint of lavender and our lip balm as a slight touch of peppermint, which is one of the main ingredients. The way our products smell has turned out to be one of the things people appreciate most.
Rip & Tan: Do they any have psychoactive effects/properties?

UK: No, we use Cannabis Sativa seed oil which is free of THC and thus has no psychoactive properties.

Rip & Tan: How do you source all of your ingredients and ensure they are 100% organic and chemical free?
UK: All of our organic ingredients are certified organic. To our earlier point, the fact that we manufacture everything in California ensures that no harmful chemicals are in our products or our packaging because of the strict regulations of the state.
Rip & Tan: What inspired you to land on these four specific products for launch? Do you plan to expand the range? If so, to what categories?
UK: Herb Essentials was founded on the idea of creating a Cannabis-infused skincare brand that can appeal to everyone, so we wanted to make sure that everyone could find something in our initial line of products. In that spirit, we are definitely planning on expanding our product range, but we don't want to rush anything. Next up is our first fragrance, which we're launching this fall. It's designed to stimulate your senses and defy everything you thought you knew about how Cannabis can smell. More skincare products are also in the pipeline, but, naturally, they take a lot of time to develop.