Food & Drink
Cooking for a Crowd: Communal Dining on Lummi Island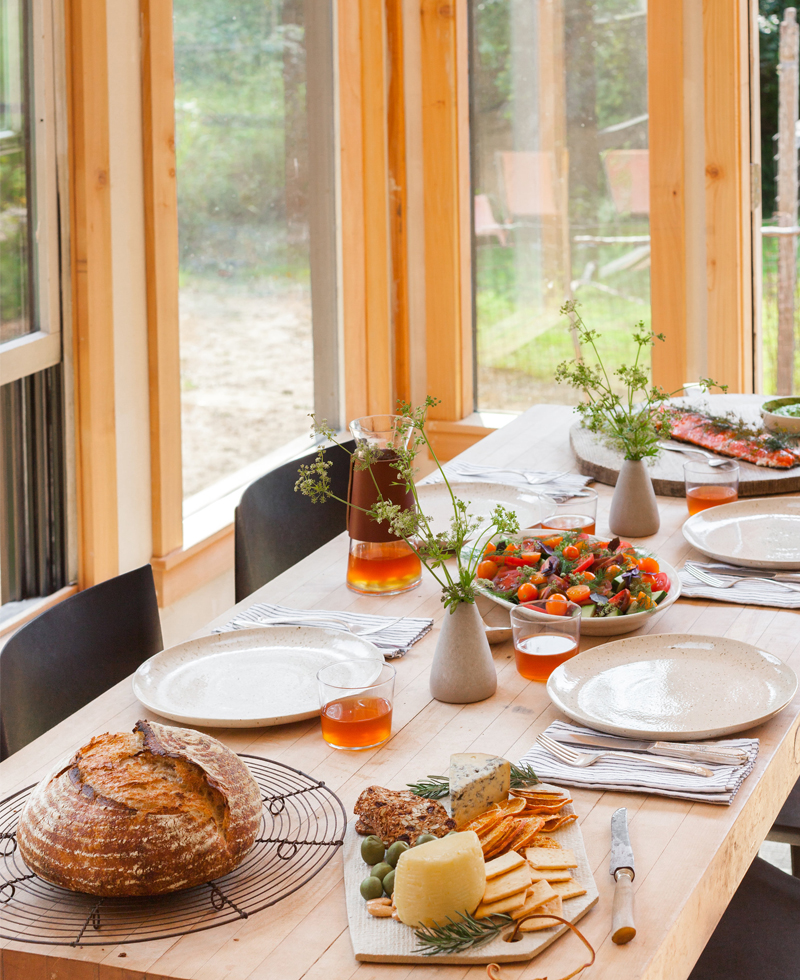 Stephanie Eburah has worn many hats. From owning and operating a food truck in San Francisco to working as culinary director for a caviar company, she's seen the highs and the lows of the food world, and now she's exactly where she wants to be. When she's not photographing food, she's hosting community dinners and culinary retreats in the Seattle area, because she believes a meal is as much about the food as it is about the people around the table. And she's definitely doing something right: this spread of homemade breads, cheeses galore, freshly picked tomatoes and charcoal grilled salmon was without a doubt one of the best meals of our lives.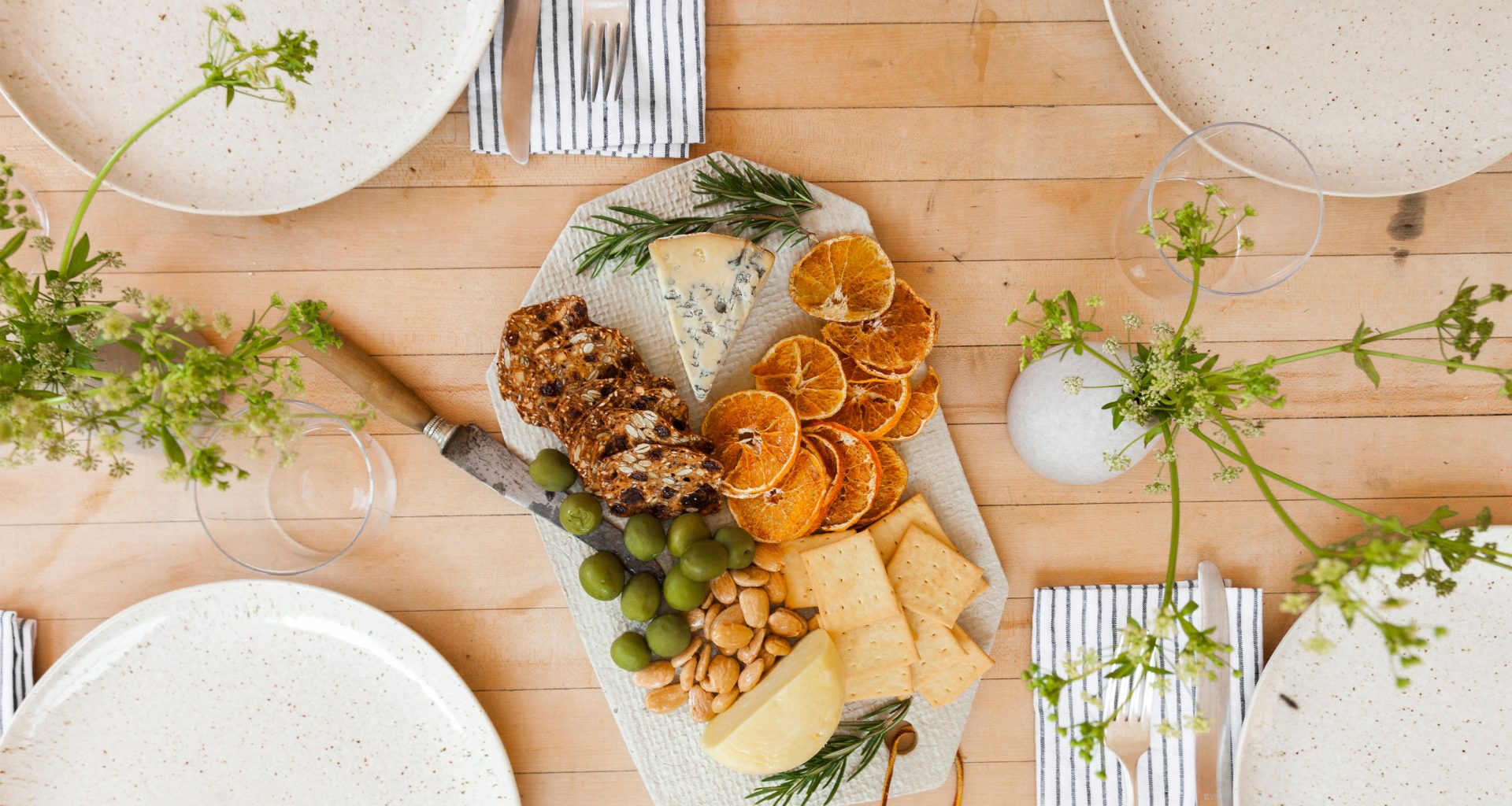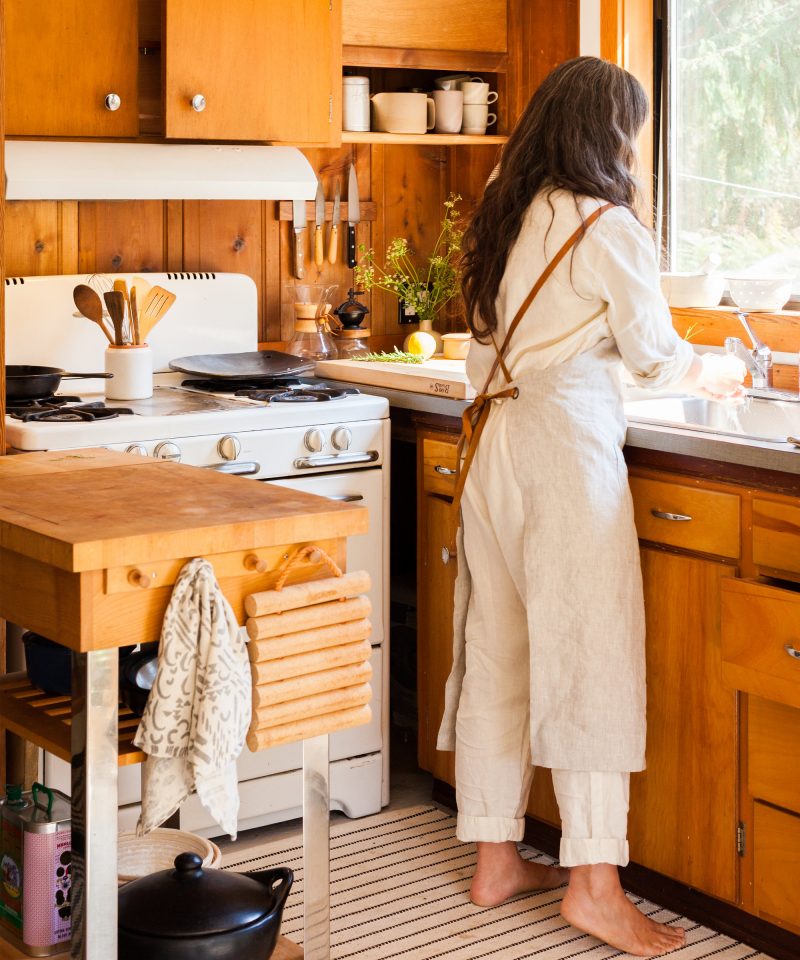 Rip & Tan: What was the attitude around food and culture in your family when you were growing up? How has that influenced your perspective today?

Stephanie Eburah: Most of my memories growing up are of events revolving around food; family reunion cookoffs, campout BBQ's with my dad, my mom's holiday dinner parties…it's not that the food itself was phenomenal—though I know at the time I enjoyed it—it was more the feeling of everyone gathering in the same space spending time with each other that stuck with me. 

I was definitely raised eating a lot of fast food. My mom tried to make sure we had home cooked meals often, though she didn't spend a lot of energy cooking.  Food was for sustenance. She was a single working mom and made the best with what we had. My first cooking experiences was making school snacks for myself. I became obsessed with watching cooking shows on PBS at a young age, and I think that's where my interest in cooking began. 

I also grew up with a predominately Latino community around me, and I remember spending time at friends' houses watching their mothers and grandmas cook and being fed so well and how passionate they were about their food and culture. Every meal was a family production, and everyone gathered around the table, and it was so lively. That left a huge impression on me too.

Rip & Tan: From owning a food truck to working for a caviar company, you've worked in both accessible and upscale settings—what have you learned from these different experiences?

Stephanie Eburah: I learned a lot about my cooking style. The refinement of fine dining never came naturally to me. I have a more rustic approach to cooking. I prefer actually seeing the customer and feeling like I'm a part of their dining experience. That's what I loved most about having a food truck; I could engage with everyone and build relationships.

Rip & Tan: How much of what you know now was self-taught? 

Stephanie Eburah: I didn't go to culinary school. I enrolled in California Culinary Academy in San Francisco but ended up backing out at the last minute because I was advised by a couple of chef friends to save my money and just start working my way up in kitchens, so that's what I did. I was also obsessed with reading cookbooks and practiced cooking at home every day, and I still do.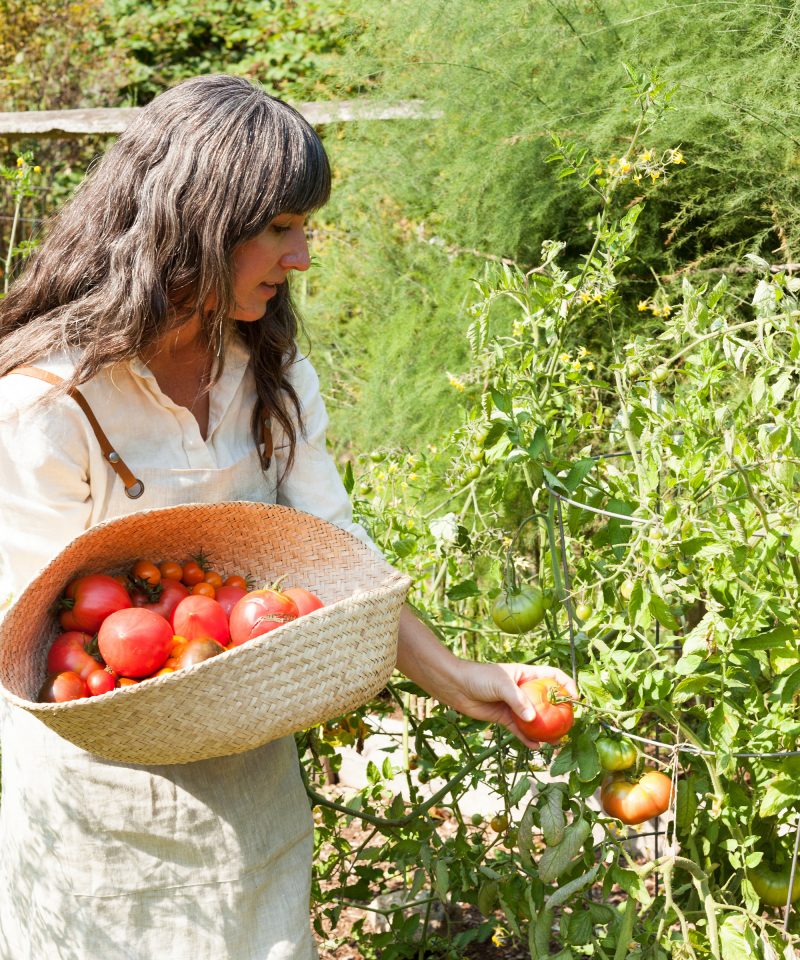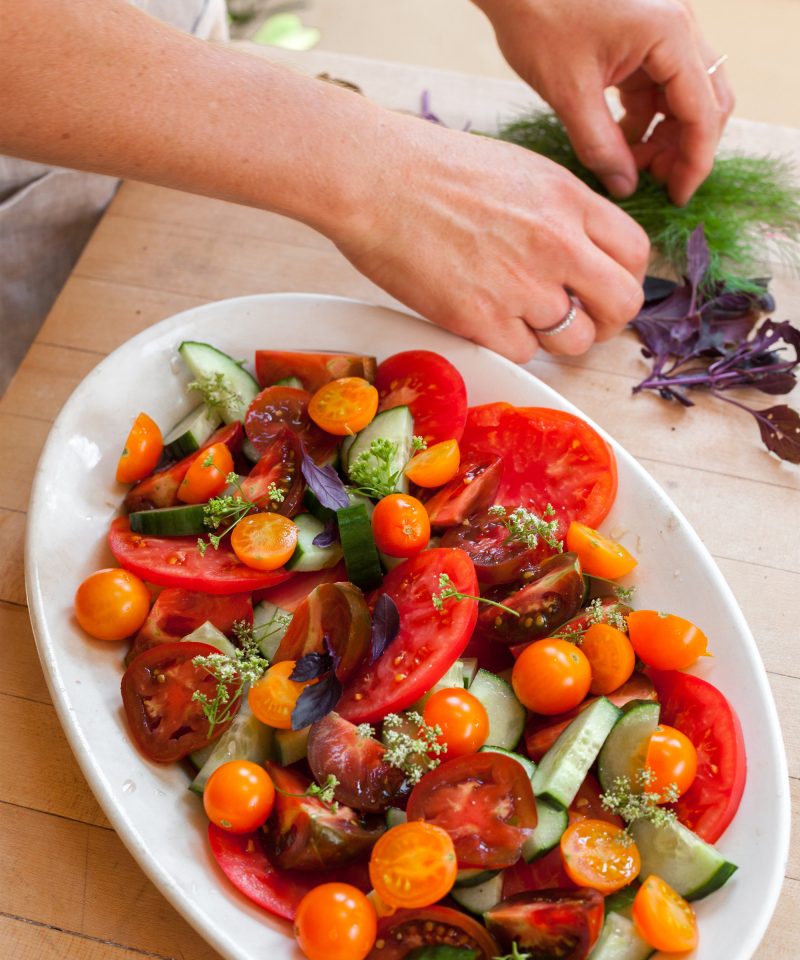 Rip & Tan: How have your experiences as a guest informed or shaped you as a host? Can you recall a specific point in time you were inspired by someone's style of dining or entertaining? 

Stephanie Eburah: The first person to really inspire me with her style of entertaining was the first roommate I had when I moved to Oakland in 1998. She had been working in the restaurant industry in the city for a long time and just had such a natural, calm, unpretentious, and generous approach to dining. I spent years as her guest at the table. She always made everyone feel at home and really downplayed her food, even though it was amazing; she just didn't want to intimidate anyone. Dinner was always just as much about the atmosphere and the people around the table.  We're still friends and I always think about her for inspiration.

Rip & Tan: What does communal dining mean to you? How does the experience differ from a dinner party or a restaurant experience?

Stephanie Eburah: I think of communal dining as bringing a small community of people around a table to share a meal. It's an intimate way to get to know different people you would probably never cross paths with otherwise, yet already have the common ground of good food with. My favorite dinners are when people arrive as strangers and leave hugging and exchanging phone numbers. You just don't get that experience in a restaurant environment.

Rip & Tan: Who have you collaborated with recently? How do you know when a partnership will work?

Stephanie Eburah: I recently hosted a retreat at my home on Lummi Island with Tiny Atlas Quarterly as part of their Tiny Atlas Trips. I wanted to create an experience where people left feeling like they really got to know a tiny part of this country they may have never known about and experience it in a genuine way.  Every activity led to a communal meal I prepared with all local ingredients. I took the guests on a sunset boat tour of the islands, cooked a crab dinner on the beach, then a seaplane ride to have dinner at Ursa Minor on neighboring Lopez Island. There was also a sea kayak tour where we foraged for edible seaweed and cooked a salmon dinner over a fire on the beach, plus hikes and farm tours—it was so much fun! 

I love collaborations. There's so much more to offer and learn from when you bring creatives together who all have different strengths and talents. The key is to all share the same vision and philosophy on whatever you are trying to do.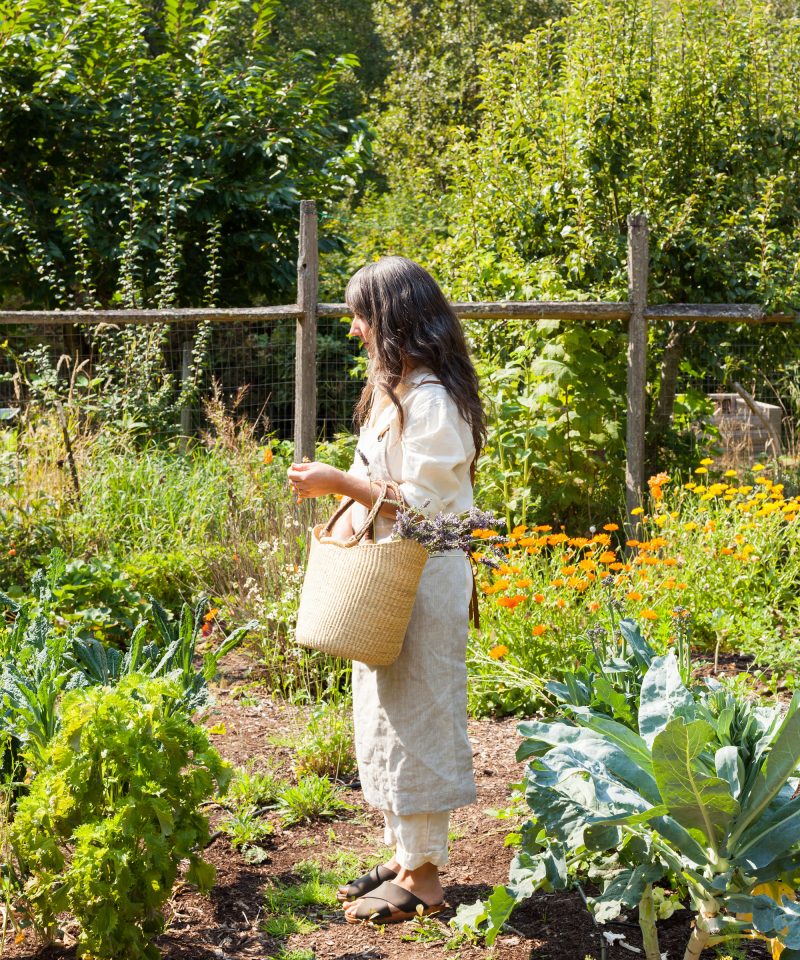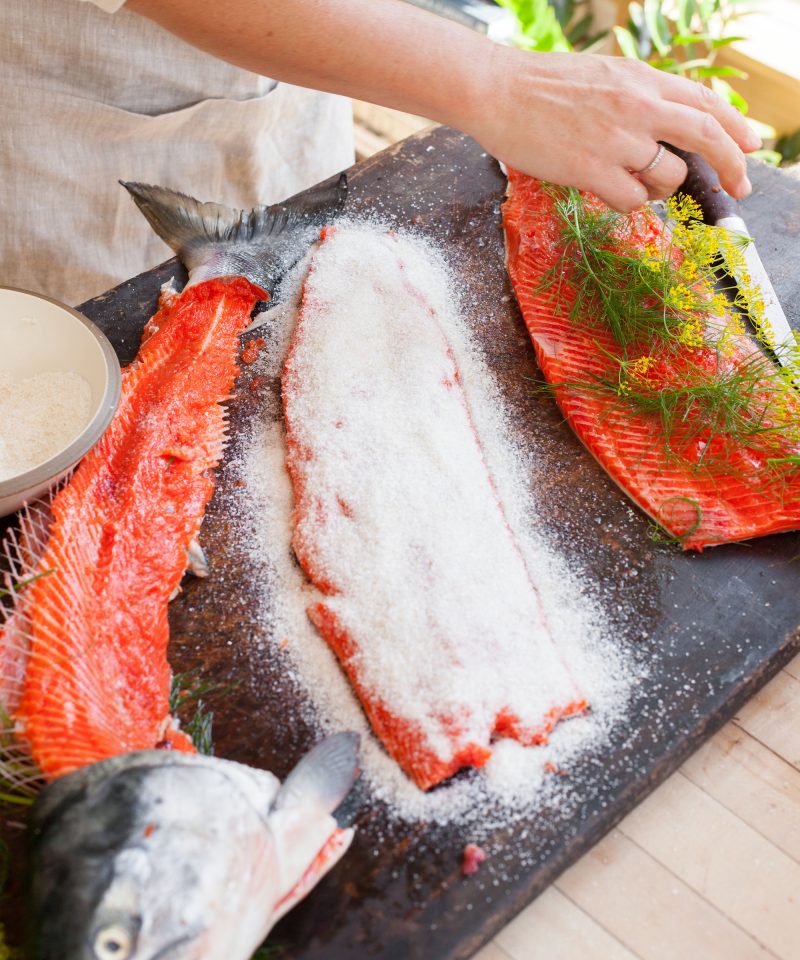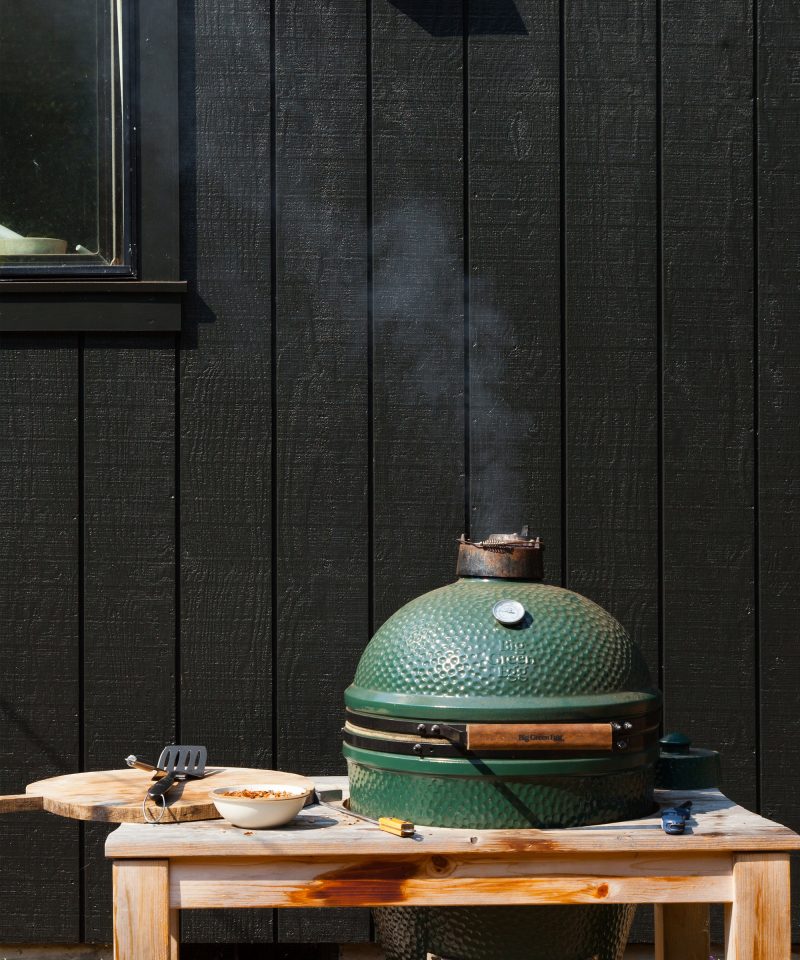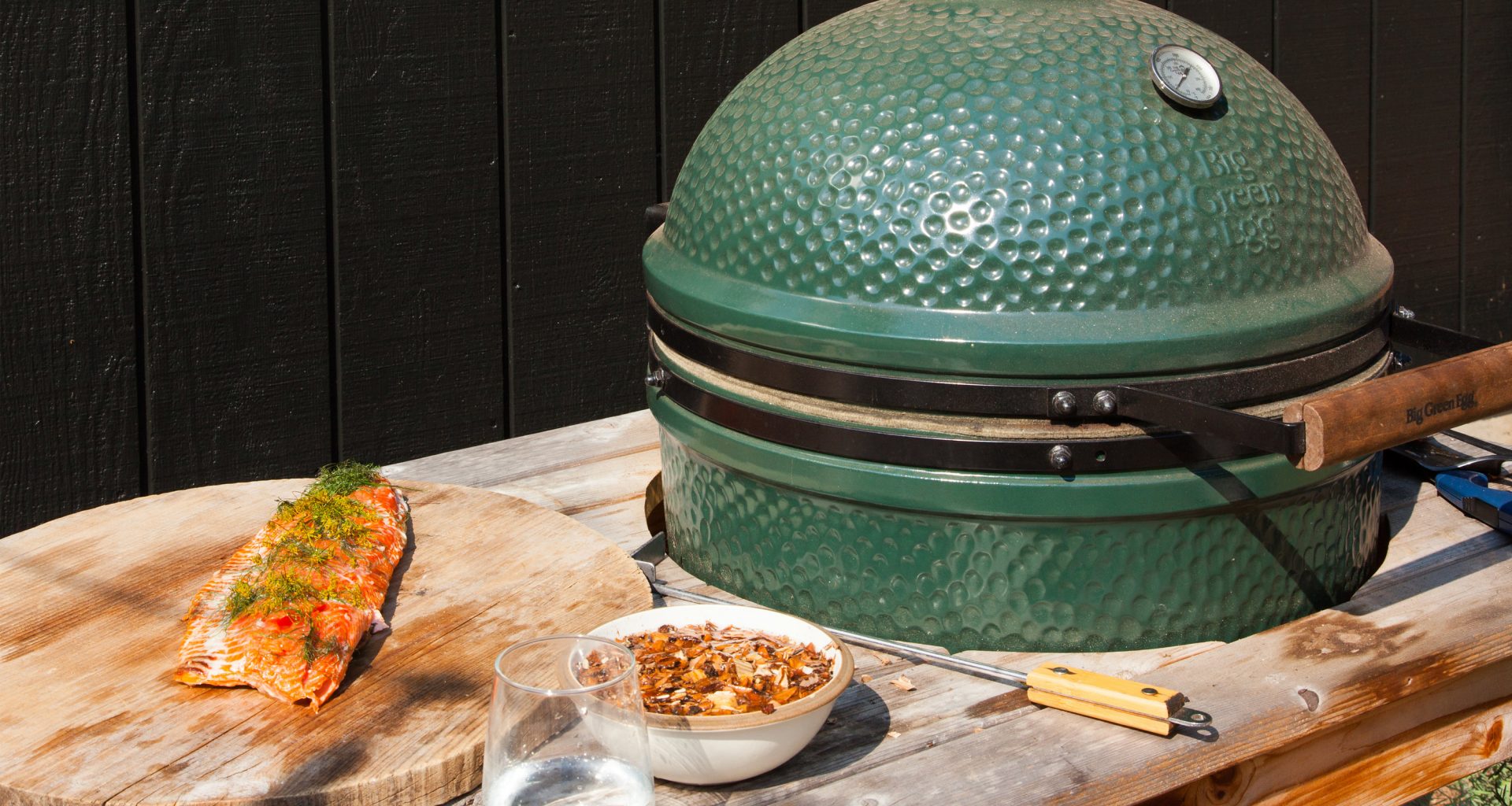 Rip & Tan: How are you teaching your children to be open-minded about trying new foods and growing up with an appreciation for a shared meal?

Stephanie Eburah: I think everyone's dream world, including mine, is where our kids would eat whatever we put on the table and sit and chat nicely over dinner, but that is rarely the case, right?  Here's my approach: my kids mostly eat what we eat unless it's something super spicy, when I will make a separate, mild version for them. I do sometimes dumb down their food if it's something I know they will resist, just to avoid the fight. There are plenty of times they get the boxed cheesy noodles and frozen broccoli because I just can't deal.  But in the end, I cook mostly every day, so they see the raw ingredients and what comes of them when we always sit together as a family to eat. I take them to the farmers market, they help with what we grow in the garden and I think that way, they gain an appreciation for food. I have one rule: they have to at least take two bites of something before they can say they don't like it.

We travel outside of the country often, so the kids are exposed to different foods and I love that they are building that memory connection. My daughter will randomly say things like, "Remember that baguette with butter and jam we had in Paris?" This summer in Venice, we discovered that my 4 year old son loves anchovies and blue cheese crostini! That's not something I would ever expect, but that's what we were served at the bàcari. He shoved it in his face without knowing what it was and couldn't get enough. Things like that put a huge smile on my face. 

Our home on Lummi Island has opened their minds quite a bit to food and appreciating where it comes from. We pick veggies from the garden together, pick up fresh-caught salmon from a local fisherman by the beach in the summer, a friend will drop by with just-caught Dungeness crabs, or we'll visit a nearby farm to collect eggs, and the days always end with a big meal in the garden. 

I think that surrounding them with good food and showing them how passionate I am about it all will stick with them through life…I hope!

Rip & Tan: Any tips for the average host to stay calm and have fun when hosting a dinner party?

Stephanie Eburah: Keep it simple. Plan dishes that you have cooked before, so you know what you're doing and are more confident and relaxed. Remember it's not always about the food, it's also about the company. Your guests don't want to see you stressed out over preparing dinner for them—it's supposed to be fun for everyone.  The biggest compliment I have received is being told the food was delicious and that I looked so calm cooking it. I also try to prep as much as I can beforehand, so I feel in control and don't spend the whole evening in the kitchen. I want to spend as much time with my guests as possible. I always have a plate of snacks out when people arrive, like cheeses, nuts, and olives so I know they aren't starving and I don't feel as rushed.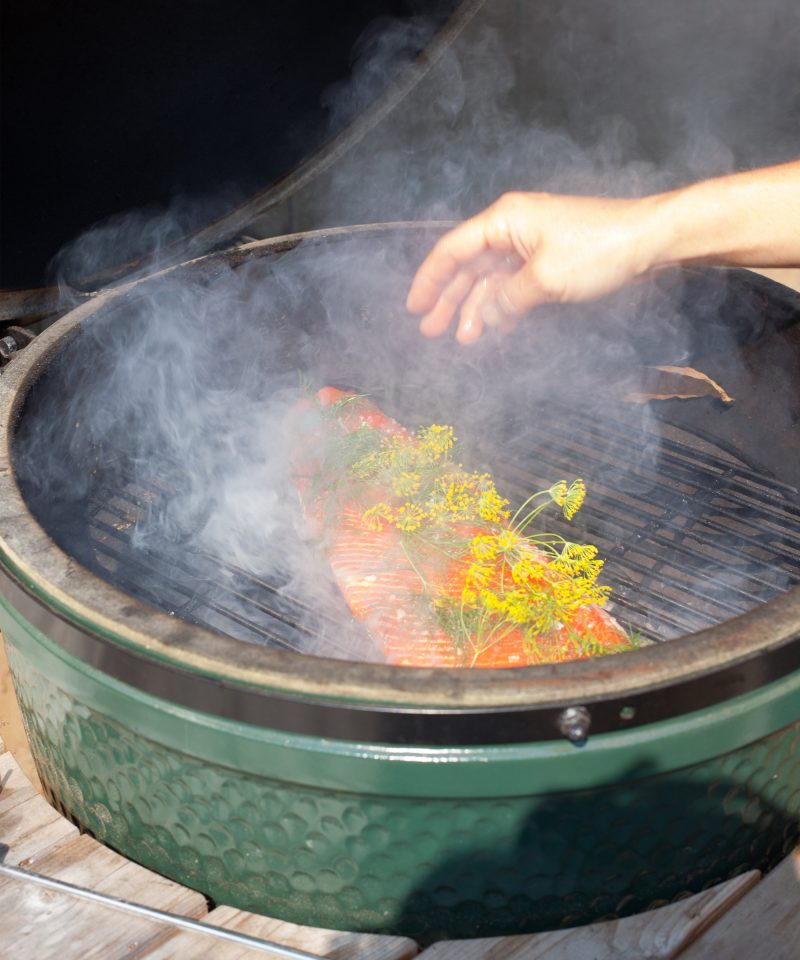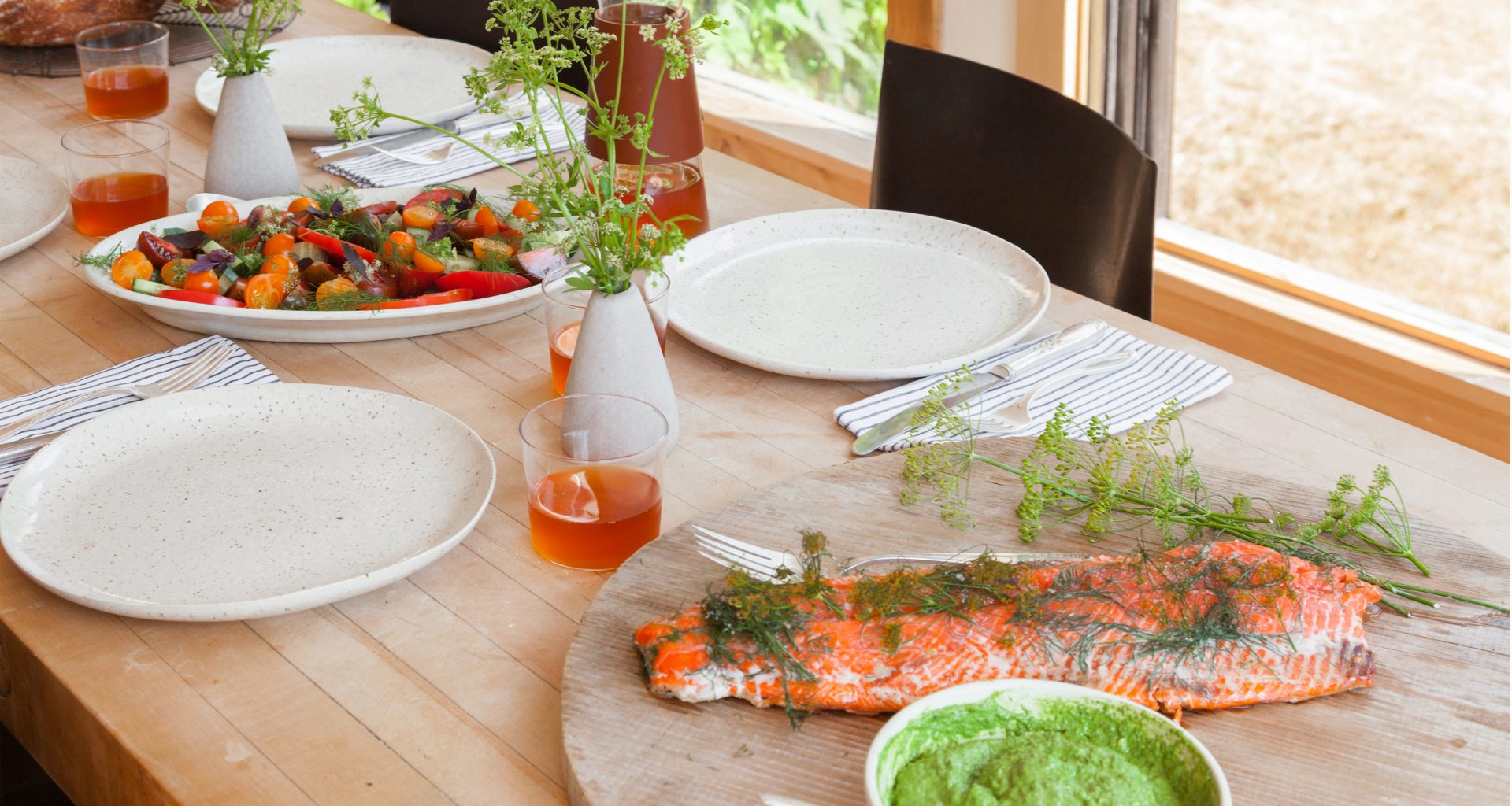 Roasted Salmon with Carrot Top Pesto
Tomato Salad with Cucumbers and Herbs
Recipe
Roasted Salmon with Carrot Top Pesto
Ingredients for the Salmon
1 1/2-2 lb

2/3 kg

side of wild salmon (sockeye or pink) skin on
1 lemon sliced thinly
handful fresh herbs like parsley, dill, & fennel fronds
sea salt & fresh ground pepper
2 Tbsp olive oil
Ingredients for the Pesto
2 cup

473 ml

tender carrot tops

1/2 cup

118 ml

fresh basil

1/4 cup

59 ml

grated parmesan

1/4 cup

59 ml

walnuts

1/4 cup

59 ml

olive oil
2 Tbsp water
1 Tbsp lemon juice
1 clove garlic
salt & fresh ground pepper
For the salmon
Heat a charcoal grill and spread coals around the outer edges of the bbq so salmon is not over direct heat. Season salmon with salt and pepper and top with lemon slices and herbs. Drizzle it all over with olive oil and lay salmon skin side down onto the middle of the grill. Cook with the lid on until salmon is just cooked through and just opaque in the center, about 20 minutes. (To test doneness, slide a paring knife into the center of the salmon, remove, and carefully press the knife to your lower lip. If it's very warm, the fish is done.) Alternatively you can cook the salmon in a 325 degree oven.
For the pesto
Combine all the ingredients into a food processor or blender until smooth. Season to taste with salt and pepper.
Photos by Ellie Lillstrom