Living
Christina Mace-Turner's Contemporary Mill Valley Cottage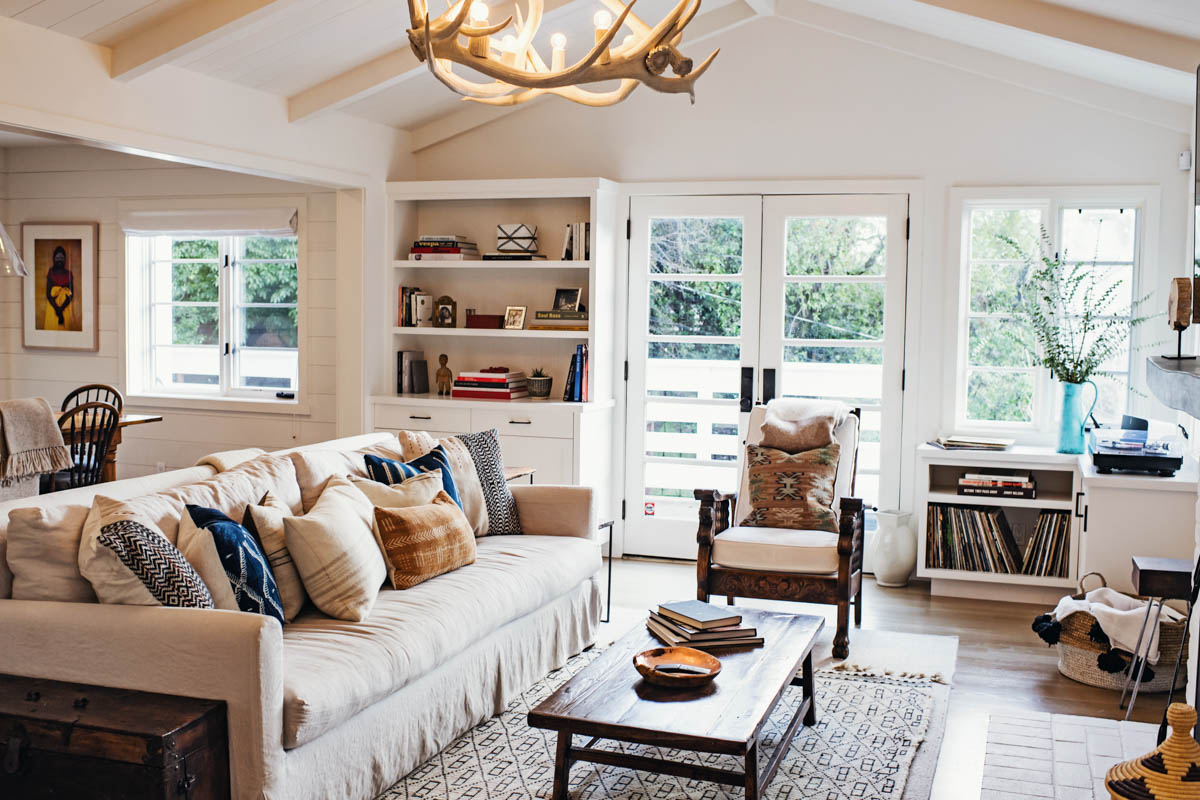 We recently partnered with True Botanicals, a line of natural skincare offering plant-derived serums, mists, cleansers and more. Innovative and precedent-setting, the business model is wholly built on transparency—their ingredients are sourced ethically and sustainably, delivering greater results and value to their ever-growing clientele. Driving the business' growth is True Botanicals CEO Christina Mace-Turner, a tech industry veteran with an impressive track record managing business affairs and content strategies at pioneering companies like Apple and Flipboard. Christina teamed up with True Botanicals founder Hillary Peterson after meeting on a serendipitous hike through the trails of Marin, California. Since then, the self-confessed luxury skincare addicts have fused Christina's business acumen with Hillary's skincare expertise to disrupt the beauty industry with products that are safe, ethically sourced, and environmentally sustainable. Christina let us into her Mill Valley home, which is designed with the same sense of natural, clean luxury found in True Botanicals' range of products. The clean, organic elements and bright, natural light was instantly inviting. During our visit to Christina's restorative contemporary cottage, we talked personal style, design ethos and how living in the Bay Area influences her business and aesthetic. XXJKE
Rip & Tan: Tell us a little about your work with True Botanicals. How did your career path lead you here?
Christina Mace-Turner: I'm the CEO of True Botanicals, and I have my hands in a little bit of many things but am primarily focused on our digital product, marketing, and customer experiences.  I don't come from the beauty industry, however, and overall my career path has been fairly atypical, guided more by a personal interest in innovation and positive impact than anything else. Technology has been a constant thread in my career choices, from practicing law to running business affairs at Apple, I have always loved the interplay of technology with non-tech focused industries and contexts. When I learned about how the beauty industry really works, the lack of transparency and regulation, I honestly felt indignant and duped, and I saw an opportunity to use technology to create something better.  I was fortunate to live just down the canyon from my business partner, Hillary, who not only introduced me to her incredible skincare products, but was also able to share a vision with me about what we could accomplish together.
Rip & Tan: Describe your daily beauty routine. Has it changed since working in the beauty industry?
CMT: I am definitely a power user of our products.  I do the core routine (Hydrating Cleanser + Nutrient Mist + Pure Radiance Oil) morning and night, and I add in our Repair Serum + booster in the evening (the Antioxidant Booster is my favorite). I also use our Resurfacing Moisture Mask 2-3 times per week and a daily drop of our Deep Eye Repair Serum.  Basically, if it comes in a brown glass bottle or jar, I find a way to work it into my daily routine.  Ditto on our shampoo, conditioner and body wash. Since working in this industry, I've learned how important it is to focus on efficacy and ingredients.  Nontoxic products have historically not provided the efficacy piece, but now, with a direct business model that allows companies like ours to spend more on ingredients, the efficacy is there.  So if it works and it's nontoxic, why wouldn't I use it?  And my routine reflects that thinking 100%.
Rip & Tan: What does a typical day in the office look like?
CMT: Haha.  This question is pretty funny, because the answer really depends on which room of our office I am sitting in.  One room is designed as a more contemplative, calm and organized environment. Ultimately, almost everyone retreats to this first room at one point or another to escape the other room…  The other room is more hectic, covered in white boards, loud, and frankly, a wee bit messy; that's where I spend most of my time. I find that the (mostly) controlled chaos helps keep me focused and extra productive. A typical day starts with me getting into the office extra early to spend some time reading and thinking through the various initiatives we are working on. Then it's usually a series of creative, digital product and strategy meetings.  And if I'm lucky, my girls stop in after school to say hello before they head home. There are also times that my colleagues' children pop by with a nanny or partner, and that's pretty wonderful as well. Lots of kids in their single digits and I call them all our youngest interns – they are ridiculously adorable.
Rip & Tan: What do you love most about what you do? What is the most challenging aspect?
CMT: I love that we are changing people's perceptions of what is possible in our industry, and I love the humility and focus of our team. It is so motivating to focus on the success and well being of others. So much of our conversation is not just about making the very best products, but designing experiences and interactions that help our customers find success with our products, and then allowing our customers' voices to inform our decision making about what meaningful success really looks like for them. Every single person on our team wants to empower people, not just sell them stuff. The challenge is that we are such a little team, and despite our passion, we are only human. Sometimes we even need to sleep or take a day off (but that's hard to do when you're so excited by what you're working on).
Rip & Tan: What is the best career advice you've ever received?
CMT: The best advice I ever received was to "assume the positive intent of others."  Yes, you sometimes end up disappointed, but it's definitely a good starting place that encourages empathy and mutual understanding.
Rip & Tan: How do you arrange your workspace to enhance productivity and creativity?
CMT: Give me headphones, my MacBook Pro, Spotify and a whiteboard, and I'm as productive as I can possibly be.
Rip & Tan: What beauty products are you currently obsessed with?
CMT: I am totally obsessed with a pair of products we will be releasing this spring.  Still a secret, but they are outrageously awesome, and I never want to live without them again.
Rip & Tan: How does living in the Bay Area inspire your aesthetic choices?
CMT: Living amongst redwoods that are thousands of years old really puts things into perspective, and it tends to influence my aesthetic choices to be more minimalist. I love warm but crisp design, tons of white, and bold moments of color.  I often mix very old with new, and definitely prefer natural materials. This sensibility seems to carry through pretty consistently in both my home and work life.
Rip & Tan: Tell us a little bit about your neighborhood. What do you love most about living in Mill Valley?
CMT: I live about a 10 minute walk from the center of town on a hillside that backs up to a series of gorgeous hiking trails. Like most of our neighbors, we are here for the mountain and share a love for the natural beauty that grows here.  Mill Valley has a very little town personality, but with lots of odd balls, artists, musicians, writers and entrepreneurs.  My favorite thing is to go to the Sweetwater to hear music and find it packed with people from their 20s to their 70s, all dancing like they are at a Grateful Dead show circa 1979.
Rip & Tan: What is your favorite room in the house and why?
CMT: I love the dining room because it features three of my favorite photographs taken by my late father-in-law, Pete Turner.  Each is an amazing visual narrative and artistic accomplishment.
Rip & Tan: Your space is so light-filled and spacious. How does this atmosphere affect your daily life?
CMT: Where my office is designed for a little healthy chaos, my house is designed to do the opposite. It's small enough that I can hear my kids laughing in their rooms or have them hang out and do their homework alongside me, but big enough that we can each retreat to private spaces.  I love coming home, first because I adore my girls and my husband, but second because the space itself gives me so much joy.
Rip & Tan: Who are your favorite local vendors, artisans and makers?
CMT: Hands down I love Saffron and Poe. They are a small local vendor who sources beautiful home objects and textiles from sustainable makers around the world, and many of their pieces are incorporated into our home.  I am also crazy for Heath Ceramics, which has a wonderful store and workshop just over in Sausalito.  And if you have never been to the Gardener in Berkeley, I highly suggest stopping by; it's a home goods store with a wonderfully curated mix of work from local artisans.
Rip & Tan: What is most important to you in creating a comfortable space to live?
CMT: Great light, beautiful art and really high quality materials. Less is more. I also think that all space in a home should be usable space, so focusing on the utility of a room is of equal importance to the aesthetic appearance of a room.
Rip & Tan: Imagine you're planning your ideal dinner party. What details go into the ambiance? Who is invited, what are you serving?
CMT: Music, beautiful flowers on the table, candles, great wine and food made primarily with local seasonal ingredients.  I am most likely serving some version of what we call "Polenta Extravaganza;" it's a base of polenta with four to five mediterranean style sides that people can add from. My kids would tell you that I don't always get the extravaganza part right (like an interpretive dance, these dishes can sometimes be a miss), but you did ask my ideal… The people invited are my dearest friends, many of whom have flown in from New York and Los Angeles.
Rip & Tan: Describe your personal style in three words:
CMT: Bold streamlined boho.