Living
Chasing Endless Summer at The Surfrider Hotel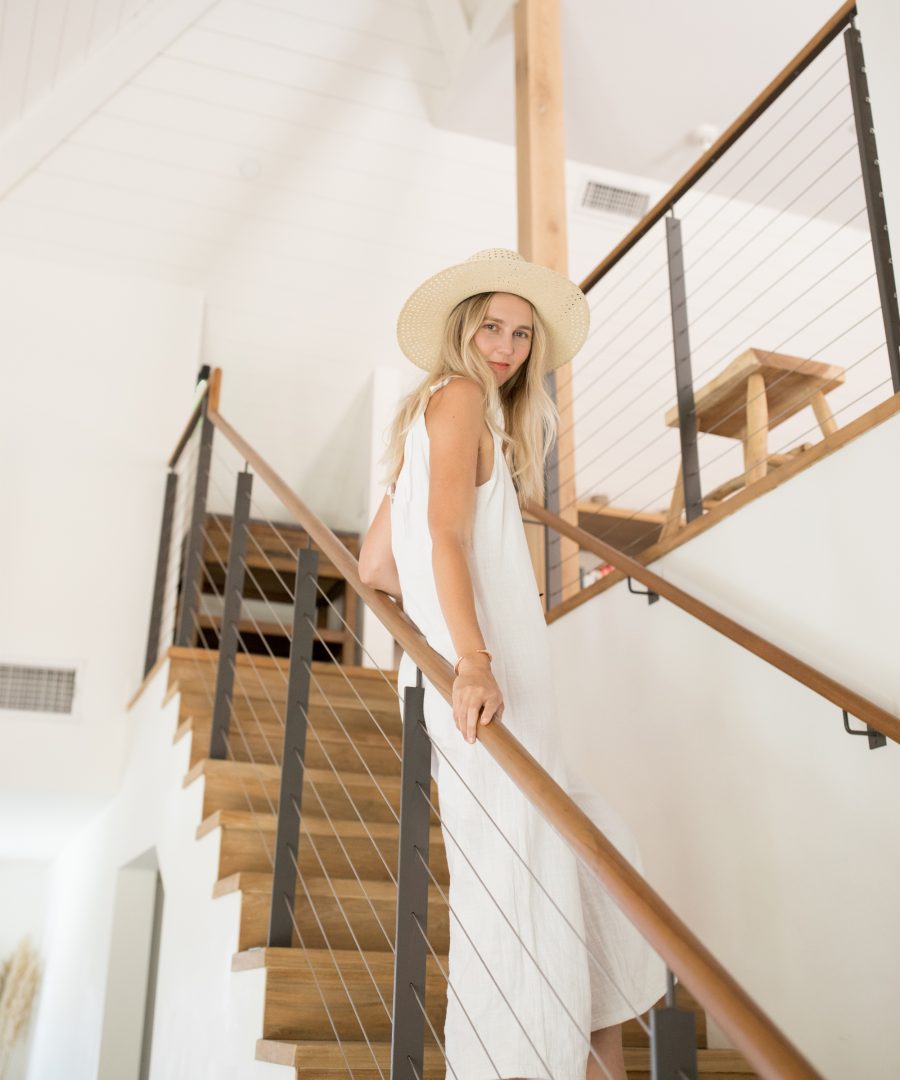 Emma Goodwin-Crowther is the creative director and co-owner of Malibu's
Surfrider Hotel
and has managed not only to capture the nostalgia of 1960s California but also provide a tailored experience for each and every guest. The result is an atmosphere so welcoming that it's like being over at a friend's house—that is, if your friend has an immaculate record collection, custom-built furniture, and a rooftop bartender mixing beachy cocktails.
Although Emma hails from down under, her attitude is purely Californian. Despite all the material that's ripe for boasting (of which there is plenty), Emma—and by proxy, The Surfrider—is the perfect mix of humble, generous, and right on the mark with exacting taste. We sat down with Emma to talk surf culture, hospitality, and the freewheeling spirit of the California dream.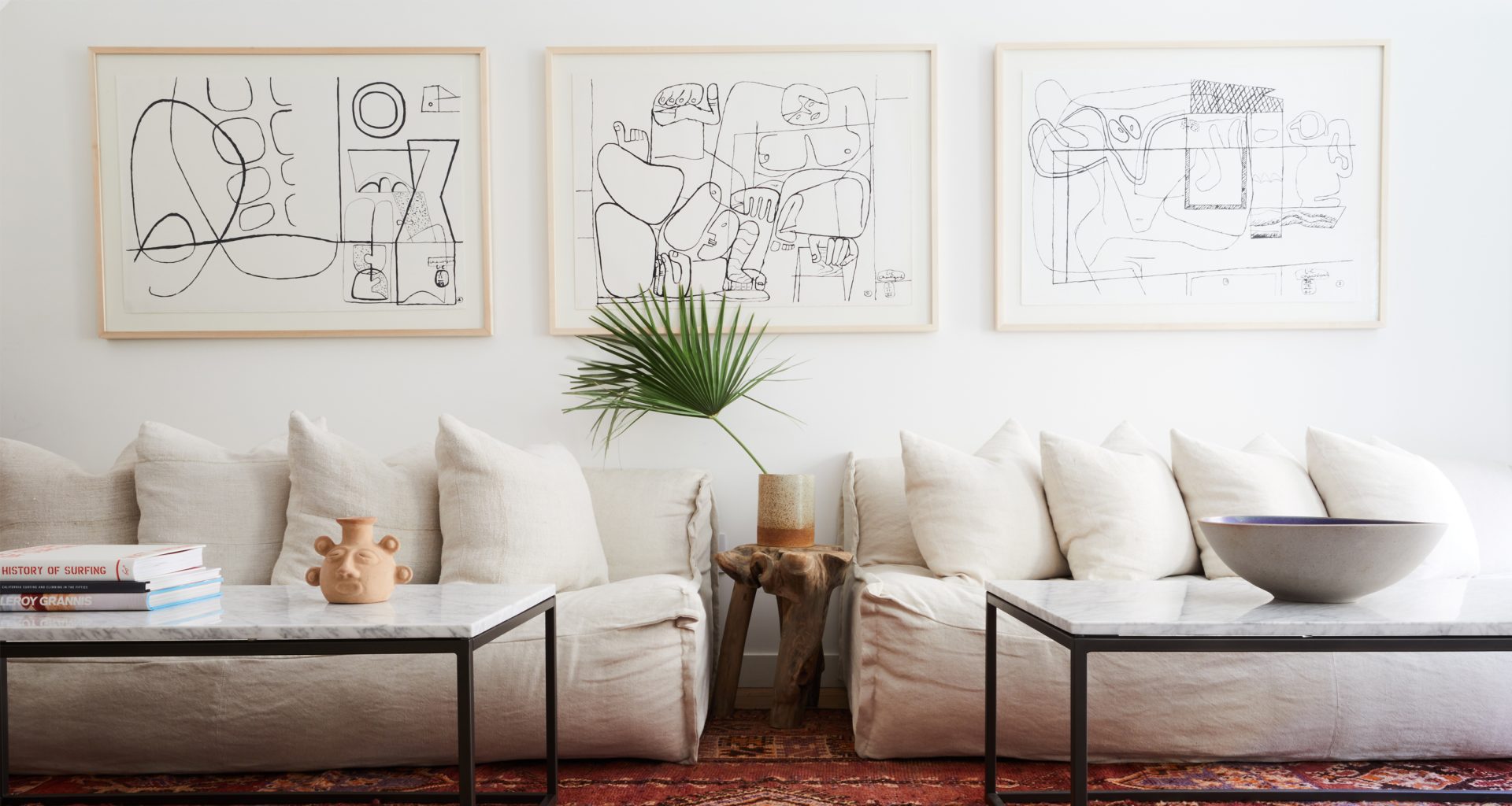 Rip & Tan: Can you tell us a bit about your background? What experiences or opportunities have shaped what your career is today? 

Emma Crowther: I was born and raised in Australia, but currently I spend the majority of my time in Malibu, by way of Europe and New York City, where I lived for nearly a decade. My career has been fun and varied across real estate and creative worlds which is the perfect combination for bringing a hotel to life. I'm a Pisces: some right brain, some left, overly creative, always passionate (maybe to a fault!) and nomadic. I've been lucky enough to travel to upwards of 60 countries and be witness to different cultures, people, ways of life, landscapes, and design aesthetics. I'm an advocate for learning via osmosis—I believe that every life experience and interaction, big or small, happy or challenging, shapes what comes next and that the only control we have is how we channel those experiences. That idea has come full circle in this chapter of my career, in that The Surfrider was designed so that people's interactions with the hotel would be positive ones that have them leaving feeling inspired by life. 

Rip & Tan: Did you have experience in hospitality, or was there a learning curve coming from the design world? How do these two disciplines overlap?

Emma Crowther: That saying, "make yourself a coffee and pretend you know what you're doing"?! That's me. I actually had no idea what I was doing to the point that I had no idea that I had no idea.

But seriously, ignorance brings innovation and it's fairly obvious if you're willing to work hard and have a slither of emotional intelligence. I've got a quote from Charles Eames on my desk, "the role of a designer is that of a very good, thoughtful host anticipating the needs of his guests."  And so, design and hospitality are essentially one and the same. It's about creating an environment where guests' desires are anticipated before they know they need or want them. It's fairly intuitive.

Rip & Tan: Describe a room in the Surfrider and your favorite decor details:

Emma Crowther: The library, which was actually an afterthought, has turned out to be my favorite room. It's got personality—a combination of custom designed furniture by Croft House LA, one-off eclectic vintage pieces such as the 120-year-old Iranian rug, books on surfing, design, architecture, and general ephemera, intentionally chosen for more than decoration. Two pieces of art stand out: "Pray for Surf" by Ali Beletic which we sourced via Tappan and reminds us of the simple things in life, alongside a more complex original print series by Swiss-French architect Le Corbusier.  The collector-worthy Mcintosh audio system plays an endless ode to California in the '60s and '70s with a French twist; Astrud Gilberto's "The Girl from Ipanema," Francois Hardy's "Le temps de l'amour," The Rolling Stones, The Mamas & The Papas, Devendra Banhart, Gypsy Queen, and The Doors.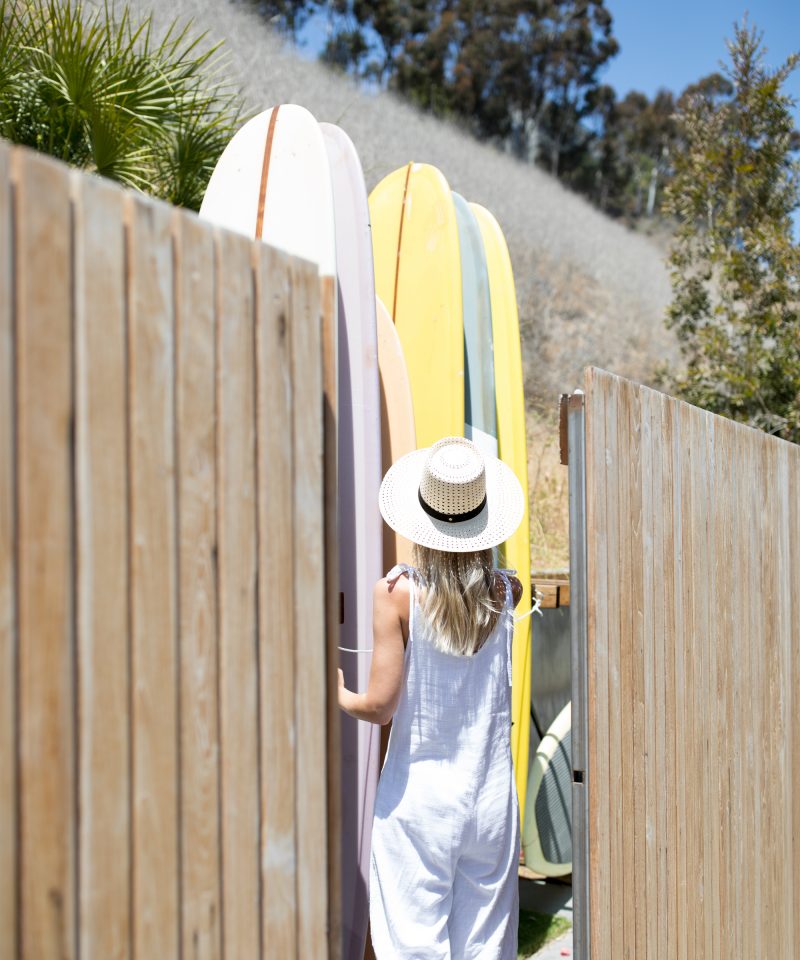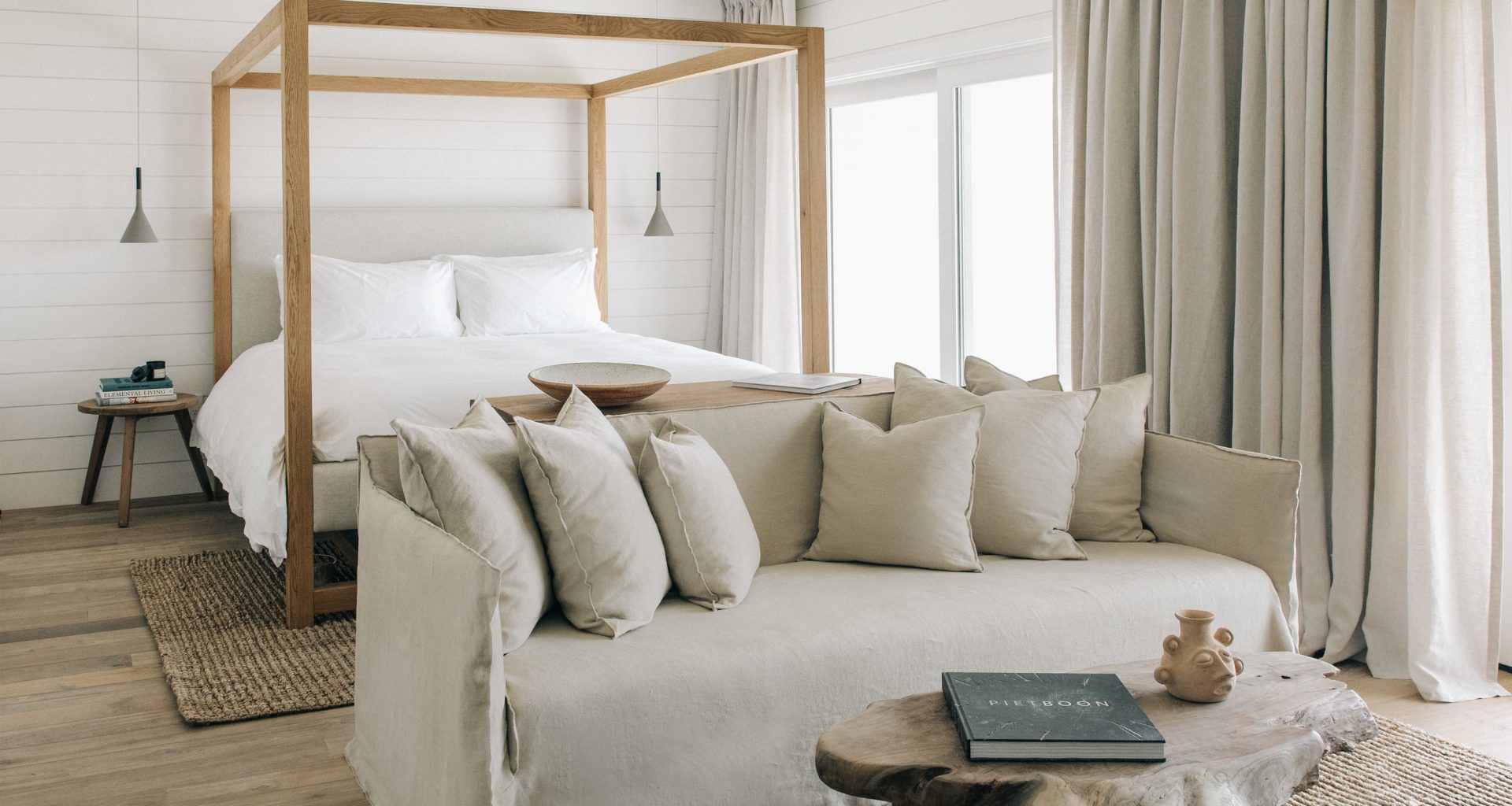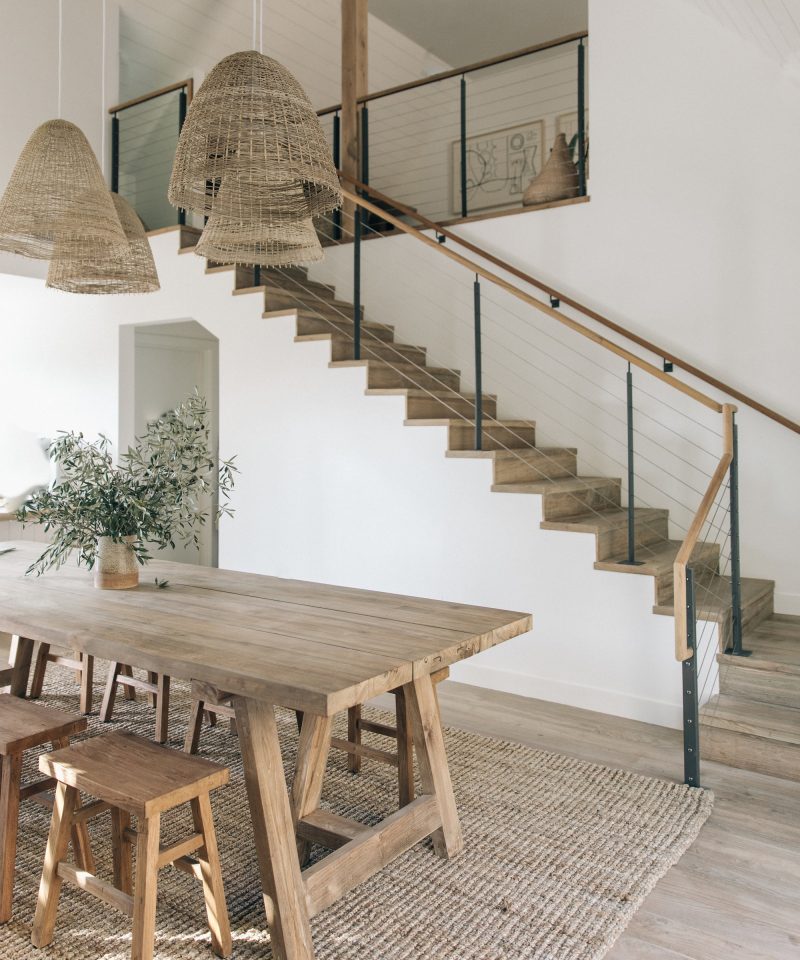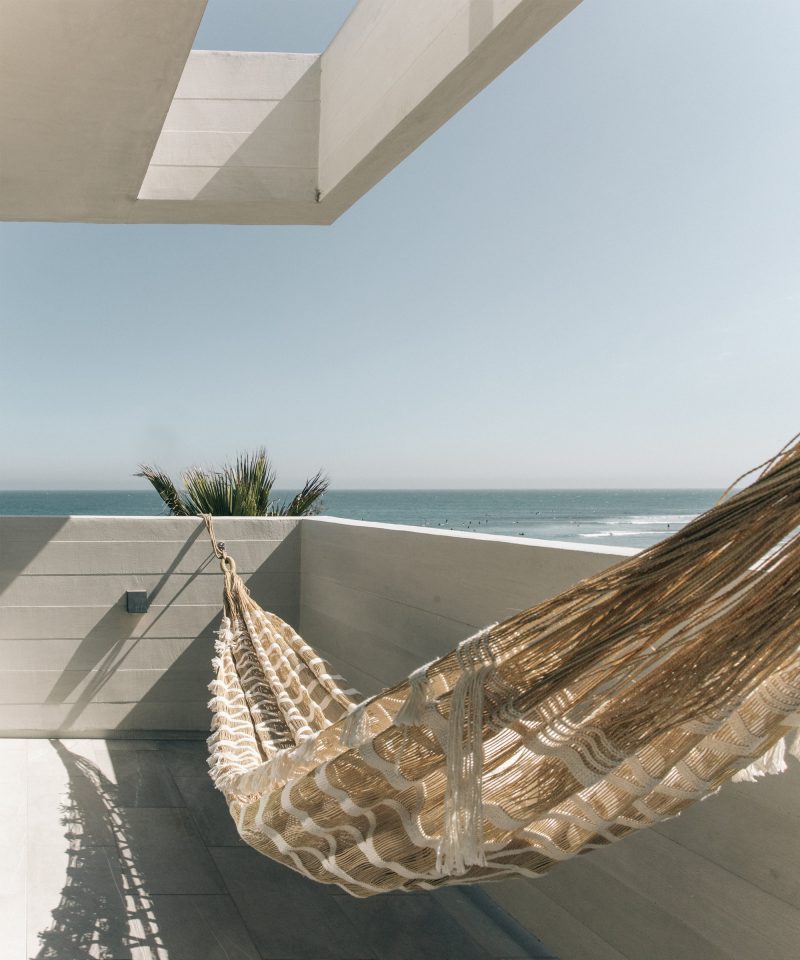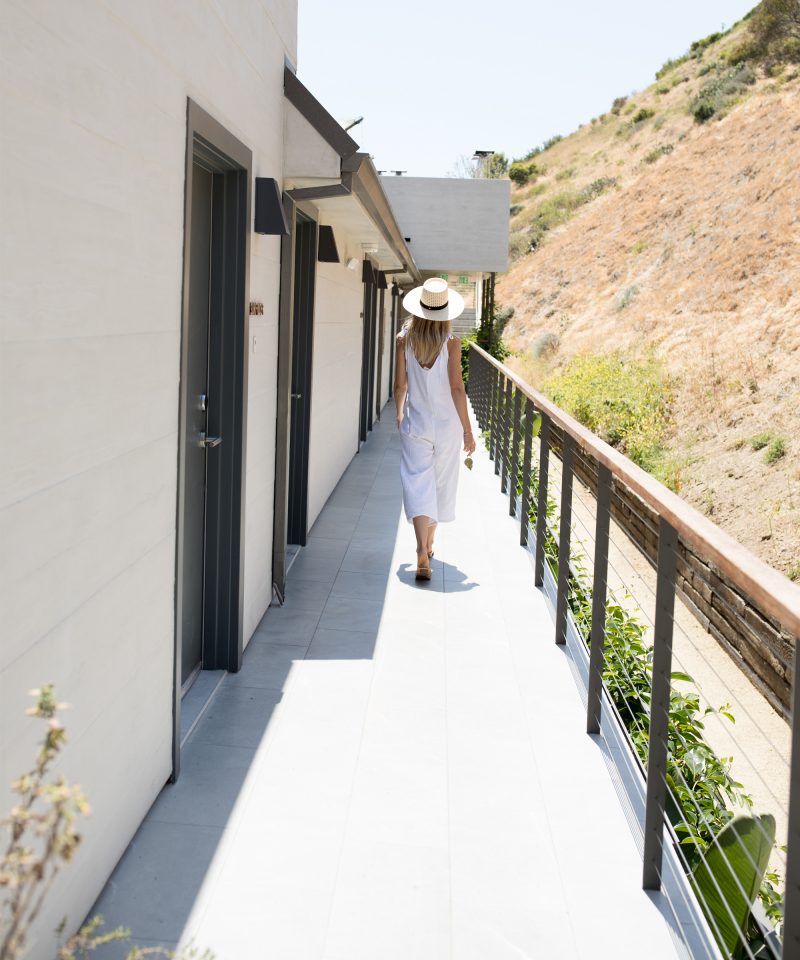 Rip & Tan: How did you approach styling and decorating Surfrider? What mood did you want to evoke, and what were your main inspirations?

Emma Crowther: Matt and I believe that the role of a designer is to tell a story and use that story to create an experience that etches a memory which ultimately helps to shape someone's world. Our vision was of an epic beach house in California, complete with your own staff, a private roof deck and the most iconic surf break in the world, right out front. If the California Dream was a hotel, we wanted that hotel to be The Surfrider.

 And so, we studied the elusive "dream" of 1950s California, the time The Surfrider was first built. It was post-war era, the Golden Years. Living was easier. People lived in the moment, there was a sense of freedom and possibility in the air. We looked at our favorite beach communities in the world; Byron Bay, Formentera, Comporta, Montauk. What did we love most about those places? It was the same thing that we associated with the California Dream…the way that people were nowhere else but there, feeling alive, free spirited and inspired.

And so, we worked backwards, designing a space and an experience that would hopefully strip away people's realities for a second and take them back to simpler times.  

We used solid natural materials: reclaimed wooden floorboards, custom-made teak beds, stone, and hand-painted ceramic tiles. There is a deep, embedded texture, which makes for a tactile, sensory environment that is grounding. It is warmly minimal with a feeling of care and craft throughout. Bedrooms are cool, clean and crisp. Public areas are generous and convivial. Every bedroom has a private terrace with ocean views, upstairs bedrooms have hammocks. There's a quiver of surfboards, complimentary for guest use, shaped by local shapers, designed for Malibu's waves, in a color palette taken from vintage Surfer magazines. A warm outdoor shower for post-surf sessions.  A 1968 Land Rover for surf trips or beach bonfires up the coast. The roof deck is filled with lounge chairs. A fire pit for crisp Californian nights.

Life at The Surfrider is not governed by rules. In the Californian spirit, it can be many things to many people at the same time: private and sociable, active and relaxed, healthy and indulgent…but it is always vibrant and alive.

Rip & Tan: Considering that beachside is about as casual as it gets, what do you wear when you have a meeting or occasion that calls for an outfit that's a little more buttoned-up?

Emma Crowther: I dress so that I can be at the beach, hanging on the roof deck with guests or in a meeting wearing the exact same thing to all three. It's the European approach… raw materials, flowing silhouettes, add a hat and some sunglasses.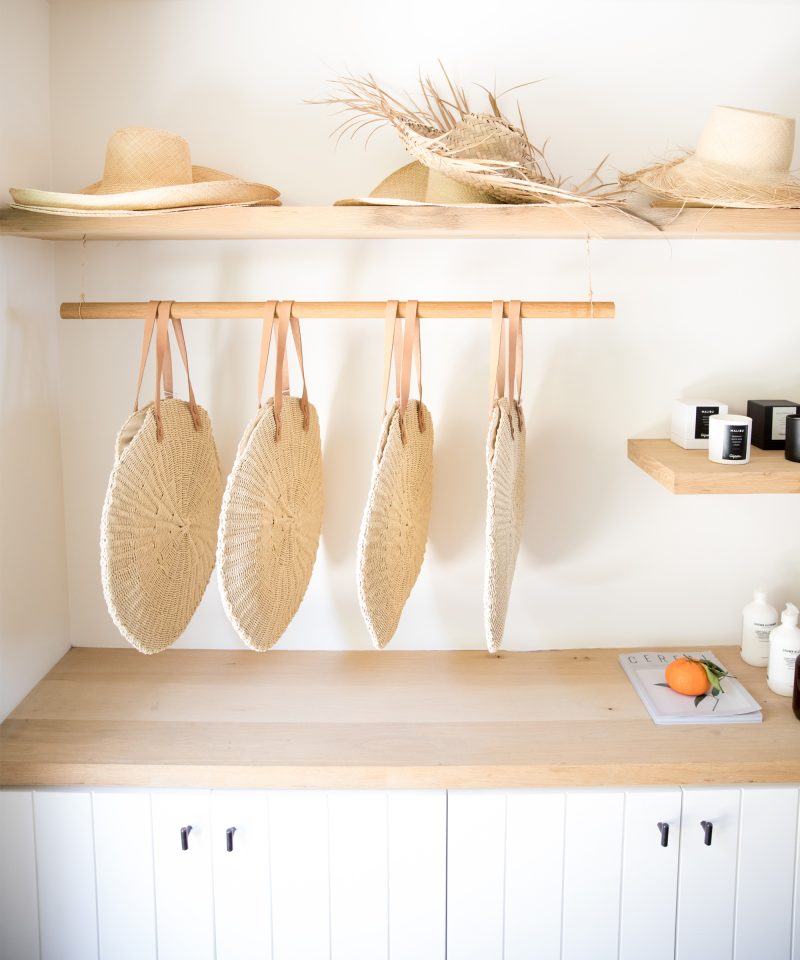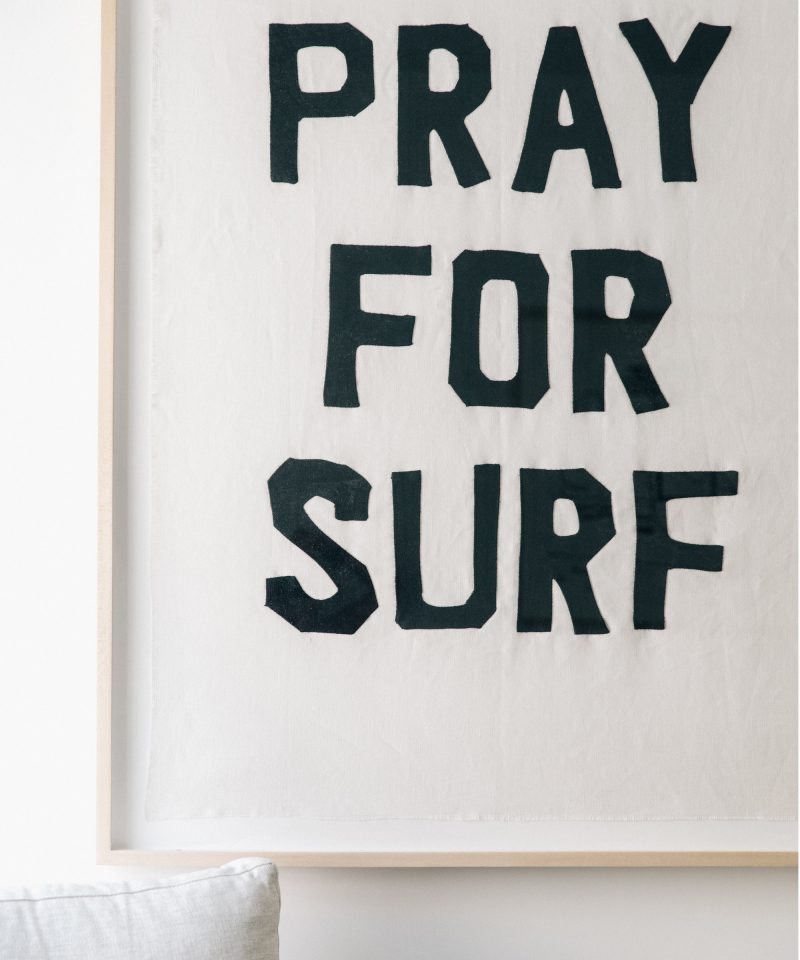 Rip & Tan: What is a typical day like for you as creative director of a hotel?

Emma Crowther: If I've learned one thing in hospitality, it's to go with the flow…there is no typical day!

On a good day…

5:30am: Wake, check my emails in bed (I know, I know!) and daily happenings. We have 20 rooms, so guest stays can be curated. I like to know the motivation for people's stay and help to personalize around that: birthdays, anniversaries, stress, work, road trip, etc.

6:30am: Coffee (obviously a flat white). Drive to Malibu.

7:30am: Yoga on the beach, sometimes with guests or members from The Surfrider team followed by an outdoor shower (the best kind).

 9:00am: Breakfast on the roof deck with Matt for our daily operations meeting.

9:30am: Check in with our team to go over the things that bring The Surfrider to life and make it feel like home. Bowls full of fresh fruit, surfboards are in good shape, flowers throughout. Once a week I go to the flower market or farmers' market. It's a task I could easily pass on, but it's been weekly tradition of mine ever since I moved to New York, where the corner bodegas felt like botanic gardens.

10:00am: Community and collaboration. What are we doing to make The Surfrider feel like a place of community? How can we give guests a better local experience? Some days it's meeting with different community members—yoga teachers, surf instructors, meditators, chefs for pop-up dinners. Other days, it's the operations that come with these things.

1:00pm: Lunch! I try to taste one thing from the menu each day. It's a little bit of quality control but mostly because the team in the kitchen are absolute superstars and there's really nothing I'd prefer to eat. We change the menus seasonally so there's also a lot of creative experimentation here too.

(Somewhere in between I try to get into the ocean.)

 3:00pm: The afternoon and early evening are for greeting guests as they arrive. I love to meet everyone who stays with us whether it be a quick hello at check-in or a shared cocktail on the roof. Some afternoons turn into surf sessions or beach bonfires.

 Sunset: My non-negotiable "me" time. I try to do a little hike, but somedays it's just stopping for three minutes and acknowledging the beauty around me. I'm not sure anywhere in the world has a sunset as good as Malibu.
Rip & Tan: You own and run the hotel with your husband, architect Matthew Goodwin—can you describe your working relationship? What are the advantages to working with your partner, and what are the challenges? 

Emma Crowther: Our working relationship is the same as our non-working relationship. I don't know if that's a good thing or not?! We have very similar visions but different strengths in executing, which works really well for us. I'm passionate, Matt's logical. I react (working on it!), Matt processes and then acts. I talk, Matt gets things done. I'm a yes person, Matt's a little more realistic. It's nice to work together, to see the things that light each other up, to be constantly creating and dreaming. Most days I think we are a dream team. Some days, I think, "what the hell are we doing?" I think it's just the way it goes when you live and breathe something together. Mostly though, we try not to take things too seriously. We try to have fun. Because otherwise, what's the point?

Rip & Tan: How does Malibu compare to your native Australia? Clearly there are some similarities in their respective beach cultures, but are there any noticeable differences or things you miss about home?

Emma Crowther: Australia has a slower pace, less density and a very relaxed way of life. People tend to go with the flow a little more. There's fearlessness in Australia that stems from the easy living. We have this phrase: "give it a go," which is essentially a mentality of better to try and fail than not try at all. I think that's ingrained in me, which helped in launching a hotel with no experience.

Rip & Tan: Did you enlist any community members or local small businesses to be a part of your redesign efforts? How do you ensure that the spirit of Malibu stays the same through inevitable change?

Emma Crowther: Absolutely! This was one of the most important things to us in building a California beach house and continues to be. We made every effort to create a space that was authentically local. Our robes are from Parachute Home, designer Lily Ashwell, born and raised in Malibu, made our female staff's uniforms and Venice-based General Admission designed the uniforms for our male staff. Our coffee is roasted just down the road by Canyon Coffee. Our surf wax is palo santo-infused by local surfer, Kassia Meador. All of the ceramics throughout the hotel are by locals, one who actually lived in The Surfrider before we bought it! Furniture was custom-designed and manufactured with Croft House LA and Malibu Market & Design. Our food is organic and sourced from local farms, like the biodynamic One Gun Ranch. Our wine list, designed in conjunction with a Michelin Star and Grand Award-winning Sommelier, is California focused in an effort to support small-batch growers.

Rip & Tan: What is your favorite thing on the menu at the rooftop bar?

Emma Crowther: Do cocktails count? I personally love our wellness cocktails. Chamomile Cleanse is great for jetlag and The After Sun is made with aloe vera liquor, which is meant to be enjoyed after a long beach day. Our coconut-infused margarita, The Endless Summer (after Bruce Brown's cult classic film), is naturally a hit, and the LA Woman tastes like the mood evoked by The Doors song: a little smoky, a little rough around the edges, but worth it.