Entertaining
Autumn Entertaining: A Halloween Party for the Little Ones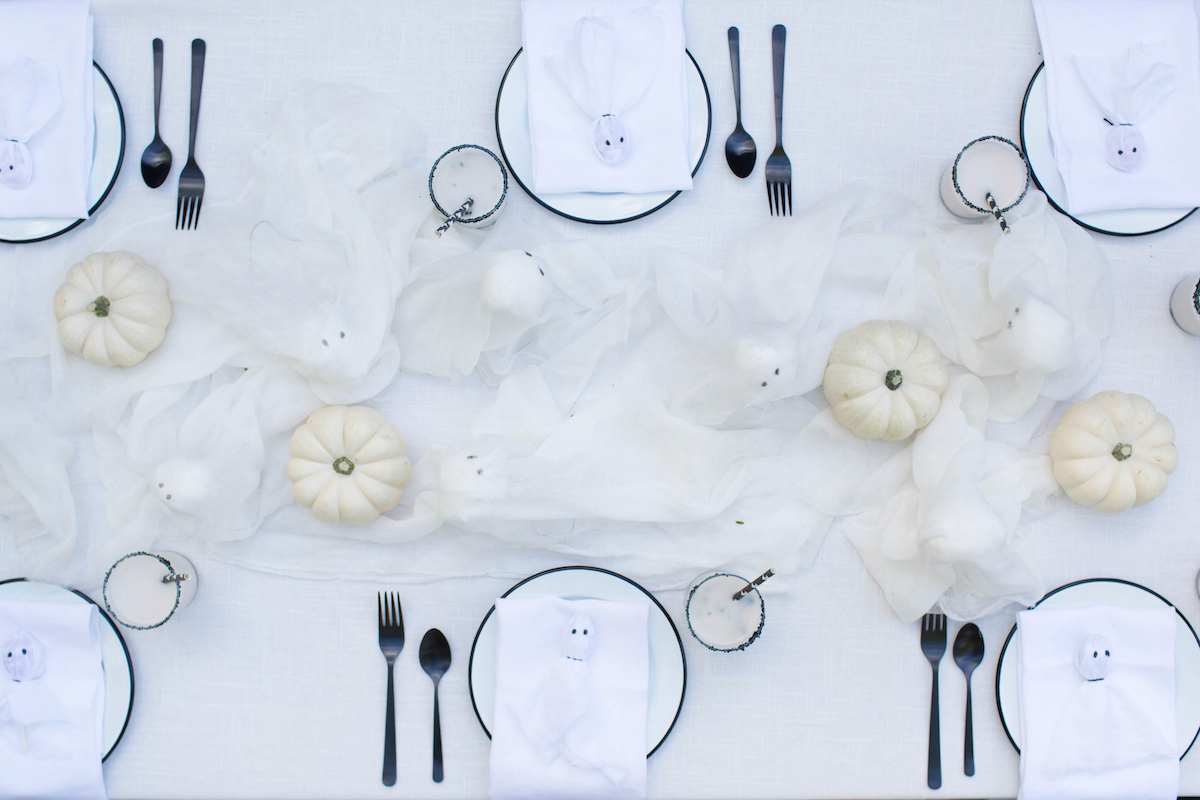 Some of my favorite get-togethers for the little ones have been those that combined the talents of the amazing Annie Campbell and Amy Blessing (our Halloween cooking and carving party seen here). So with the spooky holiday just around the corner, I couldn't resist teaming up with these lovely ladies once again. Per usual, they blew me away with a new and inspired take on the menu, crafts and decor (a gorgeous mostly-white color palette was woven throughout) and the kids had an absolute blast. See below for all the details, as well as recipes for some of the tasty treats. XXJKE
THE MENU –Annie Campbell
Inspired by the white color palette, Annie created a spread equal parts creative and delicious. Little ones sipped on coconut milk in glasses rimmed with black sugar sprinkles and nibbled on a white cheese and crudités board, artfully assembled on top of chalkboard paper, using chalkboard markers to label each element. The main course: an incredible black bean chili buffet (an homage to Annie's childhood pre-trick or treat dinner), with all of the components housed in hollowed-out mini white pumpkins. The sweet finish: Ghost Meringues and her signature Vanilla Naked Layer Cake, topped with climbing black spiders.
Sips
coconut milk
Snacks
yogurt covered raisins, ghost chips
black + white cheese + crudités board:
goat brie, Irish sharp cheddar, goat cheese with black sesame seeds, Asian pear, figs, dried prunes, blackberries, dragon fruit, black olives
black sesame crackers and white rice crackers
cauliflower, black radishes, jicama, turnips, mushrooms, daikon, white carrots + creamy herb dip
Buffet
black bean chili with white toppings: white cheddar, queso fresco, sour cream, sweet onions, white tortilla chips
roast parsnips + cauliflower with ricotta salata + sesame seeds
ghost cream cheese sandwiches
black tortilla chips
Sweets
vanilla naked layer cake with cream cheese frosting + black spiders
THE DECOR & CRAFTS –Amy Blessing
Imaginative elements and activities that incorporated the white (with a touch of black) color palette
Linens, Dishware and Flatware – Theme-perfect white burlap tablecloths, Canyon Crow White and Black Rimmed Enamelware, and Canvas Oslo Cutlery in Matte Black
Seating – Vintage white metal stools from Fire and Creme
Centerpieces – Mini white pumpkins mixed in with whispy ghosts, which Amy created using white cheesecloth (rather than off-white), styrofoam balls, pipe cleaners and a black sharpie
Wood Pumpkin Painting Craft – As a fun activity and take home, Amy provided each of the little ones with the tools to paint their own wood pumpkin. The components: unfinished wood pumpkins (similar), non-toxic paints in hollowed-out white pumpkins, as well as "nature brushes" to apply the paint, which she made by attaching crafting twigs to sprigs of lavender, rosemary and pine from her backyard.