Living
At Home with Style Blogger and New Mother Alicia Lund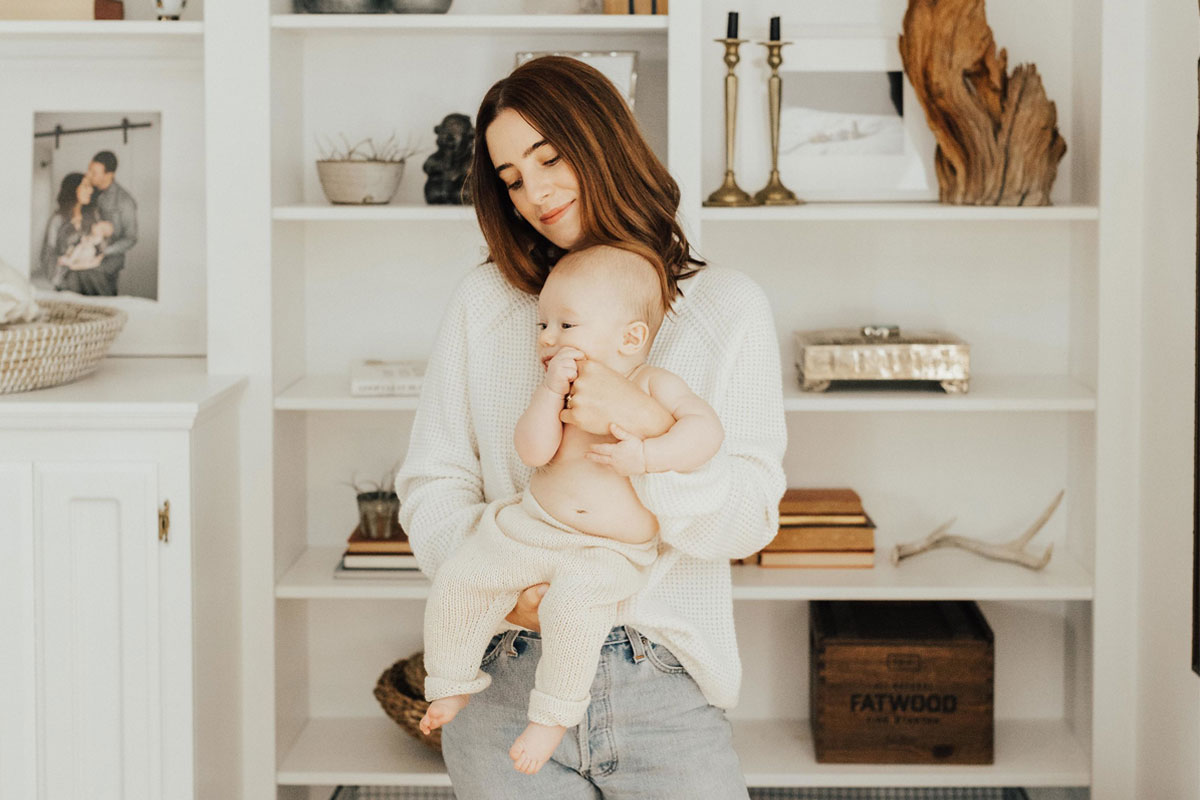 Alicia Lund, the stylish blogger behind Cheetah is the New Black, recently remodeled a colonial home in Sacramento from top to bottom just in time for her first child, Rex, to arrive. Alicia has classic, slightly bohemian taste when it comes to her wardrobe, and the same mix is visible in her home as well. I love that her take on boho is a little bit masculine through the use of black and dark wood accents, and that she peppered each room with objects and décor details that nod to Morocco. The light in the space, particularly the main living room, is also absolutely beautiful; a quality she enhanced greatly by remodeling the downstairs rooms. 
Now eight years into running her blog, and settled in her first proper family home with a new baby to enjoy, Alicia is in a really exciting place in life. For today's profile, she was kind enough to give us a tour of her space and sit down for a Q&A on all of these new developments. I hope you enjoy her home and words! Stay tuned tomorrow to see how Alicia styled a few pieces from my Spring 2017 collection.
P.S. take 20% off all Jenni Kayne apparel and shoes, including markdown. Use the code JKSPRING20 at checkout! XXJKE 
Rip & Tan: What drew you to your new home and/or neighborhood?
Alicia Lund: Moving from New York (and previously San Francisco) to Sacramento meant that I still wanted to have some kind of city feel and to be as close to downtown/midtown as possible.  The thought of complete suburbia makes me feel claustrophobic so our neighborhood was a good happy medium.  Sacramento isn't a true walking city but we can walk to a fair amount of coffee shops, restaurants, parks, and even the grocery store. And now with Rex, I love that I can stroll right out the front door.  It has made me appreciate the neighborhood (and slower pace) even more.  
Our house was on the market for a while. In fact, my husband saw it but didn't think I'd be a fan so he didn't take me to see it for months. Once I did a walk through, I instantly knew it had potential. I loved all the natural light in the family room, historic charm and character. 
Rip & Tan: What type of rehab/DIY projects have you taken on since you moved in? What do you hope to do in the future?
AL: What haven't we taken on?!  We completely remodeled the downstairs prior to moving in; modernizing the home while keeping with the original architecture and character of the house.  We opened up the flow of the downstairs by removing the wall between the dining room and the kitchen, and opening the wall into the family room from the previously formal living room which we currently use as an office.  Most recently, we fixed up Rex's room and added onto the master bathroom.  We've been doing the remodel in phases which I completely recommend although I'm anxious to finish the house (part 3!) and to feel a bit more settled.  We have one more bathroom to update upstairs, and I've finally talked my husband into letting me turn one of the upstairs rooms into my walk-in closet. (My clothes/things are currently strewn about our guest room which means anyone who spends the night is snuggling up to my sweaters. It's a situation!)
Rip & Tan: How would you describe the décor? Where do most of your pieces come from? 
AL: I would say eclectic as most of our pieces are family heirlooms, yet also very classic. It's a 1940's colonial style house, and I think we've done a great job preserving the charm while giving it a modern (and brighter) facelift. We were fortunate to inherit a number of pieces from our grandparents' world travels which has given our house such a rich layer of stories. I like to raid my Nana's garage whenever I visit and always come home with something. From my side we have pieces that my ancestors brought over from Italy and from my husband's side we have a mix of tables and items from their travels to Morocco and through Asia.
Rip & Tan: What is your favorite room, corner, or object in the space?
AL: I love the statement our black teak wood dining table makes as you walk in. I love those dining chairs so much too!  
Rip & Tan: You're a new mom (congrats!). How did you approach the nursery and how do you envision your son growing into the space?
AL: I approached the nursery as if it was any other room in the house.  It's a mix of old and new; family heirlooms, finds from our travels, and colorful Moroccan rugs for pops of color. Darker wood elements give the room a masculine feel but otherwise I kept the space as much of a blank canvas as possible. I'm much more excited to see how Rex morphs it over the years!
Rip & Tan: How do you tend to entertain?  Who comes over and what do you do for them?
AL: My entertaining style is very casual. Or perhaps you may call it elevated casual because I do like pretty dishes.  I always set the right mood with good tunes, low lighting (candles, candles, candles!) and keep the wine flowing.  I think the drinks compensate for my lack of cooking skills.  I also love styling up the table to set the right vibe but nothing too fancy. I love loose florals and finding unique serving dishes and bowls. 
Rip & Tan: Tell us about how your blog has grown and evolved since you started it in 2009. Where did you start and where are you now?
AL: Cheetah is the New Black has evolved and organically grown with me over the years and I'm still beyond flattered and surprised when people tell me they've been following my journey since the beginning.  I started CITNB as a creative outlet while living in San Francisco (at age 23).  I worked in finance at the time and for many years the blog filled the creative void I had been looking for.  When I got married and moved to New York I was able to use the blog as my resume, landing a job as the fashion and accessories editor for ELLE.com.  After New York and ELLE, I was the buyer for a small boutique in Northern California and just in the past couple years have focused exclusively on the blog and various editorial and entertaining styling projects. 
Rip & Tan: How do you see yourself fitting into the fashion-blogger community? How do you stand out in this somewhat crowded space?
AL: It's definitely an insanely crowded space and has changed so much over the years.  Most importantly you have to stay true to yourself.  I've been doing this a very long time and always go through waves with the blogging world but I feel very fortunate to get to create content I'm passionate about. CITNB is more than just fashion so I stand out by bringing a mix of lifestyle content as well, inspiring my reader with beautiful imagery and honest writing. 
Rip & Tan: Where do you find inspiration for the blog? 
AL: I'm constantly inspired whether traveling, magazines, online, and through friends.  I keep a loose editorial calendar and aim to create content around monthly themes, holidays and trends but there's still room for lots of improvement there! I like that my site is still very much dictated by what's inspiring me in the moment. 
Rip & Tan: What is your typical (or "perfect") work day like from start to finish?
My typical work day is—wake up, walk to coffee with Rex.  He falls asleep on the way home which means I speed walk the rest of our route so I can get back to my computer to start my work.  The rest of the day is a balance of Rex time, computer time, a strategy call or meeting, and an afternoon shoot.  My perfect day is when I'm on location styling and collaborating with other talented friends. I love bringing a vision to life.  
 Rip & Tan: What are your goals for your blog in the future?
AL: I'm at the point where I'm hiring more help and am excited to evolve my brand and to take on bigger projects that I just can't execute on my own.  I'm really enjoying more of the lifestyle / entertaining features and am also planning more travel guides (especially Northern California) so stay tuned! I have a new Creative Editor joining my team in May!
Rip & Tan: Do you ever feel a pull to disconnect from social media and the Internet? If so, how do you unplug?
AL: All the time! I've been really struggling with this since having Rex. I try to unplug frequently to help with burnout.  Some evenings and weekends I just won't check my phone. I focus on quality time with my family. Hiking, nature, and road trips are also my favorite ways to unplug. 
Rip & Tan: You put together so many different, beautiful outfits for your blog. What staples really define your style?
AL: Well I'm a true denim girl so you can usually always find me in jeans.  But I also think I'm known for a sweet and edgy mix of boho meets city girl; so a romantic dress paired with something tough like a suede or leather jacket, boots and a fedora. I have a serious obsession (and collection) of hats!
Rip & Tan: Where are some of your favorite places to shop?
AL: I mainly shop in San Francisco and while traveling or online.  Some of my favorite spots are Curve (love their edit), Freda Salvador (for boots), Isabel Marant (fave designer), Net-a-Porter and Doen (online). I'm also a big fan of General Store in the Outer Sunset for vintage. 
Rip & Tan: What is your go-to look when you want to dress up and feel a bit glamorous?
AL: I'm definitely more of a pants girl, but when I want to feel glamorous I'd say a low V-neck maxi dress. But still most likely with flats. During my New York days it would have been leather pants.
Rip & Tan: What wellness or beauty ritual do you cherish?
AL: I love face oils.  I slather on African Botanics Marula Oil every night under my moisturizer.  Smells so yummy too!
Rip & Tan: Your hair is gorgeous! What's your cleansing and styling routine like?
AL: I'm pretty low maintenance here—especially now with a baby. I prefer to let my hair air dry as much as possible. Once it's dry I'll enhance my natural waves with a non-clamping curling iron. I also love Oribe's dry texturizing spray to give my hair some volume on day 2 or 3 after washing, and hair oils to tame my naturally curly frizz.
 Rip & Tan: How do you stay fit and healthy?
AL: Honestly, I mainly just walk right now.  It's actually amazing what great shape walking can keep you in.  I do a 1.5 mile loop every morning to grab coffee. And some days I do the loop again in the afternoons.  That and breastfeeding are allowing me to eat anything I want right now. But I do have a pretty healthy diet as well. I'm lucky in the fact that I mainly crave wholesome foods. I prefer to eat a high veggie/fruit diet. My go-to snack right now (was also a pregnancy craving) is sweet potatoes. I have about one a day. Along with an avocado a day; both of which are also great for glowing skin. Win, win. I do want to get back into a regular Pilates and yoga routine though.
Rip & Tan: What are your beauty staples? What do you buy over and over again?
Lip gloss (can't ever have enough!), face oil, brow gel, and tinted moisturizer (big on a foundation/sunscreen in one).  I love everything African Botanics for skincare. I have also been really into Goop's line with Juice Beauty (the face oil especially). I love Kerastase and Oribe for hair and for makeup my go-to brands are: Lilah B., Chantecaille, Eve Lom and Giorgio Armani for foundation.