Food & Drink
A Perfect Apple Pie Recipe by Pamela Salzman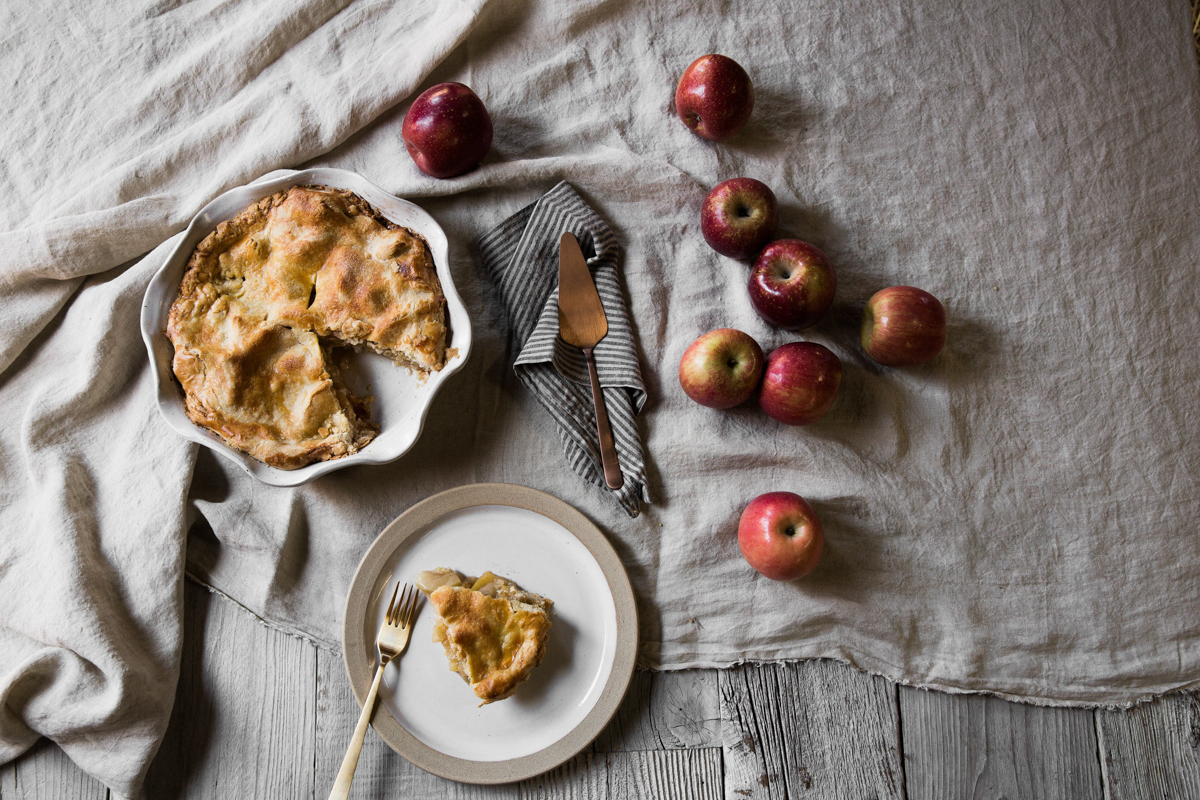 Health-minded chef Pamela Salzman's pies are to die for. Her cherry pie recipe is one of my favorites to make around the holidays, and I recently tried her apple pie recipe, which is warming and not too sweet nor too spicy. Pamela's apple pie was featured in our fall catalog with Hale Mercantile linens (in Jenni Kayne stores), Canvas cutlery, Farmhouse Pottery plates, and a Farmhouse Pottery pie dish. 
Made with the simplest ingredients including three different kinds of apples, this pie would be a great finale to a special family meal, including Thanksgiving, which is unbelievably right around the corner! As Pamela points out in her recipe notes, this is a good dish to make with your kids or friends as everyone can partake in peeling apples. You can also make the crust in advance to save time on the day of a big gathering. XXJKE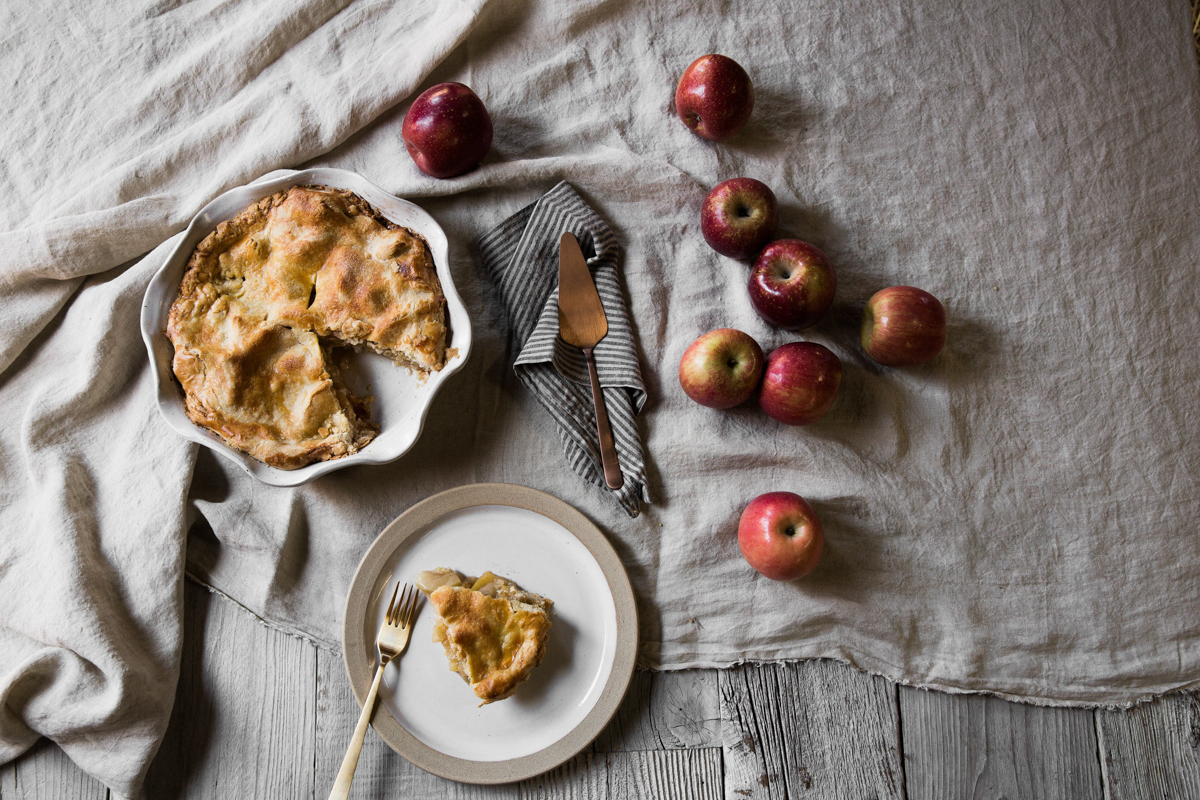 Perfect Apple Pie by Pamela Salzman
Recipe
Perfect Apple Pie by Pamela Salzman
Servings: Makes 1 9-inch double crust pie
Units:

Course: Desserts
Ingredients for the Pie:
3 tablespoons all-purpose flour (this gets used in the filling) + more for dusting countertop
1 large egg yolk
1 tablespoon heavy cream (or half-and-half or whole milk)

1 lb

1/2 kg

tart apples such as Granny Smith

1 lb

1/2 kg

sweet apples such as Golden Delicious
2 tablespoons fresh lemon juice

1/4 cup

59 ml

organic cane sugar (plus extra for optional sprinkling on crust)
1 teaspoon ground cinnamon
1 pinch ground nutmeg
1/4 teaspoon sea salt
1 tablespoon unsalted butter, cut into small pieces
Ingredients for the Crust:
2 1/2 cup

591 ml

all-purpose flour
1 teaspoon cane sugar
1 teaspoon sea salt
2 sticks unsalted butter cut into pieces
5-8 tablespoons ice water
For the pie:
1. Roll one disk of pie dough on a lightly floured countertop, regularly checking to make sure disk is not sticking to counter. Roll into a 12-inch round. Fit pastry into a 9-inch pie plate. Roll second disk in the same manner. Transfer to a baking sheet and refrigerate pie shell and 12-inch round until ready to fill pie.
2. Preheat oven to 400 degrees. In a small bowl, whisk together egg yolk and cream.
3. Peel, core and slice apples crosswise into ¼-inch slices. Transfer to a large bowl and mix in lemon juice, sugar, flour, cinnamon, nutmeg and salt. Combine well. Arrange apple mixture in pie shell and dot with butter.
4. Place the rolled out disk on top of the apples and press down gently. Press together the dough at the rim of the pie plate to seal. Tuck top dough under bottom dough and crimp around the edge as you like. Brush the top of the pie with the egg wash and sprinkle with sugar, if desired. Cut three slits into the top center of the pie crust to allow steam to escape. If pie dough is feeling very soft, place pie in the freezer until firm.
5. Place pie on a baking sheet. Bake 20 minutes. Reduce oven temperature to 350 degrees. Continue baking until the crust is golden and the juices are bubbling and have thickened, about 40-50 minutes more. Transfer to a cooling rack to cool. Pie can be kept at room temperature for up to 2 days.
For the pie crust:
1. Place the flour, sugar and salt in the bowl of a food processor fitted with the metal blade and pulse a couple times until blended.
2. Add the butter to the flour and pulse until the mixture resembles small peas.
3. Pour 5 tablespoons of ice water on top of the flour mixture and pulse about 10 times. Avoiding the blade, carefully grab a small handful of dough and squeeze together. If the dough holds together without crumbling, it's ready to be formed into a disc. If it's too dry, pulse in another few teaspoons of ice water until dough holds together.
Transfer dough to a piece of parchment and bring dough together to form a ball. Divide in half and shape into two disks. Wrap each disk in parchment and refrigerate at least 30 minutes at which point it will be ready to roll out. Or you can keep the dough refrigerated for 2-3 days, or in the freezer, well wrapped for 2-3 months.