Living
This Australian Farmhouse is an Architectural Wonder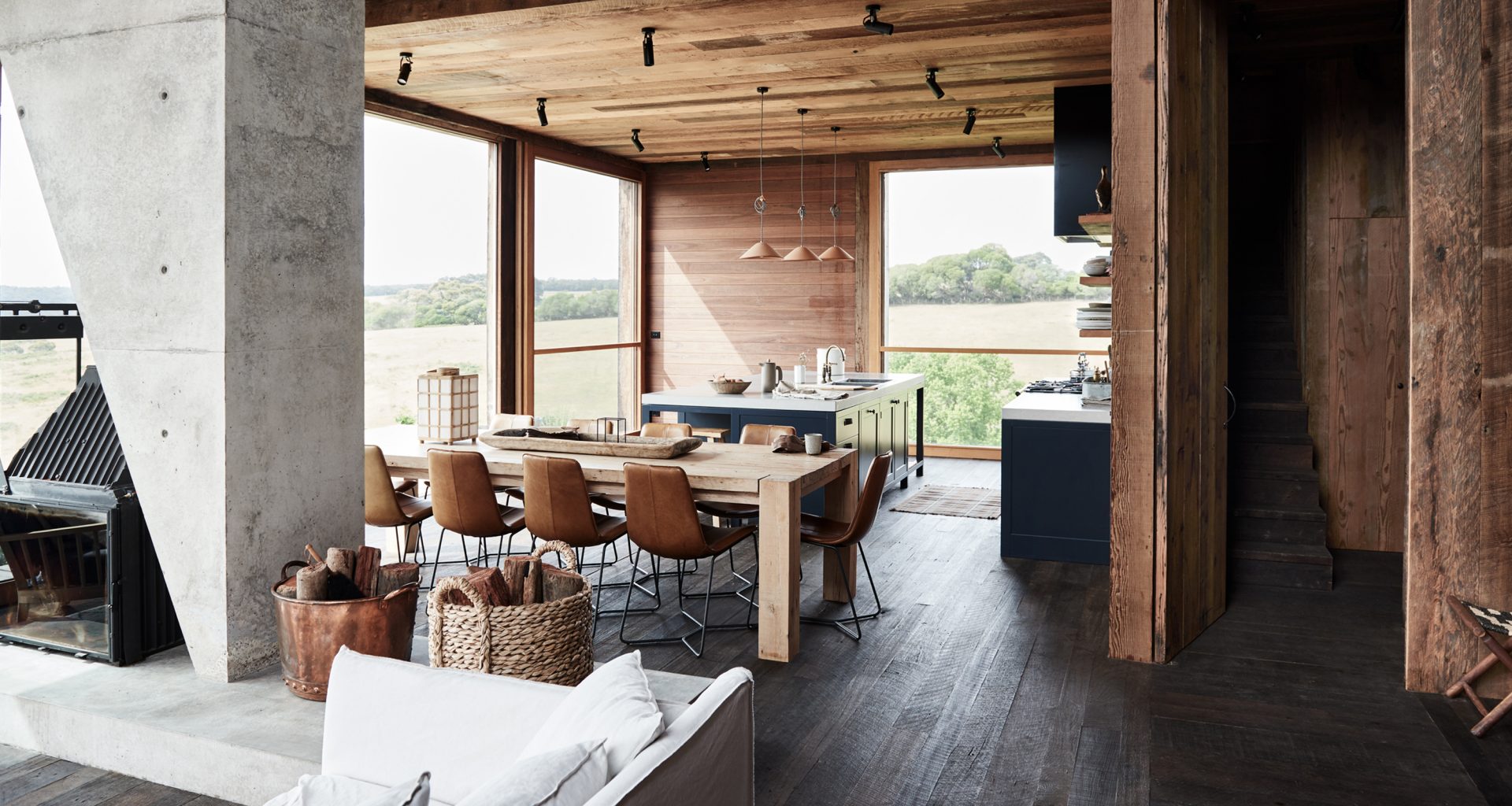 Situated off the Surf Coast in a town called Wensleydale, The Wensley is the rustic Australian getaway of our dreams. Designed by Fran Derham and her husband, Michael, along with architect Nick Byrne, the bespoke timber space fuses elements of the beach and farm, creating an aesthetic that blends the best of both worlds seamlessly.  The shed-like house is an architectural all-star, boasting floor-to-ceiling windows and an outdoorsy energy that makes every moment equally restful and inspiring. Fran takes us through the design musings and imparts her own share of daily wisdom—get ready for a virtual trip to Australia's nature-filled, serene coast.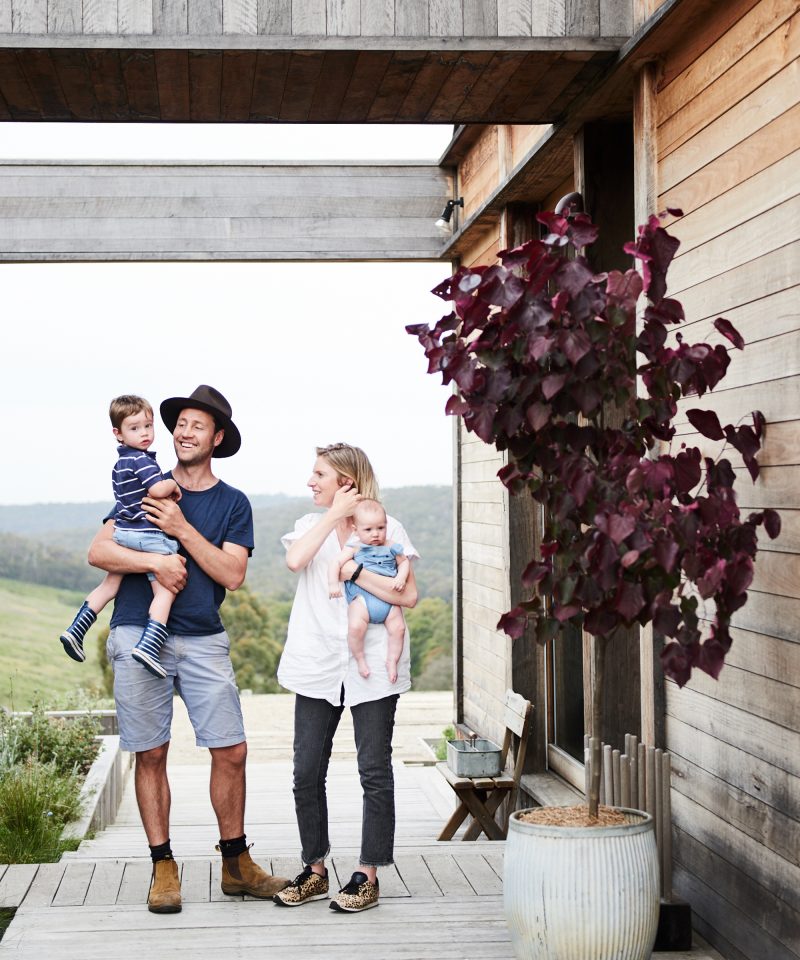 Rip & Tan: What led you to Wensleydale and where did the initial inspiration to build The Wensley come from?

Fran Derham: My husband, Michael, grew up in Ballarat—a regional center in Victoria—and his parents still live there. My parents are based in Barwon Heads (coastal Victoria) and this is half way between them both. Mike is a farm person and I'm a beach person. Wensleydale is 30 minutes from The Great Ocean Road, so we get the best of both worlds and it's easy for our parents to come and visit.

Rip & Tan: From initial meetings with the architect to breaking ground and beyond, tell us a bit about the building of The Wensley.

Fran Derham: We started building the house in July of 2015 and continued over two years. It was a long build, mainly due to Michael being busy with other projects and his particular vision for this project. We spent a long time selecting the right finishes to complement the timber. The attention to detail paid to the carpentry in the interiors is due to both Michael and our incredible chippy, Martin Healy, and his team.

Nick Byrne, the architect, is a really good friend of ours and went to school with Michael, so working on this project with him was great. Nick is known for his clean lines and angles—this house certainly has that—but the recycled brushed timber gives it a rustic feel unlike any of Nick's other creations.

Initially, I was really scared of the timber. I was looking into lime washes and different finishes to help soften the look, but Michael stood his ground and as it was built I began to understand his vision. A few other highlights I always call out:

The idea was that the house and the shed link together and create a frame for the view through the valley. The house looks east, and the sun and the moon rise in the cleavage of the hills directly in front of the living room and kitchen. Almost all the windows open right up, creating a natural cross ventilation. What we've created is a house that lives and breathes using natural materials. A palette of timber, raw brass, concrete, and leather.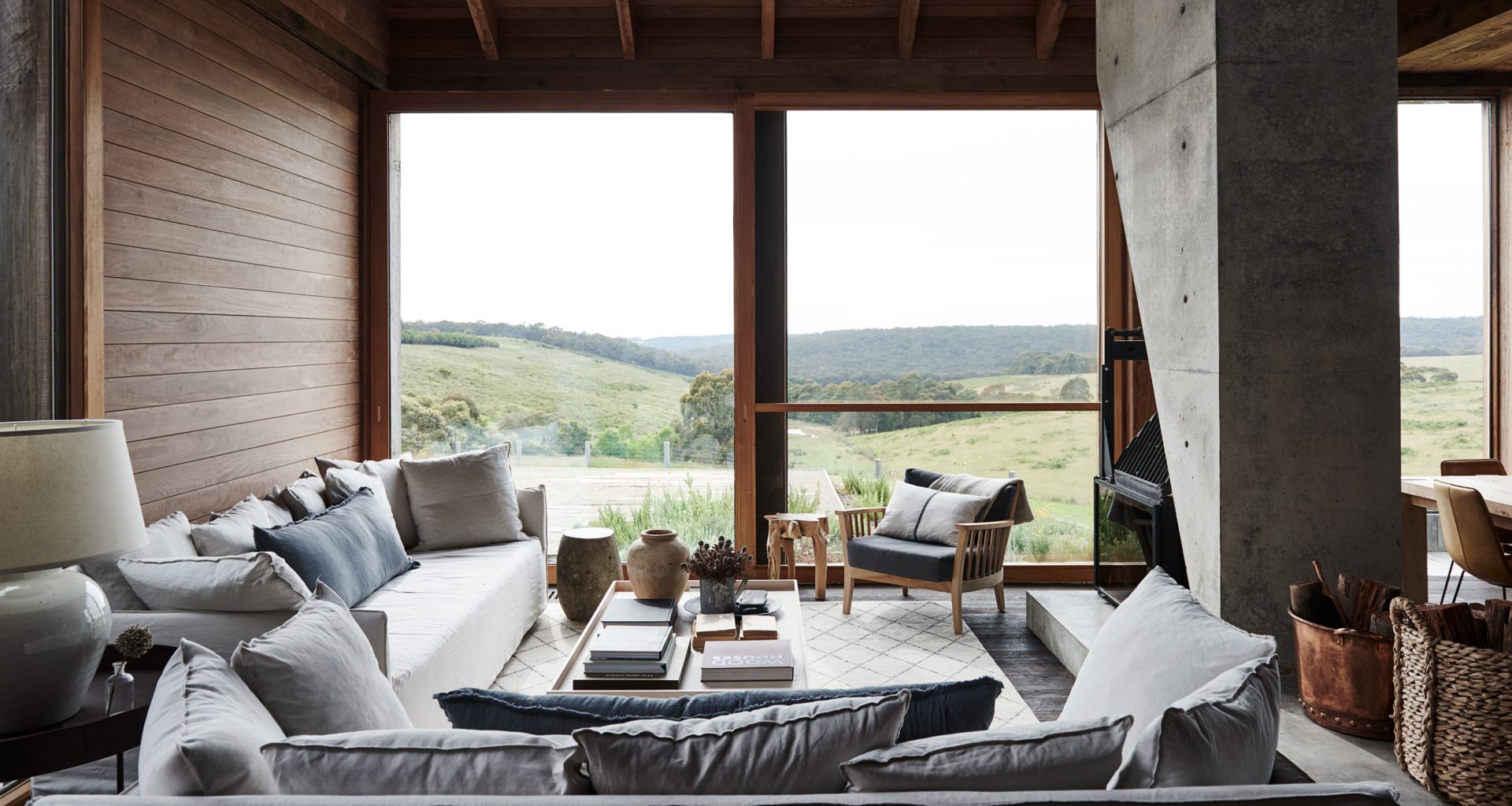 " It's almost as though the outside is the art. The view is the painting on the wall and you can sit and look it all day in front of a roaring fire."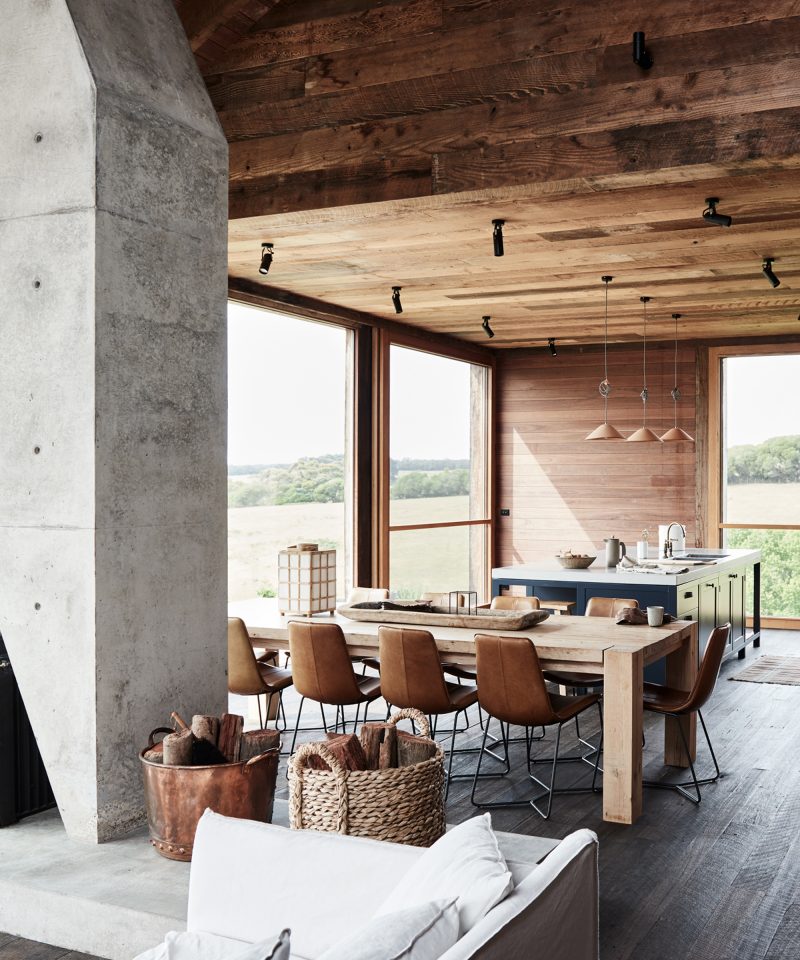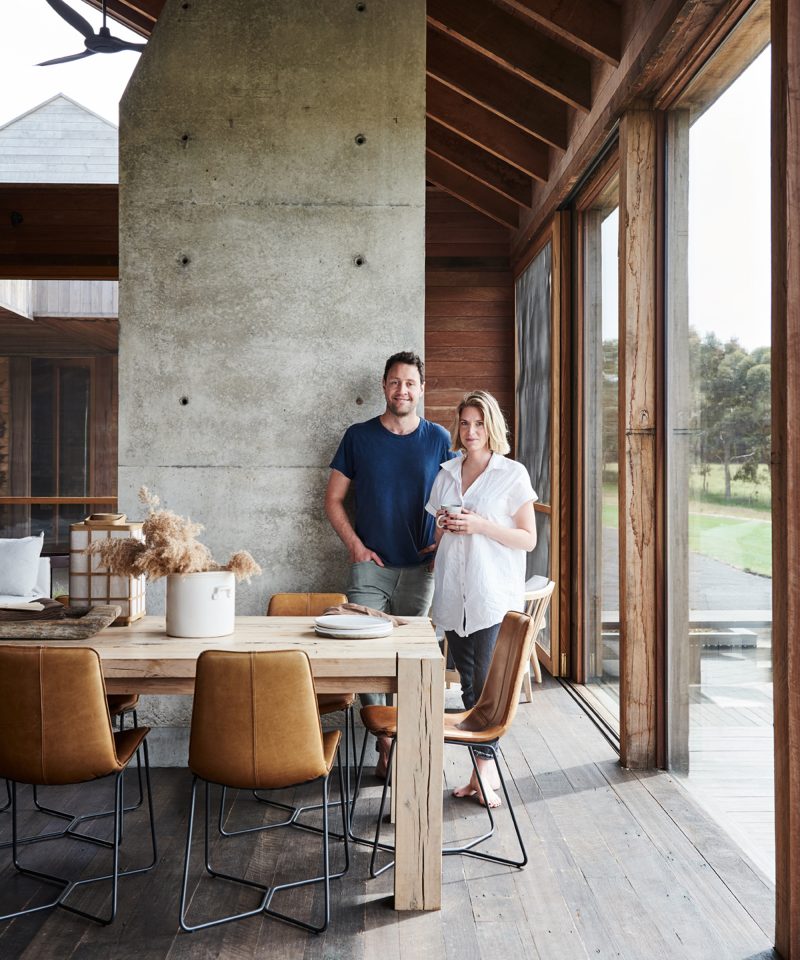 Rip & Tan: How did you land on the overall aesthetic? What was the overarching vision for the home?

Fran Derham: Michael's vision was to create an Australian shed-like house inspired by the Glen Murcutt Kempsey Farm House, along with the Plain Hill House. As a teenager, he spent a year in Boseman, Montana so he also draws inspiration from the American ski chalets and barns he came across over there. All the best creative projects evolve, and so did this house, thanks to our amazing collaborators.

Rip & Tan: How do you balance the timber structure with more feminine design details?

Fran Derham: My vision for the interiors was about complementing the timber—letting it be the hero—but also adding some lighter colors to help brighten the darker spaces. Now that we've got the furnishings to a certain point, I'm excited to collect art that works in there…not that there is a lot of wall space! All of our windows slide out onto the walls creating natural cross ventilation. It's almost as though the outside is the art. The view is the painting on the wall and you can sit and look it all day in front of a roaring fire.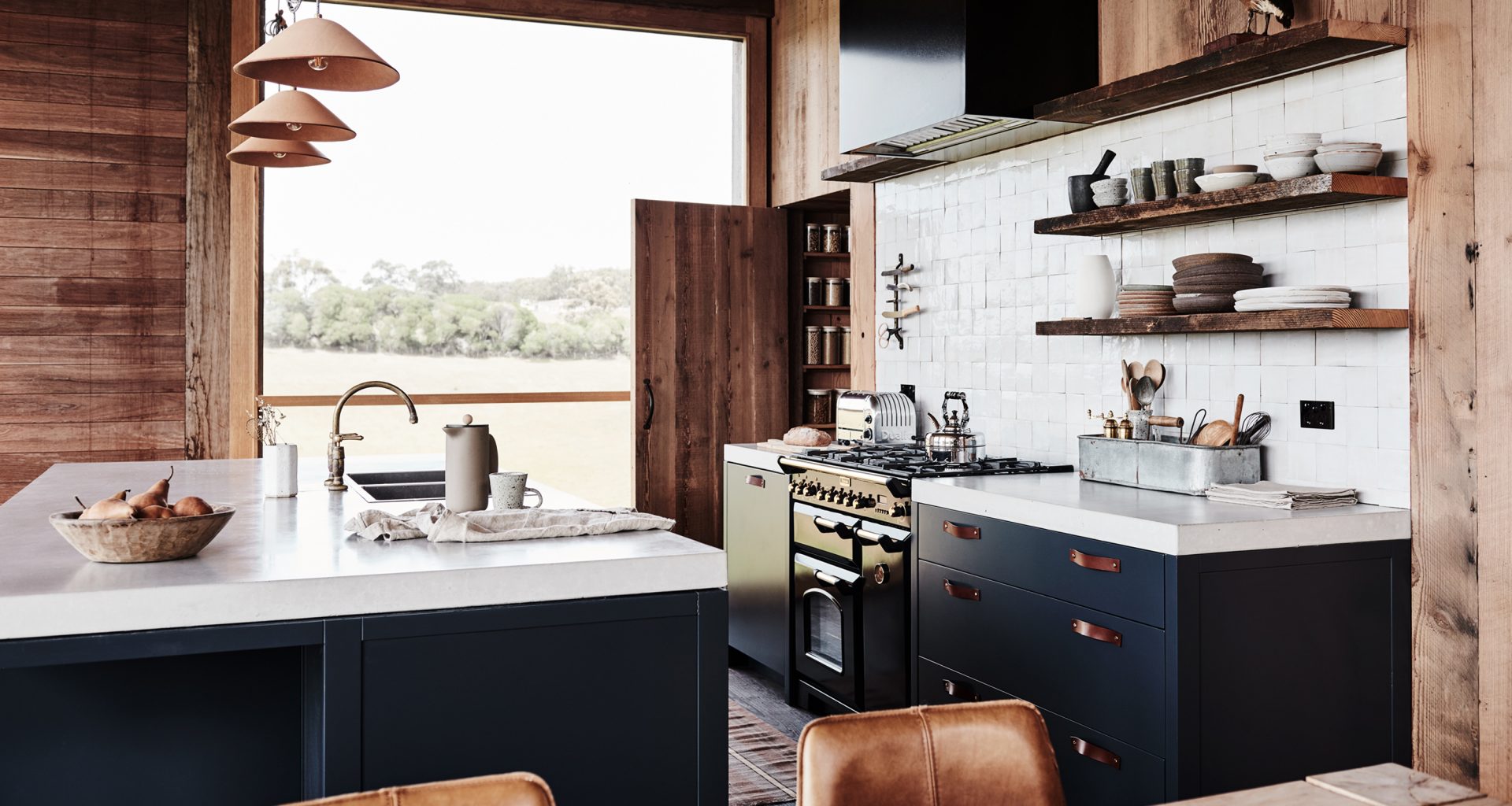 Rip & Tan: From cozy couches to floor-to-ceiling windows, what makes The Wensley feel like home to you?

Fran Derham: Michael actually proposed to me here. He proposed to me on a cow track on a hillside in the pouring rain in August of 2013. The cow track wasn't part of his initial plan—he was aiming for one of our dams, the one with the pretty trees. But the sky opened up and we didn't quite make it.

But apart from that, a lot of time and energy went in to creating this, and also maintaining it, so it feels like home because I've put so much into it.

Rip & Tan: Whether it's a particular room or specific piece of art, what's your favorite element of your home?

Fran Derham: The high ceilings and the timber, but I also love the kitchen—it's so great to cook in, and it's a real center piece.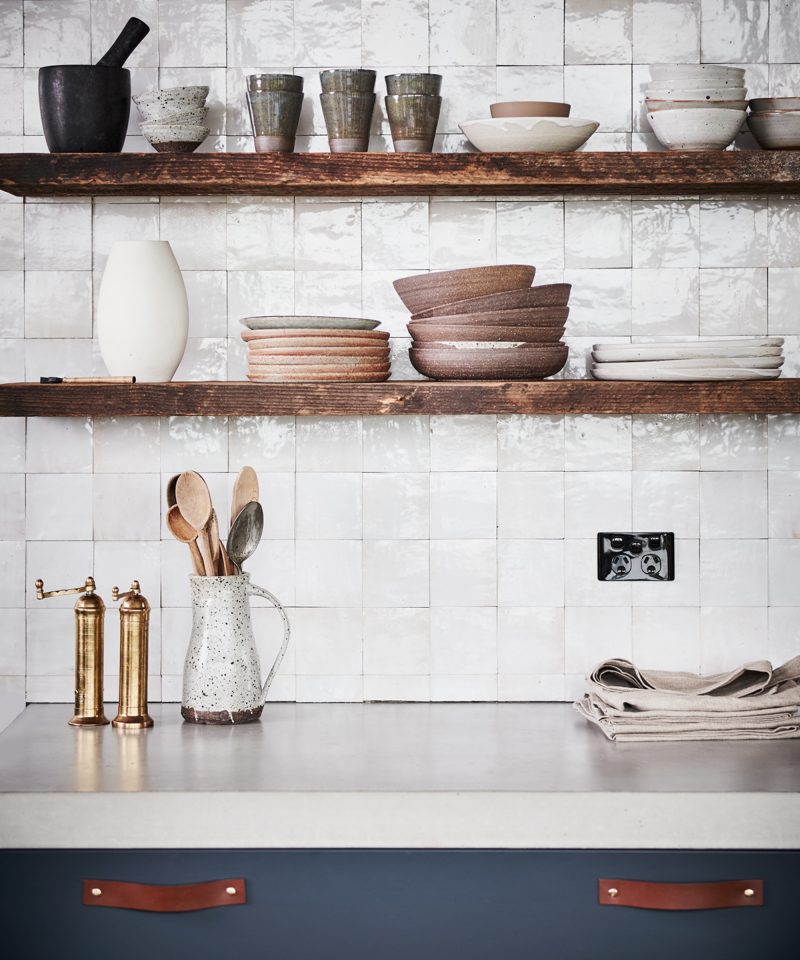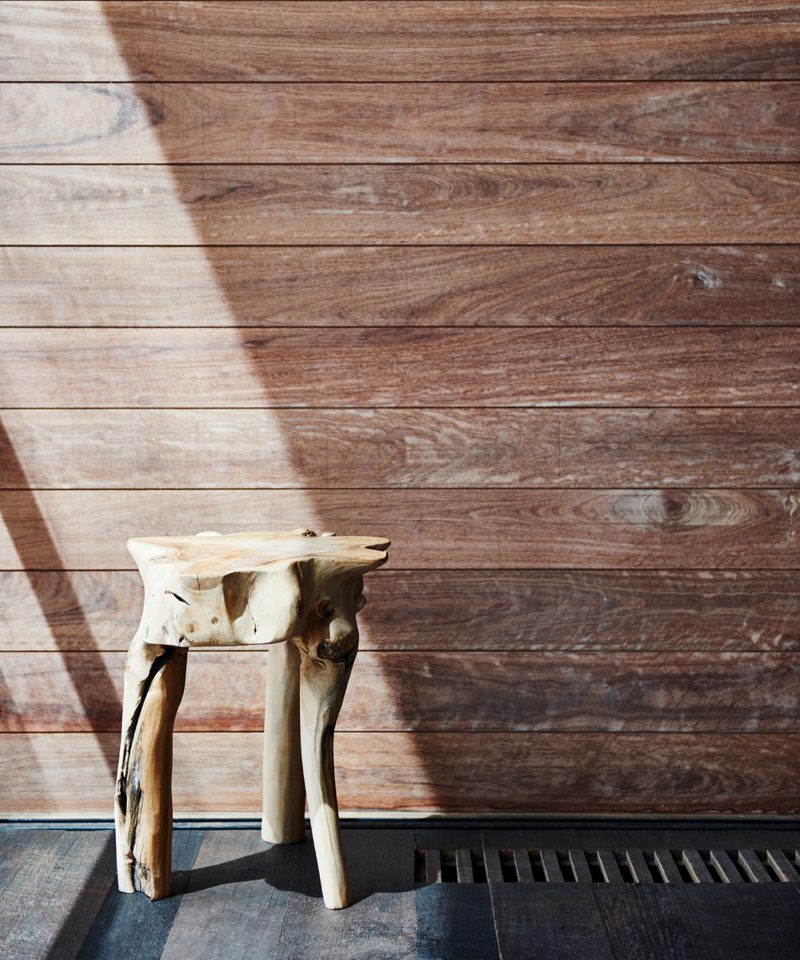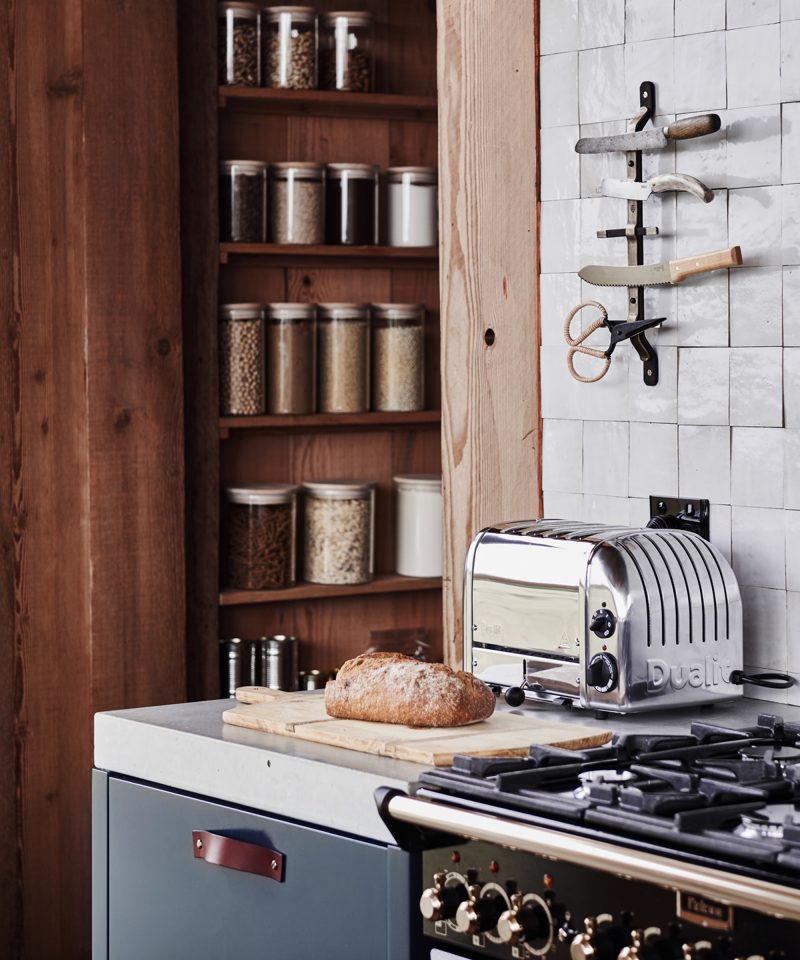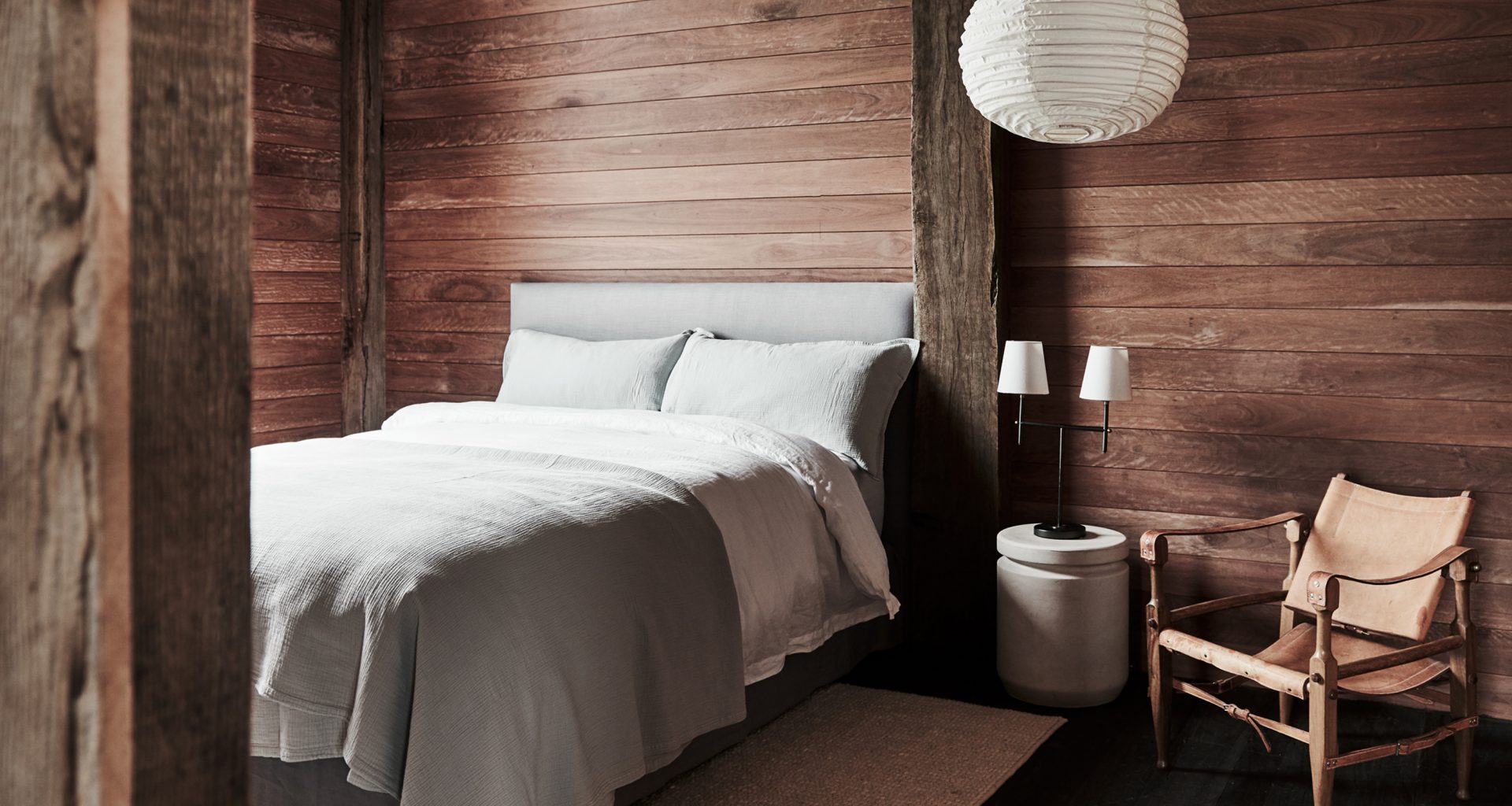 Rip & Tan: How does nature play a role in the décor and layout?

Fran Derham: The floor-to-ceiling windows really bring the outside inside, and being surrounded by all this timber is actually an incredible feeling. In the past, I've lived on a lot of concrete floors and on streets with no trees. Walking in here is almost like diving into the ocean: everything melts away. Living in a house entirely built out of timber is truly a unique experience….pardon the pun, but you sleep like a log in there.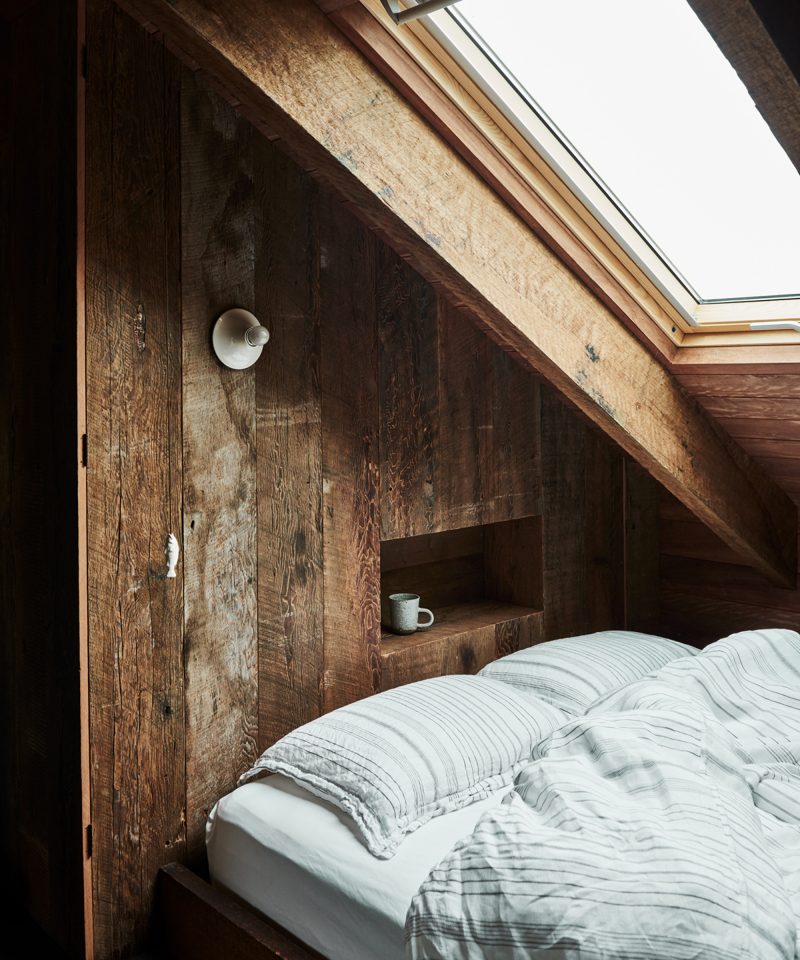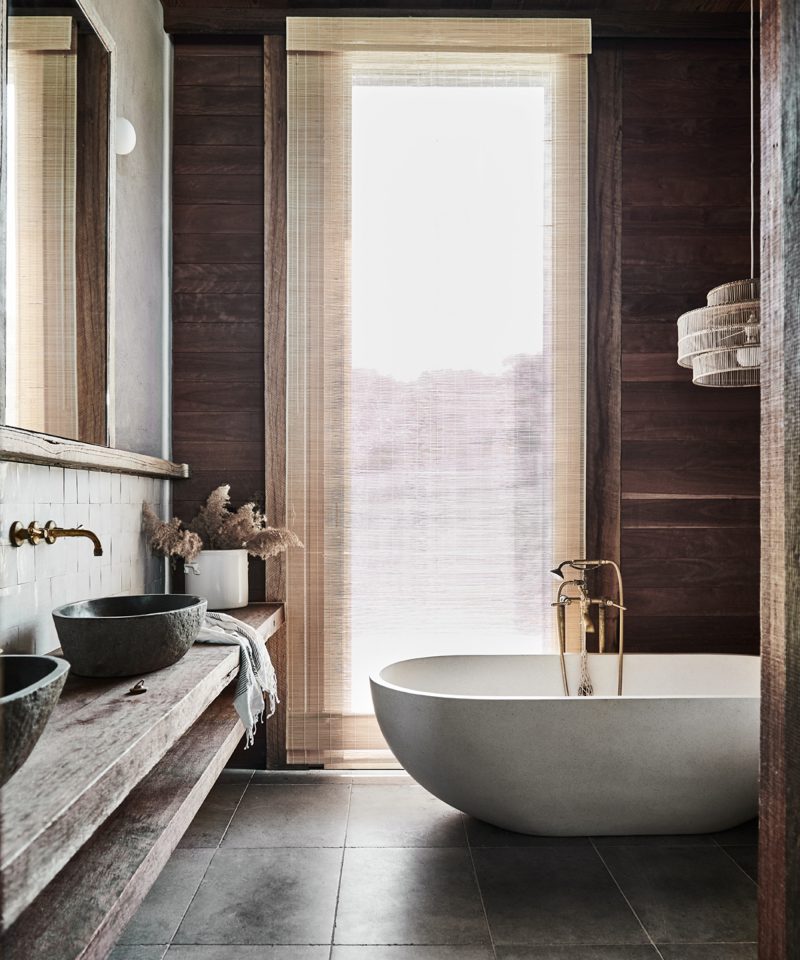 Rip & Tan: What do you hope visitors feel during their stay The Wensley?

Fran Derham: Relaxed. We live such a busy life, always rushing from A to B, always on devices, ticking things off the to-do list. This place is somewhere where you can really switch off and just sit and relax, read a book, have a glass of wine, cook a great meal…and sleep!

Rip & Tan: What does living well mean to you?

Fran Derham: I suppose I should say something like surrounding yourself with things you love or eating well and being in nature. All those things are living well to me, but the biggest thing is just being present. Not living in the past or the future, but in the moment. It's hard to remember, but it's something I've been trying to focus on during quarantine.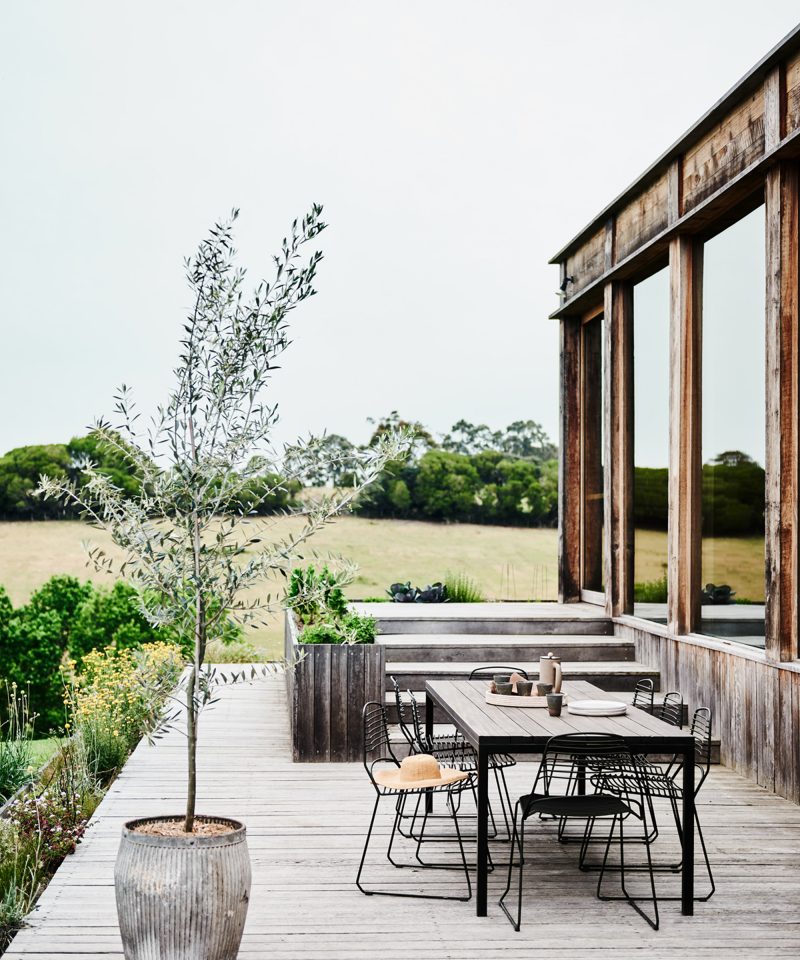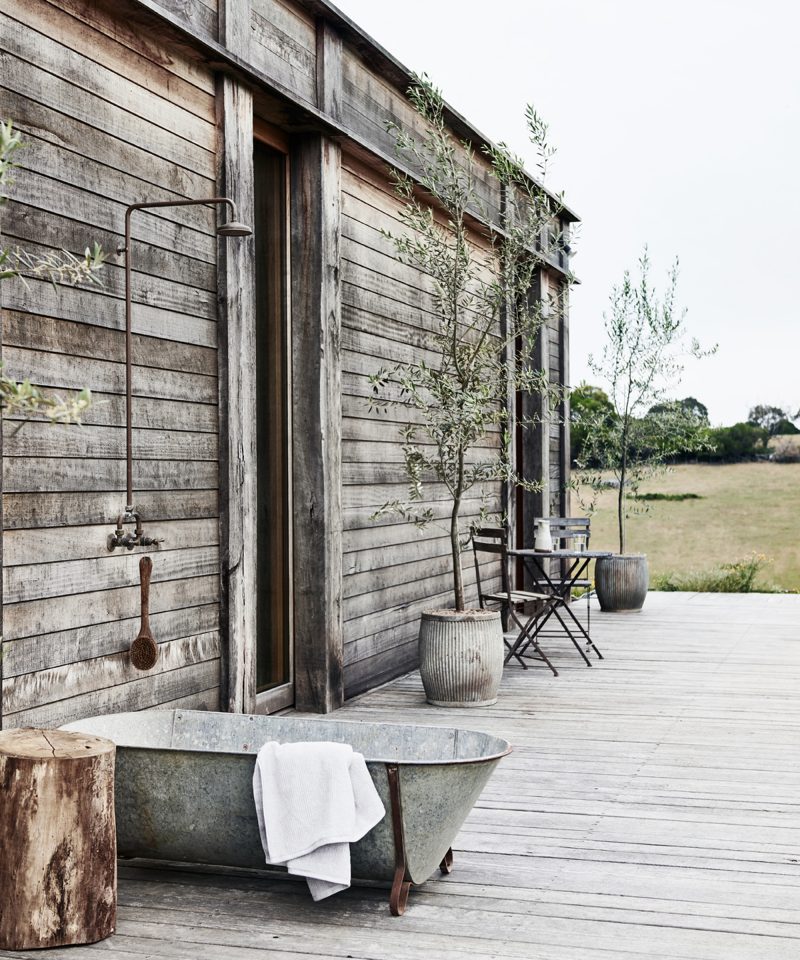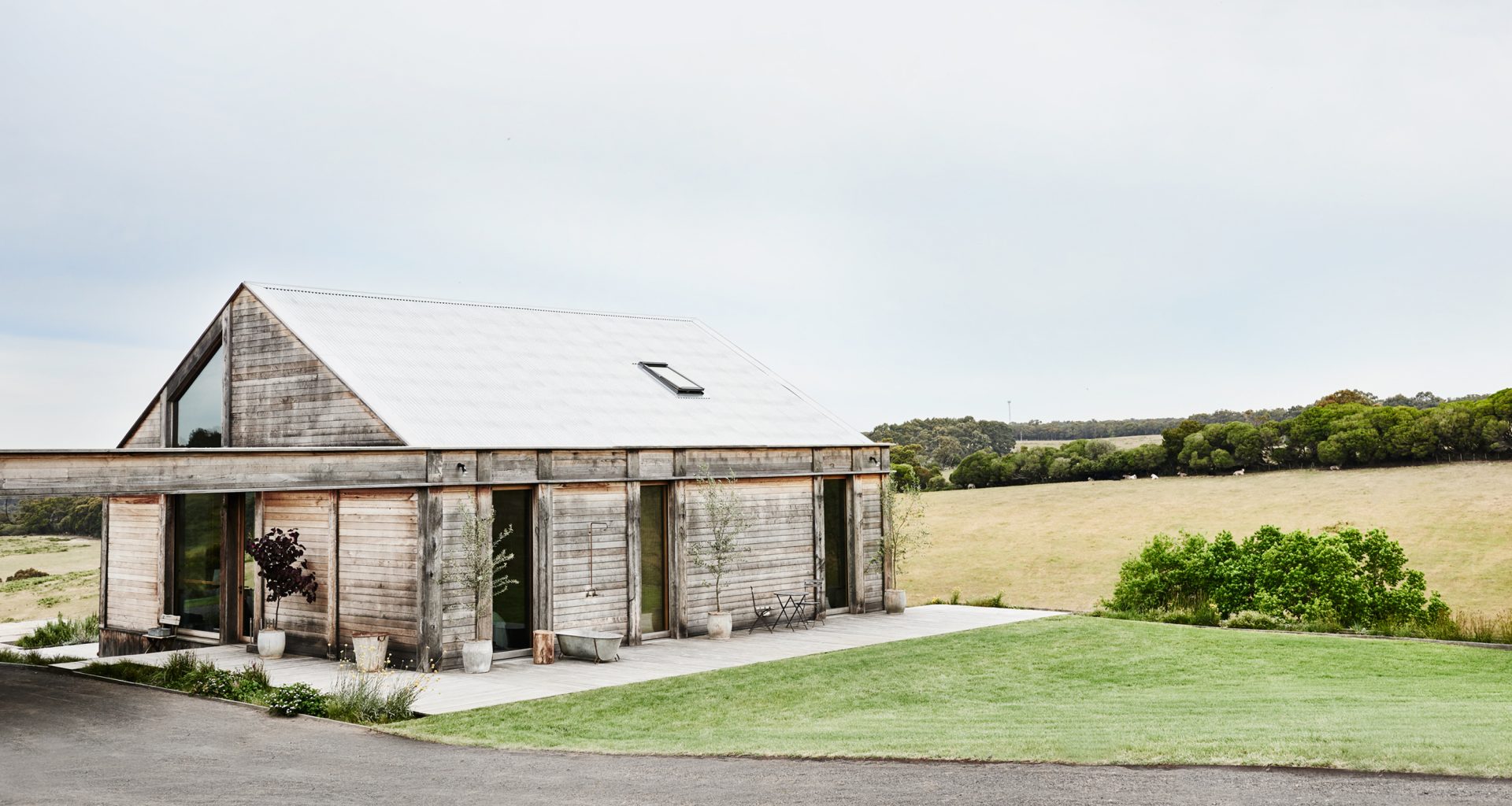 Photos by Lisa Cohen,Tess Newman-Morris