Living
The San Francisco Bay Area City Guide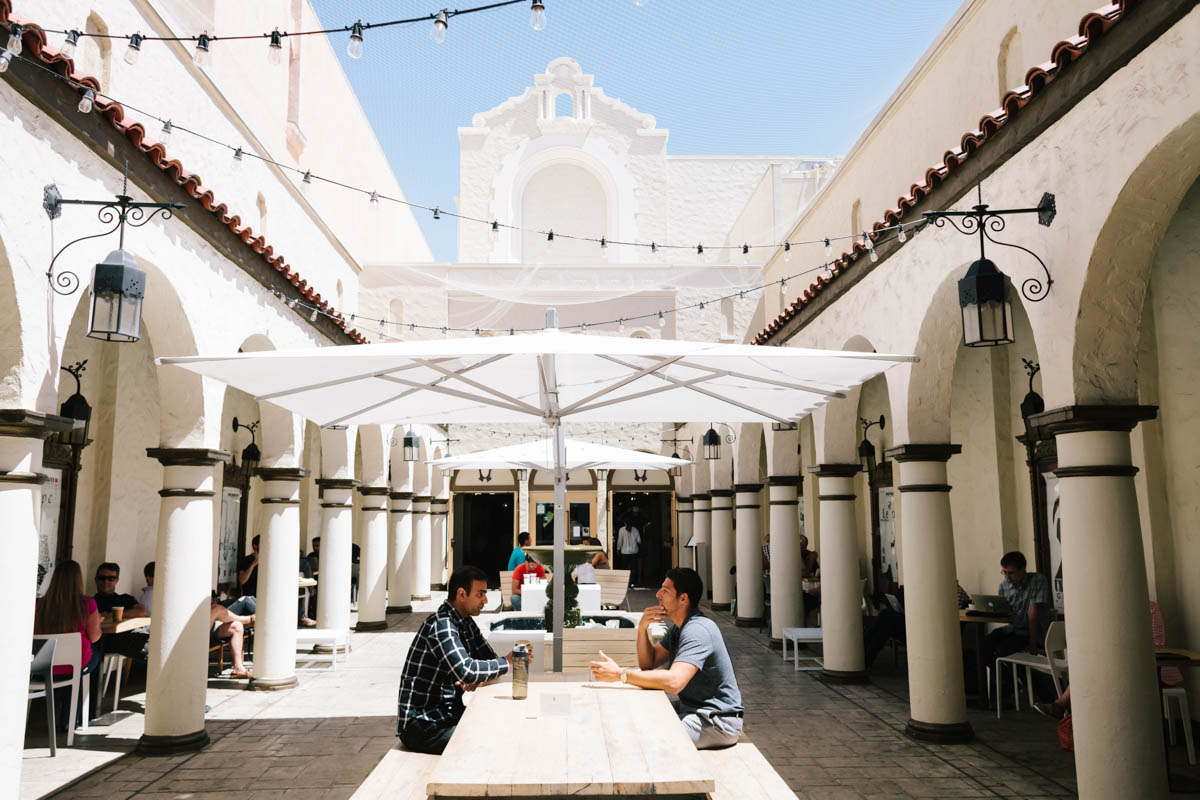 The Jenni Kayne Home Airstream is stationed at Marin Country Mart in San Francisco this week, where we will open a permanent store later this year. Our flagship store is located in LA's Brentwood Country Mart, so the Marin Country Mart already feels a bit like home to us. I love the warm feel of the Country Mart layout, which makes shopping feel infinitely more personal, and the healthful food and drink options in both locations. If you happen to live in the Bay Area, please stop by and say hello—we'll be there through December 1st. If you're planning a trip to San Francisco in the future, here are a few of my favorite places to dine and shop when I'm there! XXJKE
Hotels
Cavallo Point —Located on a former military base overlooking the Golden Gate Bridge, this sprawling upscale resort is a great place to stay or dine during your trip to the Bay Area. The award-winning spa, meanwhile, has an incredible array of offerings, including heated outdoor meditation pools.
Shops
Marin Country Mart — This shopping center is owned by the same folks behind the Brentwood Country Mart in Los Angeles, where our flagship store is located. It has the best curation of shops, from Pressed Juicery to Erica Tanov, and a vibrant farmer's market that's open on Saturdays. * Keep an eye out for our debut in 2018! 
Ambassador Toys —This fun, well-stocked boutique toy store has everything from board games and scooters to art supplies you won't find everywhere else.
Case for Making — This elevated art store has the prettiest craft supplies, desk goods and gifts. They also host workshops on painting, drawing, and more for those who want to improve their skills while picking up a new set of pastels or paints. 
General Store — My sister Saree first introduced me to General Store years ago, and it now has a location in Venice Beach as well. They have the best selection of vintage and cool finds for every room in the house. The aesthetic is bohemian, rustic, and very California.
Hudson Grace — For spare, elegant home and tabletop goods, including beautiful gifts, this store is a favorite. Founded in 2012 by two designers, Hudson Grace now has five locations in California.
Jenni Kayne Palo Alto — Having a store in Northern California was a dream I had for a long time—it finally came true in 2016 when we opened in Palo Alto's Stanford Shopping Center. The space is light, bright, and filled with pieces from my own collection, local designers, and a few other favorites.
Louesa Roebuck — Florist Louesa Roebuck's Hayes Valley store is a treat for the senses—and the perfect place to pick up a beautiful bouquet ahead of your visit with SF-based friends and family. If you want to bring some of her magic home, pick up her new book on seasonal foraging, "Foraged Flora".
March — This gallery-like home goods store focuses on beautiful pieces for the kitchen, pantry, and table. It's a great spot for gift-shopping. If you're looking to revamp your own space, March also offers design services.
Restaurants
As Quoted—This modern, minimalist Presidio Heights café serves organic salads, coffee, juices, and other healthy fare including dairy- and gluten-free desserts. A great spot for a working lunch or calm refuel during a busy day of sightseeing.  
Farmshop—This California-inspired restaurant, bakery, and market is a mainstay in the Marin Country Mart, just as it is in LA's Brentwood Country Mart. The décor is rustic and warm and the atmosphere is lively, making it the perfect spot for a fun meal with friends and family.
Hook Fish Co—This sustainable fish market and seafood shack in the Outer Sunset area is the perfect weeknight stop, whether you're dining in or taking food home to prepare yourself. Hook Fish Co also offers catering services, if you're planning an event in the area.
Quince—This popular Jackson Square restaurant focused on seasonal, locally sourced food and wine, which takes inspiration from Italian and French traditions. This refined spot is perfect for a romantic date or celebratory dinner with family. In 2017 Quince was awarded with three Michelin stars.
Cotogna — Quince's low-key sister restaurant, Cotogna, specializes in locally sourced Northern Italian dishes—the food is easy and delicious. I love the rustic, wood-and-brick design of the space, which also manages to feel airy because of its grand scale. 
Marlowe—This husband-and-wife-owned French-American bistro in SOMA is a great spot for brunch, drinks, or a proper meal with friends. The butcher shop-inspired interior is stylish and hip and the large floor plan gives the restaurant a lively, bustling atmosphere. 
Outerlands — This restaurant is visually stunning—with curved walls covered in weathered wood—and serves delicious, locally sourced, organic American fare. Brunch is beyond busy, but they're open during the week and in the evening as well.
Tartine Manufactory — This airy industrial eatery spans 5,000 square feet and has every meal and mid-meal indulgence covered, from coffee through dinner and drinks. Commune and SF architect Charles Hemminger were responsible for the Danish meets Japanese interior, which is handcrafted but also streamlined.
Coffee
The Mill — This bright and airy coffee shop and bakery is the perfect place for a pick-me-up or a treat any time of day. Try the pumpkin butter toast and be sure to take a loaf of bread to go too!
Blue Bottle Coffee — This Oakland-born coffee shop has developed a cult-following for its fresh, flavorful pour-over coffee. There are plenty of fresh-baked sweets to savor as well. I especially love the caramelized Belgian-style liege waffles, which are easy to take to go.
Juice
Pressed Juicery — This popular L.A. juice bar is the perfect stop on a busy shopping day at Marin Country Mart. Grab a cold-pressed juice, nut milk, or alkaline water and enjoy the open-air complex. Pressed also have 13 other locations in Northern California.  
Judahlicious Juice—This Outer Sunset café serves organic, locally sourced coffee, smoothies, and cold-pressed juice along with all kind of healthful raw and vegan snacks. Go there for a casual breakfast, lunch, or snack—if the weather permits, grab one of the outdoor tables and lines the space.