Wellness
Talking Reproductive Empowerment with Erica Chidi Cohen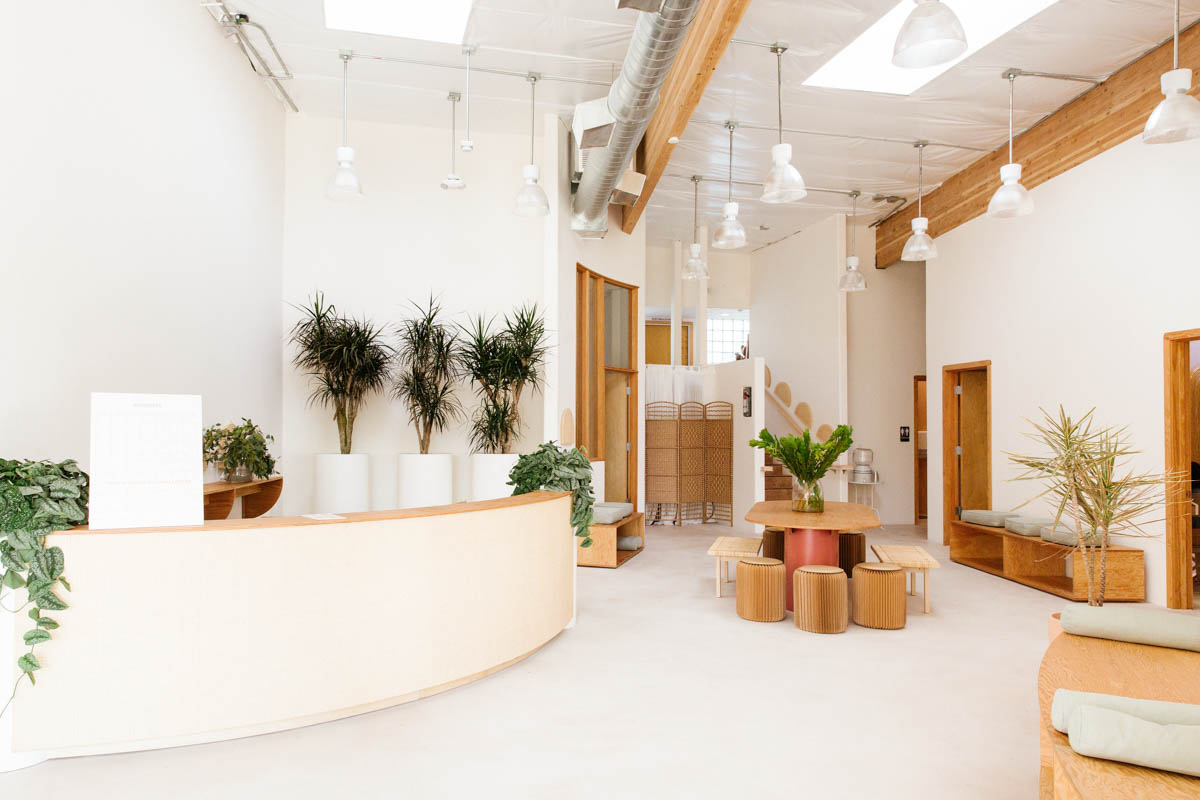 Located on an unassuming stretch of West Pico Boulevard, LOOM is a gathering space and educational resource for reproductive empowerment. Founders Erica Chidi Cohen and Quinn Lundberg value access to education without judgement with an intersectional focus. LOOM offers classes, coaching and community through every stage of reproduction, pregnancy and parenting. We're so excited about our first baby gift collection (coming soon!) and since our initial design phases, we've had babies on the brain. With that in mind, we paid a visit to LOOM co-founder and doula Erica Chidi Cohen. With its curvilinear structure, natural light, warm wood accents and flourishing houseplants, the space is truly peaceful and serene. Erica spoke with candor about her work with LOOM, the future of reproductive health, and why the only thing you can count on is change. XXJKE
Rip & Tan: Tell us a little bit about your background. How did you get into maternal health services? Was there a specific experience or event that inspired you to pursue your path?
Erica Chidi Cohen: I wouldn't say there was a singular experience that inspired me, but a constant inspiration that was in my life due to my parents. My father is a doctor, and my mother is a nurse, and I grew up in a home that was very much connected to health services, well-being, and taking care of people. I think it was that exposure throughout my life that really informed my interest in health and well-being. I was very drawn to becoming a midwife, and it was en route to pursuing that, that I found out about doulas. I really felt that the work of a doula mirrored a blend of my current skill set in that doulas are able to create relationships and emotionally support clients and educate them. That really resonated with me.  
Rip & Tan: Can you tell us about LOOM's offerings and what it means to be a member?
ECC: LOOM provides education and community for reproductive empowerment, pregnancy, and parenting. Our membership is free and open to everyone. We offer a diverse range of programming that can support people that are having painful periods or are looking to learn more about their menstrual cycle and build sex positivity. Or if you're expecting, we have our childbirth education, baby care basics and infant feeding basics. For new mothers we have a class called Mother + Baby, which is our modern version of Mommy & Me, What I love about our approach is that it's inclusive and accessible. To be a member at LOOM is to be a part of our growing community and feel supported and connected to other like-minded people.
Rip & Tan: Explain the various lines of support someone might need throughout their pregnancy and birthing process—what roles do a doctor, doula, midwife play in creating a community?
ECC: Blending various lines of support is ideal if possible, in a sense your team of care providers is an extension of your community. Doulas provide non-medical peer support and can work together synergistically with medical providers, like doctors and midwives. We're there to provide you with continuous emotional support throughout your pregnancy. We offer education to help you better advocate for yourself and truly understand the birthing process. We prepare you for what to expect in labor and after you have your baby. It can be helpful to have doula whether you're birthing in a hospital environment, birth center, or at home. Doulas can help keep you motivated and more comfortable during labor through the use of movement, massage, and other hands-on techniques. Also, having doula support during labor has also been shown to reduce the need for interventions.
Rip & Tan: How did you got about creating your community space? What aesthetics or atmospheric touches are important to you in designing a safe, comfortable space for women?
ECC: LOOM is a comfortable space for all people, and it was really vital that we create a calm, soothing space that felt gender-neutral, although women developed the design, so it does tend to have feminine components and touches to it. The aesthetic aim was an environment with gender-neutral coloring, natural light, and spaciousness. We also considered practicality. We wanted LOOM to feel minimal, functional, and warm.
Rip & Tan: How do you see LOOM and female-driven communities like it impacting the future of women's reproductive health?
ECC: I think LOOM and companies like it are helping to move reproductive health in a positive direction. Women have a very specific insight into what is going to work best for them and for their families. As we begin to move into leadership positions in the reproductive health industry, health outcomes for women will only continue to improve and it's exciting to see that happen and be a part of that process.
Rip & Tan: How do you bridge the gap between Western and alternative practices? Can they both be integrated into a birth plan?
ECC: Yes, though I'm a little challenged by the use of the word Western versus alternative. I think a much better description is biomedical, or biologically and medically-informed practices and alternative practices—alternative health methods like acupuncture, massage, et cetera. Both biomedical and alternative practices can be effectively integrated into a birth plan. However, I don't like to use the term "birth plan." "Birth preferences" is going to be best, primarily because a plan is prescriptive, and preferences are informed, but have built-in flexibility. Birth is fluid and the only thing you can count on is change, therefore it's so important to be flexible.
Blending biomedical and alternative approaches into your birth preferences might look like saying, "I'm interested in using an epidural, however, prior to that, I would prefer to use massage, or I would prefer to walk, or to use aromatherapy." There's no reason why the two can't coexist.
Rip & Tan: What are the most common misconceptions about what you do?
ECC: I think the most common misrepresentation or misconception about what I do as a doula is that, if you're working with me, you're going to be birthing at home. That's not the case. I would say that, primarily, most of my births are taking place in a hospital environment. Doulas do some of our best work in the hospital environment. It's a very transient space. The nursing staff is shifting every seven hours, and the average labor is twelve hours or more, so to have a doula that you've built up this emotional relationship with and who will be present during that entire process is only going to help to make you feel more relaxed and at ease. When you feel more relaxed and at ease, at makes space for your labor to flow.  Another prevalent misconception is that, as a doula, we're solely focused on birth. As a doula I focus on the full reproductive experience. For example, I coach women on how to maintain a healthy period and how to cultivate both body and sex positivity. Also, doulas can support people through pregnancy loss as well, our scope of support is vast and can be applicable to pregnancy, early motherhood and reproductive well-being.
Rip & Tan: What's the most rewarding part of your career?
For me, the most rewarding part is just getting to be a part of this transition process and getting to see people become more comfortable in their bodies or become stronger through the intensity of their experience. I really love watching people transform and become parents and the intimacy that I get to develop with them over that particular period of time. The biggest challenge? The on-call lifestyle. It's a very kind of contained existence, and you are always ready to go because you never know when a birth is going to happen, so that definitely, I would say, is the most challenging part, but it is softened because of how wonderful the work is and how great it is to make the connections that I'm able to make. 
Rip & Tan: You just authored your first book. Congratulations. Aside from Nurture, would you like to share any other of your must-reads?
I would say The First 40 Days by my dear friend, Heng Ou, and a new book by a healer and doula named Kimberly Johnson called The Fourth Trimester. I think they're really beautiful adjuncts to Nurture because those books focus intensely on the fourth trimester, which is the first six to eight weeks after delivery. My book does go into that, but these continue to expand on it, and I think they're a wonderful companion. Another book that I think is great is Body Full of Stars by Molly Caro May. It openly talks about an atypical experience of pregnancy and early motherhood.
Rip & Tan: With so much of your time spent serving others, how do you restore energy and balance? What are some of your favorite ways to practice self-care?
I'm pretty aggressive about self-care, because you have to push to make it happen, right? Showing up for yourself isn't a passive act. Somatic practices have become my new cornerstone: weekly acupuncture, massage and Korean spas are my go-to's. I also love cooking (when I can find the time) and a long magnesium bath.