Style
Studio Visit: Agnes Baddoo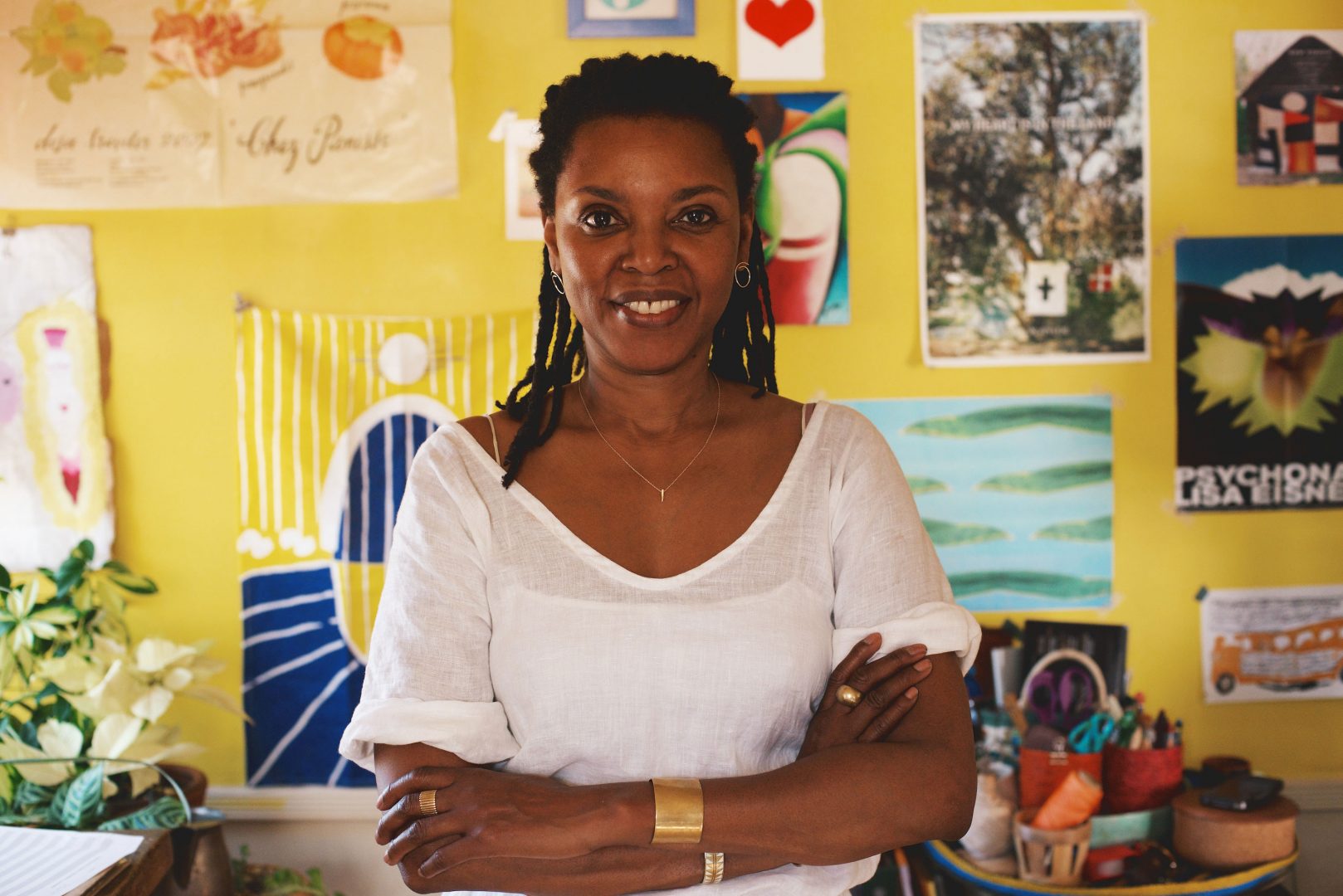 I was introduced to Agnes Baddoo totes after spotting them at Beatrice Valenzuela's Echo Park store, and was instantly hooked. All at once modern and classic, the gorgeous natural leather, buffalo and canvas carryalls are handcrafted in Los Angeles, and designed with equal parts form and function in mind. Perhaps my favorite: this canvas and natural leather beauty, which feels perfectly suited for the warm months ahead.
Also a stylist, travel author and creator of the popular Everyw'air aromatherapy room sprays, Agnes herself wears many hats, and seems to do so effortlessly. She was kind enough to welcome us into her home studio for a glimpse into her creative space and process. I hope you enjoy this look inside. XXJKE
R+T: How and when did you enter into the world of design? What was it that drew you to leather goods, specifically?
For as long as I can remember, I have been involved in some form of art, design, fashion. Although I launched this leather goods line in 2013, going through old Polaroids and chatting with old friends, I was reminded that I had collaborated on some bags and even started to develop some other leather totes almost 15 years ago. But the timing wasn't right for a business – although some people got some pretty nice presents…
R+T: How have your roles as stylist and travel author influenced the pieces that you create?
Some of my earliest memories are of shopping, window-shopping and/or browsing with my mother. From a vendor at a flea market, a particular fruit stand at a farmers market, the hardware store or Hermes. We were always enjoying craftsmanship and simple presentation. These excursions were always just as intriguing as going to a museum. Being a stylist and travel author gave me more opportunities to continue to see, feel, touch, appreciate and purchase many exquisitely made objects and observe how they are presented to great effect. It is really this combination of quality and impactful presentation that attracts and makes certain places destinations.
R+T: Can you share some of your sources of inspiration?
First I start with nature…the elements, water, fire, earth, the galaxy, sun/moon/stars, wood, leaves, petals, metal, stones, rocks, crystals, weather, sun, shade, say/night, mountains, rivers, valleys, ocean, dessert, forest. All the sacred geometry found in nature influences either consciously or subconsciously what I respond to in design. From there, I am lead to indigenous folk patterns and textiles, the frequency of color (especially in natural dyes), abstract expressionist painters…those are just some of the things that absolutely energize and inspire me.
R+T: Your gorgeous totes and leather goods are the perfect marriage of form and function… How do you achieve that balance?
Lots of test runs! Seeing how it stands up, how much it could hold, how to proportion the few details – if I was going to offer something to the world of bags, I wanted to offer something new, useful, timeless and not too precious.
R+T: If you had to, could you choose a favorite piece?
In a word, no! Every day is a new day for the favorite sac of that day.
R+T: What is the most rewarding part of your work?
Besides always having a bag for every situation! Look, every day we make decisions on how, where, and on what we're going to spend our money. When I hear from customers how functional and pleasing to the eye the sacs are, or how they love the craftsmanship, or how many compliments they get, the trips they've taken, or how much they love the tanning process of the natural leather, it is rewarding to have the opportunity to engage with people in such a sentimental, endearing way. We're not talking about trends; we're talking about meaningful experiences.
R+T: Tell us about your studio space… How did you find it? What drew you to it? And what impact does it have on your work?
My studio space was revealed to me at the exact right time. (Graphic Designer & Le Feu De L'eau Co-Creator) Wendy Polish helped me with the design and the silk screens for my sprays. The day I was coming home from collecting the screens, I happened upon a bar height wood table, perfect for silk screening without having to bend over. It fit perfectly in my kitchen, and thus my kitchen studio/command station was born! Psychologically, the kitchen is a place of nourishment and creation, so it works out just fine that much of my business emanates from that room.
R+T: How would you describe the atmosphere in your studio?
Organized upheaval. It's a cyclical thing. My kitchen command station is for brainstorming…correspondence. In turn, it is also where I blend and pour my oils and label the bottles – most production for the aromatherapy line.
Silk-screening the bags, inventory, orders and shipping happen in the garage. I love being in either space. I just get into a zone and get stuff done!
R+T: Tell us about a typical day in the studio…
Every single day is different, depending on what stage of production or orders or sourcing. I'd say every day always begins with checking the emails and responding to as many as I can at that time – if only so I don't have to remember to revisit them later. Backtracking is not preferred when you're running your own business. Making lists and crossing things off the list is my idea of a great day. Being flexible to changes in schedule and re-prioritizing is also important. So, depending on if I have bottles to pour, bags to print, orders to ship, leathers to find, samples to review – that's how the day will unfold.
R+T: Is music a part of the process? Who might we hear playing on any given day?
Abso-tively! For example, when making aromatherapy sprays, I always listen to mantra mixes I make inspired by my Kundalini yoga practice. The music and the mantras just put me in the most unique combination of energized-yet-meditative zone conducive to that task and product.
Beyond that, on any given day you will likely still hear some mantra mixes, but also Toots and The Maytals, Nina Simone, Bongos Ikwue, Ibeyi, The Band-era Bob Dylan, The Staple Singers, Bonnie Raitt, Little Feat…I love acousti-soul-roots-folk music in any combination…
R+T: Top five workspace musts?
1. Start with a cleared desk space
2. Pentel Signature Pen + brass pencils from an old poker set
3. Daily planner + laptop
5. Crystals (which spray and which crystal change depending)
Photos: Yayo Ahumada