Food & Drink
Restaurant of the Day: KNEAD Baking Company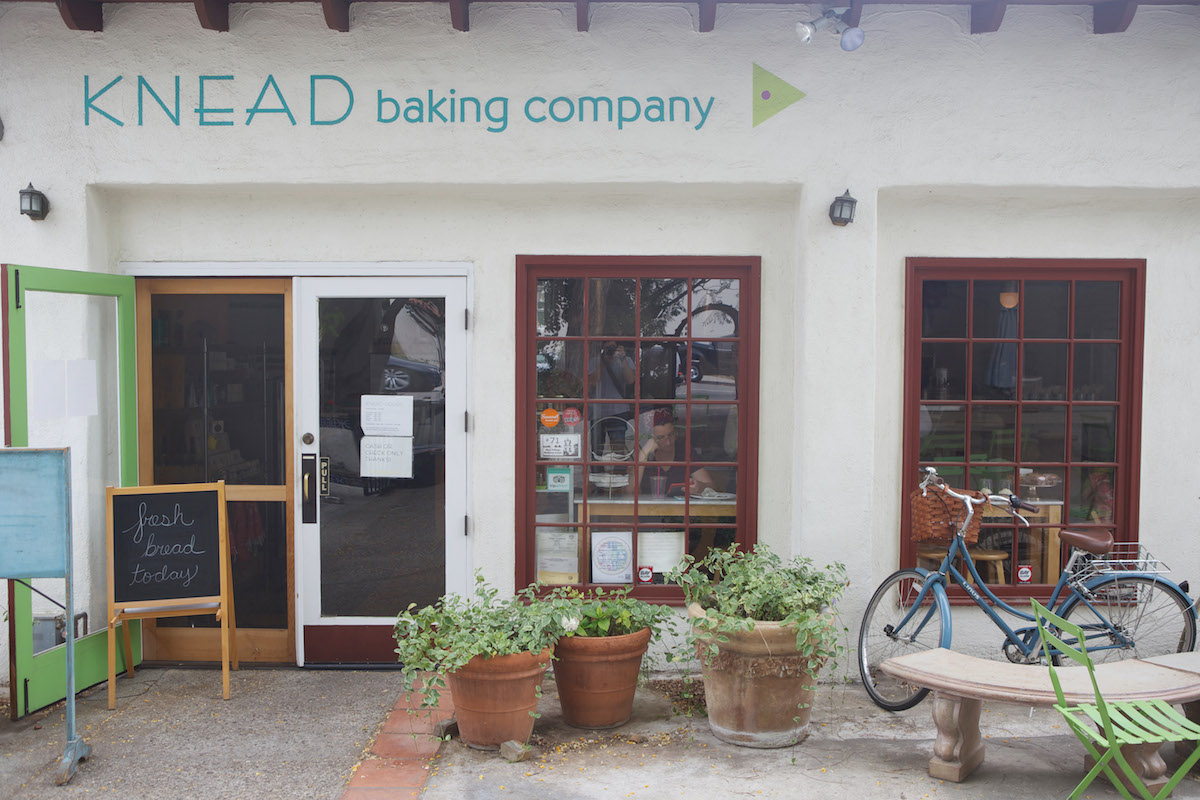 Every great destination should have a great bakery, and for Ojai, my favorite is KNEAD. Opened in 2009, this artisan bakery has become the family business for Bobbi Corbin and her children Rachel, Leah and Jake. Featuring seasonal desserts, hearth breads and savory baked goods that highlight local ingredients, the light and bright indoor/outdoor bakery is a must when in town. On our most recent visit, we ordered a bit of everything – hard not too when everything is so good. My favorites: the rosemary baguette and potato flatbread, which were simply out of this world.
Bobbi was kind enough to share a bit about the family bakery, and what it is that makes it so special. I hope you enjoy. XXJKE
R+T: Tell us a bit about how Knead came to be? How did your diverse backgrounds lead you to open a family-owned artisan bakery?
I grew up in a family-owned business. My Dad and his brother owned a pharmacy complete with soda fountain and a full line of holiday gifts, cosmetics etc. Cousins, Aunts, etc…we all worked in the store together, especially during the holidays. Of course, the soda fountain was my favorite job in the store. My architecture background helped put all the pieces together to build and open the bakery.
Rachel and I began baking together after she finished college. Having majored in Geography at UCLA with focus on farming, food and Italian studies, the abundance of things growing in Ojai provided an enticing backdrop. We began at the Ojai farmers market, and after 1-1/2 years, the current KNEAD space became available.
Six months later, Leah, who had extensive front of the house experience from Coffee and Ice cream shop summers during high school to managing a boutique gourmet food and wine shop outside of Boston, and later working for several Sprinkles Cupcakes locations, entered to run the front of the house.
And in 2011, Jake, who earned a culinary degree from SBCC, joined as bread baker.
R+T: We loved everything we sampled – especially your incredible breads. Can you share a bit about what makes them so delicious?
Making our bread is a labor intensive project. We do the Nancy Silverton method of feeding our starter…often..like a child. The bread also rises slowly overnight in the refrigerator. All of these things add lots of flavor and a wonderful chew to the breads.
R+T: What do you think it is that makes Ojai so special? And what impact do your surroundings have on the baked goods you create?
The geography here is incredibly beautiful. We are surrounded by citrus groves, fruit and many gifted farmers. I have a love affair with fruit for baking and cooking..if I could have imagined this location when I began culinary school I would have known this was where I would want to bake…but like most life stories…it evolved.
R+T: Is it possible to choose a favorite on the menu?
We love everything that we make….apricot scones, chocolate honey walnut tarts, sourdough bagels, egg cheese wild arugula on the italian country roll…hard to pick just one!
R+T: What is the most rewarding part of your work?
We have just made a birthday cake for a young girl's 8th birthday…the first cake we made was when she was 2. We've done it every year. While we make everything to satisfy our own impossibly high standards, it is nice to hear that something you've made is considered the BEST someone has ever had..and we hear that a lot. It's great when someone tells you  getting one of your products "makes for a magical night."
Photos: Graham Unterberger