Food & Drink
Citrus Almond Olive Oil Upside Down Cake Recipe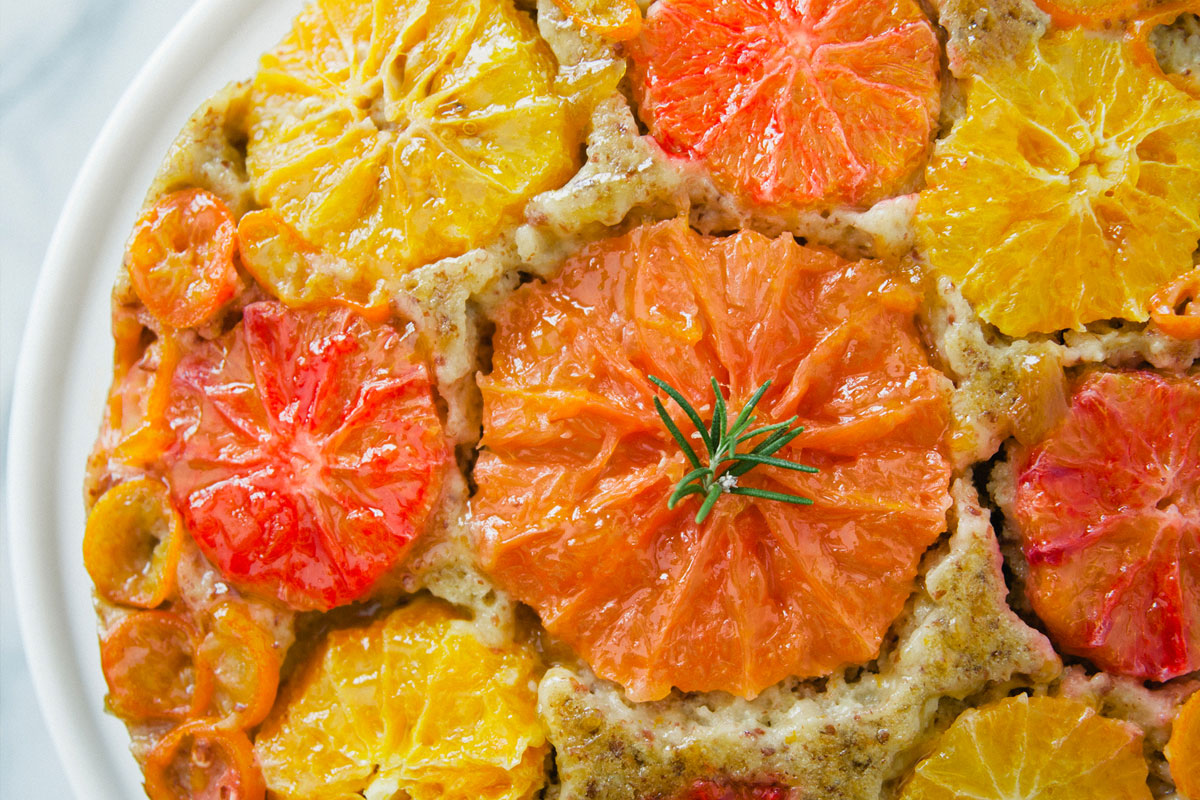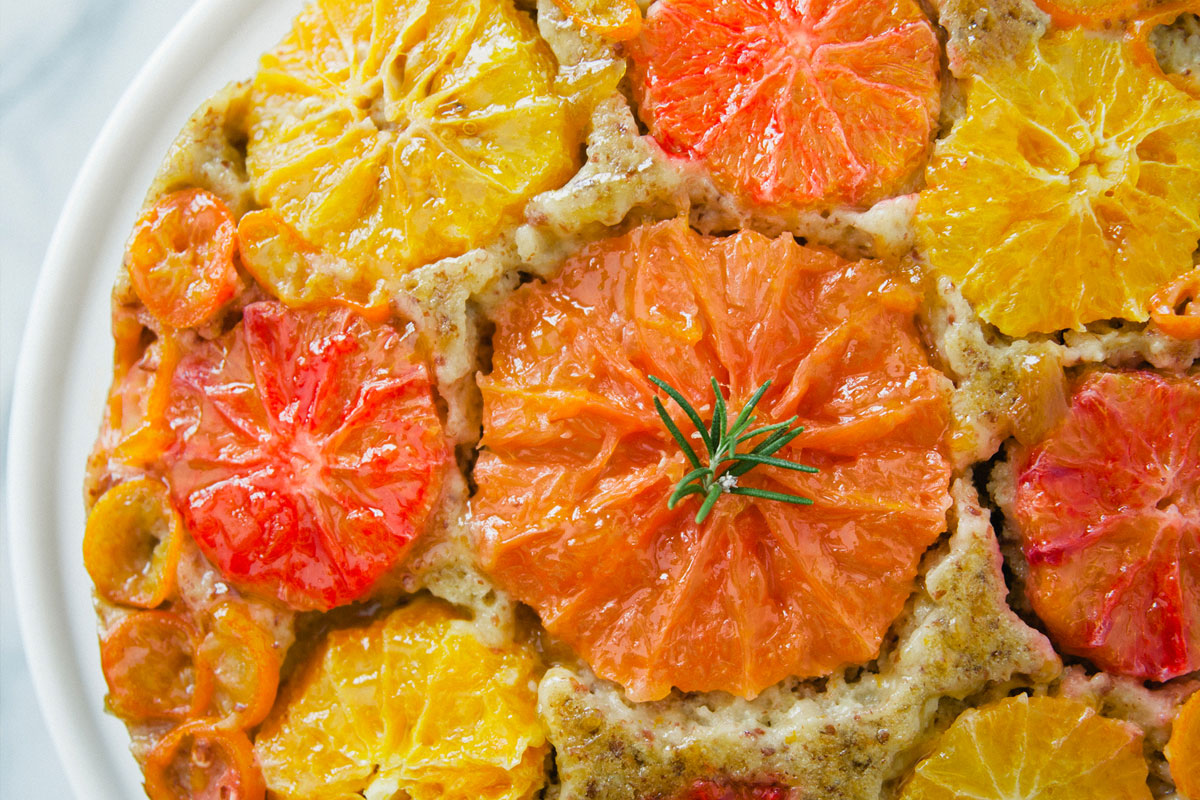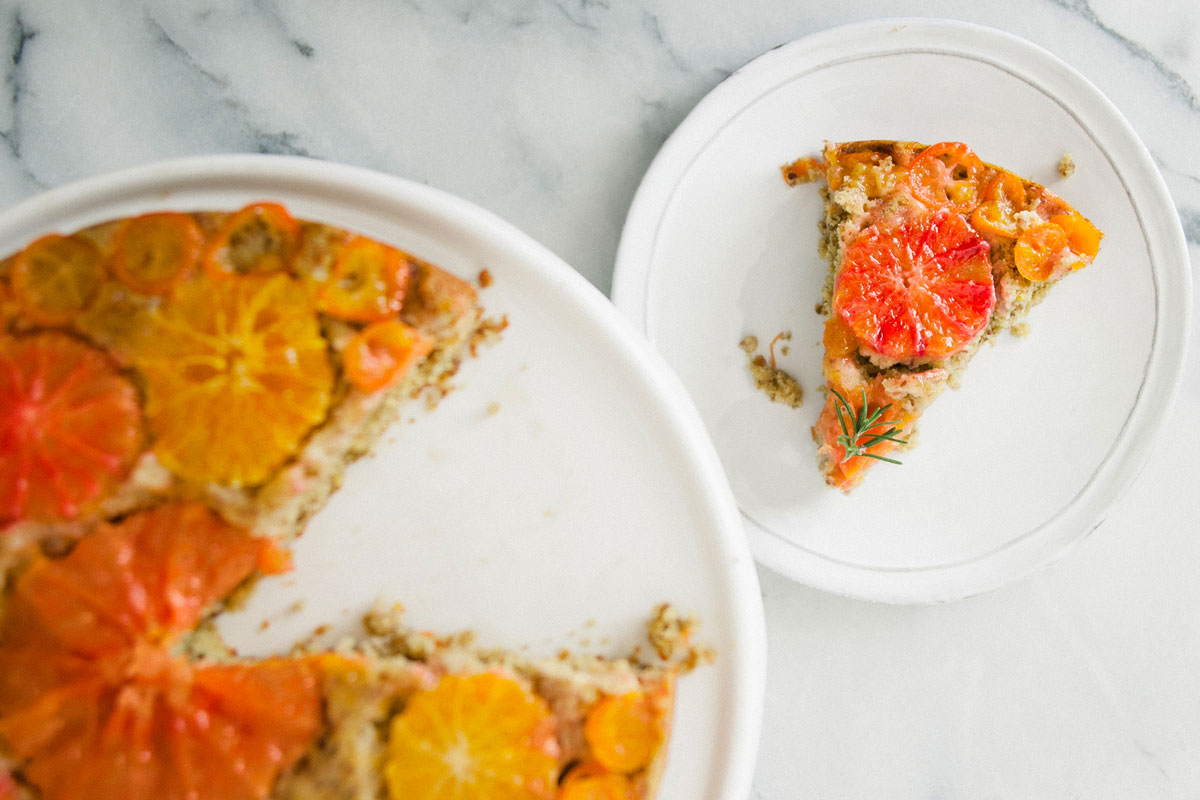 Citrus Almond Olive Oil Upside Down Cake
Recipe
Citrus Almond Olive Oil Upside Down Cake
Ingredients
1/3 cup

79 ml

flaxseed ground

1/3 cup

79 ml

almond flour

1 cup

237 ml

rice flour
1 tsp baking powder
1 tsp baking soda

1/4 cup

59 ml

olive oil
1/2 tsp rosemary finely chopped

1/4 cup

59 ml

agave syrup

1/3 cup

79 ml

orange juice
2 tsp vanilla extract

2/3 cup

158 ml

almond milk
2 tsp apple cider vinegar
1 orange blood orange, peeled and thinly sliced
1 grapefruit peeled and thinly sliced
8 kumquat peeled and thinly sliced
2 tbsp apricot jam warmed
Ingredients for the Whipped Coconut Cream
15 oz

425 g

coconut milk canned
1 tsp agave nectar
1 tsp vanilla extract
Preheat the oven to 400 F and grease a 9 inch cake pan.
In a medium bowl, stir together the flaxseed, flours, baking powder, baking soda and salt.
Using a standing mixer or hand mixer, cream together the olive oil with the rosemary and agave nectar until smooth, about 3 minutes. Add the orange juice, vanilla extract, almond milk, and apple cider vinegar to the bowl, stirring to combine. On low speed, mix in the dry ingredients little by little until just incorporated.
Arrange the sliced citrus on the bottom of the greased cake pan. Pour the batter over the citrus and bake for 25-35 minutes, until a cake tester inserted into the center of the cake comes out clean. Cool in the pan for 10 minutes before turning out onto a plate. Brush with 2 tablespoons of the apricot jam.
Serve with whipped coconut cream.
Whipped coconut cream
Set the can in the fridge overnight so that the coconut fat solids separate from the coconut water. Open the can and carefully pour out the thick coconut cream. With an electric whisk, beat the cream, agave, and vanilla extract on high until peaks form, about 2-3 minutes. If not serving immediately, place the bowl of whipped coconut cream in the fridge and then beat it again right before serving it.