Food & Drink
Cherry Tomato Upside Down Tart Recipe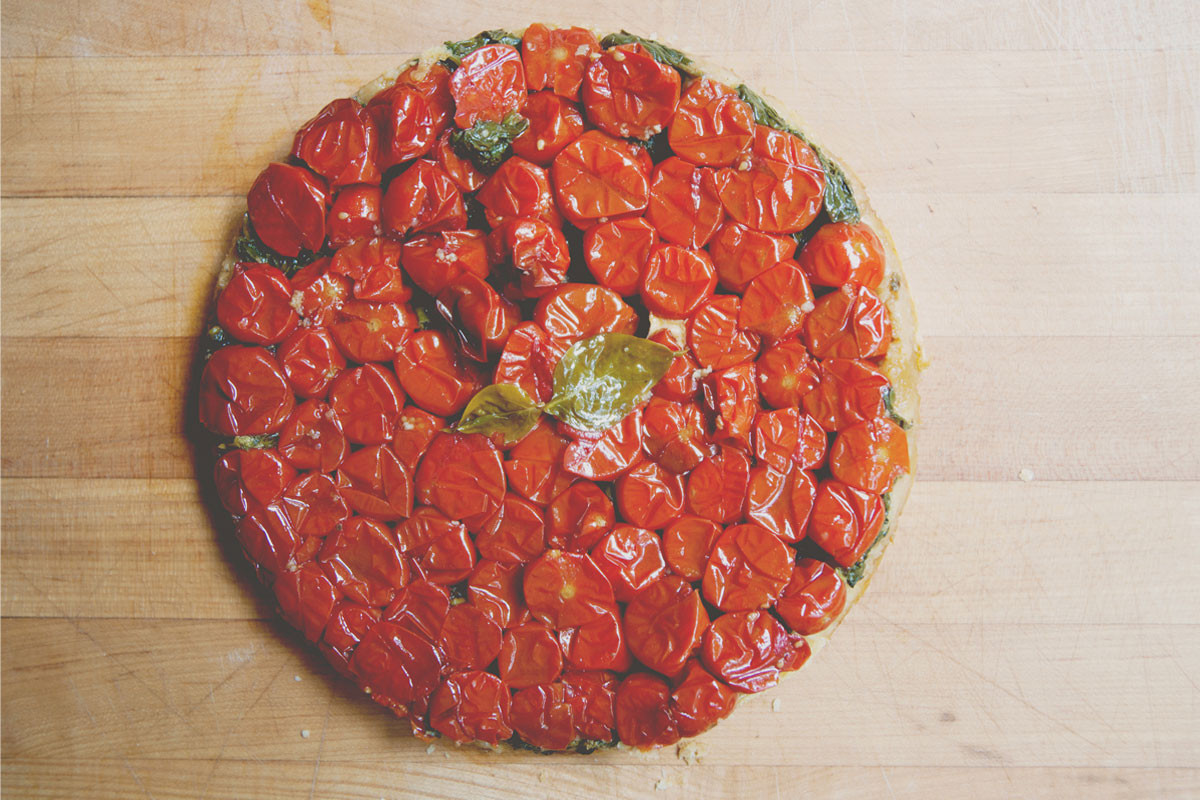 Yesterday, I featured Claire Thomas' much-anticipated first cookbook. Today: a look at one of her favorite recipes found within, a Cherry Tomato Upside Down Tart. I asked Claire to share some of the inspiration behind this inventive dish:
CT: Sometimes I get ideas from envisioning a recipe as it would be photographed. While writing this cookbook, I couldn't shake the image of a tarte tatin (a French upside-down apple tart) with tomatoes. The ultimate in brunch sophistication and perfect centerpiece for a vegetarian meal, the roasted tomatoes, hearty sautéed spinach, and flakey, tender crust that make up this dish are a dynamite combination.
Stay tuned tomorrow for my profile on Claire and her equally lovely Los Feliz home. XXJKE
Cherry Tomato Upside Down Tart Recipe By Claire Thomas from The Kitchy Kitchen
Recipe
Cherry Tomato Upside Down Tart Recipe By Claire Thomas from The Kitchy Kitchen
Servings: 1 9 inch tart
Units:

Course: Desserts
Ingredients for the Tart
1/2 recipe pie crust made with only 1 tablespoon of sugar (see Pie Crust recipe)

1-2 pt

1/2 l

tomato cherry (enough to cover the bottom of a 9-inch skillet in one layer, and about a half pint more. The tomatoes will cook down quite a bit)

4 oz

113 g

spinach (or kale roughly chopped)

1/2 cup

118 ml

basil fresh, chiffonade
2 cloves garlic minced
1 pinch red chili flakes
1 tbsp balsamic

1/4 cup

59 ml

olive oil
Ingredients for the Pie Crust
2 1/2 cup

591 ml

flour all-purpose
3 tbsp sugar
1 tsp salt kosher
butter (two sticks) unsalted, cold, cut into small pieces

1/4-1/2 cup

59 ml

water ice water
Tart
Heat oven to 425. Place the cherry tomatoes onto a baking sheet lined with parchment paper or a silicon pad and sprinkle with a pinch of salt, a pinch of pepper, and 2 tablespoons of the olive oil. Roast for about 20-30 minutes, or until the tomatoes are wrinkled and their bottoms are caramelized. Set aside to cool.
Meanwhile, in a large sauté pan over medium heat, add a tablespoon of olive oil then the spinach. Saute for 3 minutes, or until slightly wilted. Add the basil, garlic, chili flake and a pinch of salt and pepper, and continue sautéing for another 5 minutes, or until the spinach and basil are fully wilted. Set aside.
Arrange the roasted cherry tomatoes in one layer in a 9-inch cast iron pan lightly coated with 1 tablespoon olive oil and the balsamic vinegar. (The pan should be about 2 inches deep.) Do not overlap the tomatoes. Sprinkle the basil-spinach garnish over the tomatoes.
On a well-floured surface, roll out your dough about 1/8 inch thick. Cut it into a circle, just a bit bigger than the size of your pan. Place the dough over the tomatoes and gently tuck the edges around the side of the pan.
Bake at 400 for about 30-40 minutes, until the crust is golden brown. Remove from the oven and cool until room temp. Run a knife around the edge, and then flip. Garnish with basil.
Pie crust
In a food processor or quickly using your fingertips, combine the flour, sugar, salt and butter until the chunks of butter are broken down to the size of peas and the flour feels like wet sand. Add the first 1/4 cup of water and mix until the dough comes together easily. It's too dry if it immediately clumps apart. Add two tablespoons of water at a time, you can always add more water but not more flour, so careful not to add too much!
Gather the dough into two balls and plop them on top of two sheets of plastic wrap. Loosely wrap up each ball and press down, smooshing the ball into a disc about an inch thick.
Pop them in the fridge for at least 30 minutes while you busy yourself with the other stuff.