Living
Profile: Michelle Smith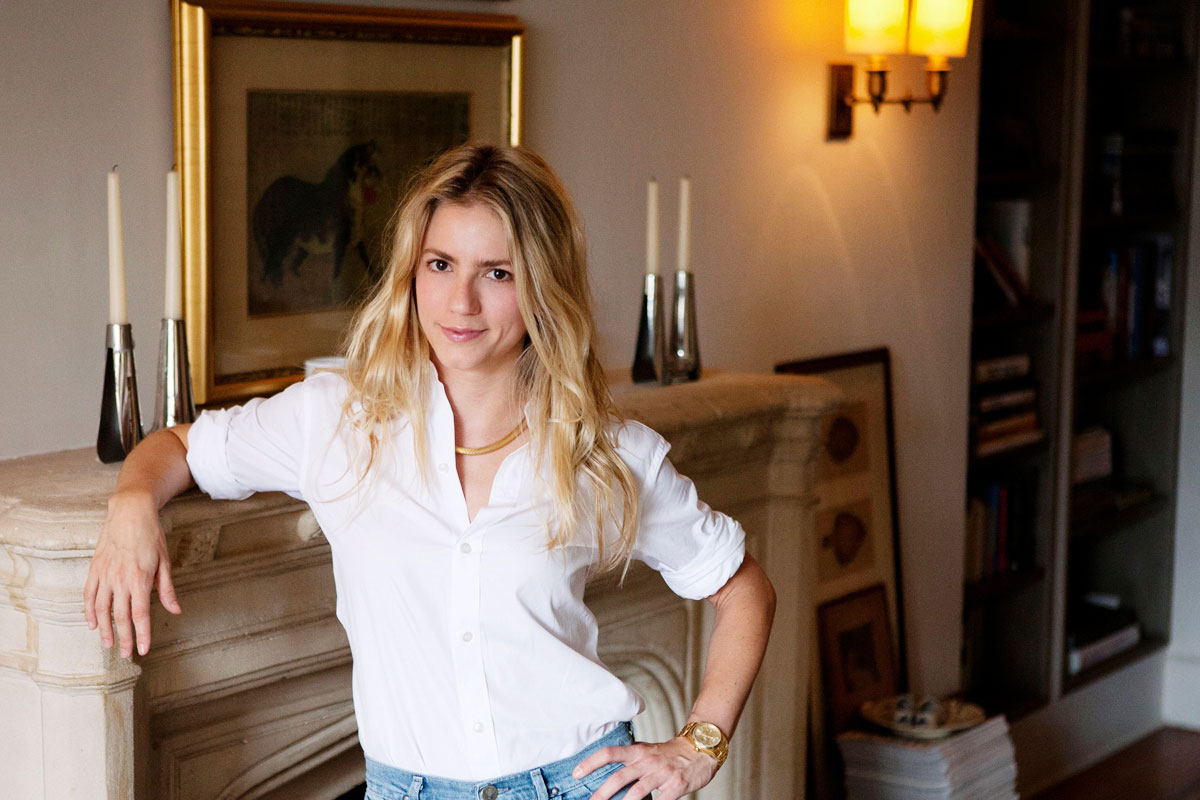 I met Michelle through Caroline in my office – they both grew up in Southern Louisiana and reconnected when Michelle moved to Los Angeles. Law school brought her to New York, where she practiced for several years, eventually coming to the realization that her true passion was interior design. After training with interior designer Daniel Romualdez, Michelle started her own design firm – Studio MRS. She recently finished both Prabal Gurung's studio and apartment and is currently completing homes in Haleiwa, Hawaii and Palmetto Bluff, South Carolina.
Michelle's taste is refined but comfortable, and is evident where it matters most: her own beautifully decorated home. I'm so jealous that Caroline gets to stay there when she travels to New York! She always has the best finds, and I can't wait for her new furniture line, MRS . JG. XXJKE
Beauty
R+T: What are your go-to beauty products? Why?
Caroline stays with me in New York four times a year. Every time, she rolls in with three waterproof bags full of new products to try. She's the secret to all my go-to beauty products, so whatever she's using, I end up using.
R+T: Is there anything special you would like to share about your beauty routine?
Just that I wish there was a little more to my routine. I'm always so fast getting dressed, which makes me perpetually early for everything.
R+T: What are the 5 products you couldn't live without?
Clinique City Block 25 SPF, Benefit Speed Brow brow gel*, Liqwd Volumizing Shampoo and Conditioner* (though the bottle is rather colorful and unattractive, so I rebottle in brown pump bottles from The Specialty Bottle Co.*), Clark's Botanicals Soothing Herbal Face Wash, and By Terry Baume de Rose* all winter.
*indicates a Caroline DeJean find
R+T: Bath or Shower?
Bath. Always bath.
R+T: What do you sleep in?
I really want to be the girl that sleeps in a cute pajama set, so I have a drawer full of monogrammed PJ's ready and waiting. But I always end up falling asleep in a robe.
Health
R+T: Do you have any health tricks?
Living in New York, I walk everywhere. I really dislike taking the subway and hate sitting in traffic, so I'm forced to walk a lot.
R+T: Any health causes that mean a lot to you?
I really support what The Child Mind Institute is doing. One of the main focuses is to erase the stigma associated with mental disabilities, which I think is very important for early diagnosis and treatment.
R+T: Do you workout, what do you swear by?
I do Pilates three times a week with Ashley DeLeon at her studio in Union Square.
R+T: What do you do to relax?
Lately, I feel like I'm never in New York, so when I am home, I love to have my friends over, put on sweatpants, order in take-out from Dirty Bird, and blab about the trivial things in our lives.
Interior Design
R+T: How and when did you start your interior design business?
I took a rather convoluted path to get here. I practiced as an attorney in Manhattan then got a Masters of Tax Law at NYU. I always thought interior design would be my second career. It was during the second semester of getting my Masters that I realized waiting around to do what I love really made no sense. And so, much to my father's chagrin, I started hunting for a design internship.
I was extremely lucky to get the opportunity to train at Daniel Romualdez Interiors in NYC – his work is impeccable and his client list is a dream. I started as an intern, and then became a design assistant. The designers there were a dream to work with, and everything I know about running my business, I learned from them.
I left Daniel Romualdez to start Studio MRS in August of 2012, and it's been pretty exciting ever since.
R+T: What are your sources of inspiration today?
I have a DropBox folder of thousands of inspiration photos. My inspiration comes from everywhere…my own photos, books, magazines, blogs, Instagram. I reference that folder in my head or on my iPhone about 5 times a day.
R+T: Do you have any new projects on the horizon?
My best childhood friend and I are producing a first run of prototypes for our furniture line, MRS . JG. The pieces are all made in America by the most incredible craftsman. We use a lacquering process that is nearly indestructible. The pieces are actually put out in the parking lot for three days before being sent out. Basically, it's really exquisite, high-end furniture that you can essentially dance on with your heels on.
Also, I'm really excited about the current renovation of Chef Emma Hearst's house in Haleiwa, Hawaii. It's a blast because she's a great friend with impeccable taste, and having site visits in Hawaii never hurts.
R+T: What is your favorite part of your job?
I love renovating kitchens and bathrooms, and I am like a kid on Christmas the day curtains go in.
Decor
R+T: What is your design philosophy for your home?
I think every room should be warm and user-friendly. There should be at least 3 levels of lighting (ceiling, wall, and table height). There should be a place to put up your feet and a place to set your drink. I try to achieve this level of comfort in every project while keeping the house timeless, classic, and clean – never shabby.
R+T: What are your favorite pieces in your house?
The antique marble table I use as my bar, a Karl Springer snakeskin floor lamp, my Barber Wilsons shower body, and my Select Comfort mattress-Sleep Number 70.
R+T: What are your favorite home stores?
Ruby Beets and The Christy's Art Center in Sag Harbor, Pearl River Mart and Maison Gerard in NYC, all flea markets, and of course, 1stdibs. And I can't wait to check out Jenni Kayne Home in Montecito!
R+T: What is your favorite room in the house?
My bedroom. I've used the color of the walls in my bedroom in almost every project to date. I love early mornings in my bed with my coffee, my iPad, and the news on the TV (is Good Morning America considered news?). No one is texting or emailing yet.
Entertaining
R+T: Do you entertain at home?
Yes.
R+T: What are your tricks for entertaining?
If the food is fresh and delicious, the wine is flowing, and the overhead lighting is OFF, the dinner party is guaranteed to be a hit. And always have extra. Of everything.
R+T: How do you set the scene when you have people over?
Dim the lights and light the candles. Put a drink in guests' hands the minute they walk through the door.
R+T: Are there any tips for what to do or what to avoid?
When people spill, pretend it never happened. I have had red wine spilled on every thing in my apartment, places you would not even imagine. You might hyperventilate inside, but I think people appreciate when you keep your cool.
More importantly…have Wine Out.
R+T: What is your favorite song/playlist when you have people over?
My friend Thomas always makes the playlists. I fear my sole Spotify playlist of 80's and 90's country would not be a crowd pleaser.
R+T: What are your favorite objects/accessories in the kitchen?
A Bunn coffee maker, copper pots, and large serving bowls. I love bowls – you can serve almost everything in a large bowl. I try to buy an interesting bowl in every place I visit – a b!*ch to carry on the airplane, but a beautiful and useful memory of the trip.
R+T: What are your favorite flowers and where do you buy them?
I like ferns in old terra cotta pots, and I like them everywhere.
When I want fresh cut flowers, I go to The River Garden stand at the Union Square Farmer's Market. They have beautiful, clean bunches of flowers that are not cheesy.
R+T: Do you do them yourself or do you use a florist?
I like to do them myself. But if I do use a florist, I bring my own vase. I keep a stash of vases I find at different flea markets and thrift shops.
R+T: Who is your favorite florist?
University Floral Design on University and 10th Street. It's right by my apartment. The arrangements are simple and never trendy.
Fashion
R+T: How would you describe your style?
Basic and boyish. I never wear black, and I rarely wear color.
R+T: Who are your favorite designers?
Aspesi, Jenni Kayne, Dries Van Noten, Eres (for swimsuits).
R+T: What are the 5 pieces you can't live without this season?
Goldsign for J. Crew jeans, Charvet white button down, Cos beanie, my new Jil Sander double breasted coat, and navy croc penny loafers.
R+T: What is your uniform?
White button down or gray Vince T-shirt, sometimes a blazer, jeans (usually with holes in the knees), boots or Manolo kitten heels, my Bottega Veneta cabat bag (I've worn it nearly every day for 7 years), and my grandpa's gold watch. A client's son recently asked her if they were paying me enough because my jeans always have holes in them…so maybe I should reconsider certain aspects of the uniform.
R+T: What is your newest purchase?
The Louis Vuitton Lock Me Necklace in silver. It's admittedly kind of tacky, but I thought I could try to jazz up my t-shirts.
Food
R+T: Is there anything about your diet you would like to share with R+T?
Not really. My diet is a bit shameful. Nearly every day starts with a chocolate croissant and ends with a glass of red wine. Not the picture of health.
R+T: Do you cook?
Yes. I can cook, and I do cook often. But I must admit, I am a masterful plater – I will go to about six different grocery stores and markets to get the best of everything and just put out a spread for lunch or dinner. This way, I can shop in the morning and be able to hang out with guests rather than be cooking when they arrive.
R+T: What is your favorite recipe?
Lately, I've been obsessed with making this really simple Arugula and Endive Salad, and I'm really liking it. Actually, I hope other people are liking it too.
Art
R+T: Who are your favorite artists?
I tend to buy old oil paintings at flea markets. They're always original, and sometimes the frames they're in are art in and of themselves. Everyone always tells me I like creepy art. So I suppose my favorite artists are the creepy ones that never made it big.
I'm becoming more and more into photography. I think it contrasts nicely with my less than sterile decorating style. A few clients of mine recently purchased pieces by the photographer Richard Mosse – I think his work is really beautiful. The pink in the photos is so startling but pleasant – it's magic for a decorator.
R+T: What is your favorite piece of art you own?
I recently bought a watercolor by Allison Maletz for my house in Sag Harbor. I love it more and more every time I see it.