Living
Profile: Beatrice Valenzuela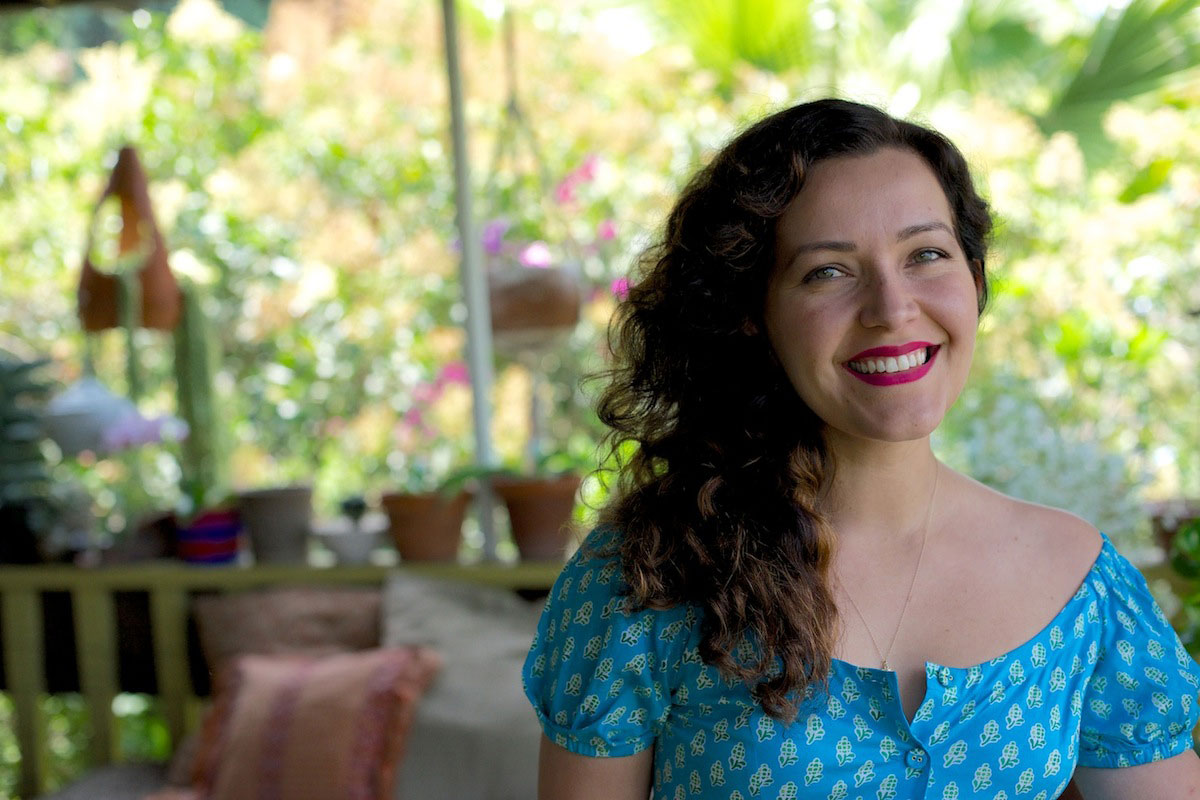 I had the pleasure of meeting Beatrice not long after being introduced to her amazing shoes. With many friends in common, we were bound to be connected at some point, but it was my friend Lauren Soloff who originally put us together.
Born in Los Angeles but was raised in Mexico City, Beatrice has enjoyed a life filled with travel and discovery. Both a footwear designer and weaver, she describes her life's work as that of bringing joy and beauty into people's lives (including her own) – whether in the form of handmade shoes, a wall hanging, or by bringing artists together at the Echo Park Craft Fair, which she founded and co-hosts with Rachel Craven.
Beatrice lives in a cottage nestled in the hills of Echo Park with her life partner, Ramsey Conder, their four-year-old daughter, Astrid Agustina, and a little boy on the way, who will make his debut in February. Other houseguests include their canary, Alfalfa, their dog, Coyote, and multiple chickens and quail.
Her home was built in 1924 and is filled with treasures that have been collected in their travels, textiles woven by Beatrice, and furniture, built ins, hardware and lighting made by Ramsey. I loved being in her home. It was authentically Beatrice – eclectic, bright, colorful, and filled with life. She was also an amazing hostess – inviting us in, making us beet lemonade, and my new favorite snack, sliced oranges sprinkled with cayenne and maldon sea salt. I hope you enjoy this look into her beautiful home and way of living as much as I have. XXJKE
Beauty
R+T: What are your go-to beauty products? Why?
Tata Harper beauty products – I especially love the Regenerating Cleanser, the Rejuvenating Serum, and the Hydrating Floral Essence. I find that her products are absorbed into the skin so easily. Plus, I love all of the benefits one can get from the aromatherapy. Next on my list is the Restorative Eye Cream – I started using a very mild eye cream in my early teens, and have continued using it ever since. Also, I am pregnant at the moment, and the only body cream that offers itch relief to my stretching skin is Palmer's Cocoa Butter. I used it with my first pregnancy and had great results.
R+T: Is there anything special you would like to share about your beauty routine?
Deep condition your hair 1-2 times a week – I recommend finding a hair repair treatment or mask that you like and leaving it in your hair for a minimum of ten minutes. When I shampoo my hair, I always leave in a bit of conditioner (just enough to feel the slip in the hair). It acts as a leave-in conditioner and help with any friz.
R+T: What are the 5 products you couldn't live without?
In regards to makeup: YSL Anti-Cernes Multi-Action Concealer, YSL Touche Eclat, Maybelline The Colossal Volume Express Mascara in both dark brown for day and black for night, Stila Perfect and Correct Foundation, and all kinds of lipstick (Nars, Chanel, YSL, Edward Bess, Paul & Joe, MAC, etc.)
R+T: Bath or Shower?
Bath. I drop in some bubble bath – my favorite is Orange Santal et Petitgrain by L'Aromarine – light a delicious candle, and right about the time I start to relax, my 4 year old daughter Astrid jumps in and changes the vibe.
R+T: What do you sleep in?
Always in pajamas. Sometimes silk men's two piece pajamas or a comfy cotton vintage night gown with boy shorts from New High Mart. My mom always told me I should sleep in something pretty, and so I try to.
Health
R+T: Do you have any health tricks?
Eat a fresh variety of foods and never go hungry, or else one can get very grumpy and start making terrible decisions.
R+T: What do you do to stay healthy and balanced?
I have vitamins that I never take and have bought green powders that have sat in my fridge for far too long, so I try to eat a balanced diet. I love food so much and I get very hungry, so I have to eat multiple times a day – I couldn't just do three meals. I never diet or do cleanses. I love coffee, tea, fresh juice, wine and bubbly, and oh how I love a nicely crafted cocktail!
R+T: Do you workout, what do you swear by?
When I do, it's always yoga and pilates. If I get desperate, I'll do intensive pop physique videos at home and my daughter usually joins in. She has requested that I buy her own set of baby weights and a mini yoga mat. We've already bought the proper attire at American Apparel.
R+T: What do you do to relax?
Relaxation is what I am good at. I am an expert!
-Spend the day at Natura Spa and get scrubbed, massaged, soaked, and fed at the cafe wearing a robe. My favorite dish there is Yook Gae Jang, it is a spicy beef noodle soup with vegetables.
-Manicure and pedicure at Kure nail salon with Sue.
-Facial at Dtox with Janette.
-Matinee at The Archlight Hollywood followed by oysters over at The Hungry Cat.
Decor
R+T: What is your design philosophy for your home?
My husband, Ramsey Conder, makes most of the furniture and hardware for our home. We prefer shelves over cabinets and keep things functional, colorful, and full of texture. We love arts and crafts, so we have it all over our walls and keep our ceramics and small sculptures in a high shelf in the kitchen. Most of our treasures our found while traveling.
We keep many of our windows open. Our house feels like a tree house overlooking Los Angeles – kinda like you're on vacation somewhere in Mexico or South America.
R+T: What are your favorite pieces in your house?
We have a blue stained shelf with 2 hanging wooden charms that we found at the wonderful Baltic Crossroads on Hillhurst – it is really stunning. Half of my friends now own at least one.
R+T: What are your favorite home stores?
In Los Angeles: OK , Baltic Crossroads and Lawson Fenning.
R+T: What is your favorite room in the house?
The kitchen. Ramsey and I designed it together and the shelves where we keep our dried goods were made out of reclaimed Douglas fir. The counters are covered in Moroccan tile and there are plenty of hooks everywhere to hang dried chiles or little spoons and baskets filled with garlic.
Entertaining
R+T: Do you entertain at home?
Yes, we entertain all the time.
R+T: What are your tricks for entertaining?
I like to purchase some pre-made things and put together a special appetizer, then cook a one-pot dish. This way, I can mingle with my guests and not be tied down in the kitchen. We tend to all gather in the kitchen, so I always make cocktails for everyone as we catch up. If it's a larger party, I'll make a big batch of sangria with whatever fruit is available and then bring out things like almonds, cheese, prosciutto and caper berries for nibbles.
R+T: How do you set the scene when you have people over?
Candles burning all the time and beautiful flower bouquets all over the house. I like to have most windows and doors open to get a good air flow.
R+T: Are there any tips for what to do or what to avoid?
As the very wise Lauren Soloff has advised in the past "No one likes a stressed out host!", so keep it relaxed.
R+T: What is your favorite song/playlist when you have people over?
Horacio Guarany, Chavela Vargas, Frankie Ruiz.
R+T: Plated, Buffet, or Family Style for a dinner party?
Sometimes buffet and other times family style dinner – it depends on what I'm serving and how many people are coming. If I run out of chairs, then buffet.
R+T: What are your favorite flowers and where do you buy them?
I love seasonal flowers from Cookbook, or if I am lucky, I might have Holly Flora's beautiful work delivered.
R+T: Do you do them yourself or do you use a florist?
It is so therapeutic doing my own arrangements. I always add from my garden to bring the outside beauty in.
R+T: Who is your favorite florist?
Holly Flora. Holly and Becky know what I love, and they always make the most perfect arrangement.
Fashion
R+T: How would you describe your style?
Feminine, colorful and flamboyant.
R+T: Who are your favorite designers?
Dolce & Gabbana, Valentino, Balenciaga, Hermès.
R+T: What are the 5 pieces you can't live without this season?
Being pregnant really changes my answer, but I really want: kelly green Hermès sandals, Paige maternity jeans, and from Eres, cashmere sweater, cashmere leggings and lingerie.
R+T: What is your uniform?
I don't really have a uniform.
R+T: What is your newest purchase?
A vintage slinky black dress and silk slip from Tavin in Echo Park.
Food
R+T: Is there anything about your diet you would like to share with R+T?
I have Celiacs, so I'm always looking for good gluten-free bread. I would love to learn how to make a really good one. I eat pretty much everything else. *Please stop reading if you're vegetarian. One of my secrets is that I love eating all the "parts" of the animal, and really enjoy sucking out all the marrow from the bones.
R+T: Do you cook?
I love to cook!
R+T: What is your favorite recipe?
My family's mole recipe.
R+T: What is your child's favorite recipe?
Pancakes and bacon.
Art
R+T: Who are your favorite artists?
Hadley Holliday, Lecia Dole-Recio, Mari Eastman, David Korty, Lesley Vance, Ricky Swallow among many others.
R+T: What is your favorite piece of art you own?
Our Hadley Holliday large painting of bent colors. We bought this painting in celebration of our Astrid's birth – I was literally in pre-labor when we picked it up.
I stared at it the whole time I was laboring in a tub at home in the middle of our living room. It makes me so happy every time I look at it. Her artwork has that effect on people.
Kids
R+T: Are there any kids finds you want to share with Rip+Tan?
Petite Bateau undies and matching tank tops, NICO NICO clothing, Jess Brown dolls, and our own Beatrice Valenzuela mini shoes.
R+T: What are your favorite places to shop for kids?
Tomboy in Silver Lake and Sugar on Snow online.
R+T: What's your favorite thing to do/place to go on the weekends with your kids?
Astrid loves going to Ace Hotel in Palm Springs and I like sitting poolside while she and her papa swim. If we are in town, a day at the beach can be lovely. We tend to go north to Malibu or Leo Carrillo and check out the tide pools. Then, dinner at The Hungry Cat in Santa Monica.
R+T: What is your favorite restaurant to eat at with the whole family?
Café Stella is a crowd pleaser for brunch and we also like L & E for oysters and fries in the evenings.
Footwear
R+T: How and when did you start designing your own line of shoes?
I started my shoe line four years ago with three styles, and have slowly added new styles with the help of my shoe manufacturer in Mexico City, who I met years ago at an open air market.
R+T: What inspired you to begin your business? What are your sources of inspiration today?
I had just had my daughter and wanted to try something new – I felt there was a need for a beautiful but comfortable shoe. I'm inspired by shoes made long ago by people from all over the world.
R+T: Do you have any new projects on the horizon?
Our new flagship store is my newest project and I am hoping to expand into jewelry and hair accessories. I also want to make beautiful notepads and a signature candle for my lifestyle brand. I continue to co-host the Echo Park Craft Fair with one of my dearest friends Rachel Craven and we are so excited for the next one coming this December 14-15th. It has grown into such an inspiring event bringing so many wonderful people together!
R+T: What is your favorite part of your job?
I love when I see beautiful women out in the street or on Instagram loving their shoes – it makes me feel like I'm spreading the magic in some very small way.
R+T: Any favorites within your collection?
I have two favorites at the moment: our Chino in ox blood (only available at our store for now) is an espadrille that looks good on everyone, and the Nahuatl, our running sandal, in black – I wear it year round in Los Angeles.