Living
Meet Matt and Carrie Eddmenson of Imogene + Willie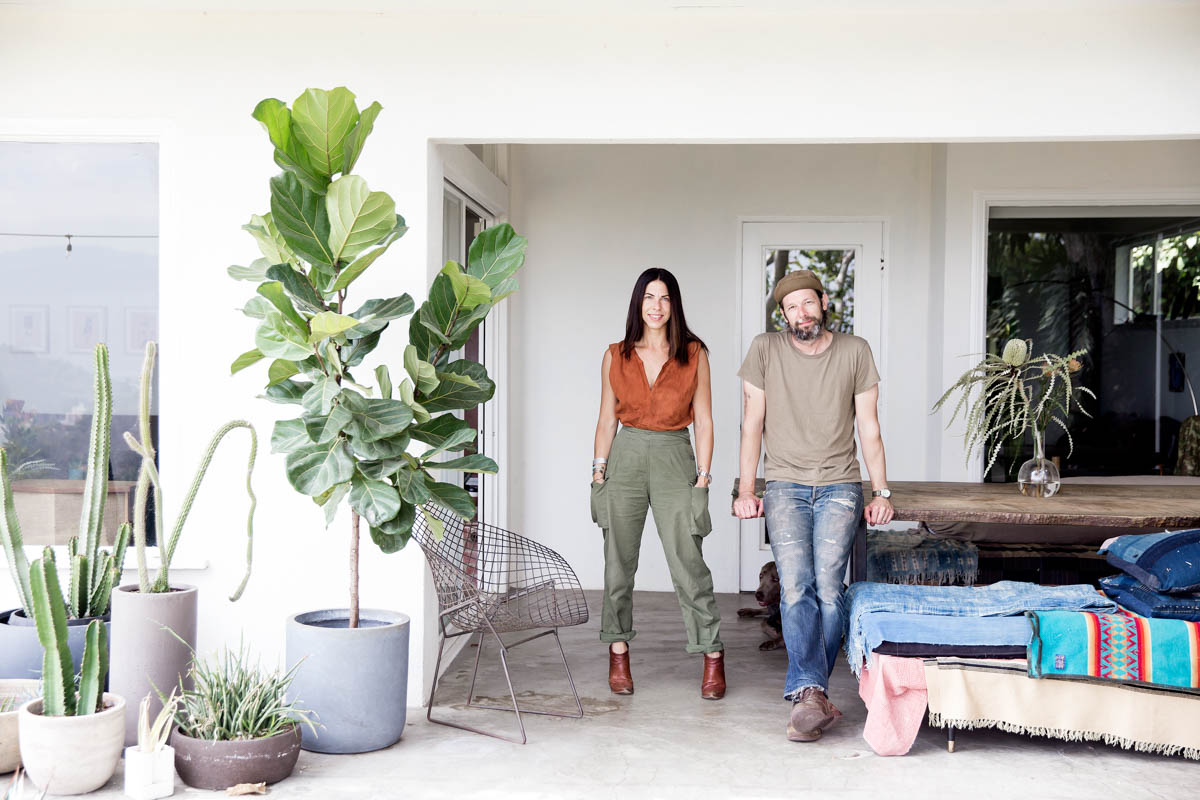 Matt and Carrie Eddmenson mostly live in Los Angeles now, but they started their cult-loved brand, Imogene + Willie, in their hometown of Henderson, Kentucky in 2009. The business then moved to Nashville, where Matt and Carrie opened their first store in a refurbished gas station, and they grew, slowly but surely, from there.  Fans of Imogene + Willie love the label's hand-worn tees and dying-to-be-broken-in selvedge jeans. My high-waist, ivory selvedge jeans have only gotten better with time—I love them.
We wanted to check in with Matt and Carrie, who produce their denim in California and fell in love while working for Carrie's family company, which has produced American-made jeans for over twenty years. Here, the duo shares their thoughts on living in Los Angeles, what it's like to be in business with your partner, and where Imogene + Willie is headed next. I hope you enjoy. XXJKE
Rip & Tan: How would you compare Los Angeles and Nashville?
Matt Eddmenson: Comparing LA to Nashville is like comparing a whale to a coy fish. In some aspects it's very similar. The vibe. The people who are making things happen in Nashville all have a big city attitude accompanied by a motivated spirit. The same goes for LA. People get things done. I love that about both places. The differences are the obvious things like size and resources. I will say the traffic sucks in both places, so there's that.
Rip & Tan: What do you love about living in Los Angeles?
ME: Not knowing anyone when we go to the grocery! We love that! And of course the Southern California weather—hot-as-hell days and cool, breezy nights. Carrie would work outside at all times if we let her. I love to be on a motorcycle, so Los Angeles is very conducive to that as well. In the end, we have so many friends that live in LA, and a handful of Nashville team members moved out West with us, so Los Angeles still feels like home. Or at least a second home.
Rip & Tan: How would you describe the style of your home here?
ME: We have a beautiful mid-century home that was built in 1952 in a very secluded area in the Hollywood Hills.  On the side of the house, the first owner (and also architect of the house) wrote in the concrete, "HERE IS PARADISE, PARADISE IS HERE".  I would say that pretty much sums up the way we feel about our small but quaint home.  Of course, Carrie is our appointer of interior.  She has always had a way with paring old-world treasures with modern design.  She used to live in Istanbul, so we have a lot of odd treasures and we have collected rare vintage pieces together over the past decade.  We are definitely homebodies and love anywhere where we make a home together. We hardly leave on the weekends.
Rip & Tan: What room in your home do you enjoy the most and why?
ME: Ironically, it's not a room, but rather our backyard. We have our kitchen table out there and it's generally where we eat, work, paint, rest, and visit with friends.  But let's face it, everyone ends up in the kitchen.
Rip & Tan: How do you entertain in this home? When friends come over, what do you do?
ME: Eat. We love to cook, so preparing and eating long drawn out meals pretty much makes for all evening activities.  It's what we've always done.  The longer it's drawn out, the longer there is to talk, chill and visit.
Rip & Tan: Where do you do most of your work?
ME: When at home, we do just about all of our work in bed.  There's just something about it.  We got into this habit when we were preparing to start Imogene + Willie.  We would wake up super early, drink coffee and work on I+W in our pajamas.  We still get up pretty early and work on emails before we get ready for work—or least Carrie does. I mostly surf the web for motorcycles.
Rip & Tan: What's it like to work together and be partners in life as well?
ME: We get that question a lot, and we ask ourselves that question a lot. To be honest, we never really have had a problem with it. Carrie's father says it's because we support each other unconditionally. I would have to agree. We both love to see the other do well. We're really good at encouraging each other. I can say without hesitation that it's not always peaches and cream, but I think given the choice, we wouldn't change a thing.
Rip & Tan: What advice would you give anyone who's thinking of going into business with a close friend or family member?
ME: Don't do it! No really, don't do it. Just kidding. Going into business with someone is the same as getting married to them.  Having already been married to Carrie, I knew what running a business with her would generally look like. Running a business is tough.  Make sure you and your partner are aligned.  Having tough conversations in the beginning will really help pave the way for both of your expectations. Always have an exit strategy in place, so you both know what's at stake. And probably the most important advice we could give someone who is considering going into business with a family member or friend: Make sure you are clear and committed to always respect them as a family member or friend. Having respect for your partner will help you weather any storm and believe this—being in business is forever a cycle of going in to a storm, being in a storm, or coming out of a storm.  That's not negative.  It's just the truth.
Rip & Tan: How has your aesthetic changed over the years? How has Imogene + Willie evolved from a creative point of view?
ME: When we first started Imogene + Willie, we were very rigid in our approach to authenticity, quality, and of course, the denim itself.  We are still committed to all of those things, but now we have an array of products that may be considered more commercial than when we first started.  We know the importance of being comfortable and still feeling good about yourself.  We still only make things that we would wear, but now we have our customers in mind.  As with time, we have matured and become more comfortable in our choices.  We used to have to approve every detail of every department and sit with change for quite a while before making a decision. Those days are over. We have an amazing team. Each of them has brought to table what Imogene + Willie means to them. Now it's not just ours. It's a creative collective.
Rip & Tan: Which style of women's jeans are your most popular? Why do you think women love them?
ME: We just reintroduced our inaugural women's jean, simply named Imogene.  When we opened the doors of Imogene + Willie, Imogene was not only our only women's fit, but it was in 100% cotton, and rigid (not washed).  To say it was an uphill battle when we started would be an understatement.  But now after 7 years of being in business, the trend and the acknowledgement that the best fitting jeans are 100% cotton means that women have come back around. Imogene Rigid has only been back for a few weeks and we have already sold out of the re-issue debut. It's so funny that after 7 years we are back to where we started.  Nothing like getting it right the first time.
Rip & Tan: What new release are you excited about for summer?
ME: Our t-shirts! We have always been jeans and tees people, so our knit program has been super important to us. We strive for the same quality we put into our jeans, and our tees have proven to be pretty great. We are really excited about where that program is going.
Rip & Tan: What personal piece of clothing or object is most sentimental to each of you?
ME: For me, it's a vintage belt Carrie's brother gave me for my 30th birthday. For Carrie, it's any of my shirts.
Rip & Tan: What denim advice would you give every woman?
Carrie Eddmenson: You need a few good pair of jeans. You don't need a ton of jeans. You only need a few good pairs, because you need to know them and understand them as if they are a part of you. The best part about your few good pairs of jeans is that they are always the answer when you don't know what to put on. Why?  Because when you put them on, they remind you that you are just you. You believe in you. You believe —and you don't doubt for a second—your individuality and very personal, unique, one of a kind style and beauty.
Photos: Esther Lee