Wellness
Introducing Cosmos Botanicals: A New Line from Earth Tu Face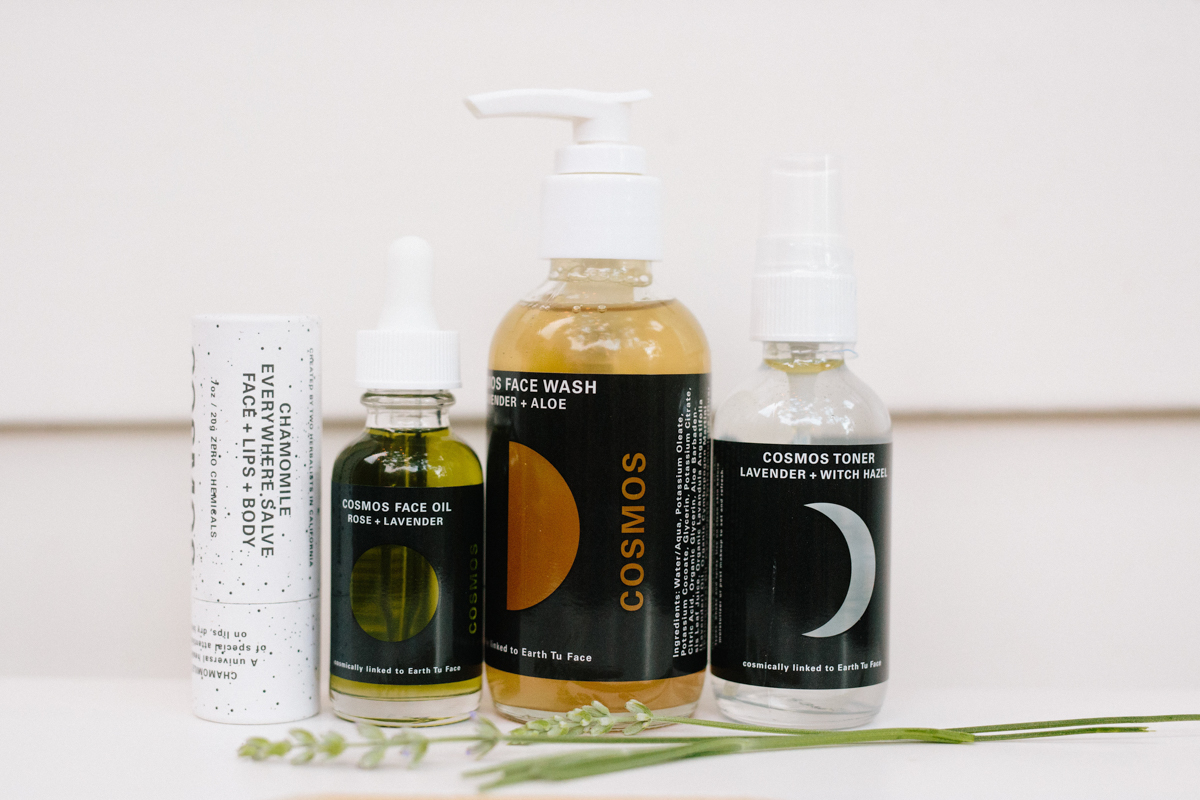 California-based herbalists Sarah Buscho and Marina Storm have already done quite a bit to put natural beauty on the map with their cult-loved line, Earth Tu Face. Now they've set their sights on bringing chemical-free beauty totally mainstream with their new diffusion line, Cosmos Botanicals. With lower prices (made possible by using slightly less niche, though still effective ingredients) and mass market partners like Urban Outfitters, Cosmos will bring the natural beauty experience to a wider audience than ever before.
The line consists of four core products that lay the foundation for a natural skincare routine: a lavender and aloe face wash, witch hazel toner, rose facial oil, and a botancial "everywhere" salve. Read our interview with Sarah below to learn a little bit more about the inspiration behind this exciting new project and where Cosmos is headed next. XXJKE
Rip & Tan: What inspired you to start Cosmos?
Sarah Buscho: We started Earth Tu Face as a luxury line of skincare and body products we formulated as herbalists. My goal was to create a line made of 100% plant-based and organic ingredients. In the beginning it was entirely hand-made in my home. A significant amount of products in the Earth Tu Face line are still hand-made in our apothecary in Oakland each week. I tell you this because it was always a dream to make part of the line available to a wider audience. With this in mind, we designed Cosmos Botanicals to represent the most key products in our Earth Tu Face line. 
Rip & Tan: What's the story behind the name?
SB: Since planet Earth is central to Earth Tu Face, not only in terms of the plant-based ingredients we use in each formulation, but also in terms of sustainability for the environment, we wanted to take our new line one step further—into the cosmos! The name is also a playful nod to the wider reach that the line will have, and to the fact that "Cosmos" is the latin root of the word "cosmetics".
Rip & Tan: How does Cosmos differ from Earth tu Face in terms of the ingredients and formulas?
SB: We wanted to pull our best sellers from the Earth Tu Face line and create versions of those proven formulas that were easy for someone just stepping into green beauty to try, or for seasoned natural beauty devotees to fall in love with. As herbalists we focused on essential oils that are more abundant and are equally beneficial for the skin (such as Roman chamomile, German blue chamomile and lavender) than many of the rare botanicals used in the Earth Tu Face line. We also use ylang ylang, rose, and palma rosa in Cosmos Botanicals products. This way, our formulas are accessible on a bigger scale to people wanting to make the best choice they can for their skin, their overall health, and the planet at large.
Rip & Tan: Do the two brands share production facilities, staff, and other resources?
SB: Absolutely! Earth Tu Face is a small and family-oriented company that I am proud to say is made up almost entirely of women—from our apothecary workers and sales associates, to our shipping and fulfillment department! Whenever we start a new project, Cosmos included, we all pull together on every aspect.
Rip & Tan: What inspired you to launch Cosmos with these four specific products? 
SB: We wanted to launch with four products that pay homage to some of Earth Tu Face's most popular and proven formulas, that also encapsulate our idea of a complete regimen for glowing skin. We designed the line as a comprehensive facial skin care routine consisting of one hydrating serum for day and night, one cleanser, one toner and one healing balm. They are all meant to work in tandem with one another and are formulated to be versatile for all ages and all skin types.
Rip & Tan: What products or categories can we expect to roll out next?
SB: We are so happy to be launching with a full skincare system for the face, but going forward we are going to introduce key body-care elements like all over cleansing and nourishment. Stay tuned!  
Rip & Tan: What do you love about working in natural beauty? 
SB: The constant creativity and working with amazing natural elements like bark, leaves, clay, salts, and flowers.
Rip & Tan: What beauty ritual do you think every woman can benefit from?
SB: Truly, mineral baths are key for me. I take baths almost daily with plant extracts (essential oils), and minerals to help balance out my day and add some ritual and meditation time. Getting outside into nature is also vital and super rejuvenating. Mountains, ocean, trees, dessert, hot springs, lakes, or anywhere outside has the power to recharge the spirit!