Living
Inside Serena Mitnik Miller's Topanga Canyon Home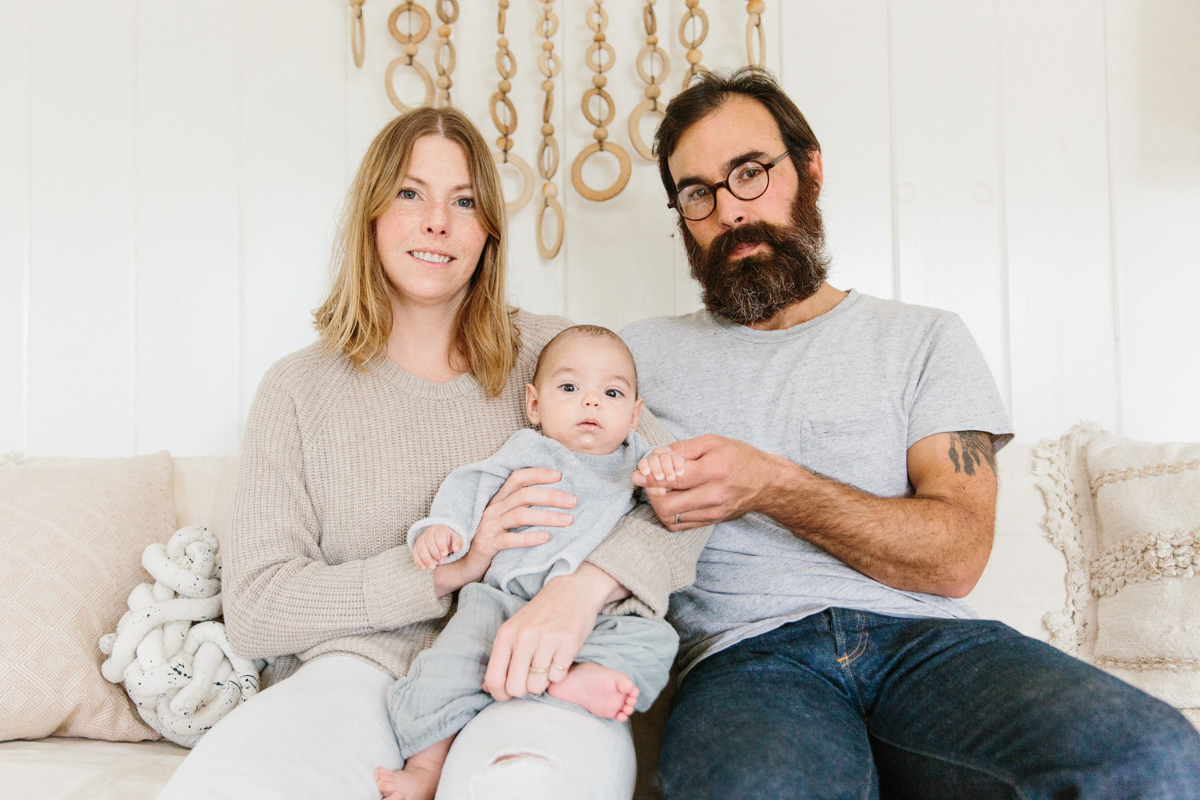 Serena Mitnik Miller is an incredibly talented artist and the owner of one of my favorite stores in San Francisco and Venice, called General Store. I love Serena's simple, natural tastes and when I found out she relocated from San Francisco to Topanga Canyon—a dreamy, rustic neighborhood near Malibu—we couldn't wait to drop by and see her space. Filled with beautiful light, green plants, and earthy textures and tones, the space is just as lovely as I expected. While we were visiting we asked Serena a little bit about her decision to move and how she's adjusting to life as a mom. She and her husband, Mason, just had a baby in July! I hope you enjoy getting to know this talented woman and seeing her beautiful home. XXJKE
Rip & Tan: What first sparked your interest in art or made you think about becoming an artist?
SMM: Both my parents are artist so I grew up surrounded by creativity and cannot remember a time when I wasn't drawing, painting, or creating. There was a point in high school and college when I rebelled against the idea of being a working artist, but that phase passed and here I am. 
Rip & Tan: How did you eventually come to open General Store?
SMM: We never planned to open a store but when the opportunity to rent the space on Judah Street in the Outer Sunset presented itself, we decided to give it a go. The intention was to sell a few things in the front space and have a studio in the back. Within a year the studio moved back to our house and a few years later we partnered with our friends in Venice to open our second location. 
Rip & Tan: What was/is your mission for the store?
SMM: The store is essentially an extension of our lives and what we are interested in. Over the years it has evolved and grown and I imagine will continue to do so. 
Rip & Tan: What are your other outlets for creativity?
SMM: Besides the store and painting, I love working on the house and getting dirty in the garden, knitting and mending while we drive and thrifting and exploring when we travel.
Rip & Tan: How do you like living in Los Angeles now that you are here permanently? What do you like about the city?
SMM: I have always loved Topanga because you feel like your living in the country but you can be downtown in the thick of it within the hour. After living in San Francisco for almost 15 years I was eager to get back to the country and get dirty. I grew up barefoot and wanted the same for my children. This way I feel like we can have the best of both worlds. 
Rip & Tan: How did you discover your home in Topanga? What drew you to the space or neighborhood? 
SMM: We have been spending time in Topanga for years and when we started looking for a place to buy it ended up being more affordable than San Francisco. A neighbor tipped us off to this house which was a real fixer, which was exactly what we were looking for. We love this area, the state park is in our backyard and children and dogs run free in the streets, life is simple here.
Rip & Tan: What's your favorite spot in the house? Where do you spend the most time?
SMM: That's the best part of an open floor plan is we spend most of our time in the main living space. Since moving in while pregnant and now being a mom the dining table has turned into my office/studio. 
Rip & Tan: What are some of your favorite places to buy home items or makers of home goods?
SMM: I love travel finds and flea markets for vintage. Of course most of the items in our house can be found at General Store. My favorite vintage furniture shop is Farnsworth in San Francisco. I also love Japanese home goods; Tortoise General Store is the best in place of traveling to Japan. 
Rip & Tan: How has becoming a mother changed your perspective on your career and life goals?
SMM: Becoming a mother has always been something I wanted, and it has been more incredible than I could have ever imagined. Maintaining my work life has been challenging but I feel very fortunate that Mason is so supportive and I have wonderful and inspiring mothers around who can guide me. At the end of the day my goals are the same. 
Rip & Tan: Has living in LA or becoming a mother changed your personal style? If so, how? If not, why not?
SMM: The weather in LA allows for more dresses, and less layers, but I have always been a no frills kinda gal. Comfort is my top priority. I love the basics with a vintage flair. I have always loved overalls and am a huge fan of the onesie. I would say mostly my style has remained the same but breastfeeding has limited me to boob-accessible outfits for now.
Rip & Tan: What do you wear when you want to feel comfortable? What's your uniform?
SMM: My uniform is vintage Levi's or Chimala denim, Lauren Manoogian sweaters, Birkenstocks in the summer, No. 6 clogs in the winter, and always vintage t-shirts and sweatshirts.
Rip & Tan: What do you wear when you want to dress up a bit?
SMM: A dress or jeans or Jessie Kamm pants with some heels—nothing too fancy.
Rip & Tan: How do you find balance between work, personal time, and motherhood/family?
SMM: I am just starting to find my stride but I find my instinct is to want to be home or go out as a family, so I am trying to find my independence and time for myself. 
Rip & Tan: What beauty product or wellness ritual do you cherish?
SMM: Jumping in the ocean followed by a nice hot bath and a good night's sleep. Mountain Ocean Coconut Lotion and Dr. Hauschka Lip Care Stick I cannot live without. 
Rip & Tan: How do you stay healthy?
SMM: Walking, surfing and hiking as much as I can.
Rip & Tan: What are you listening to, reading, or watching right now?
SMM: I am big on podcasts; 'Here's The Thing' is always at the top of the list.
Rip & Tan: What creative projects are you excited about for 2017? 
SMM: I have a solo show in New York next fall but mostly just excited to watch Wild grow!
Rip & Tan: Do you have any New Year's resolutions?
SMM: New Years is my favorite holiday when I can review the year past and set new goals for the next. Simplify and more family time is at the top of the list, whether by traveling together or just staying home.