Living
Inside Minnie Mortimer's Bohemian Malibu Home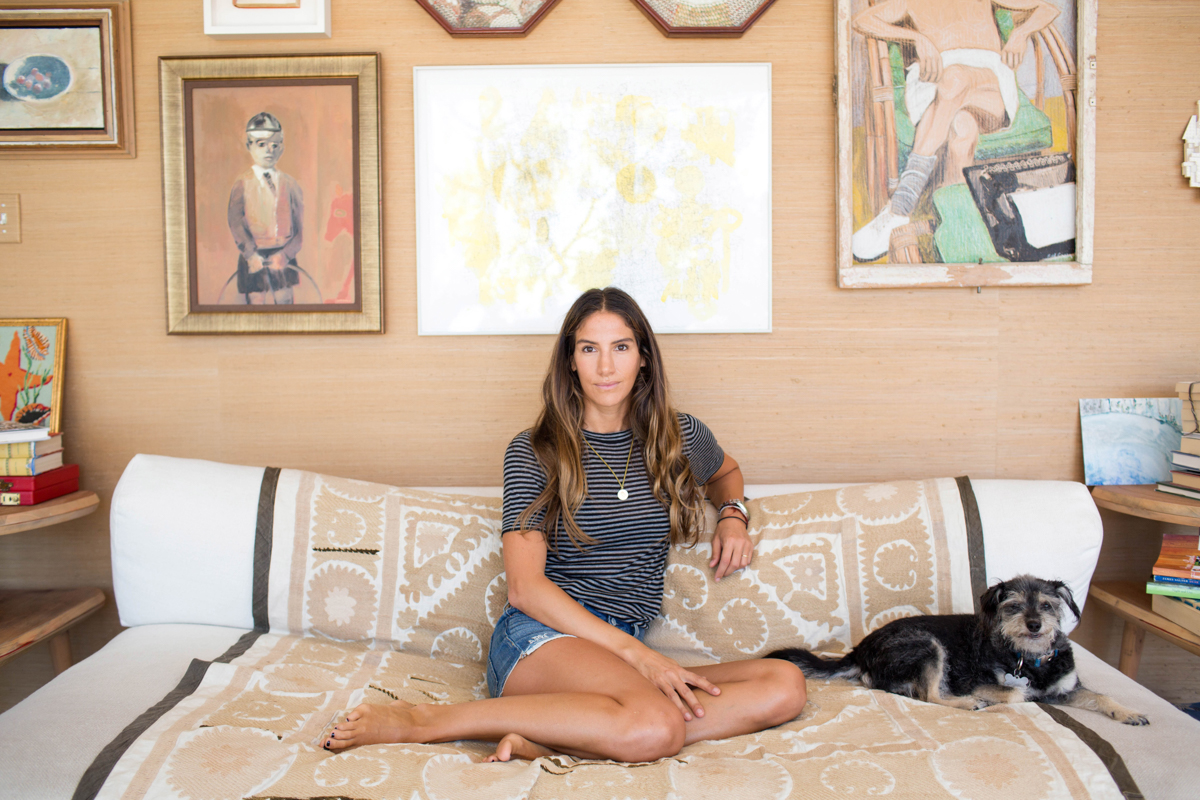 Minnie Mortimer grew up in New York, but she's a bit of a California girl too. She lives in Malibu in a dreamy, eclectic home overlooking the ocean, her Instagram is filled with photos of the beaches and canyons of L.A., and she spends her off-duty days in blue jeans, cotton tops, and swimwear. A mother of two, designer, and soon-to-be beauty entrepreneur, Minnie does it all while still making lots of time to entertain friends, surf, and travel too. In short, she's one inspiring woman. Take a look inside her bohemian home and read our interview with Minnie on interior design, style, and wellness, below. XXJKE 
Rip & Tan: How long have you lived in Los Angeles? What do you love about it?
Minnie Mortimer: I moved to Malibu in September of 2007. What I love most is the nature of this town pushed right up against our urban lives. Los Angeles is a city where an ocean meets a mountain range and that's pretty cool.
Rip & Tan: How did you find your home here? What drew you to the space or neighborhood?
MM: We had just sold our place in Mandeville Canyon and had just begun looking for a new place to live.  We were walking around the exterior of this house because no one was around to let us in to show it. The 180-degree view of the ocean got us. We decided to take it before we even set foot inside.  
Rip & Tan: How would you describe the décor? How is it different than your former New York spaces?
MM: A great big mix. We travel a lot, have kids, dogs, lots of house guests. All have left their mark. We are not precious about our belongings. Our spaces are lived in and ever changing. We surround ourselves with the art, books, and furniture that inspire us or that struck our fancy at a particular moment in time. Pieces that made it back with us from our travels dominate.  
Rip & Tan: What's your favorite room or space in your house? Where do you spend the most time?
MM: Outside on our bluff over the ocean. It's like sitting on the edge of the world. 
Rip & Tan: Where do you like to shop for home décor and furniture?
MM: Flea markets, auctions, little boutiques. My all-time favorite home shop is Nathan Turner on Melrose. He has the best finds.  
Rip & Tan: How do you tend to entertain at home? What kind of gatherings do you host?
MM: Dinner parties, afternoon family parties, movie nights, brunches—we do it all. Usually there are a ton of kids running around. 
Rip & Tan: What are your tricks for entertaining?
MM: Food and drinks that don't require a lot of last-minute work and fuss. I like to get the bulk of the work done before the party starts so I am able to spend time with my guests. 
Rip & Tan: Tell us about your new beauty project, Vainité. What inspired you to launch it?
MM: It's coming this winter! It is a new, personally curated online marketplace for luxury beauty with insider discounts. Think: One Kings Lane for beauty. I am beyond excited to share it with the world. 
Rip & Tan: What beauty brands or products do you swear by?
MM: Shiva Rose. I am obsessed with her body oil. Tata Harper, Beauty Counter, Hair Story for all hair product. I am not quite there yet but I aspire to be entirely organic and non-toxic with my routine at some point.
Rip & Tan: What beauty or wellness ritual do you cherish?
MM: Dry brushing is a life changer. I like a green juice cleanse every once in a while. And regular yoga and meditation always make me feel good.
Rip & Tan: How do you stay fit and healthy?
MM: I practice yoga, I run occasionally, I surf, I swim, I hike with friends almost every weekend. I'd like to get back into tennis but I need tennis partners! I find outdoor activities so much more fun. I love all kinds of sports and exercise. 
Rip & Tan: What are you looking forward to this fall? What do you love about the season?
MM: I'm looking forward to windy days on the Malibu beach when the crowds have gone. I love time around the fire, the coziness of staying in, turning inward, catching up on books, movies, and TV.
Rip & Tan: What do you wear when you want to feel comfortable? What's your uniform?
MM: I wear a lot of denim. White tees, tight denim, well cut trousers, button downs. I love men's clothes that are tailored for women. 
Rip & Tan: What do you wear when you want to feel glamorous?
MM: For me, glamour is all about material and touch. Great thick cashmere, silks, lace. It can even be an incredible set of sheets. 
Rip & Tan: What's the best style advice you've ever received or come to realize on your own?
MM: We must dress for ourselves. Dressing in order to impress or please someone else steps on a piece of your soul.