Living
Inside Doula Paula Mallis' Modern Venice Beach Home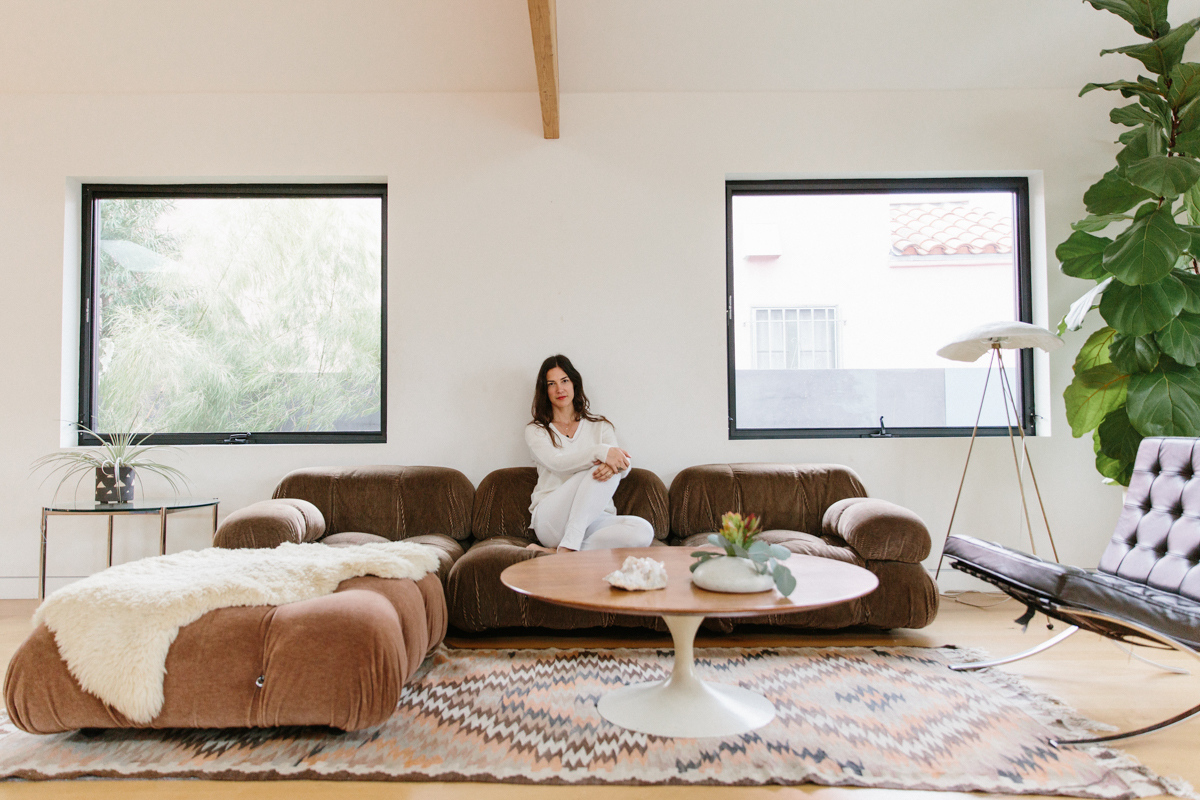 Paula Mallis is a talented doula, yoga teacher, and meditation guide as well as a mother to a beautiful little girl named Madeleine. She and her husband, Todd Mallis, a designer and builder, have a unique and inspired home in Venice that they were kind enough to allow us to feature for our latest interior tour. I love the warm, natural materials, minimalist décor, and large windows throughout the house. It's such an amazing space and it's great that Paula is able to use it to host her popular women's circles and counseling sessions. Being passionate about what you do and being able to do that work in an environment that motivates you is truly special. I hope her home and career insights inspire you too! XXJKE 
Rip & Tan: How did you become a doula? What led you to this career path?
Paula Mallis: I was at a turning point in my life looking for something new but had no idea what path to take or what was next for me. I became curious and interested in learning more about doula work, so I signed up for training. I found out the first day of the training that I was pregnant with my daughter. That was truly the beginning of a journey that would change my life forever. After giving birth to my daughter and having a doula by my side, I wanted to give back to at least one woman in the way my doula was of service to me. I went to my first birth and I was hooked! I have been attending births ever since. 
Rip & Tan: What don't people realize about your practice? What would surprise them?
PM: People assume I am a midwife. What they don't realize is that I don't catch babies—well, I haven't yet! I got close to catching one once. As a doula I guide my clients on their journey from pregnancy into motherhood by supporting them emotionally, physically, and spiritually.
Rip & Tan: What are some of the challenges of the job? What's the best thing about it?
PM: The most challenging is being on call. I have to be on call two weeks before my client's estimated due date, and two weeks after. Basically I have to take a month off to not risk missing a client's birth. 
That said, attending births as a doula has changed my life. I could never put into words the feeling that rushes over me when a baby, mother, and family are born. To bear witness to a woman's birthing process and hold space for a baby's arrival into this world is the most magical job. 
Rip & Tan: How do you balance your work as a doula with your other projects such as yoga and meditation?
PM: The passion for what I have been called to do is the driving force. I don't feel like I am working—it's all play for me. Doula birth work has taught and inspired me with all the different aspects of my life and the expansion of my career. I believe as women we are always birthing something—that's what makes us women! So whether I am attending a birth, working one on one, facilitating a circle, or teaching a class I am holding space for women as they are on their own unique journey.
Rip & Tan: What goals do you have for your career in the future?
PM: I am opening a women's healing and wellness center in 2017 called WMN Space, which is the expansion of all I have been working on and more. This is what I have been birthing and am so excited to share this coming year! 
Rip & Tan: Where do you live and what do you love about it?
PM: We live in Venice Beach, California. I love Venice for its community vibe and being so accessible to all the conscious foods, farmer's markets, and restaurants. We moved to Venice almost ten years ago and even with all the change, Venice still has an incredible community that is really self-supporting and conscious. For such a small town it's amazing how well it facilitates the community in such a positive way.
Rip & Tan: How would you describe the décor in your home?
PM: My husband built and designed our home. We refer to our home as warm minimalism.
Rip & Tan: What is your favorite room or space in the house and why?
PM: Our living room is really our kitchen, living, dining, and my daughter's playroom. The room is over 100 years old and was the original two-bedroom house that was here before we renovated the structure. Our intention was to create a room for the entire family to hang out, connect, eat, play, entertain, and be together. 
Rip & Tan: How do you tend to entertain? Who do you host and what do you do or provide?
PM: Our living room allows for us to entertain our friends and family for a relaxing meal and uplifting conversation. Our home has been a sacred space that has housed my work for almost 4 years. I have hosted and welcomed almost 1000 women sitting in circle since that time. Whether they are called into the journey of motherhood, in need of support from other women, or seeking out community in a safe and loving environment, our home has facilitated these gatherings. 
Rip & Tan: What stores or brands (or flea markets, etc) do you like for home décor? 
PM: We love Merchant Modern in Venice, The Mart Collective in Venice, and First Dibs on those special occasions. I usually recruit my husband to scour when we know exactly what we are after. 
Rip & Tan: What wellness or beauty rituals do you cherish?
PM: Epson salt and essential oil bath while meditating to kundalini mantras. 
Rip & Tan: What are some beauty products you swear by?
PM: Currently I am obsessed with the skincare line Eminence Organics. I have sensitive skin and am prone to breakouts. This line is organic and deeply cleanses the skin while preventing acne.
Rip & Tan: How do you stay healthy in terms of diet and fitness?
PM: I love all of Moon Juice especially my go-to smoothie. An alchemy of cacao, almond milk, coconut butter, banana, ashwaganda, and blue adaptogen protein. I also have a weekly practice of integrated Pilates. This Pilates philosophy is grounded in alignment of the mind, body, and spirit. 
Rip & Tan: What makes you feel more beautiful in your own skin?
PM: When I was pregnant with my daughter I felt the most beautiful in my skin. Today I would say after I attend a birth or lead a circle, I feel so lit up within and connected to all that I am.
Rip & Tan: Any wellness or beauty tips for expecting mothers out there?
PM: Meditation and cat/cow pose stretches daily. And Jiva Apoha's AMMA (Mother) Body oil for the pregnant belly.