Living
Inside Caroline Feiffer's Light-Filled Copenhagen Apartment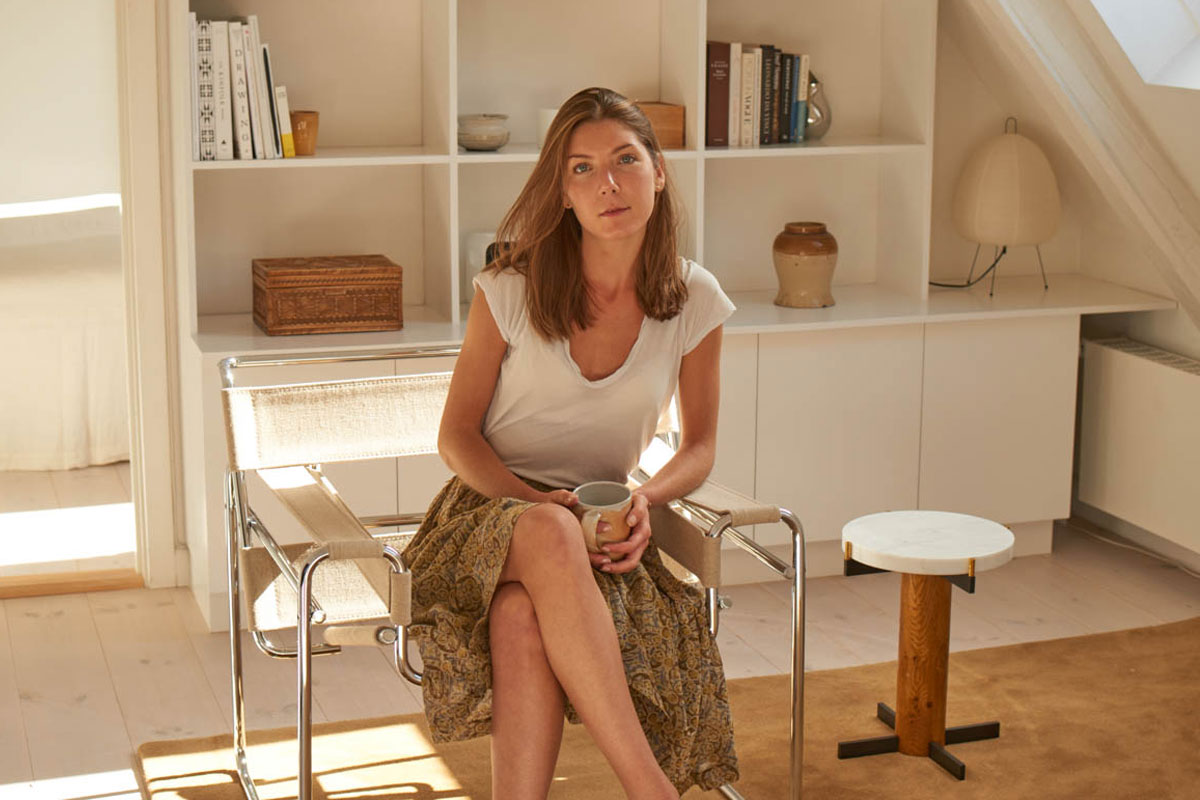 Located in the heart of Copenhagen at the top of a historic townhouse, Caroline Feiffer's apartment is the ultimate city pad—and yet feels like it could be in the middle of the country at the same time. It spans just 860 square feet but feels open, airy, and so peaceful. That's due, in part, to the apartment's beautiful tall, slanted ceilings and many windows, and also to the fact that Feiffer—a designer and branding expert by trade—has appointed it in such a spare, warm, and natural way. It certainly helps that Feiffer's partner Steffan is a woodworker; he custom built furniture, closets, and cabinets to make the space more functional and cohesive. Caroline was kind enough to share a bit more about her home and work as a designer for today's profile. I hope you enjoy her space as much as I do! XXJKE
Rip & Tan: How long have you called Copenhagen home? What do you love about it?
Caroline Feiffer: I've lived in Copenhagen all my life only disrupted by a short period in New York—I do travel immensely. I love the relatively small size of the city's layout; we can walk and bike everywhere, which is rare for a big city. The streets are narrow—pedestrian-like, I really treasure this easy fresh air/physical transportation in my everyday. And of course, I love the architecture. Copenhagen has so much history. I am grateful for the beautiful surroundings our ancestors created and build for us to live in.
Rip & Tan: What drew you to this specific apartment?
CF: Coincidence, really. Our previous home sold much more quickly than we imagined it would. Luckily we had an architect friend with a connection to this building. Our first showing of the apartment was a sunny early spring day. We walked via Christianborg Palace over the bridges by the canals we now neighbor. We knew the area and that it might have that perfect 'pocket feel' we were searching for in the heart of the city. We walked the two flights of stairs to the top to find that light was streaming in. Even with all the clutter we felt that this was too magical, with the beams and the spire ceiling height, not to say yes to. We moved in shortly after with only a few boxes and a mattress—starting from scratch on this blank canvas. 
Rip & Tan: What major updates have you made to the bones, floor, paint, etc?
CF: We've brightened up everything with a soft matte cream white, the beams in a slightly brighter and shinier white to contrast the matte. My husband is a woodworker and we both have a passion for genuine materials and solid wood—the sound and feel. Steffan custom built closets, the bookcase shelving and cabinets for the living area back wall, and changed the kitchen to solid wood, hand painting it white to get the same wood feel as the flooring and beams. Finally, we made an atelier space addition above the entrance hallway and kitchen, functioning as my small study.
Rip & Tan: What is your favorite aspect of the space and why?
CF: I love the center space of our home, which is the dining/kitchen area. There's such great energy by our wooden market dining table with the double glass doors to let in fresh air and sun and the high ceiling. We are almost always here, either cooking in the kitchen, co-working, or dining and entertaining friends. I love to cook; salads and ice cream are my thing. I also really feel happy in the addition study atop the kitchen with great views of the entire layout – it's my sanctuary place filled with pins, books, magazines, references, samples, inspiration and ideas for current and future projects.
 Rip & Tan: How would you describe the décor?
CF: Calm and natural; combining history with modern, balancing contrasts with style, form, color, graphic and organic shapes, antiques and new with natural materials. The key is balance and harmony. 
Rip & Tan: Where did you find some of your favorite décor elements in the space?
CF: Many of the unique and antique elements; the Charlotte Perriand Meribel chairs, the pine market table, linen cabinet desk, the round wooden three-leg table, vases, ceramics, lamps, bowls and tableware etc. are collected from travels, markets or antique dealers.
The more modern and new design pieces, such as the classic Italian linen couch and ottoman are both from Gervasoni. The steel and linen chair is a Marcel Breuer Wasily and the small round side table with a solid oak cylinder and marble top is designed by our friend and Danish furniture designer Rune Bruun Johansen. Finally, some of our own designs made by Steffan; the cubic Douglas pine bedside table, the matte lacquered clay red wooden bench behind the sofa, etc.
Rip & Tan: What are some of your strategies for living well in a small space?
CF: Weather you live small or big, home is where you clear your mind and recharge. For me light is super important. Think: bright neutrals, airy furniture and natural materials like wood, stone and linen. Surround yourself with what nourishes your mindset and choose the necessary objects and elements that reflect your state of mind and give you a personal sense of tranquil harmony. 
Rip & Tan: Do you entertain at home? If so, who comes over and what do you do?
CF: Yes, we love to entertain in our home. Having creative heads we both believe that we are constantly receptive and that ideas are evoked through inspiration and perception from our surroundings and most definitely through interesting conversation. It usually involves natural food and wine and almost always ice cream for dessert.
Rip & Tan: Tell us about your career path. How did you become a designer?
CF: I was aiming for professional dancer and later, choreographer and teacher. I had it all laid out until I found that my body couldn't keep up: I got injured and couldn't return on the same level. I had just finished school and had only known to express myself through movement to music. I needed some time to figure everything out. That's when I started working in luxury fashion with merchandising and later buying, simultaneously with my studies, since I had always admired style and appearance by observing my elegant and noble grandmother. I had good grades and a curious mind so I decided on an academic path although I knew it had to involve creativity, arts and expression in some way. I studied brand design which ultimately resulted in a coalesce between spatial design and branding.
I have always known that I was more than commonly observant, receptive and sensitive of my surroundings. I remember noticing TV-series and movie sets very early on, the layouts, objects, style, tone and setting much more than the actual story and plot. One of the clearest memories I have is from the original "The Parent Trap", Disney 1961. I remember being madly in love with both houses, the aristocratic old townhouse in Boston and the setting at the ranch in California, I could watch it on repeat. Now I advise, strategize, direct and design for brands allowing for personality and values to become visible through spatial design and branding.
Rip & Tan: What is your typical or ideal work day like?
CF: I am an early starter up at 6am, I make breakfast and coffee which I either have in the living area with an update morning read or take it to the study if I need to get going on an early start.
I usually head to yoga or ballet bar afterwards, or in the late evening for a restorative yin session if I have had a busy day and need to loosen up any tension. My workdays are never alike and that's exactly what I love, mostly they combine meetings, deskwork, and sourcing.
Rip & Tan: What do you love about your job? What is most challenging?
CF: I am an ideas person, so references are something I collect without noticing, it's natural for me to source, incorporate, and transfer when designing. It's what I love the most and also what is the most challenging since I am really bad at switching off.
Rip & Tan: What designers, architects, or makers inspire you? Whose work do you love?
CF: Charlotte Perriand, Le Corbusier, and Pierre Jeaneret their language speaks to me on all levels; form, color and materials. Jean Arp for his organic shapes, Eileen Gray for her simple timeless elegance, Frank Lloyd Wright and his graphic pattern mind, Luis Barragan and his use of colors to contrast neutrals, RM. Schindler's futuristic modernist view, Neutra and Mies van der Rohe for modernist too, Donald Judd and his interpretation of design and simple works and of course the Scandinavian aspects of design heritage—there is much to learn and draw inspiration from, I could go on and on. 
Rip & Tan: What is your professional mantra? What overarching belief guides your work?
CF: Choreographies, merchandising, buying, or setting—it all adds up to context and overview when assembling in cohesion. I have a mantra / word; "tutti" it's Italian and literally translates to "all together" especially as a direction used in orchestras to describe all voices or instruments performing together, while each object has its own voice they have to impress with a setting as a whole. This is how I see design, everything has to perform together. It's generally also how I see the world and our responsibilities for cultural insights and civility.
Rip & Tan: How would you describe your personal style? What do you tend to live in?
CF: Timeless, classic, feminine – elegant but casual. Simple with natural colors and maybe a print to contrast. I rarely wear black. I love skirts and dresses (did I mention I used to be a dancer) But jeans and cashmere sweaters for fall are essentials.
 Rip & Tan: What do you wear when you need or want to dress up a bit?
 CF: I don't really distinguish. I like to feel appropriately dressed for diverse occasions. I would however probably add mascara and maybe a pair of heels.
Rip & Tan: What are some of your beauty staples?
CF: Santa Maria Novella soap and lotion, plus the eucalyptus relaxing gel for legs—it's extremely soothing and refreshing. For moisturizer, Kjaerweis The Beautiful Oil. A friend introduced me and I've been hooked ever since, it's so pure. For hands, always firm old fashioned soap and Jo Malone Geranium lotion. For lips, La Mer balm.
Rip & Tan: What wellness rituals do you cherish?
CF: Baths, herbal tea, and opening yin poses for hips and chest.
Rip & Tan: How do you stay healthy and happy?
CF: We are very produce-aware; everything possible in our household is preferably biodynamic, organic, or local. Greens are center and usually accompanied with protein. I am healthy but not obsessive. I love a glass of natural wine and cheese, and I can't live without ice cream. I do barre training, yoga and walk/hike/run and generally love to be active outdoors.
Rip & Tan: What are you reading/watching/listening to right now? Who or what is inspiring you?
CF: I am currently reading "Bunny Mellon: The Life of an American Style Legend" by Meryl Gordon. It's a wonderful fall read beautifully written with aesthetic descriptions of her decorative mind and fascinating life in an era I wished I would have experienced. We've traveled in Italy during the summer and I've found myself really being inspired by ancient landscape and gardens.