Entertaining
In the Veggie Kitchen: Holiday with Nickey Kehoe and Julie Morris - The Decor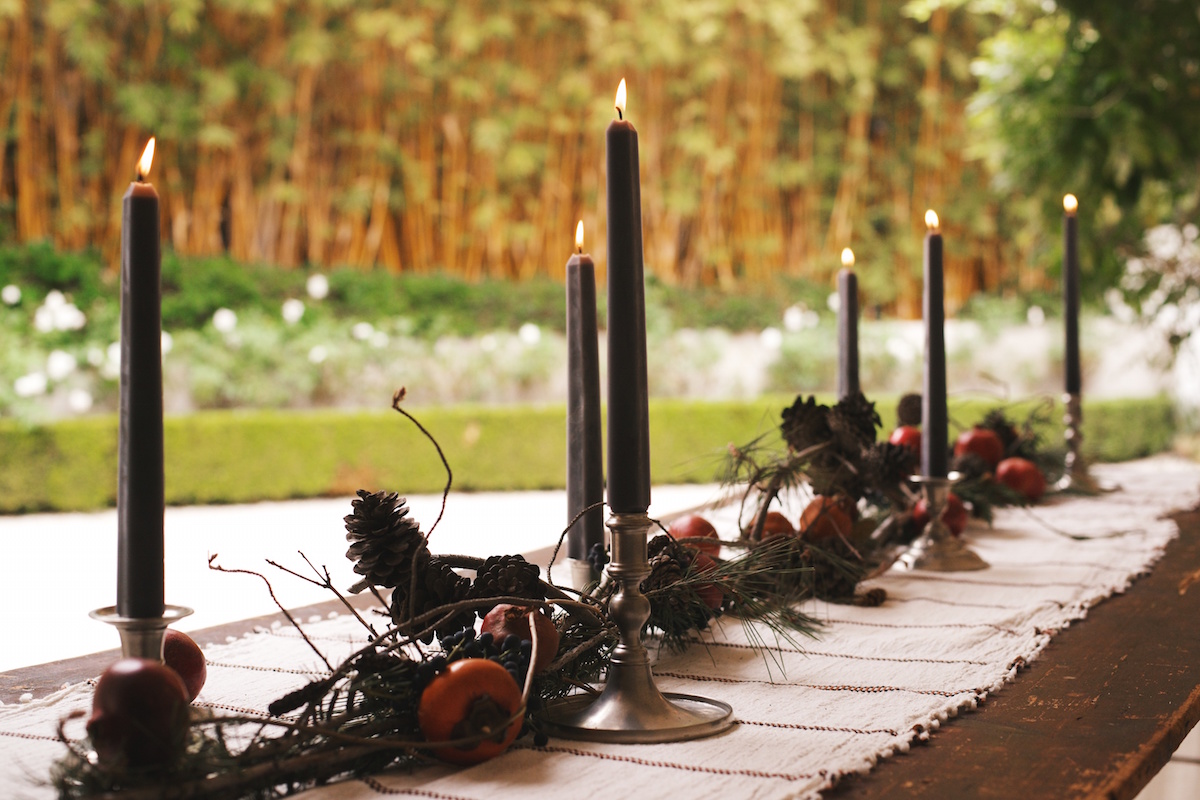 I've admired the work of Todd Nickey and Amy Kehoe, the amazing team behind Nickey Kehoe, for ages. Some of my favorite designers (with the most incredible eye) their shop is a no-fail favorite for items for home – particularly decorative accessories and tabletop. With this in mind, I loved the idea of creating a holiday tablescape with this talented duo, and thought it the perfect backdrop for our next get-together In The Kitchen. Happily, they did too.
Once again in collaboration with The Chalkboard Mag, this afternoon of culinary inspiration featured tasty bites and the perfect cool-weather sip courtesy of superfood chef Julie Morris (more on that deliciousness tomorrow). And featuring elements from Nickey Kehoe, gorgeous florals from a new favorite, GoldSpell, and linens from the lovely Heather Taylor, our decor was all things warm, inviting, and decidedly festive. See below for all the holiday decor details. XXJKE
THE DECOR
Glassware, Mugs – Japanese Espresso Mugs and South African Ngwenya Adams Glass with Reuben Stem
Serving Trays & Platters – Terrafirma Dot Bread Tray in Chestnut, Terrafirma Dot Black Tray in Black, Astier de Villatte Adelaide Plate, Astier de Villatte Sobre Oval Platter
Candlesticks and Candles – Match Pewter Candlesticks (small), Match Pewter Candlesticks (large), Grey Obelisk Candles
Linens – Heather Taylor Soho Napkins, and Heather Taylor Toffee Stripe Scarf
Florals – GoldSpell
Inspired by the botanical landscape of Southern California, designers Ashley Morgan and Mimi Jakobson created woodsy, rustic floral elements festive in color yet light in feel. To do so, they pulled mostly from the San Gabriel Valley's three varieties of pine branches, including mature and new pine cones from a white pine. The three pine varieties were woven together into a garland secured with twine, which ran down the center of the table. Into the garland, they tucked new and mature pomegranates, fresh persimmons, cedar with petite blackberries and wild blackberry branches. The same stunning composition was used for the vased arrangements, and a sprig of cedar served as a festive napkin treatment.
Photos: Yayo Ahumada