Food & Drink
In the Kitchen: Smoothie Bowls with Lee Tilghman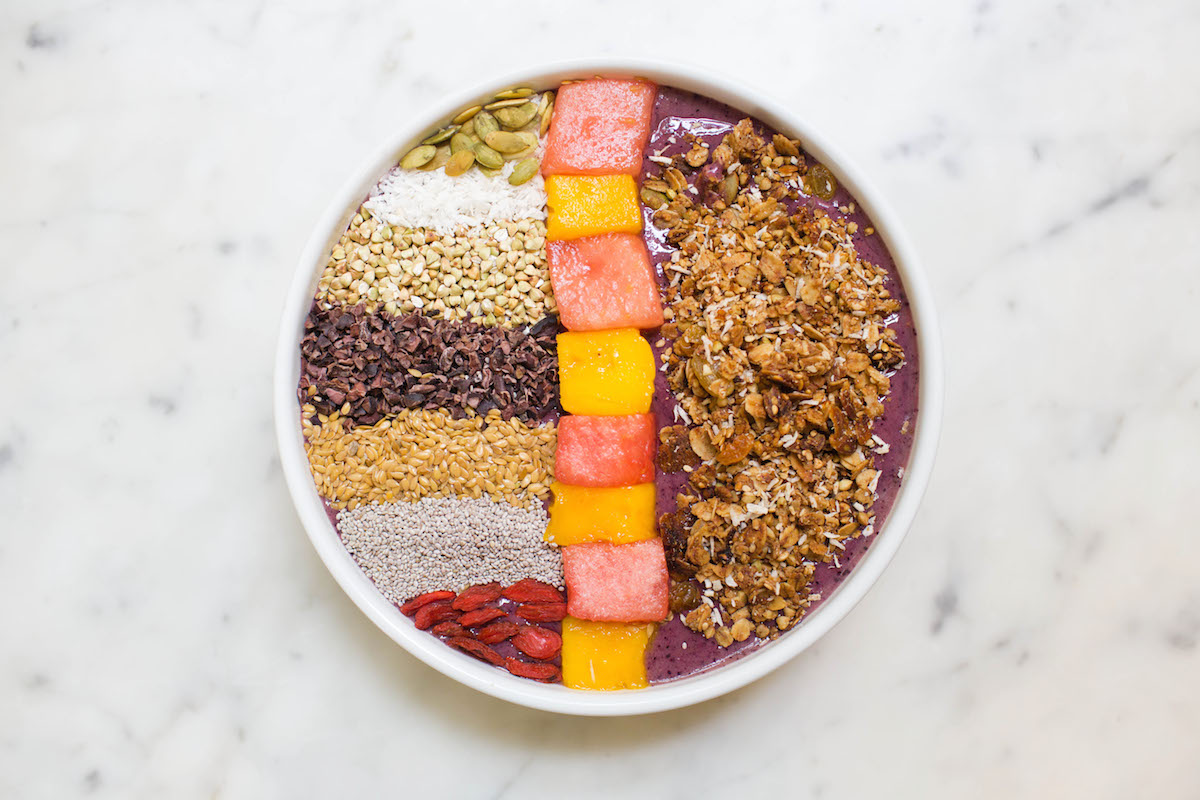 I heard about the lovely Lee Tilghman and her amazing smoothie bowls from our friends at Alma, and knew I wanted to experience them for myself. Author of the popular blog Lee From America, and all around healthy food and lifestyle enthusiast, Lee and her smoothie bowls have become a bit of a phenomenon – and for good reason. Packed with superfoods (and almost too beautiful to eat), they are such a great way to start the day. And for some reason, eating all the goodness they contain with a spoon, rather than drinking it up, feels all the more satisfying. Lee was kind enough to join us in the kitchen for a morning of inspired smoothie bowls, and shared some of her favorite ingredients and tricks for assembly, below. XXJKE
R+T: Your smoothie bowls are a thing of (delicious and healthful) beauty… What inspired you to start making them?
Thank you so much! I grew up on smoothies and have been making them for years. My mother used to make them for my sister and I during the hot summer days and I would always love to help create new fruit combinations. I started making smoothie bowls a few years ago when I began a serious exercise routine. I loved having a big refreshing smoothie post-workout, but found that a normal smoothie in a glass cup did not sustain me for very long. I wanted my smoothie to feel more like a meal and less like a quick liquified snack. Pouring my smoothie into a bowl and getting creative with healthy toppings such as bee pollen, my crunchy Granolee, and fresh fruit, it quickly became my favorite meal and time of the day. The smoothie bowl allows for endless creativity, textures, and flavor profiles – not to mention, they have serious visual appeal.
R+T: Can you share a bit about the ingredients you like to use? What do you use for your base? And what are some of your favorites for toppings?
I make my own sprouted almond milk as the liquid for my smoothie bowls. If I don't have almond milk on hand, I'll use coconut water or even matcha green tea. For the base, I'll usually use thai coconut, bananas, or avocados. Sometimes I will add an unexpected touch, like Sun Potion's Pine Pollen or some spirulina. I love topping my bowls with chia seeds, cacao nibs, shredded coconut, bananas, flax seeds, Granolee, and edible flowers. You must have a garnish. Always have a garnish!! I love adding fresh wild edible flowers like nasturtium which I have growing in abundance in my own backyard in Echo Park.  I also know all the good spots for foraging edible flowers in LA and tackle them during my runs. I'm all about killing two birds with one stone!
R+T: Speaking of toppings, tell us about your Granolee…
Granolee is my organic granola company. I use local honey from my friend's bee hive in Echo Park. He hand delivers my honey every week. All the ingredients are organic and gluten free. It's slow roasted, super crunchy and VERY addictive. I sell it at my pop ups (called Granolee) that I do at Alma in LA. The next pop up is at Alma on June 28th! It will also soon be available online and in some specialty stores, hotels, and cafes around LA. Follow @Granolee on Instagram for more information!
R+T: Now that we have our ingredients, can you share some tips for putting it all together?
First, make sure you have a powerful blender, such as a Vitamix. They're the best investment in your health and worth every penny. Use the tamper while blending to make sure you acquire the smoothest results.  Secondly, make sure your liquid to solid ratio is on point. If you add too much liquid, your toppings will sink. Too much solid, and you'll burn out your blender! Thirdly, keep in mind the following aspects while building the bowl: food combination, flavor, nutritional benefit, and aesthetic. For instance, if I just worked out, I'll sometimes add more protein (like nuts) to the toppings. I have a tendency to love when my bowls are super vibrant and brilliantly colored. I've been loving green smoothie bowls lately, with handfuls of spinach and creamy banana. Lastly, get creative. There is no way wrong to build a bowl. The base is your canvas, and the toppings are your paints. Time to let the creative juices flow. Once finished, enjoy the bowl in a way that is meaningful to you – in the sun, with your family, even out of a to-go container sitting at your desk at work. A smoothie bowl is like giving your body a warm, loving hug. Your body will love you all day long!