Wellness
Discover Captain Blankenship's Transporting Beauty Products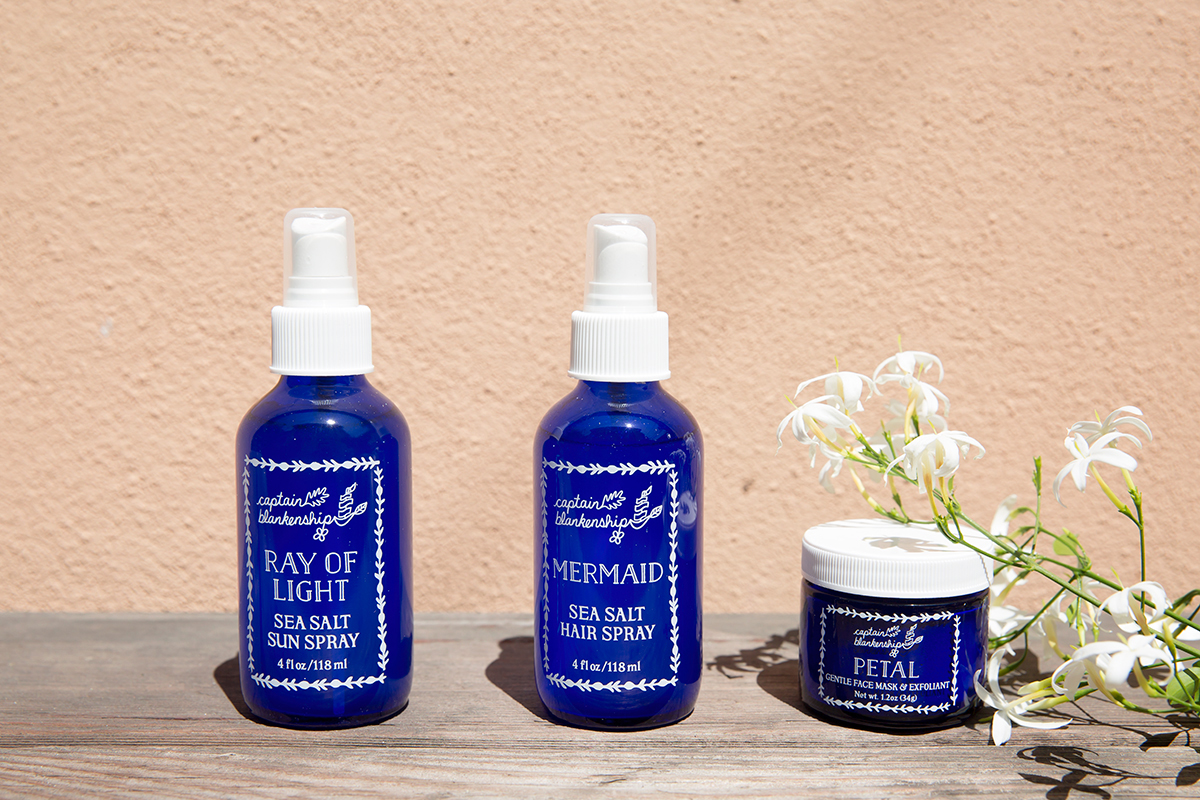 Of all the natural beauty brands around right now, Captain Blankenship is one that really stands out. That is mostly because the delicious scent of the products, but also because the products themselves are truly unique. Instead of the requisite shampoo, conditioner, moisturizer, and the like, the brand's lineup includes shimmery salt spray for hair, natural cream deodorant, and sage spray—for clearing energy without filling your home with smoke—among other useful concoctions. Each product feels really thoughtful as a result; and the fact that the formulas deliver on performance only makes you fall for the brand even harder. Learn a bit more about Captain Blankenship's story and mission through our interview with the brand's founder, Jana, below. XXJKE 
Rip & Tan: When did you start your amazing line? What inspired you to go for it? 
Jana Blankenship: I started Captain Blankenship in 2009 in Berkeley, CA. The background of the line starts when I was a kid. I grew up in Cambridge, Massachusetts in the '80s and I was the little girl outside infusing rose petals and pine needles and making potions. My mother was a fashion designer and would accumulate all these toxic '80s perfumes that she didn't care about. She would let me mix them into my own perfumes. From this heavy mixing, I actually ended up developing a sensitivity to synthetic fragrances.
In 2005 I moved to Berkeley, CA. I was working full time as a curator and had a background in painting. I really missed my own art practice and ended up studying natural perfumery. I studied with the amazing natural perfumer Mandy Aftel and found this dimension that had been missing from my life. It was an incredibly rich new palette to work with that was so lush and evocative and so deeply tied to nature and memory. From there, I dove in deeply, studying herbalism and soap-making. I started to make organic products for myself, friends and family with beautiful, experiential essential oil-based scents at the heart. Living in California at the time we spent so much of our time on the coast; hiking, being outdoors. I wanted the line to use beautiful wild and organic ingredients and to evoke the experience of being in nature.
Rip & Tan: What is your process like for coming up with new product ideas and developing the formulas? 
JB: The process has always been very fluid and organic. I don't create products based on trends. It's funny, someone came up to me at a trade show recently and said how on point I am right now with my Mermaid Sea Salt Hair Spray. It is one of the original products I created in 2009. I like to start from thinking of a product that I would like to use that I haven't found, or someone will suggest an organic product they feel is missing from the market. The process of creating a new product for me is so joyful. I'll start composing ingredients I would like to use and dreaming about the scent. Then I get into the lab and start to test these ideas out. The product could go through many different iterations until I come up with something I am happy with. Then I give it to a range of loved ones to try for feedback.
Rip & Tan: Where do you source your ingredients and where are the products made?
JB: Over the years, I have culled the sources for each ingredient I like to work with, say organic rose or lavender essential oil. Each ingredient is sustainably sourced and wild harvested or organic. Part of our mission at Captain Blankenship is to only use ingredients that have integrity and that are effective and dynamic parts of our formulas. Many of the products are made at our studio in Gardiner, New York and that is where I develop our new products. To keep up with the growth of our business, we recently started working with an organic beauty manufacturer to produce some of our products. It is a challenging and exciting journey to scale up with integrity.
Rip & Tan: The scents of your products are so amazing! How are your fragrance formulas different than the fragrance found in most conventional beauty products? 
JB: Scent is really at the heart of our products and the desire to make them as experiential as possible. I wanted the scents of the products to be complex and not one noted like many natural products. We only use organic and wild harvested essential oils to scent our products, all of which have other beneficial effects on skin, hair, body, and spirit. Conventional beauty products use synthetic fragrances, which are totally unregulated and can be made of thousands of chemicals. It is scary stuff.
Rip & Tan: What product is a best-seller and why do you think it resonates with women?
JB: Our Mermaid Sea Salt Hair Spray has been a best seller since day one and I think it is because it brings out the best properties of hair naturally. It adds just-left-the-beach texture to hair but the organic aloe vera and sea-kelp extract ensure your strands remain hydrated.
Rip & Tan: Tell us about your team and office. Who makes up the company?
JB: We are a small team of women running this ship out of our studio in the Hudson River Valley. Amy helps make products and handles operations, Shannon fills orders and does customer service, Alexandra handles sales and marketing, and Sara does social media and photography. I wear many hats, but as a mama of two small children am learning how to delegate. I try to focus my energies on the creative aspects of the company as well as product development.