Living
Ceramic Artist Desanka Fasiska's A-Frame Home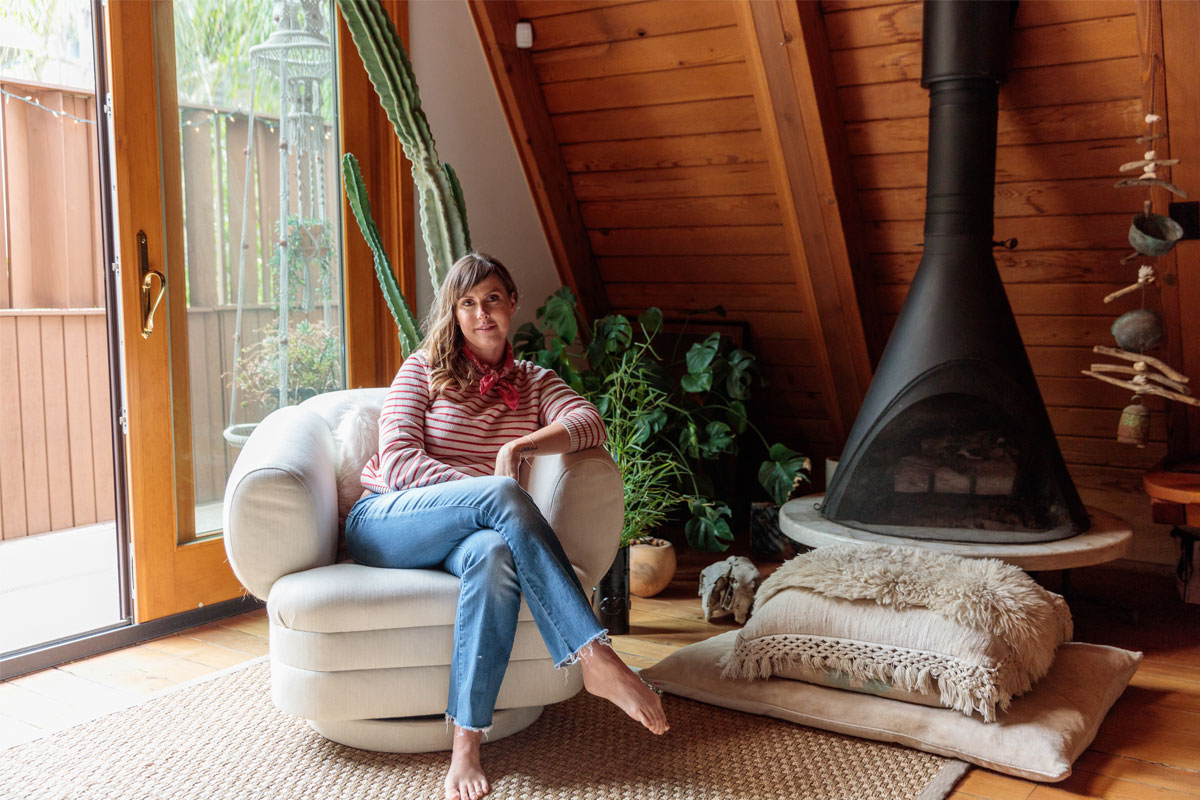 I love all kinds of homes but I have a soft spot for cabins and classic A-frames. I love the cozy vibe of this style of architecture and seeing how the people who inhabit these homes find inventive ways to navigate small and unique spaces and also bring the outdoors, in. Desanka Fasiska's beautiful '60s A-frame is a perfect example of this. From her open-plan bathroom that looks out into the forest, to her backyard lounge area where she entertains guests, her space is so unique and instantly gives you a sense of happiness and calm. It certainly helps that Desanka is a talented interior designer, ceramic artist, and all-around creative person. The mix of earth and glam elements that appoint her space certainly enhances the architecture!
Take a tour of Desanka's home and learn more about her gorgeous line of ceramics below. Plus, stay tuned tomorrow for her take on how to wear my camping-inspired Summer 2017 collection. XXJKE
Rip & Tan: Tell us about your beautiful home. How did you come to find it or what's the story behind it?
Desanka Fasiska: I bought my home 5 years ago. My father built an A-frame in West Virginia on Cheet Lake when I was a little girl. We spent so many magical summers there until he sold it. I've always had an intense nostalgia for A-frame houses. I saw this one on Trulia and I knew it was my house. It was the only house I looked at! 
Rip & Tan: What design projects have you taken on since moving in? Anything you'd still like to do?
DF: I did a total remodel when I moved in which included the kitchen, master bedroom and the extra room that used to be a small sunroom/mudroom and is now Rocky's nursery. I completely redid the yard as well but I still have a lot to do out there. I'd like to build an outdoor kitchen and make a play area with a big finger painting wall and tree swing. I would also love to build a chicken coop in the veggie garden but I think that will have to wait until Rocky is older.
Rip & Tan: What's your favorite room, corner, or detail in the house?
DF: The whole house is my favorite but I love the exposed claw foot tub in my bedroom. I use it all the time!
Rip & Tan: Tell us about the décor. Where did you find the majority of the pieces and how would you describe the aesthetic?
DF: I describe my style as "Biba meets Big Sur" because I love a little 1970s glam but I'm also super earthy. 
Rip & Tan: How do you tend to entertain in your home? What do you do for you guests?
DF: I do most of my entertaining outside. We love to host BBQs and have pool parties.
 Rip & Tan: You're a new mom! How did you make space for your new baby in the house?
DF: We made our little sunroom/foyer/laundry room into Rocky's bedroom and have now redirected people to come in and out of our back door. It's actually working out really well! It may not be ideal forever but I can't imagine moving out of our house anytime soon. I want Rocky to grow up playing in our yard and climbing all those trees!
Rip & Tan: You spent many years working in the fashion industry. Can you tell us about that part of your career?
DF: I was a fashion designer for about 13 years. I had my own line called Desanka and co-designed a line called Of Two Minds. I still consult and have helped lines like Loveshackfancy and Cheyann Benedict launch their brands.
Rip & Tan: What did you learn from this period of your life that you still rely on in your career today?
DF: How to use merchandising to create a great brand and that I never want to have to have a business that has defined seasons and product that "expires". I took those two things with me when I launched my home decor and ceramics line, LUX / EROS.
Rip & Tan: What inspired you to pursue a career in interior design and ceramics?
DF: I started doing ceramics as a hobby about 8 years ago because it was a great creative outlet that was the opposite of fashion. It was dirty, messy, and freeing. I have also always helped friends with their spaces. I was feeling pretty burnt out by fashion a couple years ago and wanted to work from home so going in that direction just felt like the natural next step. 
Rip & Tan: What work projects or events are you excited about right now? What are you working on?
DF: I'm working on being a new mom and keeping my very new business going. I don't have room for much more these days! I mom 4 days a week and I am in my studio at night the 3 days a week that I have help. I never see friends anymore but it's worth it putting all my energy into two things I love so much. I know the sacrifice will pay off!
Rip & Tan: What goals do you have for your career in the future?
DF: I want to build LUX / EROS's online direct business with my ceramics and expand into other products and hopefully open a couple LUX / EROS brick and mortar retail stores.
Rip & Tan: What wellness ritual or beauty routine is making you feel your best these days?
DF: I used to be a sucker for a Korean spa day and to indulge in new beauty products. These days I'm lucky if I can remember to take my multi-vitamin and get in a bath once a week! The best I can do to feel like I'm living my best, healthy life is cook healthy meals for my family, make Rocky's baby food, and take him out for walks. 
Rip & Tan: What products have a firm spot in your medicine cabinet?
DF: I became obsessed with lavender epsom salts when I was pregnant and still use them when I get that rare moment to soak in the bath. I live for vitamin C serum. It keeps me from looking exhausted.
Rip & Tan: What clothing are you loving and living in these days? Has your style changed since becoming a mom?
DF: Oh man, yes. I'm really loving coveralls and loose jumpsuit that are easy to breastfeed in and high-waist pants to cover and suck in my tummy!
Rip & Tan: What is inspiring you right now when it comes to style or beauty? What image, muse, or brand?
DF: I'm obsessed with all the girls shaving their heads these days. I did it in highs school and wish I could pull that look off now (would be amazing to not have a baby grabbing and dangling from my hair) alas, I think those days are over so I'm admiring that look from afar. My forever muse is Françoise Hardy.
Rip & Tan: What are you listening to/reading/watching right now?
DF: We are deep in a politics hole so we are pretty much consumed by the news, Bill Maher and John Oliver. I listen to a ton of podcasts while I'm working in my studio – like, literally all of them but my favorites are: Reply All, Savage Lovecast, How I Built This, Start Up. All of the ones about business are great!