Living
Annie Campbell, Inspiring Chef and Party Mastermind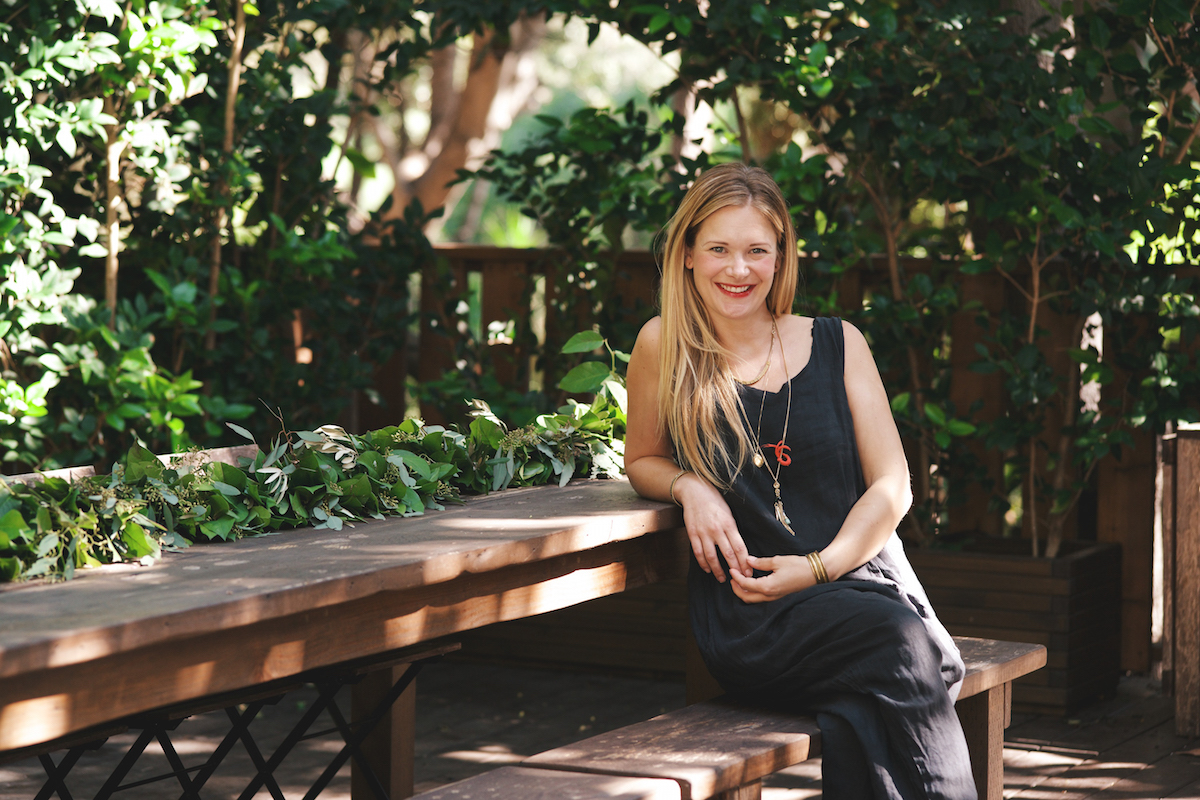 Time after time, my talented friend Annie Campbell has been responsible for some of the most inspired and beautiful recipes in these pages. An incredibly creative chef and party planner, she has a passion for strong themes and loves to put a twist on tradition. Along with her husband, Greg Murnion, she runs Annie Campbell Catering, a bespoke party-making business known for seeking out the very best organic, seasonal ingredients. 
Beyond having impeccable taste when it comes to food, cocktails and entertaining, Annie has a style and home that I love. She lives in a 1950s ranch home in Laurel Canyon that she and Greg gut-renovated with modern and traditional twists. They share the space with their miniature daschund George and two-year-old son, Teddy, who will be joined by a baby sister any day now. Tomorrow I'll share details of her memorable baby shower, but for now here's a peek into her lovely life and work. XXJKE
Decor
Rip&Tan: What is your design philosophy for your home? 
AC: I aim for our home to be comfortable, inviting, peaceful and fun. I love to embrace the indoor/outdoor living advantage of LA. With a crazy business and toddler, the biggest challenge is organization, which is crucial – I'm working on it!
Rip&Tan: What is your favorite room in the house?
AC: Our living room is cozy and where people gather (once they've been kicked out of the kitchen).  Alison Koch of Outfit Home helped me put it together so it feels the most grownup, in the best way possible.    
Rip&Tan: What are your favorite pieces? 
AC: Our leather club chairs from Lief on Almont (found by Alison) and Teddy's crib from Moss Envy.
Rip&Tan: What are your favorite home stores?
AC: Outfit Home, Nickey Kehoe and One Kings Lane.
Entertaining
Rip&Tan: What are some of your tricks when you entertain?
AC: I love a theme, so that is a great starting point as it informs everything, namely the menu. Offbeat holidays are some of my favorites for festive entertaining: e.g. St. Patrick's Day, the Kentucky Derby, Day of the Dead. The best trick is to do as much in advance as possible, then you can enjoy your guests.
Rip&Tan: How do you set the scene?
AC: I love candles. Whenever I entertain, I have lots of votive candles lit on every shelf, surface and scattered on the ground outside: instant coziness. We also have bistro lights strung in the backyard that create a sense of festivity. And always a great cocktail or festive bottle of bubbly or rose. 
Rip&Tan: Plated, buffet, or family style for a dinner party?
AC: I love all three for different occasions – totally depends on the menu and vibe.
Rip&Tan: What are your favorite flowers and where do you buy them? Do you have a favorite florist?
AC: I love anemones and am also a big fan of flowering branches and garlands of all types. I'm lucky that I get to collaborate with amazing florists on a regular basis for work, namely Maurice of Bloom & Plume and Kristen of Moon Canyon.  
For my own parties, I'm more likely to pick up flowers from Silver Lake Farms at the Hollywood Farmers Market or, if I'm feeling ambitious, downtown at the Los Angeles Flower Market. I'm also into using seasonal fruits and vegetables, scattered with candles, as centerpieces.
Rip&Tan: Can you share a bit about your process when dreaming up a menu or event? 
AC: It starts with a conversation with my clients. I love to hear about their favorite childhood foods, restaurants and travels. From there, I turn to my collection of cookbooks for ideas, as well as notebooks filled with clippings. Restaurants are a huge source of inspiration for my menus, and I often look to websites from restaurants I enjoyed while traveling for ideas. With everyone changing their menus with the seasons, there is never a shortage of ideas. The rest comes together through collaboration. There are such cool vendors and artisans in LA and I love working with so many of them, as well as with Greg and our team.
Rip&Tan: What would you say are the key elements in creating a memorable get-together?
AC: Organization is the most important element.  To pull off the quantity and quality of events that we handle, I have to be highly organized.
On a more micro level, I think authenticity is the most crucial element to successful entertaining. You don't have to do everything, but really go for it in the areas that you're most excited about. If you're a rib guy, be a rib guy: let's do awesome BBQ. If you're a china girl, let's go nuts with Casa de Perrin. If you love to dance, let's splurge on a DJ and make sure the lighting is perfect. If you dream of flowers, let's let Maurice work his magic and create a hanging garden. If you want your children's fantasies to come true, let's absolutely call Peggy of Fire and Creme. If you just want to see your friends and have time for none of it? Order pizzas and call it a day. The party has to be organically inspired by the host and/or hostess.  
For me, it always starts with the food. The truth is, you can spend all the money in the world on a party, but you're only as good as your friends and family. Keep your guest list fun and varied.  Nothing beats funny friends.  
Rip&Tan: Where do you look for inspiration?
AC: Books, movies, magazines, Pinterest, travel, my childhood, my mom.
Rip&Tan: If you had to, could you pick a favorite meal or event ever planned?
AC: Teddy's first birthday party: a teddy bear picnic theme with balloons, corn dogs and an amazing chocolate cake. Simple and old-school.
Rip&Tan: The perfect finish to a long day (or night) would include…
AC: Drinking beers with Greg in our kitchen, debriefing on the night's event. Luckily I get to do this most nights. A truly perfect finish would include a massage!
Rip&Tan: You make the balance—between motherhood, a successful business etc.—seem so effortless. What's your secret?
AC: Greg. Also, I say yes a lot. People talk about putting up boundaries and the power of saying no. For me, saying yes has created better adventures.  
Food
Rip&Tan: Are there any chefs whose work you particularly admire?
AC: Suzanne Goin is a favorite and her cookbook Sunday Suppers at Lucques helped teach me how to cook and think about menus, from the farmers market to the serving dish.  Other favorites include David Chang, local heroes Jon and Vinny, Ralph Johnson at The Pikey, Alice Waters, Gabe Rucker in Portland and Jamie Oliver. Of course, Julia Child's spirit is the ultimate.  
Rip&Tan: Do you cook at home?
AC: Almost never. The way our business has grown has quickly transitioned from my cooking 12-plus hours a day to virtually not at all. It was so intense for so long that I've enjoyed switching it up and letting Greg and my team handle the kitchen. That being said, I really want to create space in my life to cook for pleasure – it's one of life's best things. I want Teddy and his sister to grow up in a home where soups simmer on the stove, meats char on the grill and cookies bake in the oven (for them, not just their parents' clients!). The last few years have been more chaotic than that, but ultimately, I'm very, very grateful.  
Rip&Tan: What is your favorite recipe? Teddy's?
AC: Wow, so many. My husband Greg's spicy Serrano chili margarita, Suzanne Goin's beef short ribs with horseradish crema, Ina Garten's rosemary cashews, our cedar-planked salmon, and my high school boyfriend's mom's chocolate chip cookies (I'll never tell!). Teddy loves everything, especially the salmon and short ribs!

Kids
Rip&Tan: What are your favorite stores online and in store to shop for kids? 
AC: Smallable, Petit Bateau, The Gap, Bonpoint. I haven't been very into little boy clothes, though I suspect that might change with a girl.
Rip&Tan: What's your favorite thing to do or place to go on the weekends with Teddy?
AC: Swimming, cooking and playing. We love entertaining as a family and Teddy is a very gracious host. In my fantasy life, Sundays involve a home full of friends with serious platters of bagels, lox and accouterments…a little champagne.
Rip&Tan: What is your favorite restaurant to eat at with the whole family?
AC: Genwa Korean BBQ (Teddy's favorite).
Fashion
Rip&Tan: How would you describe your style? 
AC: Relaxed, a mix of bohemian and preppy…a little scrappy!
Rip&Tan: Who are your favorite designers?
AC: Jane Mayle, Vanessa Bruno, Jenni Kayne, Rag & Bone, Black Crane.
Rip&Tan: What are the 5 pieces you can't live without this season?
AC: I am currently 37 weeks pregnant, so I am pretty much living in my Hatch Collection black jumpsuit, Storq leggings, Rag & Bone high tops, Birkenstocks and Greg's cardigans. It's getting a little pathetic.  
Rip&Tan: What is your uniform?
AC: Black jumpsuits—big time!
Rip&Tan: What are your favorite stores (online and in store) for clothing?
AC: Barneys, Creatures of Comfort, Jenni Kayne, J. Crew, Ten Over Six, La Garconne (online)
Rip&Tan: What is your favorite city for shopping?
AC: Marrakech was amazing for homewares. I mainly stick to the world wide web.
Beauty + Health
Rip&Tan: What are your go-to beauty products?
AC: I'm currently into Hydro Peptide: exfoliating cleanser, toner, eye authority and anti-wrinkle polish + plump (amazing – I feel like I have a fresh face when I use it once a week). For moisturizer, I use Kate Somerville's Nourish. For makeup, it's pretty simple: Stila cream blush and NARS powder blush (I'm a blush monster) and a variety of drugstore mascaras and lip glosses.
Rip&Tan: What is your biggest beauty secret? 
AC: I swear by Drybar: such a game-changer and very relaxing.  
Rip&Tan: What do you sleep in?
AC: Cotton pajama bottoms and tank tops. My husband refers to them as "little kid pajamas." After this pregnancy, I'm looking to upgrade my sleepwear look.  
Rip&Tan: What do you do to stay healthy and balanced?
AC: Doing something that I love for a living is the healthiest thing that I do. Regular exercise also helps combat anxiety and depression, as does good sleep. The California sunshine does wonders for my spirit, and spending quality time with friends and family is invaluable. Taking regular vacations is also key: totally crucial. P.S. no one would call me balanced.  
Rip&Tan: What workout do you swear by?
AC: I love Pilates and neighborhood canyon walks with friends. I use the app Class Pass and it makes working out fun, varied and very affordable.
Rip&Tan: What do you do to relax?
AC: It's laughable, but my favorite way to relax is probably throwing my own parties. I love it all: planning the menu, making lists, hunting for inspiring images online and then putting it all together. Also, reading is very relaxing for me: fiction. I love sitting with Greg at the bars of our favorite restaurants, drinking cocktails and eating great food. And I am always down for a Sex and the City marathon (maybe the ultimate in relaxation).  
Photos: Yayo Ahumada