Living
A Tour of Stylist Lisa Moir's Minimalist Mill Valley Home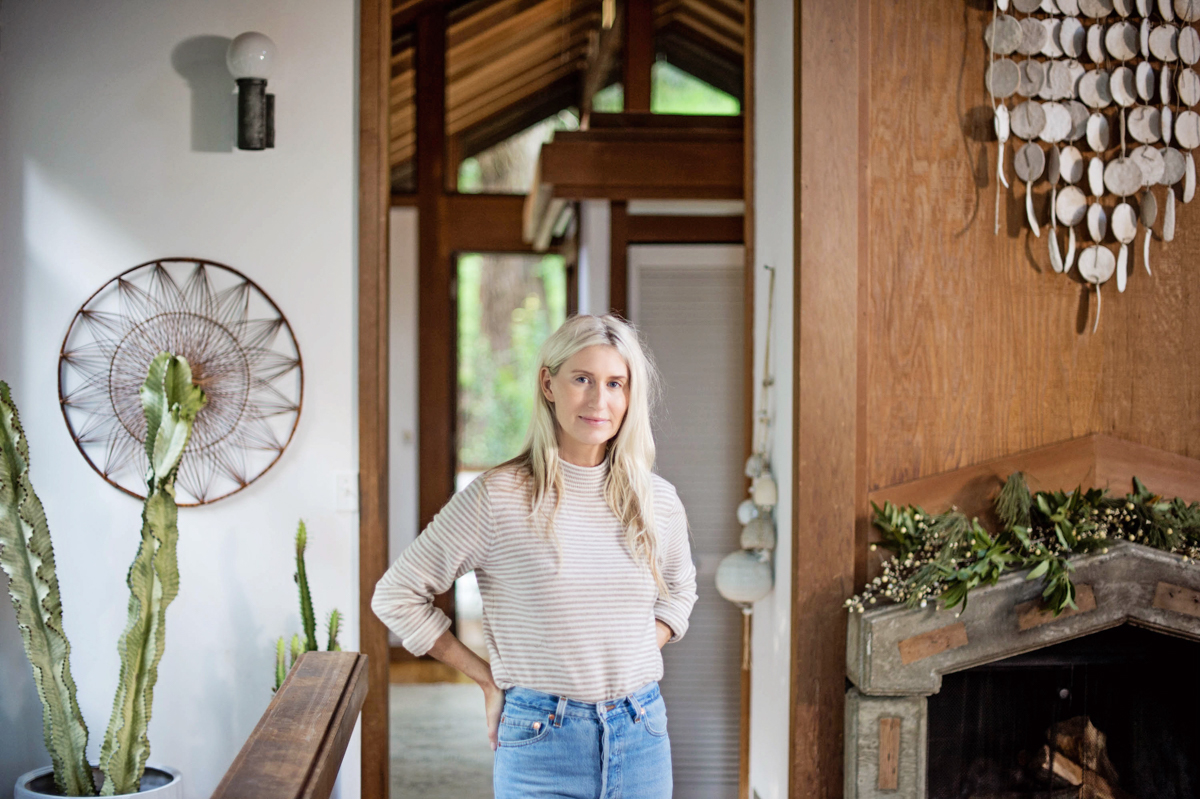 Stylist Lisa Moir decamped from San Francisco to the nearby hills of Mill Valley about three years ago, after discovering her amazing '70s A-frame on Craigslist. The house is filled with warm wood and beautiful glass windows, which show off the redwood trees that surround the property. It's such a breathtaking space—the kind of place you never want to leave—and Lisa's warm, minimalist furniture and décor only enhance the architecture further.
I love the way Lisa has found a balance between city and mountain life with her home as well as her career. She tries to limit herself to projects that inspire her—with clients like Kinfolk, Levi's, and Birkenstock–so that she can spend quality time with her two children. (Her little girl, James, is just two months old!) In between styling jobs and hanging out at home, she and her family take weekend trips often; one of many advantages of living in this beautiful state. XXJKE
P.S. Stay tuned tomorrow to see how Lisa styled our winter collection for a hike around the Muir Woods. 
Career 
Rip & Tan: How did you become a stylist? What was your career path?
Lisa Moir: I kind of fell into it. A photographer friend asked me to tag along to help on a shoot and eventually asked me if I wanted to style one. I was channeling all of the skills I had developed over the years from being a graphic designer in branding and advertising, and a fashion and textile designer, into one job and it felt like all roads previously had been meant to lead to this.
Rip & Tan: What do you love about what you do? What is the most challenging thing about it?
LM: I love working with a crew of inspiring people and when I'm able to really get creative with the story telling or sets. You basically have one shot to get it right over the course of a day or a few days so the pressure is usually always on to perform at 100% because there are no do-overs. You sort of have to live by the mantra "options, options, options!".
Rip & Tan: What recent project did you work on that inspired you?
LM: Over the summer I was collaborating with a company called Roam Rentals out of Oregon. We essentially traveled, and lived in a van most of the summer. I was tasked with finding moments within the trip to document and style out their products for their social media and brochures, and at the same time tell an aesthetically pleasing story. It was a great exercise for me and grew me as a stylist, I think. I had to consider each role and aspect of a shoot that goes into one end image because, by default of the nature of the trip, I was wearing many hats that I don't normally in addition to styling—art directing, producing, photographing and directing my "talent" (i.e. my family). It's inspired me to pursue more projects that are adventure based. 
Rip & Tan: What are your goals for your career—styling and otherwise?
LM: I'm happy to keep growing my career at a slow and steady pace right now and have been readying myself to branch off a bit into design again. I'm taking the time I have with the baby to really determine what is next for my career, the baby has really brought back out in me the need to create with my hands again so I'm exploring that calling.
Rip & Tan: How has it been balancing your work with your new baby at home?
LM: I had not intended on working at all the first few months but I've taken a few jobs and just gone with the flow of what I feel I can manage without compromising too much time away from her. 
Home
Rip & Tan: How did you come to find your beautiful home in Mill Valley? Did it need much work?
LM: We found it on Craigslist and it hasn't been changed at all since moving in a few years ago. It definitely needs some updates but for the most part it's exactly what I have always wanted in a home.
Rip & Tan: How would you describe the décor?
Minimalist but still cozy and warm. 
Rip & Tan: What room or space do you use the most often or treasure the most and why?
LM: We use the living room the most, it's so cozy and nap inducing with the view of the trees surrounding us. I love to cuddle on the couch. In the winter we use the fireplace almost every other day, and in the summer I keep all of the windows open and sometimes hummingbirds will fly through the room.
Rip & Tan: Do you entertain? If so, what types of gatherings do you tend to host?
LM: When I'm not working I'm either traveling or being a hermit, holed up here with my little family. when I do entertain it's usually with family or my closest friends, and it's very laid back—food always served family style.
Rip & Tan: Any decorating tips you can share based on your experience as a prop stylist or just decorating your own home?
LM: There is that rule of odd vs even numbers—to never decorate with just 2 of the same object, it should be a group of 3 or just 1. If I'm using a lot of the same color in one room I will try to play with a lot of textures to give it depth.  My best friend is an interior designer and she taught me the importance of mood boards when you are trying to decorate a space and I use them for work a lot—putting all your ideas in one document can be really helpful in seeing how all of the pieces you are considering work together before you pull the trigger with purchases.
Style, Beauty, and Wellness
Rip & Tan: What wellness rituals do you cherish?
LM: I have been drinking tea every day since I was probably about 10 years old. Usually just a nice old school packet of black tea. It's my comfort, having a warm cup in my hand and the ritual of steeping the tea. It's calming. I have one in the morning and usually before I go to bed at night.
Rip & Tan: How would you describe your everyday style? What pieces are staples for you?
LM: Pretty restrained, always trying to stay simple, but I'll throw in pieces from each season that have really excited me as long as they work within my staples.  Denim, cotton blouses, simple dresses in a range of neutrals, and easy worn in t-shirts.
Rip & Tan: What beauty products are you loyal to and why?
LM: The Crave Collection Brow Serum is the best I've tried to thicken brows. Dr. Dennis Gross peels exfoliate like no other and keep my skin glowing. I use rose oil for the bath, body and sometimes my face. And Eminence SPF Mineral Powder. For my sensitive skin it's the only facial sunscreen that doesn't make me break out.
Rip & Tan: How do you stay healthy in terms of food and fitness?
LM: I follow a loose Paleo Diet (sometimes I eat cheese) and I swear by a lemon, ginger, and turmeric tonic that I try to drink every morning. If I start to feel a cold or throat issue coming on, I brew tea and put in a shot of that tonic with cayenne pepper and local wild honey. Fingers crossed, neither my son nor myself have really gotten sick since I started that ritual a few years ago. 
Outdoor sports and activities keep my body—and mind, for that matter—in shape. I also practice yoga and Pilates.
Rip & Tan: Where do you tend to find inspiration for your work projects or personal style or both?
LM: Anything can grab my eye. It could be a friend, colleague, book I've read, old magazines, or something I encountered while traveling.