Style
Botanical Beauty Workshop with Earth Tu Face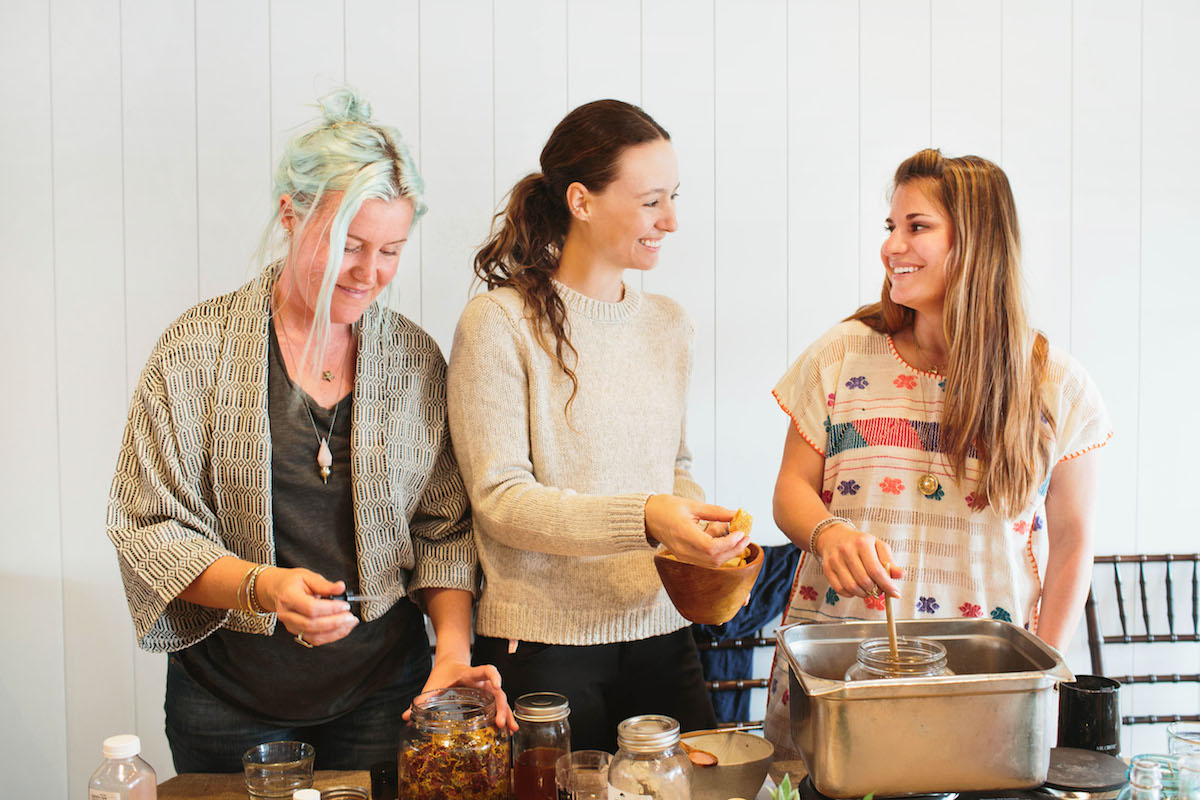 I've made no secret of my love for Earth Tu Face's purely plant-based skincare line (the Skin Stick and Toning Mist have become two I can't live without). Founded by herbalists Sarah Buscho and Marina Storm, the all-natural range of products is made using organic and wild crafted ingredients, free of chemicals, fillers, fragrances and toxins of any kind. And just as amazing as the ingredients they use (and the ones they don't) are what they do for the skin. Needless to say, we were so excited to spend an afternoon with these lovely ladies for a Botanical Beauty Workshop that provided not only a wealth of information about the medicinal and healing benefits of plants, but also instruction in creating our own all-natural skincare products.
For our laid-back afternoon of natural beauty, I wore my new String Crewneck Sweater. And surrounded by gorgeous arrangements from Finch Floral, Sarah and Marina began by showing us how to make a heavenly-scented Flower Petal Honey Mask with Virgin Coconut Oil. To do so, we ground dried rose petals, calendula and lavender, and combined with the other ingredients, including drops of sea buckthorn oil. 
Next, they walked us through creating the most incredible Flower-Infused Healing Salve. They shared that a salve is essentially healing balm, usually of a "chapstick" consistency, created using a base of wax and oil. And, because it is semi-solid, much easier to apply than oils and creams. To make our own, we started with an organic oil that had been infused with medicinal plants (so all of herbal benefits can be transferred to the skin for healing). Next, we added beeswax to the oil, both to create consistency and for its healing benefits. We heated these ingredients slowly over a double boiler to melt them together, and at the end of the process (before the mixture cools and becomes solid) dropped in our essential oils. The reason to hold off on adding the essential oils until the end: they should be exposed to as little heat as possible in order to retain vitality and efficacy.
As mentioned, we not only walked away with some incredible handmade products, but also information about the ingredients and their benefits:
Coconut Oil – A richly hydrating, cooling oil for skin. Being high in antioxidants, it prevents destructive free-radical activity (known to be the primary cause of aging). It lessens skin spots and other blemishes.
Honey – A humectant that aids the skin in obtaining and retaining moisture. It is nourishing to cells and naturally antimicrobial. It softens the skin and helps to prevent and clear blemishes.
Rose petals – Cooling and astringent, they tone and tighten the skin while helping diminish redness and blotchy areas.
Safflower oil – A rich, hydrating oil that is used as a moisturizer, it nourishes cells while providing a protective barrier to prevent water loss from the skin.
Sea Buckthorn – A supreme skin healer and regenerator, it repairs damaged skin and scar tissue, and reduces wrinkles. It is also known to strengthen the epidermis and the body's cell membranes.
Lavender – Excellent at fading and preventing scarring, t is especially beneficial for healing burns, blemishes and general skin irritations. The soothing aroma of lavender also calms and reduces stress.
Coconut oil – A richly hydrating natural sunscreen, coconut oils is also high in antioxidants, and prevents destructive free-radical activity (known to be the primary cause of aging). Additionally, it lessens skin spots and other blemishes caused by aging and over-exposure to sunlight.
Chamomile – An anti-inflammatory skin brightener, it is rich in antioxidants, and soothes and improves skin over time.
Beeswax – A natural antiseptic that softens and protects skin, it forms a light barrier on the skin, helping to seal in moisture without clogging pores.
It was such a great afternoon, and a treat to spend it with such amazing ladies. Be sure to stay tuned for a (very exciting) collaboration that we've got in the works! XXJKE