Wellness
Winter Skincare Advice from San Fransisco Facialist Kristina Holey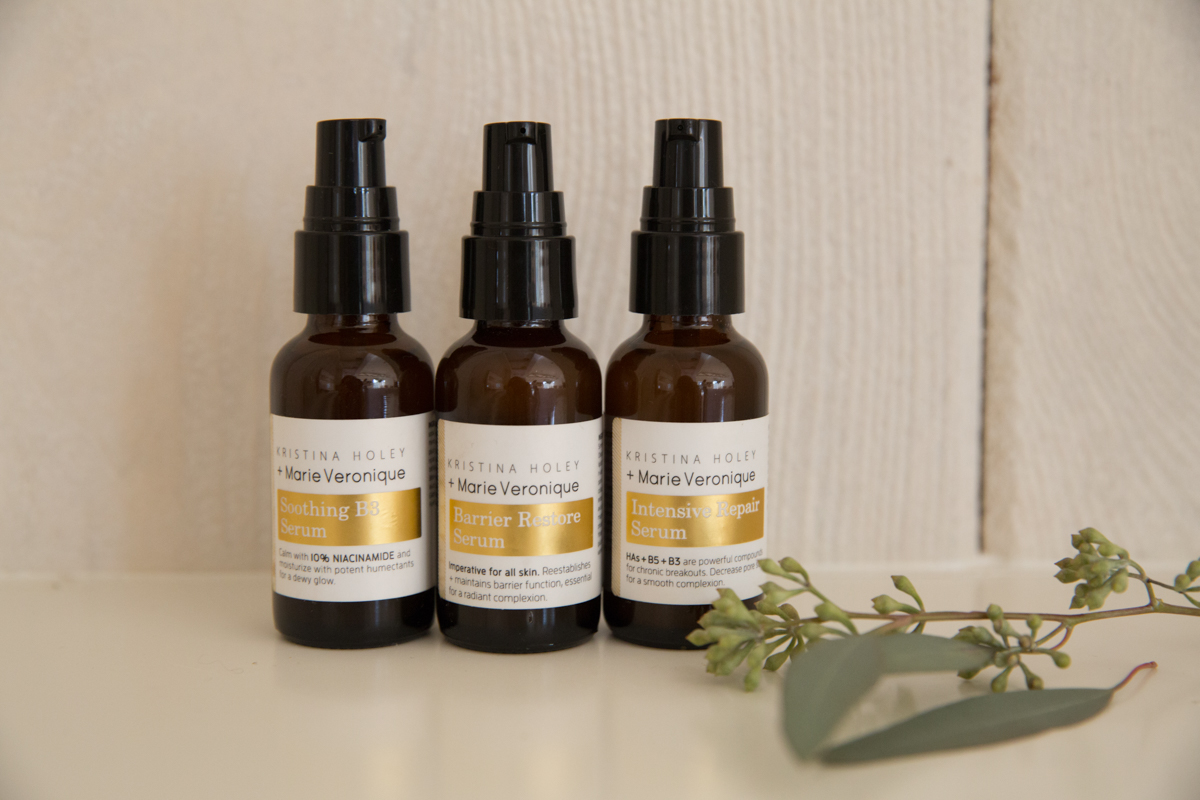 While your skincare routine doesn't need to change completely with each passing season, a few key adjustments are always necessary. Winter's cold weather, travel requirements, and many celebrations can be hard on the skin, for example, causing dryness and inflammation, among other issues. Luckily enough, my go-to facialist, San Francisco-based Kristina Holey, recently came out with a line of serums specifically geared towards treating inflammation. She was inspired to create them after seeing a rise in perioral dermatitis among her clients due to hormonal issues, stress, and more. Kristina crafted the formulas with Marie-Veronique Nadeau, creator of the organic skincare line, Marie Veronique, and they just launched this month.
In honor of the launch, and because the post-holiday period can leave us all feeling in need of some self-care, we asked Kristina to share some of her winter skincare advice. Stay tuned for her DIY mask recipes tomorrow! XXJKE
Rip & Tan: What are some common issues people have with their skin during the winter?
Kristina Holey: Along with dehydration you also get inflammation, redness, increased sensitivity. This can be from indoor heating, being an especially cold or dry climate, as well as traveling more often in airplanes. 
Rip & Tan: What are some of the best, most effective ways to keep the skin hydrated?
KH: Keep a strong "seal" to prevent trans-epidermal water loss. Don't over strip, over cleanse, or over exfoliate the skin. Allow for your natural oils to form and create that very important barrier layer. Feed the body with good minerals and fats and supply the skin topically with strategic ingredients to protect and nourish.
Rp & Tan: What facial treatments do you recommend during this time of year and why?
KH: I recommend lots of good stimulation through massage. Get the blood pumping, the body warm, and the fluids moving. In terms of facials, you don't need too much exfoliation; just enough to get the hydrating elements to properly penetrate. And I would recommend incorporating lots of soothing components whether in extracts or masks to deal with inflammation. 
Rip & Tan: Can you modify your sunscreen routine in the winter? What do you recommend?
KH: You should wear sunscreen all year technically. UVA is out all hours of daylight and those are the rays that really cause premature aging. However, I do really believe in some direct sun exposure. Especially with the shorter days and less direct sun, try to get at least 15 minutes of sun exposure per day without sunscreen. It is important to make sure you are getting enough vitamin D—it also feels so good. 
Rip & Tan: Winter makeup tends to be heavier and more matte. What are the most effective and gentlest ways to remove makeup?
KH: I think an oil-based cleanser is a great and gentle way to remove heavier makeup. Nothing foaming.
Rip & Tan: Cleansing brushes, sheet masks, and cleansing oils are all trending in skincare. Do you have any opinions on these methods?
KH: I would not recommend anyone use cleansing brush. They are unnecessarily harsh on the skin! And I think sheet masks must have quite a bit of preservatives to enable them to stay moist and without bacterial growth so I am a little skeptical of those as well. But I love a good cleansing oil. I am all for moving away from deep cleansing; the gentler we can be, the better. 
Rip & Tan: What are some beauty products that you swear by?
KH: I love MyHavtorn Organic Cleanser; it's so soothing and great for redness or very sensitive skin. For makeup I love Ilia's Radiant Balm with SPF20. The foundations are great too and I love their lipsticks. In terms of a skin-loving supplement, I love black currant seed oil from Standard Process. Omega 3s and fatty acids are crucial for good skin. And of course, my new serums with Marie Veronique. 
Rip & Tan: Yes! Can you tell us about the differences between these three serums?
KH: The Soothing B3 Serum is calming. It's amazing for redness and any superficial inflammation. This should go on first and then to be followed by the Barrier Restore.
The Barrier Restore is for seriously ALL skin types. This is my favorite. It's great for dermatitis, acne, eczema, and dry skin. It restores the skin's natural barrier layer and normalizes the skin's hydration levels, which leaves it feeling really smooth, calm, and supple.
The Intensive Repair Serum should be used at night a couple of times per week. It strengthens the skin on a deep level. It regulates sebum production, reduces inflammation, and clears up stubborn congestion, while refining your skin's texture in the process.
Rip & Tan: Do you have any tips or advice on how to apply them?
KH: Think of them all as boosting gels. Shake before using them as there are probiotics and other active ingredients in these serums that need to be mixed in each time. They should be applied directly to clean skin. I have been just using the Soothing B3 and Barrier Restore serums and feel great. I don't really need more moisture than that, other than what I get from my sunscreen, but some people love them with an oil on top as well.