Entertaining
Winter Entertaining: A Citrus-Inspired Dinner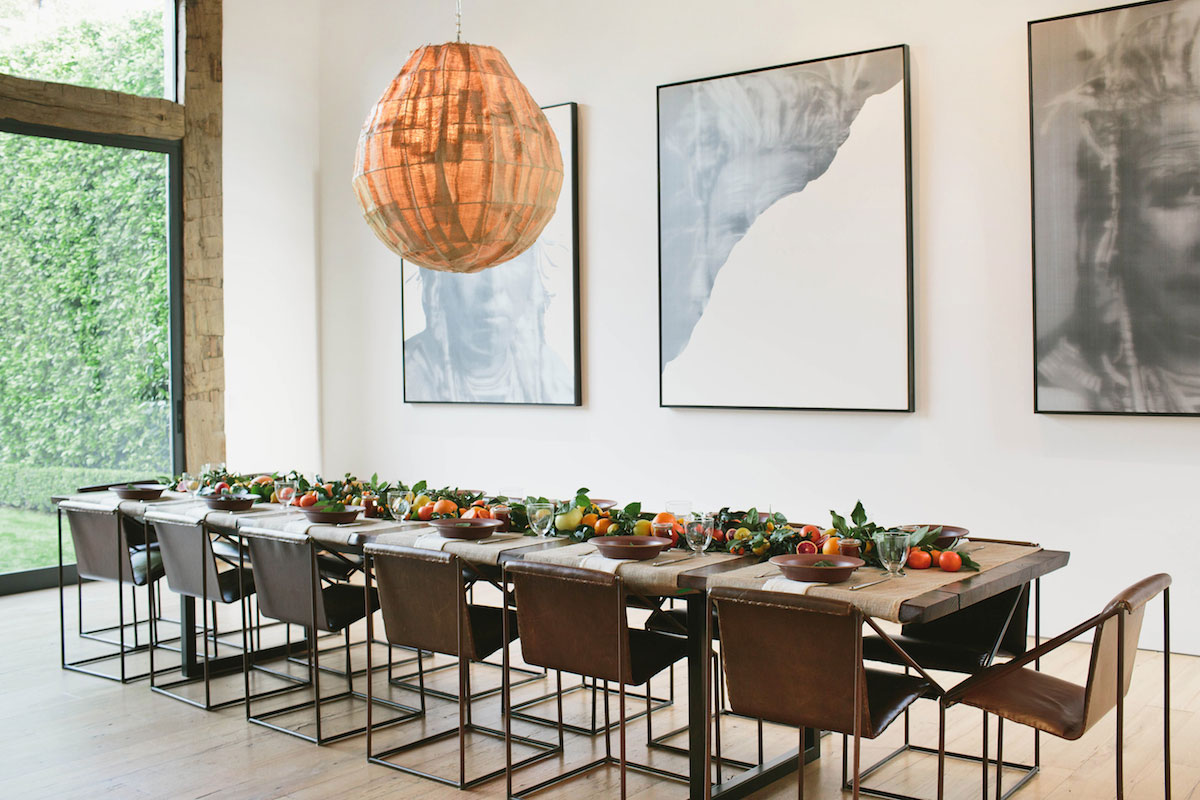 We've been on a bit of a citrus kick around here, and what better way to celebrate its beautiful flavors than with a get-together that did just that. For the next in our series on seasonal entertaining: a meal inspired by winter's citrus, set against a backdrop of decor that highlighted the theme.
Décor
The Table
For our table, I wanted to create a scene that allowed our citrus-infused menu and arrangements to really sing. To do so, I put together a natural spread that included simply cut burlap runners, my Heath dishware in Redwood, Abanja cream linen napkins with fringed edge from Garde, my David Mellor Pride Cutlery, and clear fat glasses from Canvas.
The Arrangements
Down the center of the table, the lovely ladies of Moon Canyon created the most gorgeous citrus-infused arrangements. Using produce provided by a farm to frontdoor favorite, Summerland, they mixed Oro Blanco grapefruit, Ruby grapefruit, Fremont oranges, blood oranges, Eureka lemons and tangerines with kumquat leaves and lemon leaves.
Menu 
For our citrus-inspired meal, the amazing Annie Campbell outdid herself, creating a menu as beautiful as it was delicious. She set the tone with a Blood Orange Margarita accompanied by Valencia Orange, Meyer Lemon & Thyme Marinated Olives, Lime & Herb Guacamole and chips, and Lemon Ricotta Crostini with Marmalade & Black Pepper.
For our dinner buffet, she created an incredible spread of Parchment Wrapped Black Cod with Lime, Lemongrass, Kaffir Lime Leaves & Chili, Lemon Spaghetti, Oro Blanco, Pink Grapefruit, Fennel & Avocado Market Lettuces with Lemon Vinaigrette, a salad of Arugula, Beets, Navel Oranges, Cara Cara Oranges, Parmigiano Reggiano & Marcona Almonds with Orange Blossom Water Vinaigrette, and straight from my garden, Roast Broccoli with Kumquats, Meyer Lemon & Chili.
Next, an assortment of citrus-infused desserts, including chocolate dipped candied manquats, Oro Blancos & tangerines, a terrine of blood orange, Meyer lemon & thyme, and pink grapefruit & campari sorbets, and a Citrus Upside-Down Cake.
And lastly, as a parting favor for our guests, she prepared and presented a beautiful winter citrus marmalade of kumquats, Cara Cara oranges, Meyer lemons, tangelos, pink grapefruit and blood oranges, inspired by Thomas Keller's recipe. XXJKE