Wellness
Wildcare Skincare and The Power of Hydrosols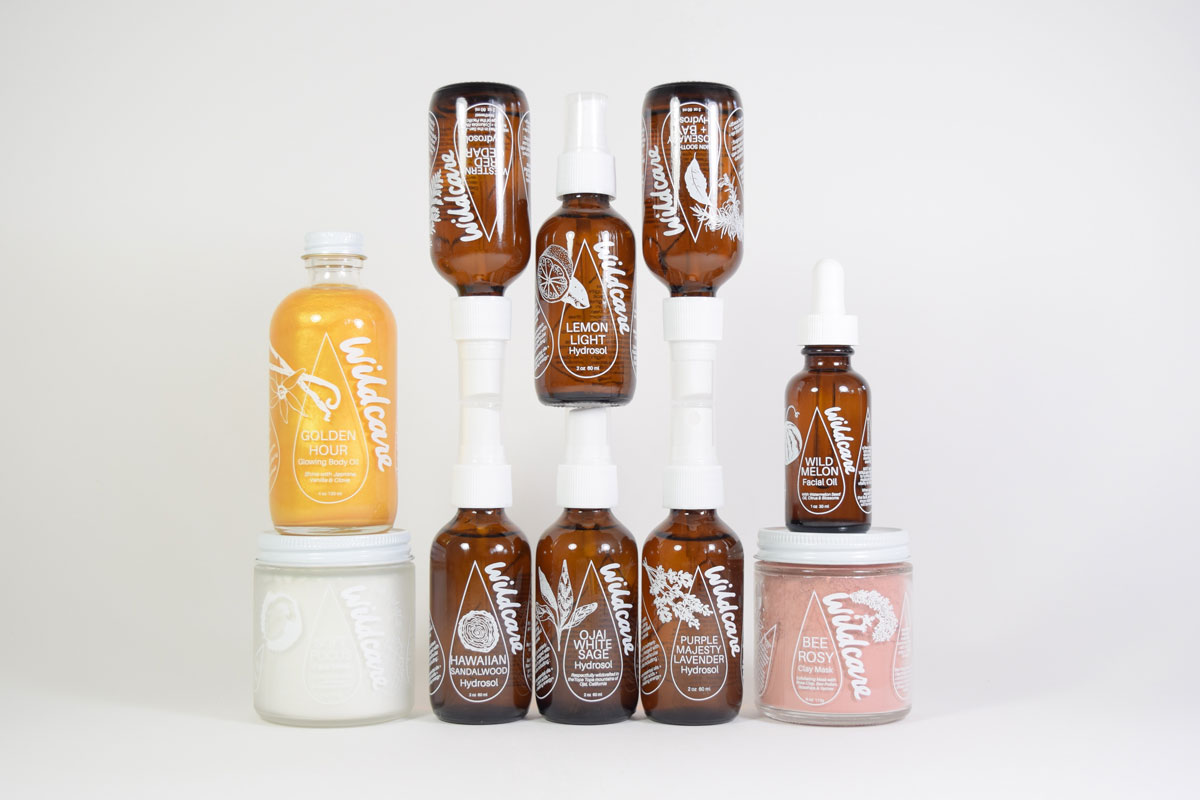 Many people just use cleanser and moisturizer every day but natural toners and tonics–specifically hydrosols—are a great thing to incorporate into your skincare routine. Hydrosols are the aromatic water collected from distilled plants. They contain essential oils and plant nutrients that restore the skin's natural PH while also treating common skin concerns. While many natural beauty brands are starting to incorporate these gentle toners into their product lines, Wildcare, which launched about a year ago, has made botanical distillates its primary focus. Here, Cortney Herrera, the founder of Wildcare, talks about how she got her start, where the brand is headed next, and more. XXJKE
Why did you start Wildcare?
Wildcare began literally as a dream a few years ago- I remember filling hundreds of little amber bottles with a clear, aromatic liquid. About 6 months later, I began careful experiments to heal my eczema and overall skin imbalances by studying and using the process of steam distillation. These experiments consisted of slowly distilling plants from my little garden in California, and collecting the resulting aromatic water- called Hydrosols. After a year of wildcrafting, growing and distilling more plants, scent perfecting, and observing my skin's improved health in this nutrient-rich mist, it revealed that this ancient modality of skincare was something to fully believe in. Our Rosemary-Bay Hydrosol was the special one that offered this epiphany. 
With formal training in Culinary Arts and an Internship in Herbal Medicine, I have discovered through my studies that there has always been a special synergy of healing with earth-grown ingredients through food and skincare- especially since our skin drinks the products we use. The multiple botanicals we distill with are still organically grown in our garden, or are ethically wildcrafted from our diverse west-coast landscape. Often during the distillation process, I experience deja-vu, and while the Hydrosols emerge in their slow, meditative process, I typically recount and enliven my dreams again and again.
Rip & Tan: How do hydrosols differ from essential oils?
Cortney Herrera: Hydrosols are the nutrient-rich water that results from the slow distillation of plant material. Through this process, some of the essential oils are dispersed throughout the Hydrosol, while most will float to the top, and are then siphoned off in preparation for bottling the Hydrosol & essential oil separately. Many distillers refer to the Hydrosol as the hologram of the actual plant! This is because unlike essential oils, Hydrosols carry each micronutrient that the plant itself carries, whereas essential oils contain select, concentrated components, but not all. Hydrosols are gentle, which has led them to become a top choice in skincare practices to tonify, add nutrients, and support virtually every skin type – most even gentle enough for baby, without having the same contradictions and safety concerns that essential oils do. 
Rip & Tan: Which hydrosol do you find most transformative?
CH: Our Ojai White Sage Hydrosol is both physically and mentally transformative. It has been a consistent hero for clearing up blemishes, creating balance amongst our customers who have acne-prone skin. It's also revered as a favorite in spiritually cleansing and neutralizing negative energy from a space, and I really believe in this too! The velvety sage leaves, ethically wildcrafted in the Topa Topa mountains of Ojai, CA, hold the sacred charge and special history of that landscape. To add to the magic – the water we use for our Hydrosols is hand collected from a local mountain spring, maximizing the energetic charge in our mists. We are committed to this kind of magical attention and energy within each of our products.
Rip & Tan: Where and how do you find vendors? What criteria do they need to meet?
CH: We are extremely selective in choosing and researching the retailers that are interested in us, and vice versa. The vendors we align ourselves with, must uphold to our strict ethical criteria. We look for spaces that are leading the way in green beauty, organic practices, and inspire their customers with care and supreme quality offerings. We have worked hard to support the small businesses we cherish, with a primary motivation to be featured in wellness centers, green-focused spas, and thoughtfully curated spaces across the United States. A big goal is to personally visit each and every vendor we work with!  
Rip & Tan: Where do you live and where are the products made?
CH: I live in Ventura, CA – one mile from the Pacific Ocean with my husband, Alejandro, our dog Pepper, and kitty Paloma. Our products are created in our home studio, with a sea breeze whizzing through the windows, palm fronds rustling, and tiny cacti and flowers outside. Living here has allowed us to explore the vast coastal range, drive to the tops of sage-spotted mountains, and explore the desolate Mojave desert, all in the same week. These are the adventures that inform the soul of the business! You can follow our explorations through the 'Explore' page on our site. We both also have deep roots grounded in the Pacific Northwest – Portland Oregon, and are planning a big relocation back this Spring/Summer! 
Rip & Tan: What products do you hope to add to the line in the future? 
CH: This coming March for Spring Equinox, we have an incredibly purifying and stimulating new Hydrosol set to launch! It's one we have experimented with for many months now, happily distilling and testing on those close to us, and can't wait for its reveal. Our Hydrosols are the backbone and niche of Wildcare, bringing us the most joy to create, and are the essential star of our skincare routine. It's incredibly important for us to remain passionate about every item created, taking our time with launches, and making sure they are an extension of our thoughtful rituals. Aside from this, we have been working with individual artists on conceptualizing functional and playful objects that support the skin-care process, found on our 'Things' page. A couple new items are set for Spring/Summer release as well.
Rip & Tan: What skincare or wellness advice do you give all women? 
CH: Top 5 of the moment: 
1. Love yourself – every strength, every flaw. Love creates beauty.
2. Hydrate from the inside, out – drink water / mist hydrosols
3. Seek mental balance in nature as often as possible.  
4. Be confident in the ingredients you choose to use externally and internally. Happy skin starts with what you eat.
5. Don't underestimate the power of a 5 minute face massage! Use a jade roller straight out of the fridge for a healthy wake-up call to stimulate circulation.