Wellness
Wild Crafted Beauty: Inside Penny Frances Apothecary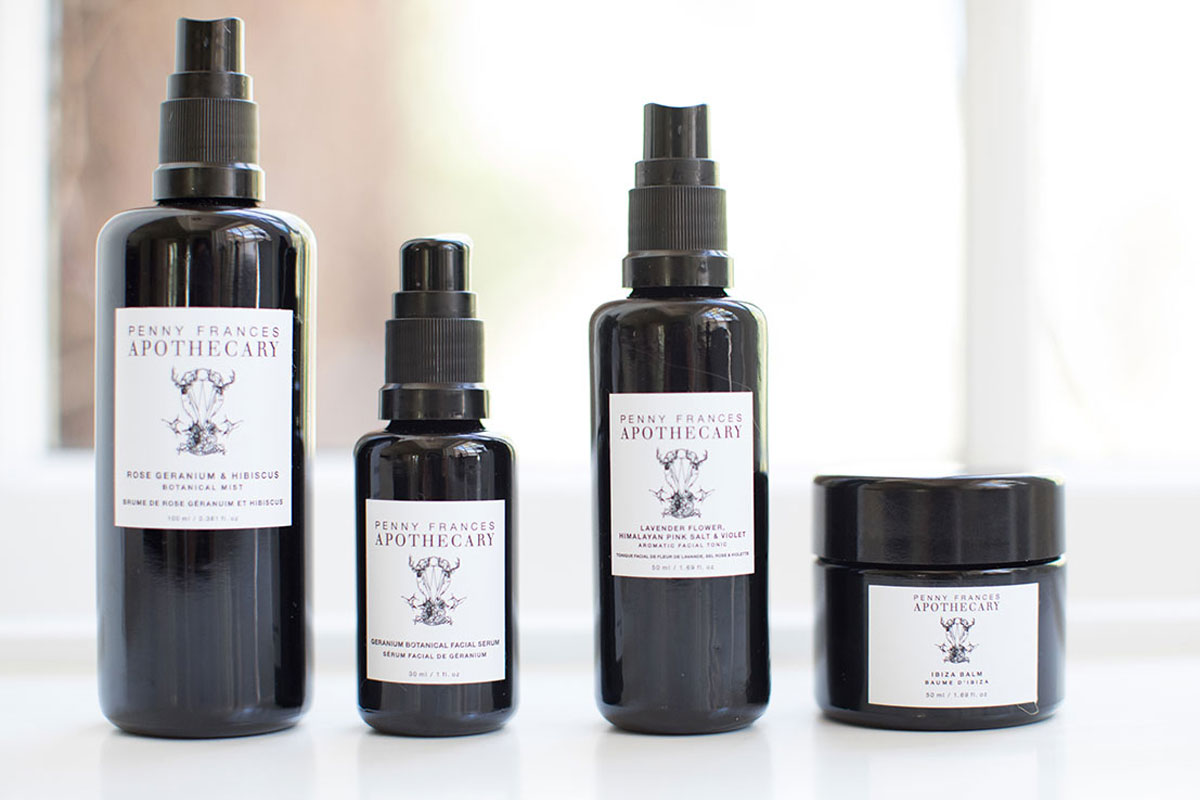 Sarah Craig's natural, wild-crafted skincare line Penny Frances Apothecary is made with love. As soon as you hold the beautiful violet glass bottles and jars in your hands, you can tell the products are special. Craig, who was born in Scotland and now lives in Vancouver, learned about natural beauty through the women in her family as well as her culinary training and extensive travels all over the globe. Her serums, balms, and oils are known for their gentle but rejuvenating feel and transporting scents—all derived naturally, without chemicals. Craig makes everything in small batches and grows her brand through word of mouth, which allows her to spend more time sourcing special ingredients and coming up with new formulas that feed the skin. Learn a bit more about her special line, below! XXJKE
Rip & Tan: When did you first become interested in natural beauty?
Sarah Craig: Beauty and skincare has always inspired and excited me; the packaging, all those beautiful scents, that Chanel bottle and the labelling. I collected perfume bottles when I was younger and would make rose water with rose petals and geraniums from my grandmother's garden.
My mum was a model and she has always looked after her skin. Her skin is beautiful and she basically just used witch hazel and rose water. She has a very Mediterranean outlook on life; fresh fish, vegetables, lots of water, a little wine, a little sun—la joie de vivre.
Her sister, my aunty Matti, was also very into green and organic skincare. She introduced me to Weleda and Dr Hauschka, who, for me, are the masters. She gave me a few books on herbal medicine and making your own skin potions which really influenced me.
But it really took off for me when I became pregnant and started reading up on the ultimate foods to feed my baby (he's a ninja now so that all worked out). I wanted to know exactly what the ingredients were in everything that I was putting on my skin; it became a (healthy) obsession. I made a beautiful face oil and a citrusy lavender body oil that smelled exquisite and really calmed me down; using it became a comforting nightly ritual. Then eventually, along came our Ibiza balm.
Rip & Tan: What professional or experiential training do you have in the industry?
SC: I trained as a chef originally, and I think that experience informs my line in many ways. I'm very excited by flavor, aroma, experimenting with texture, and I value whole, fresh ingredients. What we put onto our skin goes straight into our bloodstream so you really want your products to be as fresh, organic and non-toxic as possible—just like your food.
I also worked in the beauty industry for a couple of years, which mainly funded my extensive travel. As well as traveling, cooking, and living all over the world, 15 years ago, I worked with children, preparing their meals at Rudolph Steiner school in Scotland, where they grow most of their fruit and vegetables. Dr. Steiner's philosophies were hugely enlightening and inspiring to me. He created one of the world's first biodynamic gardens, growing herbs, plants, flowers, and vegetables for his medicines. He developed anthroposophic medicine, which encouraged people to holistically view their body and health as linked to the world and to nature. He really was way ahead of his time; it was an amazing learning experience.
Rip & Tan: What inspired you to start Penny Frances Apothecary? When and how did you get it off the ground?
SC: I started tinkering when I became pregnant. That's when I made my geranium face oil; it's very gentle and light on the essential oils. Friends would then ask me to make them bottles and really, it just grew and grew. I have never had PR, I am my own PR—I would rather spend money on beautiful ingredients and let them speak for themselves—so I just let it grow through friends and through word of mouth. Alanis Morissette became a fan, which was wonderful. She's an avid supporter of green beauty products. I have also had lots of local support which is very important to me; customers and other likeminded brands.  
I have a great team now. A graphic designer with the patience of a saint, my girls who decant the potions, my friends who take beautiful photos and style the photo shoots. My husband is extremely supportive. I feel incredibly lucky to have them.
Rip & Tan: What's behind the name?
SC: My girlfriend's middle name is Penny, which I love. She helped me come up with the name. If I'd had a girl, she would have been named Penny. And Frances is after my beloved grandmother. A lovely artist friend drew the Penny Frances logo, which features majestic stags, a diamond, heather, hummingbirds, roses, lavender, and rosemary.
 Rip & Tan: What standards do you follow when it comes to the ingredients, sourcing, manufacturing, and so on?
SC: I carefully select only the finest, freshest, organic and wild crafted ingredients. I have been buying my ingredients for over 10 years so I know my suppliers. I take it very seriously and I know my oils. My mum goes to the South of France every year and she brings me helichrysum and lots of beautiful varieties of lavender flower oils. I source the more exotic oils and extracts from smaller companies; one grows her geraniums right outside her window for her small batch geranium distillate.
Whenever friends go anywhere they usually bring me back something gorgeous. My best friend sent me Sicilian blood orange oil and Tunisian Neroli oil from Ravena in Italy, and another sent me Bulgarian lavender. Whenever I travel I am always on the lookout, too. I was recently in India and brought back some beautiful rose and champaca oils. I also make every single potion, all in very small batches. 
Rip & Tan: What are your best-sellers? Why do you think your customers love these products?
SC: To my joy, my geranium serum is my number one; it's very special, It has rose-infused Marula oil and skin brightening wild-crafted papaya. A new addition is pomegranate seed extract. I think women love it because their bodies naturally love geranium, it's uplifting and its aroma is a very delicate herbaceous rose; very fresh and green, very gentle, and subtle.
My rose geranium hibiscus mist is another favorite; it's very calming and grounding and fresh and has beautiful skin soothing botanical extracts of lemon balm, aloe, elderflower, hibiscus, nettle, cleavers, and plantain. 
Rip & Tan: Any tips on using or combining the products in your line? Any combinations that are especially effective?
SC: For my own routine I love the rose geranium mist followed by the rose and cucumber eye serum. I roll it all over my face, concentrating on dry areas in need of TLC. Then I pat my skin gently to activate the botanicals and apply a few pumps of the geranium serum, warming it first in my hands, then cupping my hands over my face, breathing in the flower aromas before applying. That's a serious spa experience right there.
Rip & Tan: What new product or company initiative are you excited about right now?
SC: We have a new lavender series I am very excited about. It's a salty, lavender and violet mist which is beautiful for congested or oily skin. It's very gentle. I spritz it onto my boys to try and chill them out. It's also beautiful to mist it onto your pillow at night, or into your hair for a tousled beachy, sunshine infused, salty look.
 Our new lavender flowers serum has four different varieties of lavender and its aroma is absolutely divine. It's a very calming, soothing facial oil and I like to think it takes you—like all my products—on a beautiful botanical journey, preferably somewhere in the Mediterranean. I use it on my neck and chest at night. I don't put oils on my face every night; I let my skin breath some days and have a rest. 
Rip & Tan: What beauty or wellness ritual complements the line? What do you wish all of your customers would do to take care of their skin? 
SC: For me, fresh air, early nights if you can, salty baths, dry brushing, coconut oil in the hair and all over the body, drinking lots of water and green tea. Laughing until tears are rolling down your face with best friends—skin is instantly glowing! As Grace Jones says "eat the pumpkin, drink the red wine, eat the honey, the melon".
A little sunshine on the skin is good too. I now always wear a hat in the summer but I didn't used to.  I love my freckles, my mum makes me do it, every summer she says, "don't put your face in the sun". I am a sun worshipper; I love the warmth and the energy the sunshine gives us and swimming in the ocean and having tanned legs. It revitalizes and makes you feel and look better. Picasso once said "We do not age, we ripen". I am absolutely with Pablo on this.