Wellness
Wellness Wisdom From Holistic Nutritionist Elissa Goodman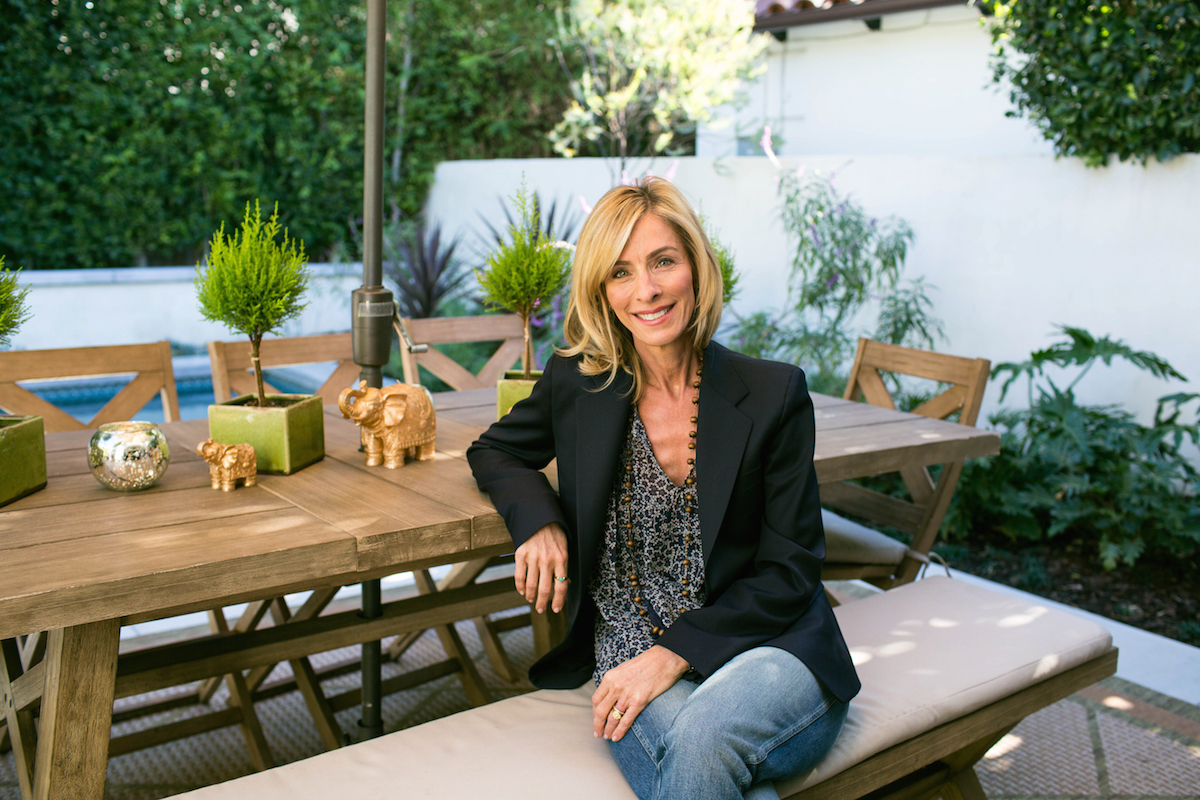 Much of this week is centered around an incredible nutritionist I've come to admire. Elissa Goodman is a certified holistic nutritionist based in Los Angeles whose path to her career began when she was diagnosed with Hodgkin's lymphoma at the age of 32. My personal food guru and friend Pamela Salzman first referred me, and I have to admit I'm in awe of her story and vision. I also love her soup cleanses.
Elissa advises clients on how to eat and detoxify their bodies, but she is truly holistic in her thinking, meaning she takes into consideration both the body and mind, since they're interconnected. She believes meditation and self-love are as important to your whole-body well-being as the food you consume. Spending time with Elissa is truly inspiring, as you can see from our conversation, below. XXJKE 
Rip&Tan: You have an incredible story. When did it click with you that you wanted to make holistic nutrition your career?
Elissa Goodman: I have experienced health issues my entire life. You name it, I had it or I got it. Because of this, I was always researching and interested in finding ways to prevent feeling crappy all the time. Discovering what worked took me a long time, but I finally got there. The moment I realized I wanted to do this for living was after my husband passed away from cancer. I watched him be destroyed by the treatments he chose and the pharmaceuticals he was prescribed. At the time, I had two small girls who had both parents with a cancer diagnosis. I was determined to create a healthier and more peaceful life for them, so I followed my passion for nutrition and haven't looked back.
Rip&Tan: You're a cancer survivor. What is the biggest thing you took away from that experience?
EG: I grew up living in fear and not feeling "good enough." This kind of mentality really takes a toll on your health. My lack of self-love led me to make unhealthy choices with almost everything in my life. I was always trying to fill a void that could never be filled. The biggest lesson for me was to figure out how to love myself. Once I did, everything fell into place and I was truly able to heal, I came out of my cancer diagnosis a different and more whole person. It was a wake-up call for me and I'm thankful for it every day. 
Rip&Tan: What about your career are you most proud of?
EG: I can really tap into people's pain to get to the root of their health issues quickly. I've worked with two incredible energy healers who have taught me how to tune in and trust my gut instincts and this tool is powerful in helping my clients get what they need. I don't want people to take years or spend a ton of money trying to feel better. I want them to get relief ASAP and that's always been the goal for my business. 
Rip&Tan:  What do you do for exercise? Do you have any go-to workouts?
EG: I'm a big fan of power yoga. It helps me get back in touch with my core and it calms me down. I'm a very driven and motivated perfectionist and yoga helps relieve this stressful part of my personality quickly.  Also, walking for 20 minutes a day is amazing to help lower my stress and keep me calm and centered. I use a meditation app called Calm when I walk, and by the time the 20 minutes are up I feel renewed and recharged. 
Rip&Tan: What are some of the ways you relax and detox your mind?
EG: One of my favorite ways is to get a reflexology foot massage at Sunset Foot Spa. One hour is only $30. All of your pressure points are in your feet. In the middle of the day, I will pop into the spa and get a foot massage and come out feeling like I'm ready to take on the rest of the day. This is a great time for me to zone out and breathe! On the weekends, I'm all about finding live music and enjoying the show. Music completely frees me and my mind.
Rip&Tan: What do you eat and drink on an average day?
EG: I start the day with 16 ounces of lemon water (I shoot for three of these throughout the day). Then I have a modified Bulletproof Coffee (organic coffee, with So Delicious Culinary Coconut Milk, a few drops of 100% pure stevia and 1 tablespoon Bulletproof XCT oil). I put it all in a blender and I get a satiating and decadent latte! A few hours later I'll have a simple green juice (celery, cucumber, romaine, parsley, lemon, ginger and turmeric). I usually add a tablespoon of chia seeds for the extra protein, fiber and omega 3's, and 2 teaspoons of Vimergy Barley Grass Juice Extract Powder (not to be confused with barley grass powder) which has enormous health benefits (too many to name!).
For lunch, I usually have a vegan option. I go through phases and right now it's the all about fermented probiotic foods. I marinate tempeh and cook it for the week and make a modified version of the reuben collard wrap I usually order from Real Food Daily. Instead, I make a salad with romaine, sauerkraut, cashew cheese and a touch of spicy vegenaise with relish.  
Dinner is usually with my family so that's when I have some animal protein, but I'm very conscientious of quality and portion size. We always start dinner with a green salad, usually with avocado, tomato, cucumber, a really nice olive oil and some type of nut/seeds and a sprinkle of hemps seeds, too. My family likes classic dinners like roasted chicken, steak, lamb or fish with a veggie and grain (usually gluten-free). I find ways to make these dishes as healthy as possible.  
If I'm not eating with the family, one of my favorite dinners is Veggie Fritters paired with my Butternut Squash & Watercress Soup. I also like to close my day with a cup of Tulsi (holy basil) tea or a warmed turmeric latte. 
Rip&Tan: How often do you do a cleanse? What do you notice afterward?
EG: I believe that we should cleanse daily. Cleansing doesn't have to be a huge undertaking—there are simple ways you can detox every single day. I drink a minimum of 32 ounces of lemon water (in addition to water throughout the day). Lemon is very detoxifying and also helps to reduce cravings. I drink a green juice every day (and when I say green, I mean green—this is not a fruit juice!). I notice improvement in digestion, skin, weight, energy, and mood when I follow my cleansing lifestyle plan.  
Rip&Tan: What is your favorite recipe?
EG: This is really a hard question, because I love so many dishes and I'm constantly coming up with new ones. I have to say I usually gravitate towards vegan options. A few my latest favorites are Mung Bean Power Bowl with Herbed Yogurt, Whole Grain Detox Bowl with Matcha Dressing, and Chickpea Stuffed Eggplant with Forbidden Rice. 
Rip&Tan: What dishes or recipes that you make do your daughters like best?
EG: My daughters love my morning Matcha Lattes. They love berry smoothies with my friend Sophie Jaffe's Philosophie Protein Powders, which allow me to sneak in all the good stuff like flax, chia, XCT oil, and bee pollen. My youngest loves this vegan Chocolate Pudding. Both of my girls are fans of Gluten Free Chicken Noodle Soup and their favorite vegan meal is Hearts of Palm "Crab" Cakes. 
Rip&Tan: You've created menus for a couple of LA's healthiest restaurants: Cafe Gratitude, M Cafe and Erewhon. What was that process like?
EG: I was really blessed to be involved with such high-quality healthy restaurants and a natural health food store so early in my career. I created cleanse programs for all three of these places and it was an amazing learning process. I learned what kinds of drinks and foods work well for people and what they really want. Some people don't do very well with cold, raw vegan food all the time, and some people don't do well with too many grains. It taught me that you need to have a balance and know your body well enough to nourish it specifically for you. I wouldn't be as knowledgeable today without the amazing chefs and teams from these places. 
Rip&Tan: How did you go about creating your cleanses?
EG: I did an incredible amount of research and then tested them on myself, friends, family and clients to see what worked. I still believe everyone needs their own personal tweaking with my cleanses or any cleanse they decide to do. That's why I like to talk to everyone to see what kind of health or emotional issues they have going on, because that can make or break the success of a cleanse. My goal is to redefine cleansing, because most people think it still means deprivation or starvation and that couldn't be further from the truth. 
Cleansing is a natural process that your body does on a regular basis. Our bodies know how to digest and absorb real nutrient-dense food so that is the basis of my cleanses along with giving my cleansers the feeling they are being fully nourished and supported. I often hear from my cleansers how different the experience was for them compared to all of the others they have tried.  
Rip&Tan: What are your top go-to beauty products and why?
EG: My first go-to beauty product is a strong 100 billion probiotic every morning with a large glass of lemon water, because beauty comes from the inside! I use a natural body brush on my entire body every day to help boost my lymphatic system and remove toxins on the surface of my skin. This is important, because my cancer was in the lymphatic family. I swear by Shiva Rose Oil for my face. Nutiva Coconut Oil is the perfect body butter post-shower and great for eye-makeup removal.
The Environmental Working Group's Skin Deep Database is super helpful in weeding out the bad products. I just type in the brand name of a product and I get the facts on what to keep and what to toss. 
Rip&Tan: How would you describe your home aesthetic?
EG: My home is modern and very minimal. I don't like a lot of clutter around. It helps me think and be more creative. I take risks with art throughout and I think this very much mimics my own style. I wear classic pieces with unexpected touches. 
Rip&Tan: Which pieces in your home are you most fond of, and where did you get them?
EG: I have a collection of Hear No Evil, See No Evil and Speak No Evil monkeys that mean a lot to me. The pieces have all been given to me by close family and friends or I have found them while traveling. I have a collection of perfume bottles from all over the world that I love, too. They're delicate and beautiful and I will pass them down to my daughters one day. 
Rip&Tan: What do you do when entertaining to set the mood?
EG: I love low lighting and lots of candles. In fact, I light candles and have music playing throughout the house almost every day. I usually like to bring nature to my tablescapes, either by using seasonal fruits and vegetables, fresh herbs, or a beautiful succulent arrangement. 
Rip&Tan: What is your favorite thing to serve when you have guests over?
EG: Tequila in a healthy green juice…it's a big hit! Another favorite thing to serve is a dessert that is always very healthy—gluten free, dairy free and made with natural sugar. I love seeing the reaction from my guests when they discover that a healthy dessert can taste good, such as this Almond Spice Cake with Greek Yogurt Meringue.  
Rip&Tan: Is it possible to make a party healthy and clean yet still delicious and fun?
EG: Absolutely! That's what I strive for. It's enjoyable for me to see my guests truly enjoying healthy and delicious foods, and I enjoy showing the versatility of plant-based dishes. The greatest compliment comes in the follow-up request for a recipe, and I get lots of those!
Rip&Tan: Do you ever give into cravings? What is your guilty pleasure?
EG: Yes! I love salty and crunchy Rusty's Island chips, which we order by the box. I usually eat them when I'm stressed. I'm also a sucker for a good cup of coffee. I can't eliminate it from my life, it tastes too good!  
Photos: Brittany Wood