Food & Drink
Distillery Visit: Ventura Spirits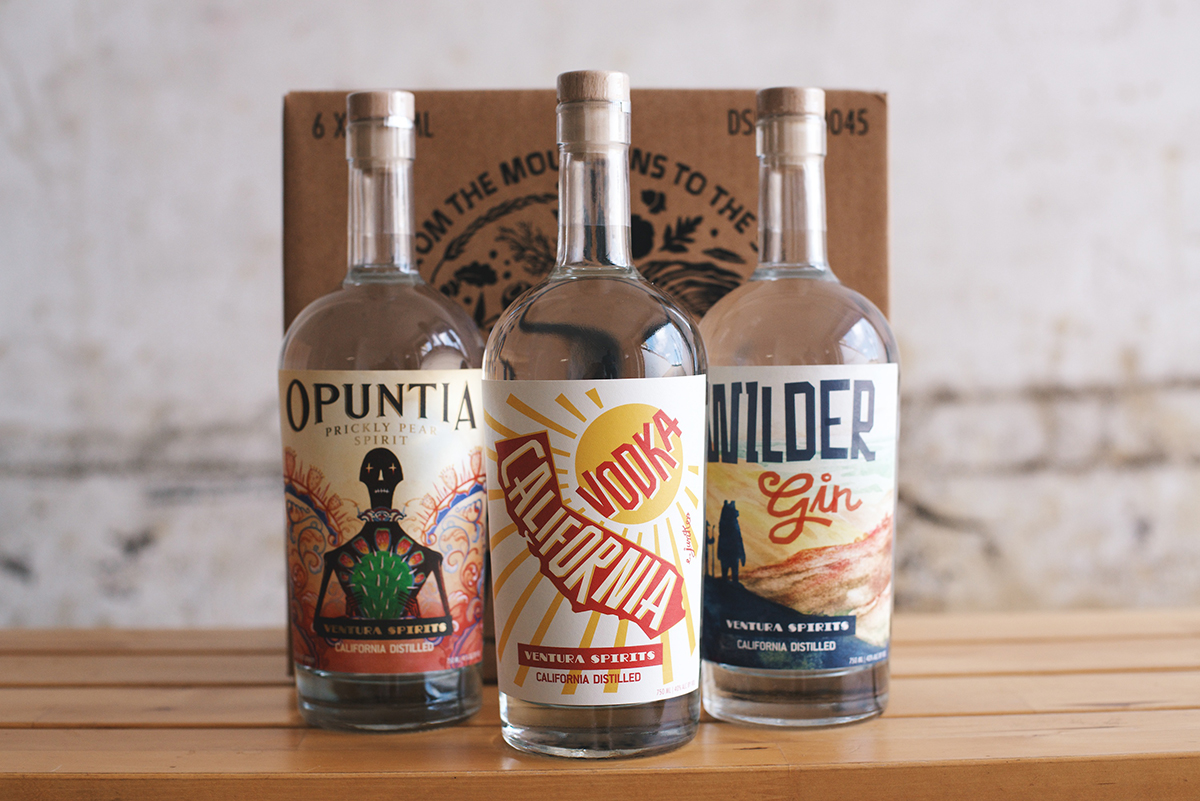 I was first introduced to Ventura Sprits by mixologist Sabi Khalsa when she created an inspired gimlet using their California Vodka, a spirit made using strawberries. No, not a strawberry-flavored vodka, one that is actually distilled from strawberry wine. It was so subtle and lovely – not at all syrupy or sweet – and I had to know more about them. As it turns out, my good friend Katie has a family connection to the distillery (her cousin and cousin's husband are two of its founders).
A California micro distillery specializing in innovative hand-crafted spirits inspired by California's central coast, Ventura Spirits was founded by Anthony Caspary, Andrew Caspary, Henry Tarmy and James Greenspun. Passionate about using unexplored and underutilized ingredients, they are quickly gaining fans and steam. Now available at most California Whole Foods with spirit licenses, in many bars throughout LA, Santa Barbara, Ojai, Ventura (and soon in San Diego and San Francisco), their distribution is growing by the day. They were kind enough to welcome us in for a tour of the distillery (our first!) and share a bit about what it is that makes their spirits so special. I hope you enjoy this look inside. XXJKE
R+T: Tell us a bit about how Ventura Sprits came to be?
Our interest in distilling began about 15 years ago. For most of that time it served as a casual outlet for lots of different energies: the desire to build, to try new things and experiment with new ideas, to spend time with friends and family having fun. As we gained life experience and developed our own opinions about culture, design, community, agriculture, etc., starting a distilled spirits business always stood out as a way to influence and participate in all of these different areas through a common effort that we already had a passion for. When we kept coming up with easy and honest answers to why we should do it, and really lame excuses for why not to do it, the path forward was pretty clear. Having the right people at the right time helped, too.
R+T: Can you share a bit about your mission, your wonderfully uncommon ingredients, and your approach to distilling?
All of those are elements of the same core of ideas that drives us. The use of uncommon ingredients started out organically, simply because they were all around us and readily available–and wonderful. Once we had developed some experience with these ingredients and went on to refine our knowledge making more conventional products, it became obvious that an original and authentic approach to distilling was the only one worth pursuing (for us, at least). There are lots of delicious spirits already on the market that we really enjoy, but that we would never endeavor to reproduce, simply because there are so many other cool things to try, first.
R+T: Could you possibly pick a favorite spirit – and way to enjoy?
Wilder Gin is always a surprising delight, for as many times as we've tasted it. It's definitely worth a try neat or on the rocks. As far as cocktails go there are plenty of fancier ways to enjoy it, but a classic gimlet with fresh lime juice and a little simple syrup is tough to beat.
R+T: Do you have a favorite or original cocktail recipe you can share with us?
We call this one the Manifest Destiny.
R+T: What's new and next for Ventura Spirits?
Our first 3 products have been out for almost a year, and it finally feels like we're starting to hit our stride with those, so we have a little more energy available to complete some projects that have been in the works for a long time. We've been playing around with a seaweed spirit that is pretty unique, some different herbal concoctions, and of course aged spirits have always been a big part of our vision. In the coming year we hope to see some of our fruit brandies make it into bottles, and some serious production of a few different whiskies. Aside from the products, we've got an awesome mural by Eric Junker that's recently gone up on the wall outside our distillery, and are really excited to be working on some other brand media. Also, we love to build stuff, so hopefully this year will be an opportunity to expand our production capacity with lots of shiny new metal!
R+T: What is the most rewarding part of your work?
There's an infectious creative energy when we're brainstorming with each other and our partners (suppliers, artists, farmers, and other entrepreneurs) about new ideas and their potential that constantly injects new blood into our company. That's really fun to experience. As far as a very literal, selfish type of reward, it's definitely when we get positive feedback from customers about what we've been working on. When someone tells us that Wilder Gin reminds them of hiking through the hills, it doesn't get any better than that, since that's exactly the kind of evocative reaction that we wanted…unless you don't like hiking. In that case, try our vodka!
Photos: Yayo Ahumada