Style
Valia Gabriel's Refined Greek Footwear at Jenni Kayne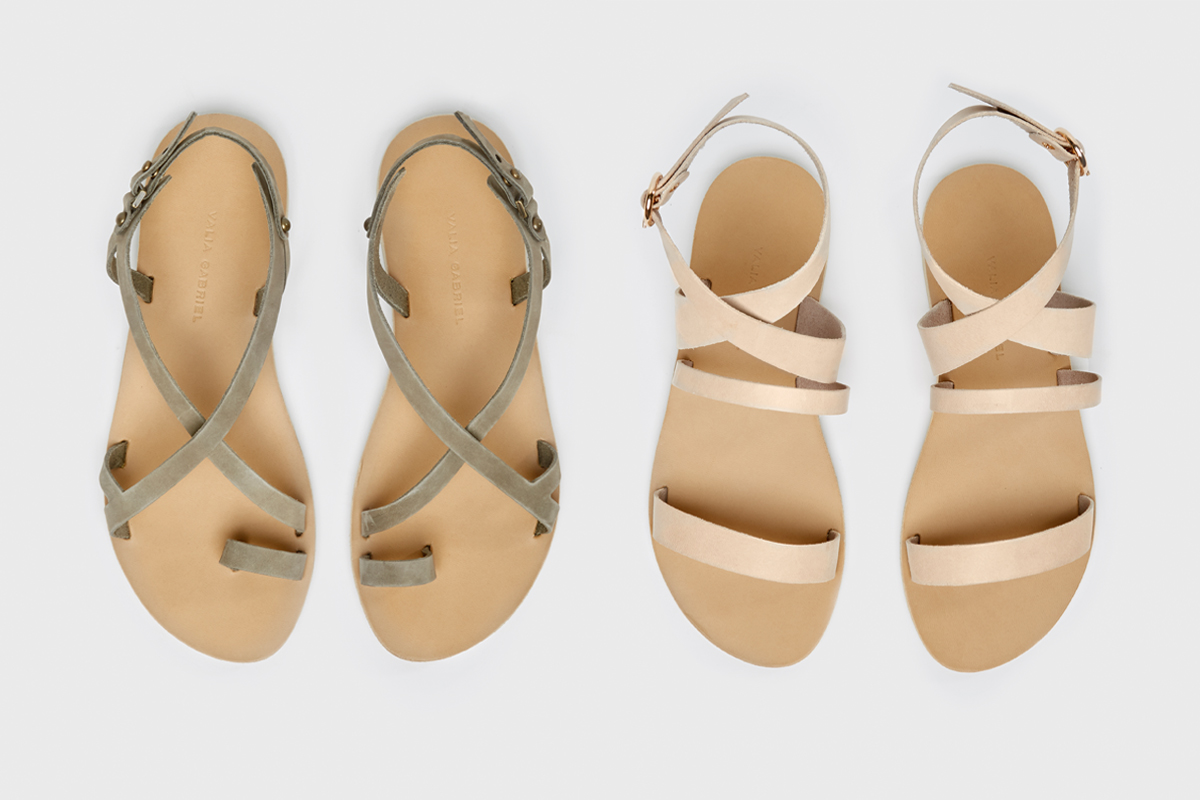 If there's one place a wardrobe of sandals is essential it's California. From spring to fall, they're acceptable footwear for most occasions and outfits. As a person who lives in mules and boots, I am quite picky about what sandals I choose to wear. My latest discovery in this department is Valia Gabriel, an eponymous brand of leather sandals made by hand in Greece that we're now carrying in Jenni Kayne stores and online.
Valia herself was born in Athens. Much of her inspiration comes from her home country, which over the course of history has earned a reputation for excellent footwear. While aesthetically Grecian, the designer has a subtle, refined point of view that makes for elegant and effortless silhouettes. In talking with Valia about her elevated look and focus on craftsmanship it became clear why her sandals are so sought after, especially with summer coming. XXJKE 
Rip & Tan: When did you first become interested in design? 
Valia Gabriel: I've always been interested in design and art. Being born and raised in Athens, where you are exposed to such a rich cultural heritage on a daily basis, it is hard not to be. Shoes have always been a passion and with the Greek tradition of sandal making being so strong, it seemed like a natural progression. Although at the beginning it was a more of a hobby, it soon developed into a business. I was living in the Bahamas, a country that so easily lends itself to the barefoot luxury of the Greek islands. There are many other sandal brands in the market, but I really wanted to design a more simple and comfortable sandal.
Rip & Tan: What are the differences between your Greek-made sandals and other leather styles? Is the craftsmanship different? 
VG: The craftsmanship is very important and this is what makes the difference in sandals. There are a lot of different techniques, but when it comes to the common Greek sandals that you can find in the center of Athens or around the islands, the techniques are similar and less expensive. I wanted to produce something that would be different and more exclusive.
Rip & Tan: Do you have an ideal ensemble you like to pair with your sandals? 
VG: The great thing about VG sandals is that they are easily worn with any outfit. They are versatile in the sense that they are perfect for the city with jeans and a simple T-shirt, as well as the islands with long, flowing dresses.
Rip & Tan: Is there a particular sandal you find yourself wearing more than others or that you feel is the most versatile? 
VG: No, I love them all. Of course, with every new collection I am more fond of some styles over others. But overall I wear them all, since I am so involved in every step of the process, from design to delivery. For me it is very important to try them all in my everyday life. They must pass all my tests in order to satisfy my standards.
Rip & Tan: With ancient Greece as an inspiration, do you do a lot of research during your design process? Where else do you find inspiration?
VG: I have been inspired for sure from ancient Greek designs. But from inspiration to production there are a lot of things that must be changed in order for the sandals to be easy to wear and comfortable. My best inspiration comes from my travels around the world. 
Rip & Tan: You have lived in several places. Does your current home inform your work at all?
VG: I lived for a few years in the Bahamas, which was very inspirational as that is where I started my brand. I met India Hicks, and her store in Harbour Island was the first to carry my sandals. I am now living in Dubai, and it is with great excitement that I am discovering a new culture and a country that will no doubt influence future designs.
Rip & Tan: Your sandals are perfect for vacation, among other things. What do you do to really escape and get away? 
VG: For me it's really all about traveling, whether in Greece and its incredible islands, US road trips, family holidays or weekend breaks with my girlfriends. It is important to create a balance between work and personal life.
More Stories