Makers
Build a Better Breakfast with Sommer House Granola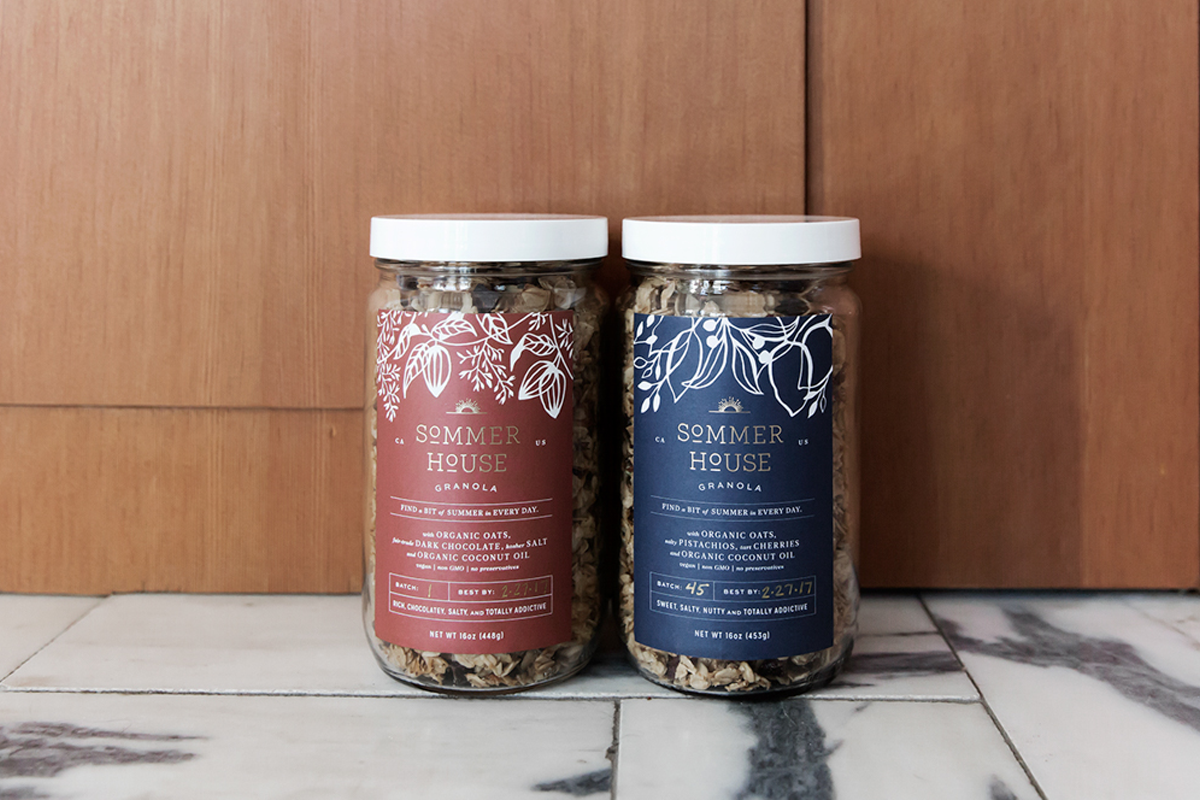 Granola can be a healthful and delicious way to start the day, especially when it's homemade using whole, organic ingredients. Jennifer Sommer, who spent over a decade as Food & Wine's West Coast Director, recently started her own small, word-of-mouth brand, called Sommer House Granola. It's made with organic pistachios, tart cherries, coconut flakes and oats, and just the right amount of salt. Jennifer initially just made her fine-tuned recipe for friends and family, but soon realized based on their enthusiasm she should sell it too. Packaged in reusable glass jars and sold in sets of three and six, they make the perfect hostess or holiday gift for the whole family. Learn a little bit more about Jennifer's background and what's next for Sommer House in our interview below. P.S. If you live near our Newport Beach store you can pick up jars of Sommer House Granola on Saturdays for the next four weeks. XXJKE
Rip & Tan: Tell us about your background in the food world. How did you get your start in editorial and where have you spent most of your career?
Jennifer Sommer: I originally became interested in food during high school when I dated a guy whose family believed that food, wine and entertaining were a part of every day. (His sister, Tara Lazar, actually also went on to become a highly respected and successful restaurateur and owns a number of Palm Springs' best spots including my favorite, Cheeky's!) Since then food has been an instrumental part of my life.
I went to U.C. Berkeley for college and while I loved food and explored everything edible the Bay Area had to offer, I never thought to make a career out of it. When I graduated, I made a last minute decision to pass on law school (thank goodness!) and ended up back in Los Angeles where I ultimately made my way to InStyle magazine as an editorial assistant. I worked my way up from there, ultimately finding my way to Food & Wine in 2001 as its West Coast Director working with brands on their advertising campaigns and sponsorships of events such as the Food & Wine Classic in Aspen. All during this time, I also became the "eyes and ears" for the editorial team based in New York due to my proven record of identifying up and coming trends and talent in the culinary landscape. 
In 2013, I was ready to leave the publishing side to get back to my creative and editorial roots. The magazine's (now former) Editor-in-Chief, Dana Cowin, asked me to become Food & Wine's West Coast Correspondent allowing me to work from home and pursue other projects while also being a mom to my two daughters, ages 8 and 14.
Rip & Tan: Did you ever think you'd one day start a food business of your own? 
JS: I guess deep down yes, but not in the way I have. Having spent most of my career surrounded by many of the country's most talented chefs, restaurateurs and artisans, I have serious respect for the hard work and determination a career in food requires. I have often dreamed of opening my own restaurant or boutique marketplace as I am pretty in tune with how and what people want to eat and am a stickler for great customer experiences. However, as the restaurant business is a 24/7 undertaking, and I want to be home most evenings with my family, the stars just never aligned for a more traditional career in food. Yet, when I began working for myself a few years ago, I was able to explore many different paths in food. The fact that my business is flexible and based in my home (making granola, throwing chef pop-up dinners, writing, consulting for food startups and chefs) has been the best of all worlds.  
Rip & Tan: What helped you decide to launch Sommer House as a proper business? 
JS: My husband, Mark, has a bowl of granola every morning for breakfast. He loves that it gives him energy to start his day. So about ten years ago I thought to try my hand at making granola instead of continuing to buy the packaged ones he had grown tired of eating that were full of processed ingredients. Thus the first batch of Sommer House was born—not knowing that it would quickly become an obsession among friends and family. While on a ski trip in Mammoth in 2014, a dear friend who is also the Director of Entrepreneurship at the USC Marshall School of Business and one of my biggest fans, encouraged me to make it official and launch Sommer House, despite the long list of objections I kept throwing at her. She just knew I had it in me and that more people should be able to enjoy Sommer House granola. 
Rip & Tan: What's behind the name Sommer House?
JS: Originally named Obsessed Granola due to its early, loyal following, the name didn't reflect the lifestyle I wanted it to represent and grow into. I worked with the creative team at Project M Plus to capture the essence of the brand. Using a play on summer and my own last name, Sommer, and the fact that it was born in our home kitchen, Project M Plus came up with Sommer House which, as they say reflects, "more than just an epicurean delight. Sommer House embodies a beloved place, the joys of summer time and delights from the inside out."
Rip & Tan: What do you use in the granola and how do you make it? Has the recipe changed much since you first started experimenting?
JS: Each hand-tossed batch is plentiful with tart cherries, pistachios, organic coconut oil and as we say, a sassy pinch of salt. We believe that food should be simple but made of the best ingredients and that each bite should matter. When I first began experimenting, I did work with olive oil and cranberries but it was when I changed exclusively to coconut oil (after hearing about all of its healthful properties and the advantage of having to use less sugar due to its natural sweetness) and the tart cherries, the recipe became as sweet, salty, nutty and totally addictive as it is today.
Rip & Tan: What are your goals for the company in the future? Do you plan to add other food items or varieties of granola?
JS: I would love Sommer House to represent a lifestyle that celebrates a bit of summer in each day. Where food is simple, made with care, brings people together and is the best of the best. This fall we are launching our second flavor, Salted Chocolate, and there are a few more already in development. While we would love to have a full line of granola that speaks to our favorite ingredients, we also see the company expanding into other favorite food and drink finds. My husband makes a simply perfect barrel aged Old-Fashioned that we always have on hand so the dream of bottled Sommer House cocktails is out there too. Although navigating the world of liquor laws and regulations may be a bit more challenging!
Rip & Tan: How do you balance this project with your work with Food & Wine and your personal life?
JS: As I am freelance for Food & Wine and work from home, I am able to wear many hats all throughout a work day which makes each day quite different and keeps me on my toes. A sample Wednesday may involve dropping one daughter at school, running down to meet with chef friends and spot the season's best produce at the Santa Monica Farmers' Market, a quick horseback ride or yoga class, home to make batches of granola, back to school for pick up and dance drop off and then back to the house for a number of emails before figuring out how to best utilize all the amazing produce I bought at the market that morning and sit down for a family dinner. It is a very different life than the one I had for so many years working full-time for Food & Wine but it is exactly perfect in its imperfection.
Rip & Tan: Can you share your recipe for the perfect bowl of granola? How is it best served? 
JS: My chief taster and husband, Mark, would say it is simply best as a bowl of cereal with whole milk, but I prefer it one of two ways. First is over plain Greek yogurt with a healthy dollop of really amazing jam or second as an ice cream topping. I learned years ago that extra-virgin olive oil is the perfect complement to vanilla ice cream. So for a dinner party, I love to take a scoop of real vanilla ice cream, sprinkle a handful of Sommer House granola on top and then a drizzle of olive oil to finish along with a pinch of Fleur de Sel. Your guests will think you are a culinary genius!