Living
In the Studio With Ceramicist Tracie Hervy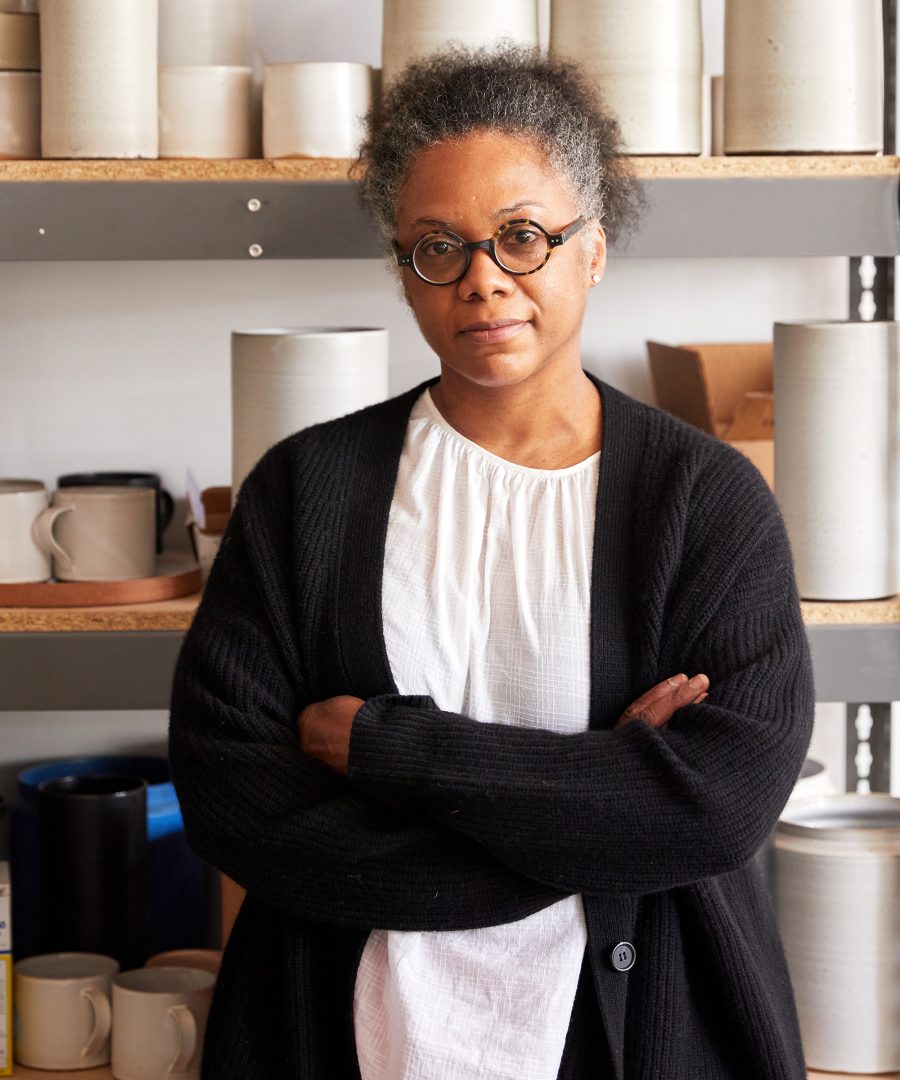 Earlier this year, we were lucky enough to welcome ceramicist
Tracie Hervy
into the world of Jenni Kayne (tip: check out her
latest pieces
, now in stock!). Whether it's a sculptural mug, an everyday bowl, or a strikingly simple vase, Tracie creates vessels that are tied to how we interact with the world, meaning each piece is defined by an essentialist quality that's equally artful and inspiring. We visited Tracie at her New York studio for an inside peek at her process, creative sources, and artistic ethos. Read on for a behind-the-scenes look at how some of the finest ceramics come to be.
Rip & Tan: Tell us a bit about your career arc. How did you first get introduced to pottery and what led you to launch your eponymous studio? 

Tracie Hervy: It was kind of random. I was dating a ceramic artist at the time and was doing mostly installation art and painting. I've always had an ambivalence about the "art world" in New York, and I realized I didn't want to be a part of that world.

It felt like the people who were investing in ceramic work were doing it because they really believed in and liked the work as opposed to people who were thinking about investments. It was also a way for me to start working in three dimensions again. Growing up, I thought I was going to be an architect. And then I realized that a lot of that is sitting in front of the computer for 12 hours working on CAD drawings, and that didn't appeal to me. I went to architecture school, and the summer after my first year I got a job working for an architecture firm that did design and build—during that summer I was also working at a metal shop, which was amazing. I realized that I needed to work with my hands.

I don't consider myself a ceramic artist. I consider myself an artist. Pottery is similar to architecture: you make these things that are used in everyday life. It's just a wonderful feeling to think that you make this piece and it becomes a part of someone's ritual.

So, I started creating at Greenwich House Pottery in the village, and then I applied to graduate school where I earned an MFA in ceramics from Rhode Island School of Design. I came back to New York and was working for an architect, but I really wanted to start working for myself again. I got really lucky in that Judy Jackson's studio, Tribeca Potters, had a space open. I started renting out a space there, and it was really great being with that group of people because they really showed me how I could make this a business. I also felt like a lot of it was learning on the job in terms of being a potter. I was there until I moved into my new space in October 2020.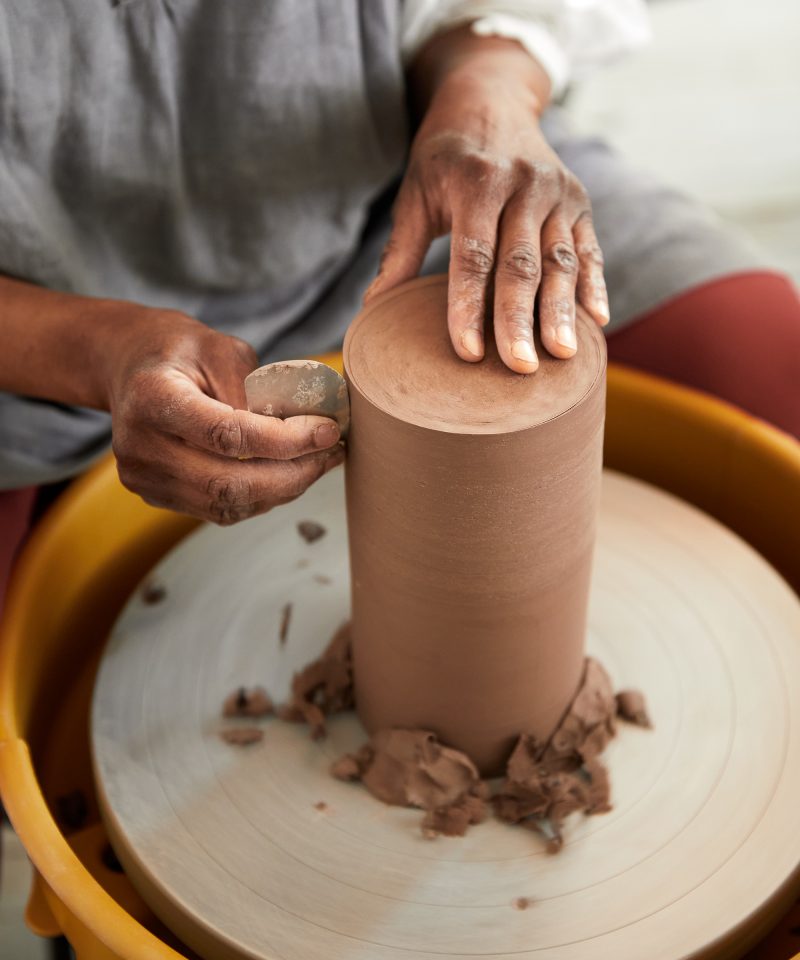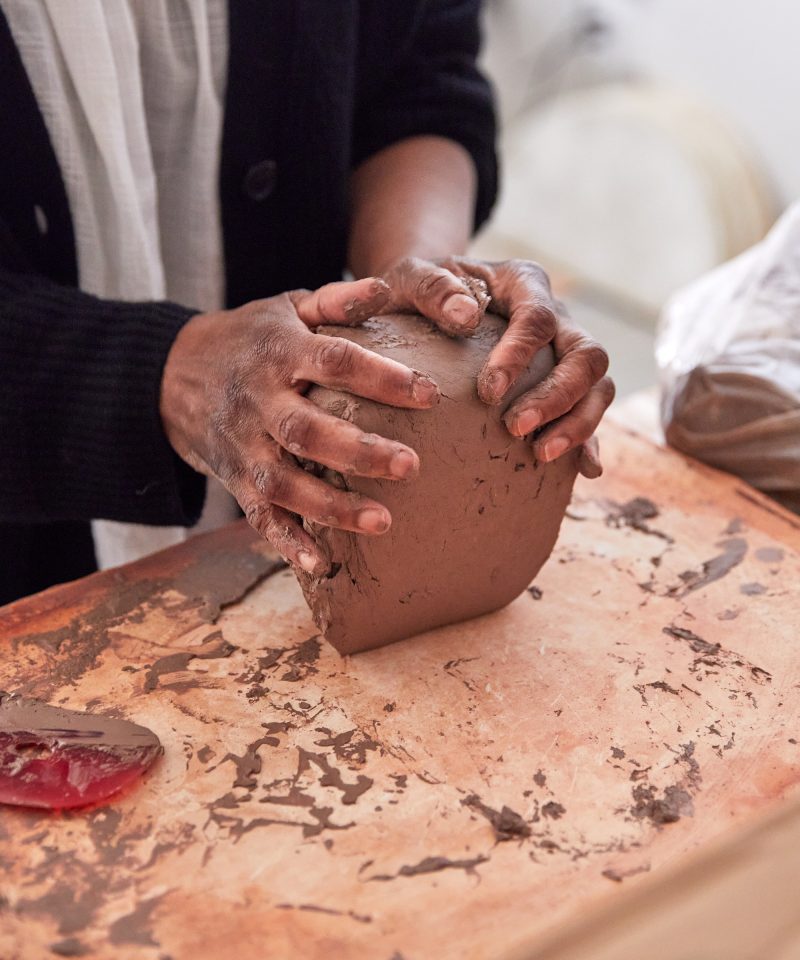 Rip & Tan: Your artistic pedigree spans genre and format. How do your previous creative endeavors inform your work as a ceramic artist? 

Tracie Hervy: I make things for myself and things that I would like to have. I guess the connecting factor across it all is this idea of trying to get to the essence of things.

I hate using the word minimalist because that can be problematic, but thinking in terms of the people that I gravitate towards and am inspired by, like Donald Judd, there is this idea that you are starting with a problem or with an idea. I'm looking for something essentialist. I'm always thinking, okay, we aren't showing off, we aren't proving how great of a craftsperson you are. If it's something that's utilitarian, I'm thinking about how it works. In some ways, I feel like cups, plates, and bowls are a way for me to understand how things come to be. My first mugs were perfect semi-circles, which is kind of all wrong as it's not the best cup from which to drink from. Things have slowly transformed over the years because I'm thinking more about how we really use these objects.

Rip & Tan: How do you balance form and function with each piece you create?

Tracie Hervy: It kind of goes back and forth. I'm always thinking about how something is used, because if it doesn't feel good or if people don't like using it then it's not working. Something can be really beautiful, but it doesn't feel good when it's just an aesthetic object that doesn't really work in terms of how you use it and how you touch it. It's more about expression.
Rip & Tan: What does your creative process look like? How has it evolved over the years? 

Tracie Hervy: I feel like I need to start off with a problem and frequently that's just something written down. I guess a lot of people like to sketch things out. I kind of do that with general ideas sometimes, but I feel like it really happens on the wheel. I'm thinking about what I want and I'm thinking about what it is as I'm working. One of the greatest things about working on the wheel, and why I've done that instead of other ways of making, is because I feel like there is this force that's working against me.

If I were thinking about architecture, the thing that you would be working against is the building's use, where the site is, and so forth. For me, it's about the material that I'm working with. Every time I reclaim clay I have more control, but it's this constant battle between me and it.

In addition to doing work for Jenni Kayne, I'm doing a series of vessels now—they're sort of blank canvases in a way. They are these porcelain, cylindrical bowl-like shapes—the next step is the trimming and figuring out what it becomes. It's about looking at the material and playing around with it and figuring out what its potential is.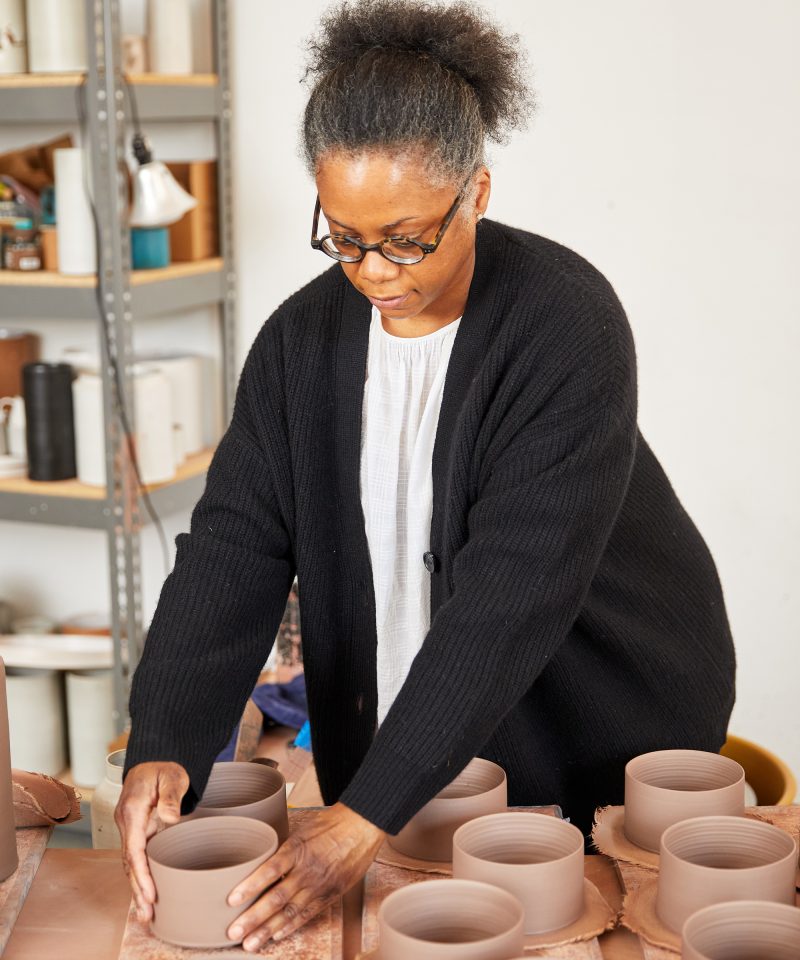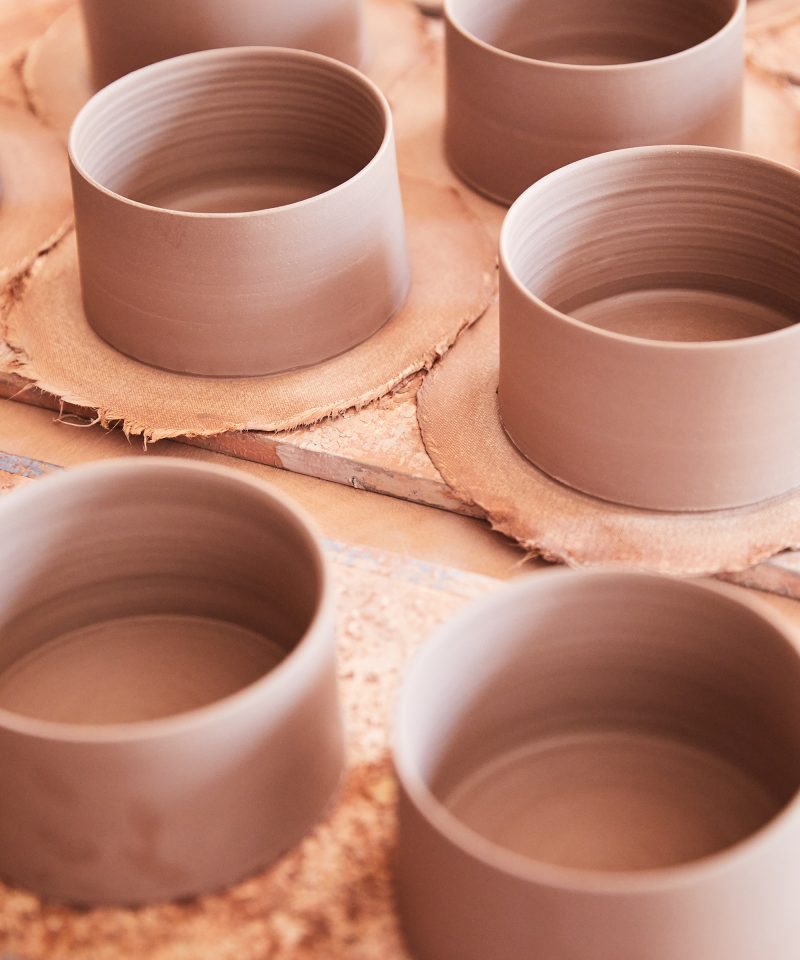 "One of the greatest things about working on the wheel, and why I've done that instead of other ways of making, is because I feel like there is this force that's working against me."
Rip & Tan: What do you love the most about being a ceramicist?  

Tracie Hervy: Except for when I have deadlines, which has been my reality for the past four years, I feel like I'm basically retired. This is what people do when they're 65—they become a potter. But beyond that, of course, I just love being able to make things.

Rip & Tan: How do you hope individuals feel when they interact with your work? 

Tracie Hervy: I hope it gives them pleasure and brings something to their life.

Rip & Tan: What does living well mean to you?

Tracie Hervy: Living well means living the life that you're after. Once you've gotten to a point where you know yourself and know what you want, and you've gotten rid of all of the pettiness and the things that don't really matter and you're living the life that you really want to live.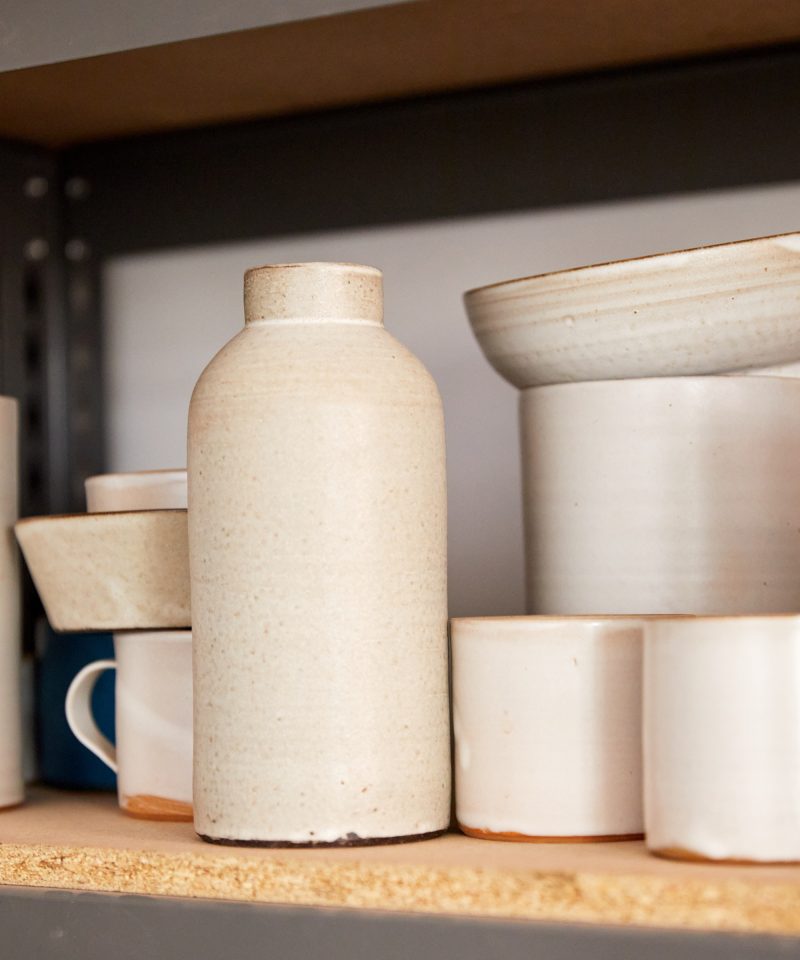 Photos by Kirsten Francis