Food & Drink
The Perfect Cheese Plate with Annie Campbell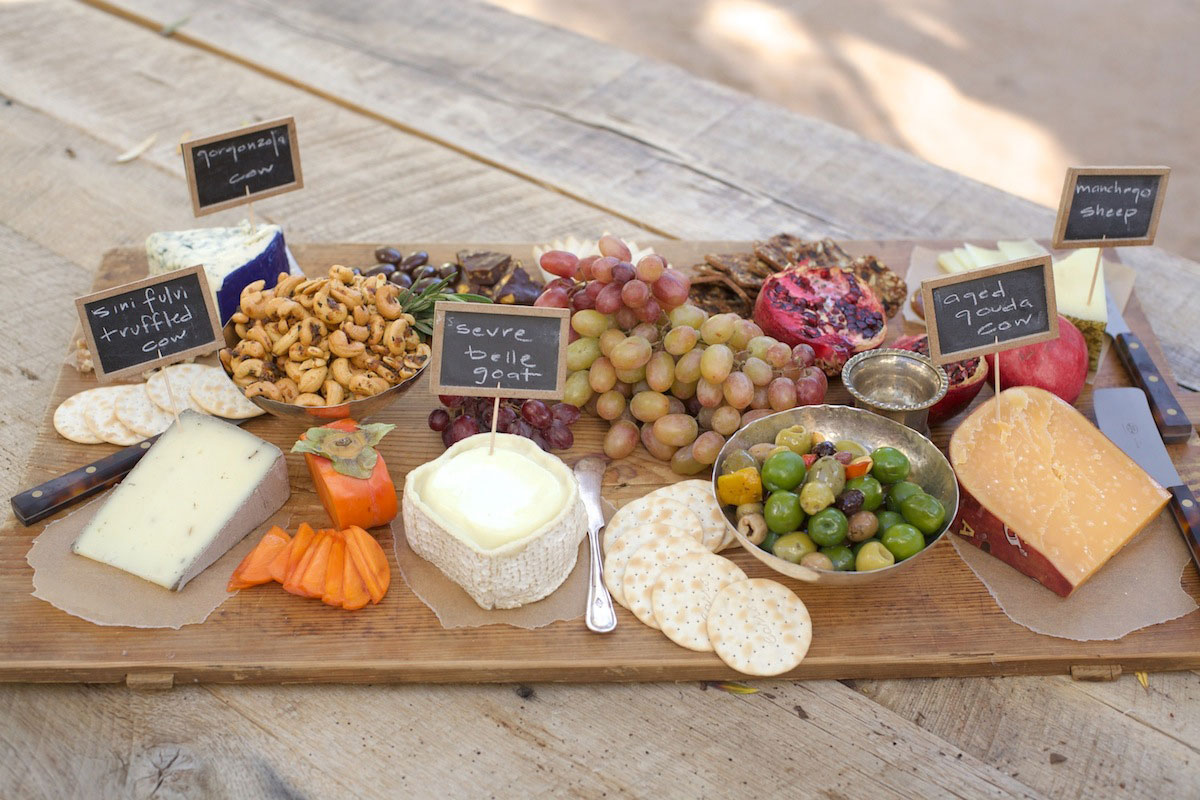 I'm powerless to the charms of an amazing cheese plate any time of year, but during the holidays, I find it especially hard not to give in. Either as the perfect start to a great meal or as a great meal in itself, I love creating cheese plates for a big party, and even more, for a party of two.
With so many variables involved and so many fantastic possibilities, I asked my friend, caterer and party planner extraordinaire Annie Campbell, to share her tips and tricks for creating the perfect cheese plate. I hope you enjoy! XXJKE
Where To Buy
AC: Some of my favorites for a great assortment of cheese in LA: Joan's on Third (for a really nicely edited selection), The Cheese Store of Beverly Hillsand Whole Foods.
Selections
For an intimate dinner party, I like to select three different cheeses. It's really personal and it's important to taste samples and buy what you like. Also, I take into consideration my guests; for a friend who is lover of blue cheese, I try to find something special. As a rule of thumb, I like a variety of cow, sheep and goat's milk cheeses, that range in texture from creamy to soft, and in flavor from mild to strong. A great combo is strong, runny cow's milk cheese like a triple cream, a sharp sheep's milk cheese like a Manchego and a grassy, soft goat's milk cheese like Humboldt Fog. For a larger cocktail party, five cheeses is nice, adding in a couple of selections for interest such as an aged gouda (my personal favorite), a truffled or herbed cheese and a funky blue.
Quantities
Three ounces of cheese per person is another good rule of thumb. If cheese is the main event, or you're doing individual cheese boards, one ounce per person of each cheese is appropriate. Generally, I eyeball it. For a smaller group, I buy 1/2 pound of each cheese. For larger parties, I buy 3/4 to a full pound of each cheese (people tend to eat more of a creamy triple cream than a strong blue).
Favorite Accoutrements
Two or three crackers: a plain water cracker plus a personal favorite, for example these Fig and Olive Raincoast Crisps. It's also a good idea to always have a gluten-free cracker on hand. Freshly sliced baguette can be another nice touch.
Seasonal fruits: For the holiday season, sliced Asian pears, crisp apples and persimmons are perfect (a squeeze of lemon and a pinch of salt on sliced fruit keeps them from browning). Grapes are traditional and great focal piece, and a split pomegranate adds a nice pop of color.
Olives and/or pickles: Be sure to have a small bowl for the pits.
Nuts: I always do Ina Garten's Rosemary Cashews – a real crowd pleaser. Marcona almonds are another favorite.
Fig jam or quince paste: especially nice when placed next to a salty Manchego or hard sheep's milk cheese.
Honey or honeycomb: placed next to a blue cheese or drizzled atop toasted walnuts.
A touch of chocolate: in the form of dark bark, chocolate covered almonds or chocolate covered honeycomb.
Essentials
– A beautiful cheeseboard. I love mine from Chay on Third Street, and Edward Wohl Cutting Boards, which can be found at Jenni Kayne Home in Montecito, are simply beautiful.
– Pretty bowls for nuts and olives
– Great cheese knives. Garde on Beverly has a great instore selection.
– For a wooden board, a piece of parchment paper beneath each cheese makes for easy clean-up.
– Reusable cheese signs such as chalkboard ones from The Cheese Store of Beverly Hills.
Preparation
Perhaps the most important tip of all: serve cheeses at room temperature. Bring cheeses out of the fridge a few hours before serving. It makes all the difference in the world!
Presentation
My husband Greg is the one who artfully arranges the cheese and charcuterie boards for our catering business. He recently walked me through the process.
– Start by placing your cheeses on the board, giving space between each, being mindful of color and shape.
– Put a cluster of grapes and a split pomegranate in the center for color and height.
– Separate bowls of nuts and olives.
– Find two spots to cluster crackers. Greg does them in tidy rows.
– Drizzle honey on blue cheese and place fig jam or quince paste.
– Find spots to fan sliced apple and Asian pear.
– Fill in the gaps with chocolate and other favorites.
– Fresh herbs are always a pretty touch.
Enjoy!!