Living
A Taste of the San Juan Islands at Home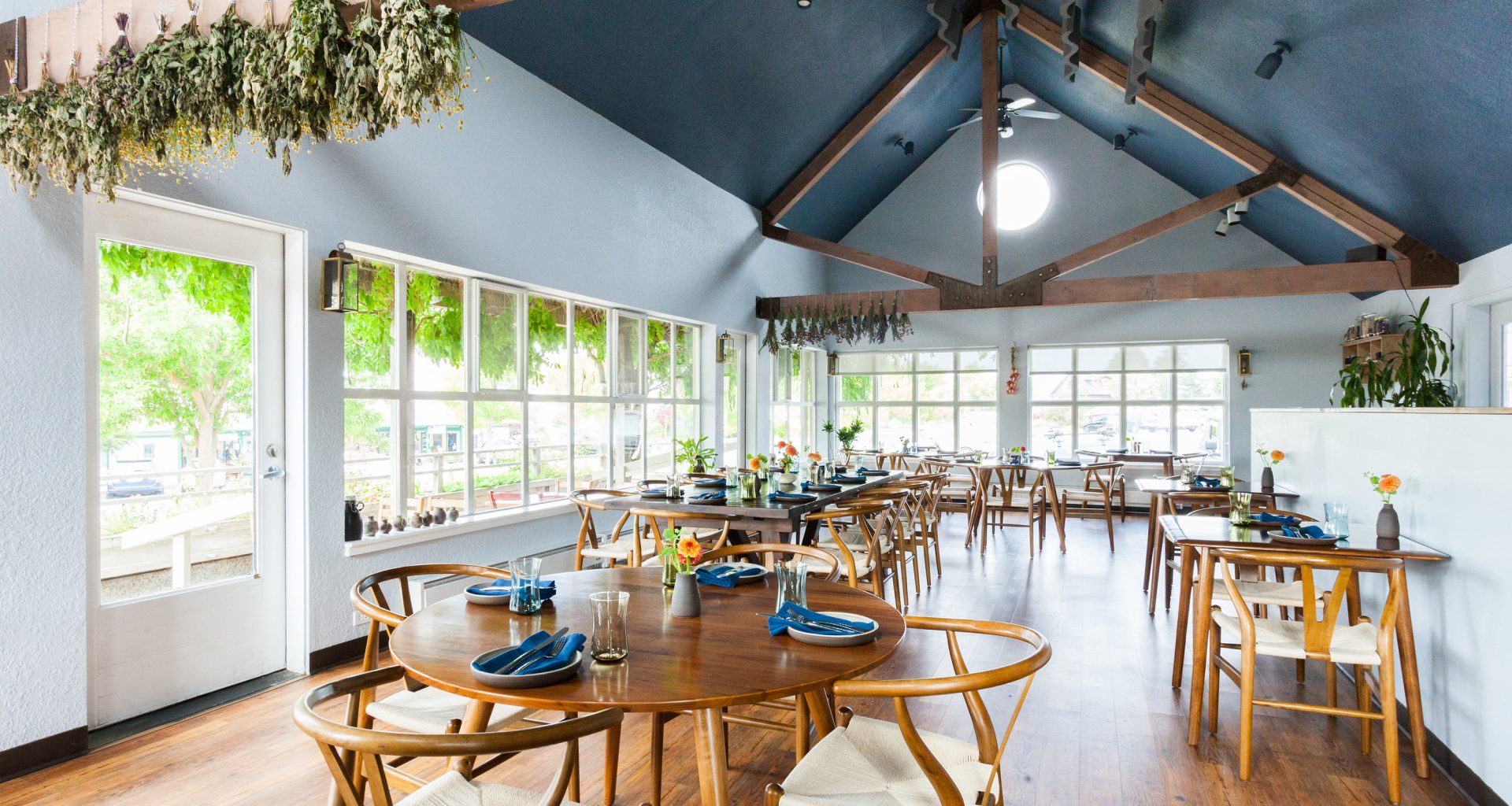 We are always in search of spaces & makers that push boundaries and go above and beyond, and in that regard, Ursa Minor is in a class of its own. Located in the heart of Lopez Island off the coast of Washington, this restaurant is unique for its discerning taste for local flavors. Husband-and-wife team Nick Coffey and Nova Askue have created a one-of-a-kind destination that speaks to its surroundings. It's best said in their own words, so read on for our Q&A, and try your hand at their recipe for their taco-like dish of kohlrabi, spot prawn, and shiso leaf for a restaurant-quality meal at home: you won't regret it.
Rip & Tan: Describe the San Juan Islands, its landscape and its community:

Nick Coffey & Nova Askue: The San Juan islands are unique and varied. Each island has its own identity, both in landscape and community. Lopez is more subtle, agrarian, and quieter than the other ferry-served islands. It is a place to unplug, slow down, and escape. There are places to explore: rugged wind-swept ocean bluffs, pebbled beaches, and rambling wooded hikes. Farms with honesty boxes dot the rolling landscape with blackberries and wild roses lining the roadways. It is magical, delicate, and rural. We are so proud to be able to call the island and this community home.

Rip & Tan: You describe Ursa Minor as "uniquely Lopez." What does this mean to you?

Nick Coffey & Nova Askue: To truly experience Ursa Minor, one needs to experience Lopez Island as well. The experiences go hand in hand. Lopez Island is the muse for Ursa Minor. The island is reflected in our menus. One may enjoy the dessert of hay ice cream and blackberries, but the total experience is realized when traveling the roads on your way to dinner and observing the vistas of hay fields lined with brambles. A guest can see the muse at work by observing the island's bays full of sea lettuce, the woods full of salal, and the sea breezed pastures of lamb.

Rip & Tan: We have to ask—how do you make hay ice cream?

Nick Coffey & Nova Askue: In the summer, the whole color palette of the island changes. The rain and storms stop and the greenery turns yellow. The fields are filled with a bounty of hay bales. We knew we wanted to capture this change and use hay as an ingredient. We tried a few things, one of which was in dairy for a sauce. We thought it tasted similar to Thai iced tea, so then we started to think of it for dessert. We toast the hay and infuse it in the dairy, then we take that dairy and use it to prepare an ice cream base.

Rip & Tan: How do you incorporate flowers, algae, and lichen into your menu? How much trial and error did this take to get right?

Nick Coffey & Nova Askue: We are always looking for unique ingredients and flavors to expand the vocabulary we have to choose from when creating. We focus a lot on pantry building: creating a language of dried and preserved ingredients that we can visit as inspiration strikes. When approaching a new ingredient, we do a bit of research first. What are its origins and history? How has it been used historically? Is anyone using it now? Some ingredients are used fresh, but we will experiment with pickling, fermenting, drying, and other methods to learn more. We then can find where it may fit on the menu or in a dish. Sometimes this happens quickly and sometimes we can revisit an ingredient and not quite find a home for it.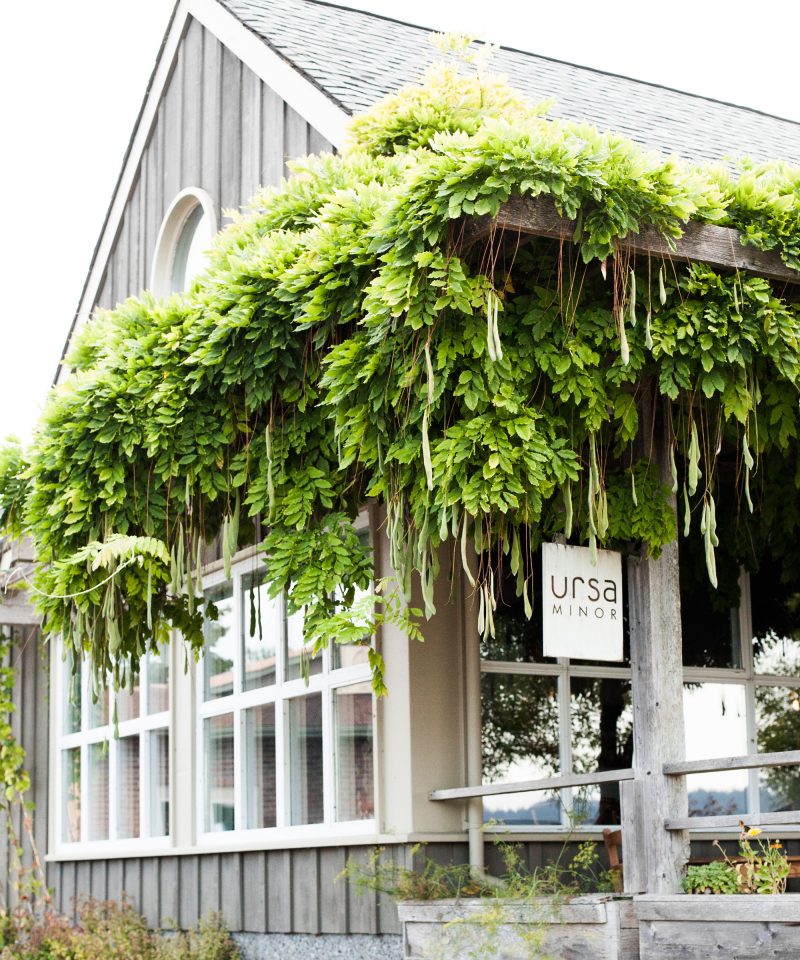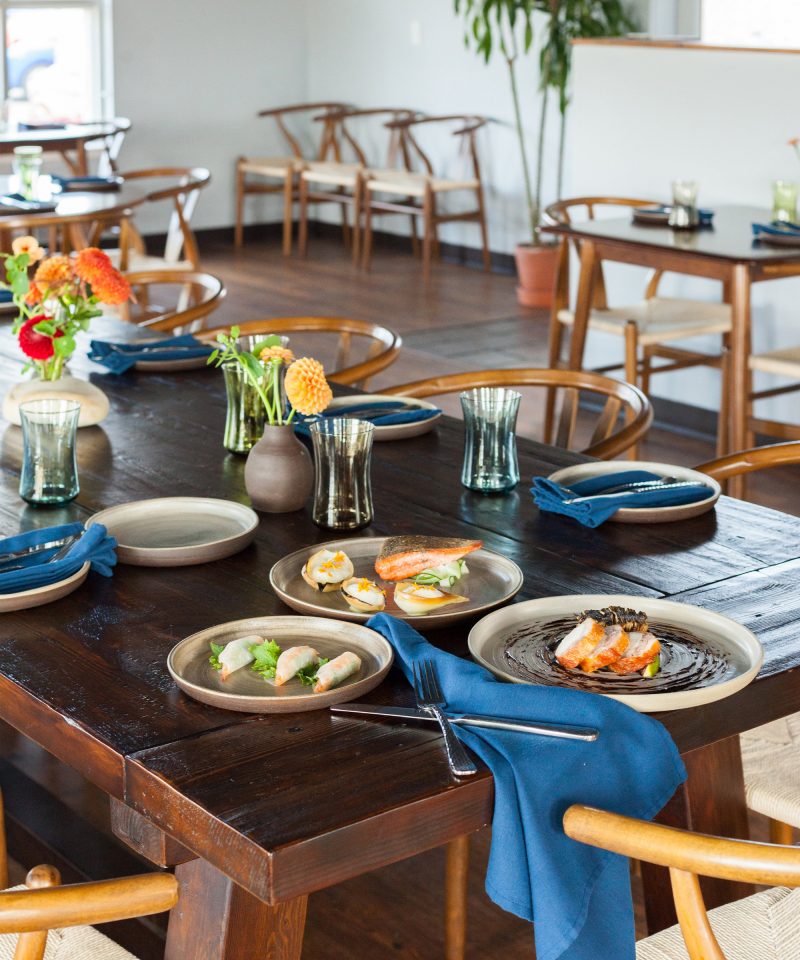 Rip & Tan: What did you learn from working up the ranks of local restaurants rather than going to cooking school?

Nick & Nova: I think both paths have pros and cons. But for me I got to learn, experiment and fail in real world practical situations. And failing is the best way to learn. Failing can be hard but failure allows for growth and development. I went to school for photography and working in kitchens was just a way to pay the bills. But my passion shifted and I found the a similar creative outlet with food. I refocused on becoming a chef. I was lucky to find a few great kitchens to work and learn in. I wouldn't change the path I took.

Rip & Tan: How does your business partnership work? Who has what responsibilities, and in what ways does this impact your personal relationship?

Nick & Nova: The simplest answer is that I run the back of house and Nova runs the front. But of course it is more complicated than this. Nova also does all the communications, branding, marketing, guest relations, special event planning and bookkeeping. I do the beverage purchasing and weigh in on all the decisions. But outside the day-to-day choices we spend a lot of time weighing all decisions together. In the height of the busy season it can be hard to find time for our personal relationship, but we find moments and the inevitable flow of the island allows for slower times of the year where we can focus on each other.

Rip & Tan: Before opening in the spring of 2017, you crowdsourced funds to cover some of the opening costs. Was this planned? What surprised or challenged you about opening a restaurant?

Nick & Nova: We wanted to crowdfund part of the start-up costs for a few reasons. Firstly, we thought it would be a great way to engage with people in the community and to get them excited to be a part of Ursa Minor. Secondly, it helped introduce Ursa Minor and give people a preview of what was to come. Lastly, we wanted to connect our old home of Seattle to our new one we were building on Lopez. Crowdsourcing worked great for all of these goals. One of the biggest challenges in opening Ursa Minor was opening the restaurant on an island that we were new to. I had spent my whole culinary career in Seattle. I had great relationships with farmers, cooks, vendors and contractors. These relationships did not translate to an island hours away from the city. I had to start all over. Build new relationships, find new farmers, hire new cooks. This was the hardest part, but in the end, the most engaging.

Rip & Tan: You rely heavily on local produce and livestock to dictate the menu—how do you continue to be inventive without feeling limited by your options when it comes to ingredients?

Nick & Nova: We seek out unique ingredients and methods to introduce flavors that expand the potential of the local environment. These could be wild ingredients that have been forgotten or only used medicinally. Or cultivars of heirloom produce that just need reason to grow in quantity. We also employ methods to diversify the palate possibilities; fermentation, aging, drying, preserving.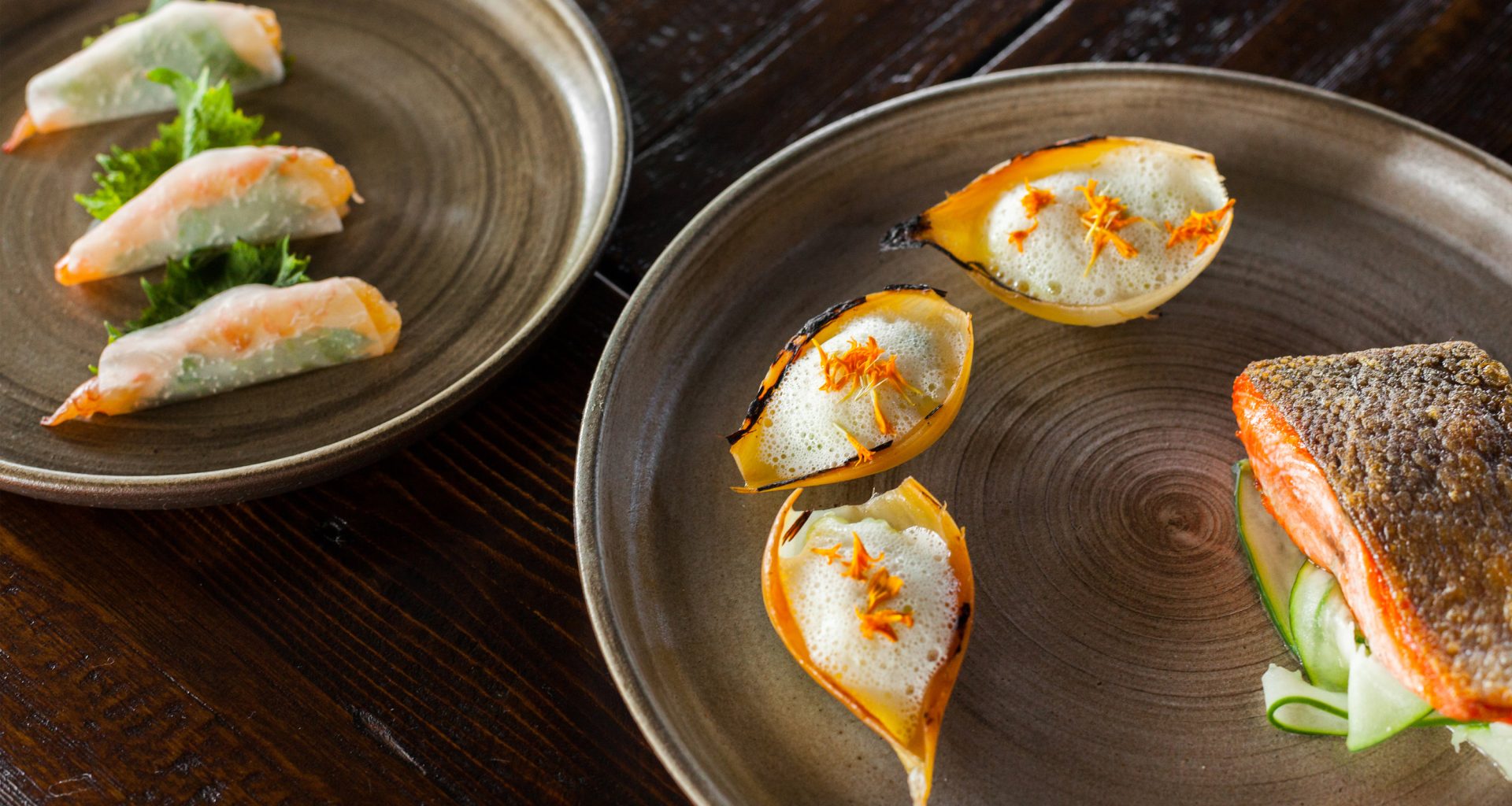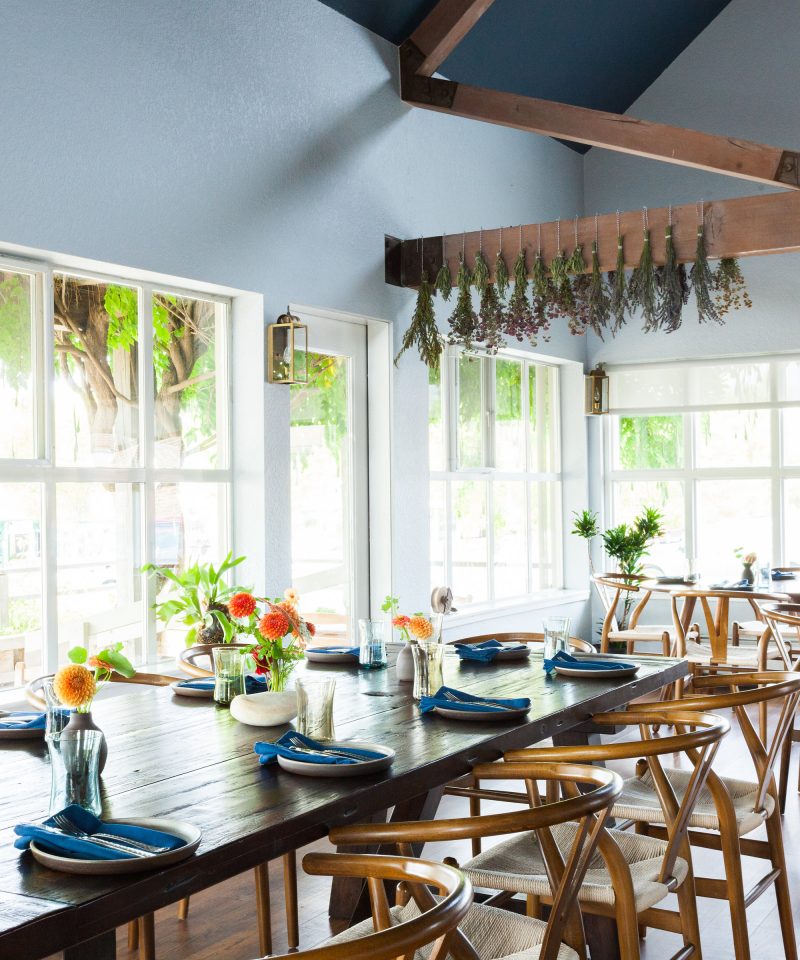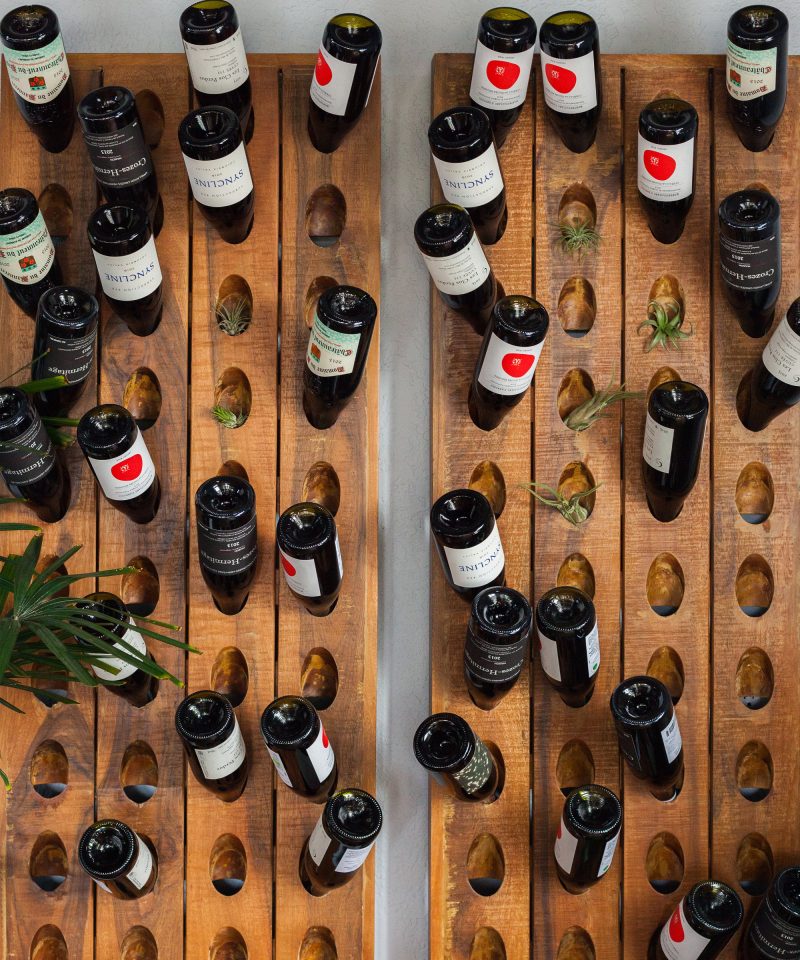 Raw Spot Prawns with Kohlrabi, Shisho & Wasabi
Recipe
Raw Spot Prawns with Kohlrabi, Shisho & Wasabi
Ingredients for the Fermented Kohlrabi (German Tunip)
1 large kohlrabi (aka German tunip)

17 oz

482 g

water

1/4 cup

59 ml

salt
Ingredients for the Spot Prawns
6 spot prawns
1 Tablespoon apple cider vinegar
1 Tablespoon lovage salt (or seasoned salt of your choice)
1 teaspoon fresh wasabi
The best prawns are sourced alive, but if this isn't available, make sure they're incredibly fresh. Peel the prawns. Grate wasabi and spread a thin layer of fresh wasabi on the underside of each prawn. Spray each prawn liberally with the apple cider vinegar. Season each prawn with salt.
Using a ring mold, cut 6 kohlrabi rounds into 2.5" circles. Place a shiso leaf on each round. If shiso isn't available, mint leaves work too. Place a seasoned prawn on each round and fold over the kohlrabi to cover the prawn.
Photos by Ellie Lillstrom