Wellness
Talking Wellness with The Nue Co.'s Jules Miller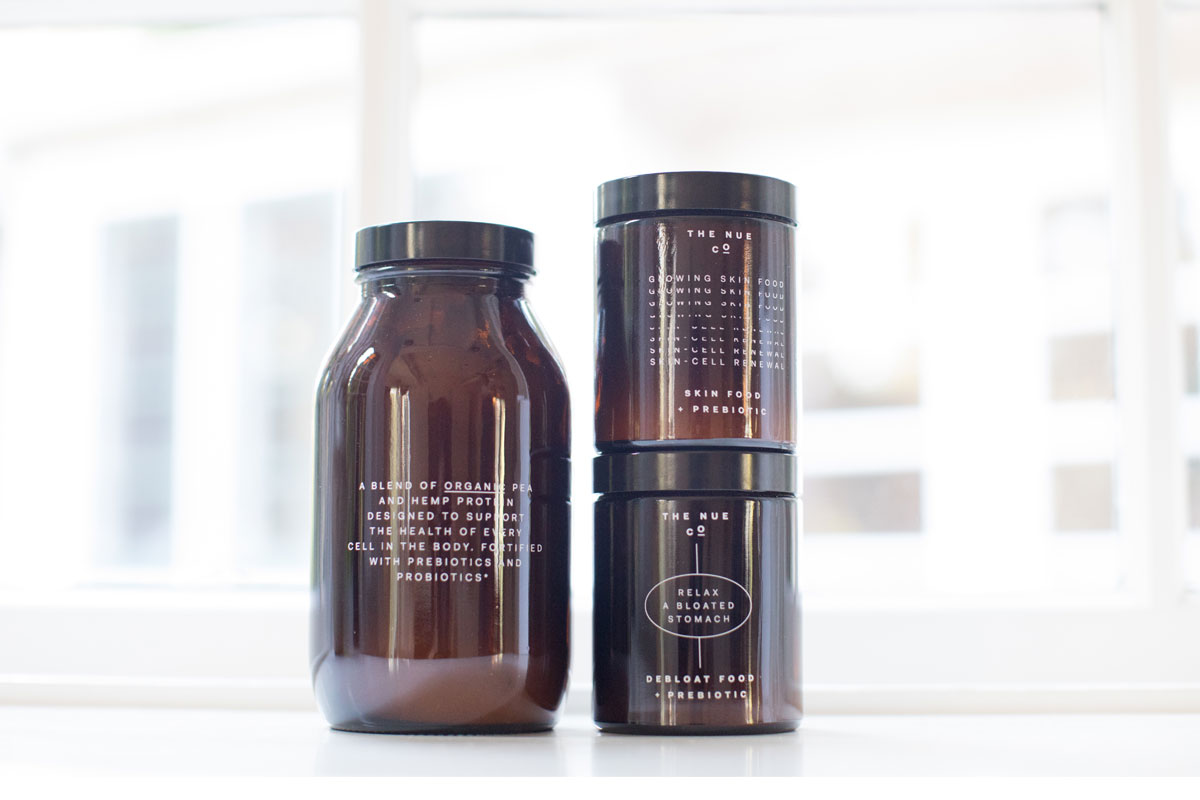 Wellness brand The Nue Co. launched less than a year ago but it already has a league of dedicated followers. The Danish-inspired supplement line has a 2,000+ person waiting list for its skin prebiotic and is carried by retailers like Net-a-Porter and The Line. Based in Cambridge, England and founded by the granddaughter of a celebrated chemist, Jules Miller, Nue Co. prides itself in only using active (i.e. no fillers or sugars), responsibly sourced, primarily organic ingredients for its formulas. The edited line of powders promises to enhance overall health, improve skin, and aid in digestion. Learn more about Jules' background—and the health issues that inspired her to start the line—through our Q&A with the entrepreneur, below. XXJKE 
Rip & Tan: What is your background and how did it lead you to launching a wellness brand?
Jules Miller: Supplements is something of a family business; my grandfather was a pharmacist who helped discover Vitamin B12 at Cambridge University. But on the other end of the spectrum, I come from a family were food is considered to be the first port of call when you're sick. My mum is Colombian, so I grew up having swellings reduced with raw potatoes and fevers treated with vinegar. 
Like most people, I adopted and dropped a whole range of supplements very quickly. I knew I "should" be taking various things, but nothing resonated with me enough to keep it up. When I developed IBS in my mid-twenties, I tried to be careful with what I ate and looked to off-the-shelf supplements to help treat my symptoms. Quite quickly, I was taking 5-8 different things a day and actually feeling pretty sick off it. It was my grandfather who pointed out that whilst I dutifully avoided processed foods and sugar, I was still consuming all of them in my cocktail of supplements.
This totally blew my mind, I assumed that everything in my supplements was "doing me good" and there for a reason. I dug a little deeper and found out (as a general rule) 50% of a supplement will be active ingredients, but the other 50% will be synthetic fillers, bulking agents and processed ingredients. Basically, nothing your body needs.
The Nue Co. is born from the belief that food should be our first, unadulterated source of nutrition and supplementation. We take tried and tested vitamin formulations, but remove all unnecessary preservatives, bulking agents and fillers, and replace the synthetic actives with powerful organic foods. The result is a supplement that your body recognizes, is easily digested and absorbed, but best of all, that works.
Rip & Tan: What was the inspiration for The Nue Co.? What gap did you see in the market?
JM: The Nue Co. started with one simple idea, to redefine the relationship we have with supplements and vitamins. Products that look and feel like luxury beauty, but that deliver much more. The supplement market is a confusing place that is increasingly hard to navigate. The Nue Co. is the antidote to that. Our products are functional, simple and easy to understand.
Rip & Tan: What standards do you hold yourself to in creating these formulas? What won't you use?
JM: Our original formulas were in development for eighteen months. Creating a supplement is not something you can take lightly. When you know that someone is going to be ingesting the product, you have to do a huge amount of due diligence.
I'm lucky to have an incredible team around me. Our lab based in Cambridge, UK, has over 25 years' experience in this field, and they're integral to the development process. We also work with external medical advisors to approve formulas. 
Wherever possible we'll use certified organic ingredients, that have been grown in clean soil and extracted without solvents and pesticides. If not organic, we source the highest quality extracts from around the world, ensuring that each ingredient comes from a sustainable source.
Rip & Tan: How would you like to see the company grow in the future?
JM: The Nue Co. has sustainability at its core, from the ingredients we work with, to the materials we use and the message we're promoting. If we can help educate that sustainably can have style as well as substance, that will be a success for me.
Rip & Tan: Do you have any specials recipes or rituals around taking supplements yourself?
JM: I'm very low maintenance when it comes to taking Nue Co. supplements! I nearly always start my day with our Plant Protein + Gut Food and Skin Food + Prebiotic blended with some almond milk and a banana, or mixed in to natural yoghurt.
I've also been taking our new Prebiotic + Probiotic capsules (launching later this month) daily for six months and have seen such an improvement in my energy, skin, and digestion. I always take them an hour before bed as they aid better quality sleep by increasing the production of tryptophan and melatonin.
Rip & Tan: What other tips or advice do you have on using supplements to maximize your health? Anything to be careful of?
JM: Firstly, listen to your body. If you're eating well and aren't struggling in any areas, you probably don't need to supplement your diet in any way. Secondly, before taking any supplement or vitamin, look at each ingredient and ask yourself, "Would I eat this?" If the answer is no, then don't take it.
Rip & Tan: Finally, what do you do for fun when you aren't working on the brand? Anything you are looking forward to doing this fall in particular?
JM: I realized the importance of looking after myself in the early days of The Nue Co., so I try to keep my week as balanced as possible; working out a couple of times, eating well, and most importantly taking time for myself. Going for a long walk with my French bulldog, Lola, and my partner is pretty close to my idea of heaven.